Pastor Cal of

Married at

First Sight and his beautiful wife, Wendy, have created a list of things you can do with your love this Valentine's Day and any day—even in a COVID world.
In the 13 years my wife, Wendy, and I have been coaching married, engaged, and divorcing couples, we have maintained the same mantra with all our interactions: "Marriage Ain't for Punks." While we have personally experienced the heights and the valleys of marriage life, one thing that has contributed to what we believe is a beautiful journey is the ability to express our affection for each other through fun and creativity.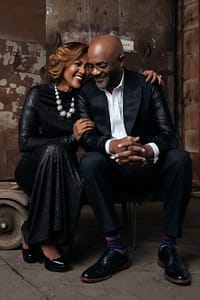 We have discovered that the most successful couples are not afraid to break the mold occasionally. They refuse to accept the mundane and the ordinary. They are willing to explore new, exciting, and mutually agreeable ways of expressing their affection to one another.
Valentine's Day is a perfect time to break the mold and do something different. So here is a list of 10 ideas to add spice to your special day and hopefully jump-start you to a new path of fun and intimacy.
• Wine and dine under a tent. Cook, order in, or hire a personal chef. Create a romantic setting inside a tent, either in your backyard or in your cozy living room. Play your favorite slow jams on your mobile device and enjoy your evening.
• Reserve a virtual sip-and-paint party for just the two of you or with other couples. It's a fun way to bring out the creativity in each other while experiencing romance.
• Plan a movie marathon evening. Create a list of both of your favorite movies with your favorite snacks and drinks. It's like an adult sleepover for just the two of you.
• Sexy at-home game night for two. Play your favorite games for two (card games, billiards, table tennis, etc.). Here's the twist: The loser must strip one article of clothing for every loss. In the end, you both are winners.
• Load the car up with your favorite eats and drinks and get on the road. Check out some places you've never been in your city or state. Stop along the way, open your car doors, play your favorite jams, and enjoy each other's company while you share a picnic together.
• Go out to a romantic dinner. Reserve a table at your favorite fancy restaurant. It may seem ordinary, but it always works.
• Go shopping together at a mall. Here's how you make it fun: You both can visit different stores and purchase something sexy or romantic for each other. Meet back at a certain spot. Grab a bite to eat and exchange gifts.
• Set up a home spa together, complete with spa music and aromatic scents and flower petals. Exchange facials and massages followed by a romantic bath together. You both get a happy ending.
• Create and gift Cupid coupons. Get construction paper, glue, and glitter. Time to use your best arts and crafts skills. Sit down together and create a Cupid Coupon book of things you believe your spouse will love. Use your imagination. These may be redeemable at any time.
• Even during the pandemic, there are still mountain cabins available for a romantic getaway with your sweetie (or partner with a close couple and have a weekend in the mountains). A fireplace in a cabin with a hot drink while the cold wind blows outside—is there anything more romantic?
Use these ideas, combine a few or create your own. The idea is to break out of the norm. Even though Valentine's Day is synonymous with love and affection, it shouldn't be the only day you express love and creativity. Let this day be the beginning of a life of intimate expression.