From bold, colorful choices

to classic options, these Black jewelry designers and brands have the perfect piece to finish your look, whether it's for your wedding day or any other day.
Though there are many talented Black jewelry designers and companies, consider this list a starting point for finding your accessories match. And, don't forget about your bridal party! We are confident you will find some amazing treasures.
Created to be cherished for a lifetime, White/Space Jewelry designs are unique and minimalistic. Pearls showcased in their natural state make an appearance in multiple styles, as do cut versions of stones such as opals and diamonds. Made with consciously sourced materials, including solid 14-karat gold, each piece is constructed in the United States. The company also offers custom-design services.
Is there anything Serena can't do? Her jewelry line brims with gold and sterling silver diamond-studded pieces, including adorable heart-shaped earrings and necklace pendants perfect for a wedding day. If you want something slightly different but still meaningful, consider some of her words of affirmation items, like the "loved" stud earrings.
Gripping, modern designs fusing the designer's African and Scandinavian roots make up the pieces Oma The Label offers. Gold plating means the accessories are affordable yet lasting, so you can wear them proudly beyond your Big Day.
The ethically made and responsibly sourced gold and sterling silver items offered by Omi Woods feature African-diaspora-centric designs that are wonderful for honoring heritage. The brand's thin necklaces and bracelets make for beautiful layering pieces for brides and grooms.
For a punch of color or pattern on your Big Day, consider the beautiful, bold polymer clay and brass earrings created by this Charleston, South Carolina-based sister duo. The pieces are available in an array of options, including a stunning white and silver pair, and they are budget-friendly.
If your style is more understated, the sweet, delicate pieces created by Bayoush Mengesha from recycled and refined gold and silver are for you. The designer is passionate about everything that the creation of a piece involves and draws inspiration from her travels and the details of everyday life.
You know that saying, "Go big or go home"? This brand takes that seriously. Its oversize earrings will make sure you're the star of the show. Expect modern shapes, African prints, large beads and nature themes to make an appearance in many of the designs.
Among the striking, clean and sometimes whimsical designs, gems often come out to play in classic earrings, statement rings, pendant necklaces and more by Mateo New York. Creations from the Jamaican-born and self-taught designer, Matthew Harris, for men and women are not only available around the world but have even been stocked at the African American Museum of Art and Culture in Washington, D.C.
Though not a jewelry designer, we had to add this 2022 Etsy Design Awards finalist for his personalized leather monogram cufflinks—the perfect dapper addition to a wedding day suit or tux. May we suggest pairing them with one of the brand's signature leather bow ties as well?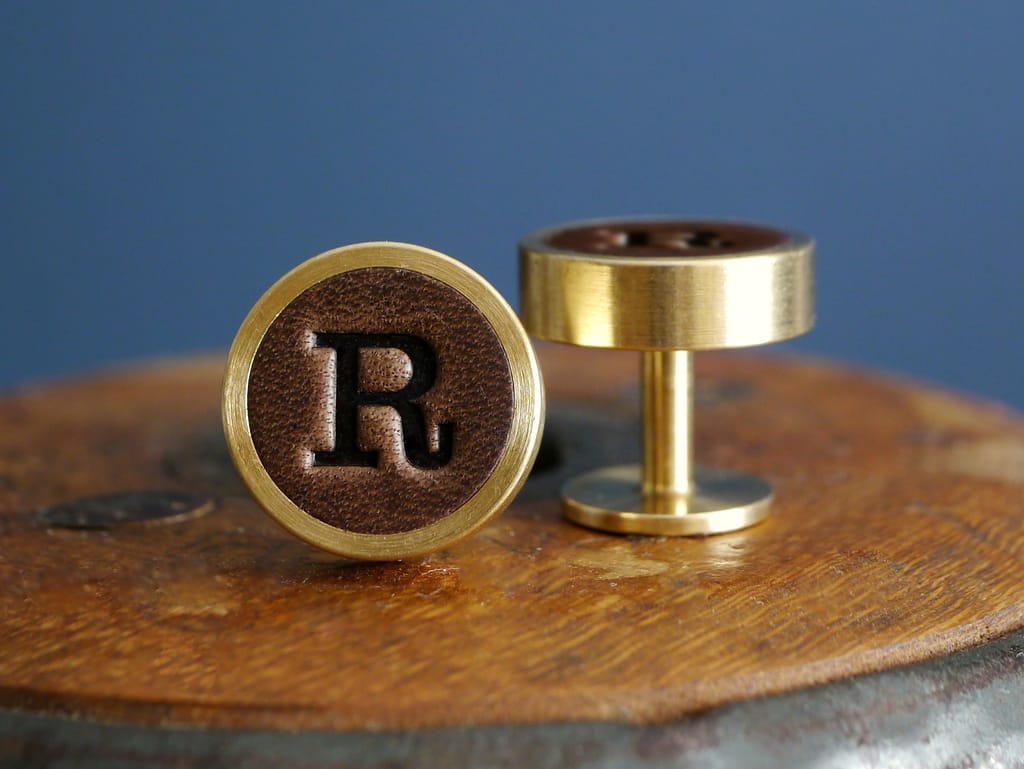 Created in 2019 by Natacha Metayer, who designed the wedding bands for SIGNATURE BRIDE's Love Conquers All Wedding & Honeymoon Giveaways during the pandemic shutdowns, JNCY Jewelers offers elegant fine and affordable jewelry with gold (think 14-karat "Mrs." hoops), sterling silver, natural gems and man-made diamonds and stones. In addition to bespoke engagement ring design, the brand offers custom, personalized and permanent jewelry as well.
At Valerie Madison, it's all-gold everything. The precious metal serves as a warm backdrop for diamonds and colored gems to shine in contemporary designs. Her one-of-a-kind wedding bands, engagement rings and fine jewelry creations are inspired by the natural beauty of her materials and occasionally feature a vintage feel.
When New York City-based designer Sasha V. says her creations are statement pieces, she means it. Each item, especially those within her Black History Month collection, is designed to spark conversation and be meaningful to the wearer. Additionally, as part of an effort to fight overconsumption, roughly 50% of the brand's pieces are made-to-order.
Trusted by NBA stars and celebrities for luxurious, masculine jewelry and watches, Chris Aire has made a name for himself in the industry. He uses his decades of experience and ability to understand his customers and what they want to create beautiful and bold pieces for men and women that often feature oversize and plentiful stones, patterns and details, and they come in his signature RED GOLD®.
Donned by Michelle Obama and Issa Rae, Almasika offers elegant jewelry that stands in contrast to the sharpness of so many other modern designs. The organic-feeling pieces are often round or gently curved and complemented by diamonds and other precious stones.