They say good food is the foundation of genuine happiness, and there might be some truth to that if you ask a foodie.
When searching for the perfect gift for the foodie couple, the possibilities are endless. A simple box of sweet treats might get the job done. But for those who consider themselves food connoisseurs, you may have to do your homework to narrow down a gift that is thoughtful yet practical. Whether the foodies in your life are TikTok viral trends bakers, thrilled at the idea of having a dream kitchen, or they enjoy a good bottle of wine, we rounded up 20 gifts we think are perfect and guaranteed to put a smile on their faces while filling their bellies.
The Chef & the Dish
Gift the new couple a private, virtual cooking experience with a real chef. It makes for a perfect, fun and romantic time. The Chef & the Dish offers more than 70 experiences with chefs who live in Italy, Thailand, Peru, Spain, Hungary and more amazing countries. The classes come with white glove service. Once the virtual cooking class is booked, a Kitchen Assistant will work with the couple to make sure they are ready for their amazing experience. The party starts when the cooking does! Two hours and three dishes later, it's time to eat!

Indoor S'mores Fire Pit

 
We love this handmade miniature S'mores Fire Pit! Heat up date night or any night with this handmade kit. Just place it on a table, fill the pit with food-grade chafing fluid for fuel and get roasting. The flame burns for 35 to 45 minutes—enough time to enjoy a serving or two of that ooey-gooey chocolatey goodness. Handmade base, stainless steel skewers with a glass to hold them, roasting pit and a snuffer for when you're ready to put out the flame are all included. 
Espresso Machine
For the latte lovers, an espresso machine makes a perfect gift. The Barista Touch from Breville is a latte lover's dream: barista-quality performance with a new intuitive touch screen display, pre-programmed café drinks menu and automatic milk texturing—all within a compact footprint. A built-in grinder delivers the right amount of ground coffee on demand and with a three-second heat-up time, you go from bean to cup faster than ever before.

Wine Club Membership
For the couple who loves wine, Winc delivers a curated trio of exclusive bottles from around the world tailored to your taste. To start, your giftees will answer a six-question quiz that allows the folks at Winc to get a taste of their preferences. The wines are delivered, and the recipients will rate them to help Winc better understand their what they like. Gift cards are available for one-, two- and three-month delivery.  

Cheese Club
For those who love cheese, a membership to The Gourmet Cheese of the Month Club is decadence. Handcrafted and hand-cut artisan and carefully aged farmhouse cheeses (individually wrapped in deli paper to allow the cheese to breathe) are delivered every month. Imagine Brie from the Île-de-France and Leicester from English farms with small herds of pedigree Holstein cows. Each selection is freshly cut from wheels or blocks just prior to shipping. Choose from two options: The Original Gourmet Cheese Club or The Rare Cheese Club. Now you just need to pair this with a cracker and bread box! 

Chef Kwame Onwuachi's Cookbook
If you haven't heard of Chef Kwame Onwuachi, you need to put him on your radar. He is a rising star—a James Beard Award-winning chef who has cooked for the likes of Beyoncé, the Obamas, Cardi B and Ciara, to name a few. Gift the newlyweds in your life with Onwuachi's first cookbook, "My America," a celebration of the food of the African diaspora as handed down through Onwuachi's family history, spanning Nigeria to the Caribbean, the South to the Bronx and beyond. The cookbook features more than 125 recipes and will be released in May 2022, but pre-order today. 

Pasta Maker
For lovers of Italian design and Italian food, the Atlas 150 pasta maker by Marcato is the perfect addition to the kitchen. Made in Italy, the machine attaches to a countertop with a screw clamp and comes with a removable hand crank along with additional pasta cutter attachments. Make lasagna, fettucine, tagliolini and 12 other pasta shapes. 

Meal Kit Subscription Box
There is nothing like spending quality time together in the kitchen exploring new meal options, especially for newlyweds who want to create new experiences together. Sunbasket delivers farm-fresh, organic ingredients each week with easy-to-follow recipes. You can purchase Sunbasket gift vouchers in any amount over $60, and the recipients can choose their meals based on their preferences, or they can mix and match any of the weekly recipes. Sunbasket also offers ready-made meals to help make dinner simple and easy.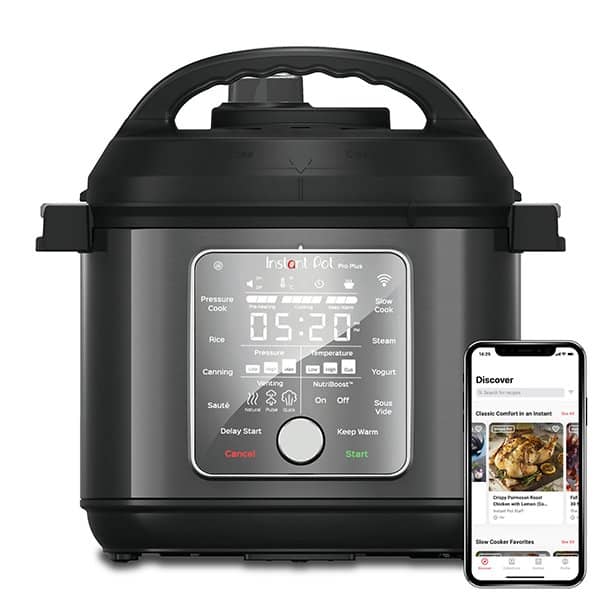 Instant Pot
The Instant Pot Pro Plus is the future. This multi-cooker lets you wirelessly monitor your food through an app. Choose from 800-plus recipes and follow the instructions on the app. The Instant Pot Pro tells you when to sauté your ingredients and when you should place the pressure cooking lid over the unit to slow cook. You can also wirelessly release steam or use the one-touch steam release button. This is the perfect gift for an experienced chef, or even for someone who has trouble boiling water. 

Cocktail Kits
For those who appreciate a well-crafted cocktail but don't feel like leaving the house, The Bar makes it easy with its diverse selection of specialty cocktail kits. Order classic cocktails, like a margarita or an old-fashioned, or try celebratory seasonal delights. Serving sizes are six or 12. You can feel good about gifting these kits: The Bar pledges to contribute 5% of each purchase to charity.

Handmade Cutlery
Quintin Middleton is the creator behind the bespoke chefs knives at Middleton Made Knives. Middleton has crafted knives for top chefs, including Sean Brock, Michael Anthony and Mike Lata, to name a few. The high-carbon steel knives are handmade. 

The Meat Lover's Dream Box
Has your friend or loved one been following a keto or paleo diet, or do they just love a good steak? The Butcher Box offers endless possibilities for dinner with specially curated selections of high-quality meat. Every box is a chance to try something new while enjoying a few tried-and-true favorites. Choose from curated boxes offering 24 or 48 meals, or custom boxes offering 25-plus cuts and 30 or 60 meals. Butcher Box offers free-range chicken, grass-fed beef and crate-free pork among its mixed packages.

Custom Cutting Board

 
Cutting boards are an essential kitchen accessory, and a personalized cutting board makes a thoughtful gift for anyone who loves to cook. There are a plethora of companies offering custom boards, from the big-box stores to small independents. We are fans of both but for something extra special, check out Walnut Artisan Gallery on Etsy. It offers personalized, engraved cutting boards in unstained walnut, maple and sapele, and you have four board types to choose from.  
Waffle Iron & Mix
Who doesn't love waffles? Cuisinart's Round Double Belgian Waffle Maker cooks two thick, delicious Belgian waffles at the same time. With its extra-deep 1-inch waffle pockets, nonstick coated waffle grids and adjustable browning controls, you'll have light and fluffy waffles in no time! Pair this waffle iron with Vicky Cakes, a dairy-free pancake and waffle mix made with pure ingredients. Vicky Cakes is woman- and Black-owned. The mix is a 40-year-old family recipe and available in five flavors, including a gluten-free option. 

Mixology Book
Newlyweds can up their bartending game with "Barkeep 2," the modern mixology and cocktail book foodies did not know they needed. This read is more than the typical cocktail recipe book; "Barkeep 2" teaches readers history and techniques with insight from bartender Danilo Božović, who has two decades of experience bartending for some of the country's most awarded bars. The second edition of "Barkeep" offers updates and insights on mixology, cocktails, craft techniques, classic and contemporary recipes, food, wine, cigars and easy-to-make ingredients at home. 

African-Inspired Cookware
Inspired by African and Caribbean culture, Karibe Company offers utensil sets, cutlery and cookware essentials for the kitchen. The cast-iron skillets are a great choice for the novice cook and the master chef, and the stainless steel knives are perfect for all cooking needs. Karibe also has a 10-piece silicone and wood set that pairs well with its skillets.

Chef-Approved Spices
Spices make the dish. TikTok sensation Tabitha Brown has partnered with McCormick to launch her seasoning brand, Sunshine Seasoning. This all-purpose seasoning is a salt-free, Caribbean-influenced blend inspired by Brown's personality. The seasoning line includes garlic (Tabitha's favorite), along with traditional Caribbean herbs and spices, including ginger, thyme, turmeric and allspice, plus mango and pineapple powders. Beware: The product sold out in only a few minutes, so if you want to gift this, you have to be quick and turn on alerts to be notified when it's back in stock!  
Salted Caramel Whiskey

 
Duke & Dame is a salted caramel-flavored whiskey made for novice drinkers and alcohol aficionados. The product features 100% natural ingredients; there are no artificial flavoring, coloring or additives. Another great thing about this Black-owned whiskey brand is that it only has one gram of sugar per serving. This whiskey can be ordered online or picked up from local retailers, including ABC Wine, Total Wine & More, and smaller liquor stores. 

Kitchen Apparel
Bespoke Binny is a British-based company that offers a range of homemade homeware and gifts made from West African cloth. The colorful, abstract prints make an excellent addition to any kitchen and are a standout gift for the newlywed couple. We love the oven gloves. They are specifically formulated to be heat resistant and reflect heat away from hands, and they have a hook attached so they can be placed anywhere for ease of access.