Fashionistas, rejoice! Pantone, the global authority on color, says the Fall/Winter 2019-20 season's  top 12 stand-out colors,
as well as current takes on the four classic neutrals, reflect an emergence of confidence — bold and strong, a visceral collection of colors that are relatable, while displaying some clever tweaks for the winter season.
Expressing our wide-ranging acceptance of color, combinations for Fall/Winter 2019-20 suggest a thirst for liberation and a desire to realize our own individualized unique identities — exactly what we subscribe to at SIGNATURE BRIDE.
"Colors for Autumn/Winter 2019-20 range from easy and sophisticated to strikingly different and unique," said Leatrice Eiseman, executive director of the Pantone Color Institute. "This palette of versatile hues builds a sense of empowerment and confidence, enabling the wearer to choose the colors that best reflect their mood and persona."
The collection features 12 strong, bold hues we just love:
Biking Red — an adventurous deep red signifying strength and power
Crème de Pêche — an embracing light peach filled with softness and ease
Peach Pink — warm and flattering, and imparting a healthy glow
Rocky Road — an earthy and grounded solid brown
Fruit Dove — an extroverted pink wiht a presence that can't be ignored
Sugar Almond — an appetizing mid-tone, yet a sweetened shade of brown
Dark Cheddar — bold and daring,a sharp blend of yellow and orange
Galaxy Blue — a thoughtful blue, evocative of the greater galaxy
Bluestone — a color of quiet resolve
Orange Tiger — imparts a fearless energy
Eden — a stately forest green that plays on tradition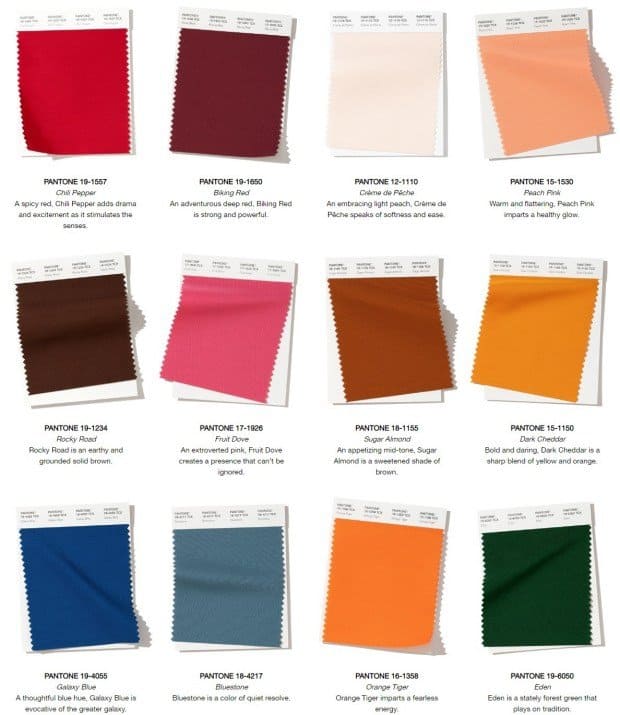 Four neutrals in the palette are strong enough to stand alone or work equally well as a foundation for distinguishing color contrasts:

Vanilla Custard — an understated, smooth and creamy white
Evening Blue — confident and classic, a deep blue symbolic of the evening sky
Paloma — an unpretentious, yet at the same time elegant gray
Guacamole — a tasteful, refreshing foundation