Each year fashionistas look forward to the release of the Pantone Fashion Color Trend Report.
The report highlights the top colors fashion designers feature at New York Fashion Week. This year's vibe is lively and empowering, brimming with confidence and spirit. The SIGNATURE BRIDE who wants to be trendy as she and her squad walk down the aisle will love the unexpected combinations.
"Vibrant without being overpowering, highlighted shades illustrate our desire for authenticity and our continued need for creativity and relatable, accessible design," says Laurie Pressman, vice president of the Pantone Color Institute.
The color collection features 12 playful hues:
• Fiesta — a festive orange-red
• Jester Red — a deep, elegant yet intense red
• Tumeric — an enlivening orange
• Living Coral — Pantone's Color of the Year
• Pink Peacock — a dramatic and inviting pink
• Pepper Stem — a zesty yellow-green pepper stem encouraging nature's healthy bounty
• Aspen Gold — a sunny shade brimming with joy
• Princess Blue — a regal and magical salute to blue
• Toffee — a delicious nod to a brilliant brown
• Mango Mojito — for those craving comfort and golden yellow
• Terrarium Moss — a celebration of foliage and nature
• Sweet Lilac— a delicate fusion of pink and lavender
Four neutrals in the palette are:
• Soybean — a subtle and versatile hue
• Eclipse — a midnight blue for the serious and mysterious
• Sweet Corn — a buttery soft shade
• Brown Granite — a strong and timeless chroma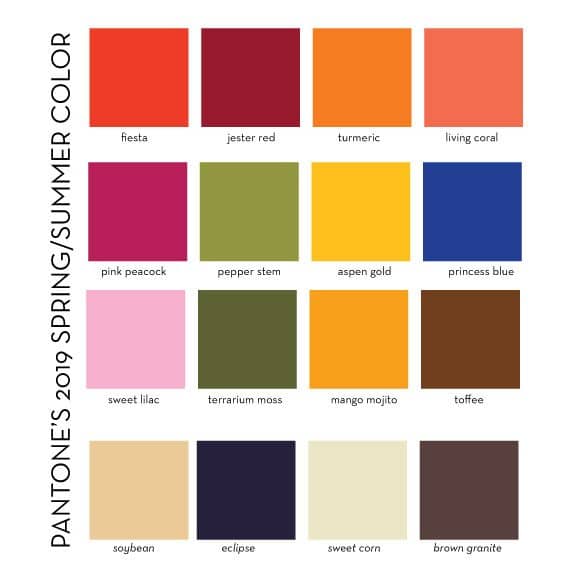 "The palette features warm and reassuring colors that are great for ready-to-wear, so comfortable and engaging," says designer Jean-Ralph Thurin. "They are colors that you want to put on when you want to feel good." Thurin notes he adores Aspen Gold. "It is such a velvety, beautiful and happy color that works for a dress, shift or jumpsuit."
The sole shade that Thurin envisions on a bride is Sweet Corn. He also sees the 2019 color palette working well for bridesmaid dresses. At press time, he was working on bridesmaid dresses with Mango Mojito and Princess Blue. "I can also see Sweet Lilac being a beautiful color for a bridesmaid dress," he adds.
Andrea Pitter Campbell, designer at Pantora Bridal, is a fan of many of the colors featured in this year's palette. She even selected a few of them before they were announced. Brides will see Pantora's 2019 collection incorporating Living Coral, Jester Red, Eclipse, Soybean and Sweet Corn. While Soybean and Sweet Corn may be used for underlays or for older brides, Pitter Campbell says she envisions Eclipse will be great option for the groomsmen.
"At Pantora, we believe the bride is the picture and everything else is the frame," says Pitter Campbell. For instance, she believes Jester Red will look fabulous on the flowers, in a floral dress for a flower girl, on an embellishment or as a pop of color.
Regarding Pantone's Color of the Year, Living Coral, Pitter Campbell is a fan, noting that it is "vibrant, but still sweet and not too loud. She sees the Color of the Year working well for the bridal party and flower girls. "It will look spectacular as an ombre for bridesmaids, from a really soft peach to its full color of Living Coral."
Thurin notes that although Living Coral is not always an easy color to wear, it is not that bold and can offer a soft look to wear.
We would love to hear your thoughts on how the Pantone Spring/Summer 2019 fits into your wedding plans and your favorite color in the palette. Email us at info@signaturebride.net.