The holiday season is the perfect time for giving.
And what better way to give than to support small, Black-owned businesses. By showing love to these companies now and throughout the year you are helping them grow. The pandemic has hit Black-owned businesses hard and has forced small business owners to rethink their business model or reinvent themselves. For some, the hard reality was having to shut their doors this year.
Show some love while you shop for your loved ones this year by supporting the Black-owned brands featured in our 2021 Holiday Gift Guide! Be sure to view the full Gift Guide.
The magic of the season is undeniable. As hard as this year has been, it's reminded us of what is important in life: good health, happiness, and love for and from family and friends. 
We wish you and yours a happy holiday season and a Happy New Year. 

Let your loved ones live their best Afro Hippie life while discovering their perfect infusion of loose-leaf tea. Herbal tea promotes healing and is one of the best practices one can do for self-care. Afro Hippie Shop's individual Glass Tea Infuser aids in that. Plus, it makes a great cup of tea, so your loved one can experience a wonderful sensory experience in every cup. We love the glass tube infuser; it's a great eco-friendly alternative to metal tea strainers. Also available are loose tea storage containers in rose gold and silver to keep your loose-leaf teas and herbs fresh for longer. 

Designed to elevate the wellness experience, each beautifully scented SoulWick candle is aligned with a curated experience, recipe, affirmation and more—including access to a positive online community—through a robust app. These natural soy candles are clean-burning and free of toxic additives. This Black woman-owned company provides a safe and authentic work environment for women of color. You can feel even better about your gift because portions of the company's annual revenue go to support animal and bee conservation, clean water and trees, and services for women and children. With names like Vibes, Powerplay, Flo and Vinyasa, every candle has a positive, intentional purpose.

Developed by two Black women of Caribbean descent, one an ob-gyn and the other with an MBA, Kushae provides the first and only ob-gyn-researched and developed nontoxic feminine hygiene products on the market. For the woman who waxes or shaves regularly, the Premium Gift Set combines gentle foaming wash, natural feminine soothing cream and natural feminine deodorant spray. For the woman who deserves it all, the Kushae Kit comes with gentle foaming wash, natural feminine deodorant spray, natural feminine soothing cream and natural feminine skin balm all in a pretty Kushae gift box. 

Enzuri gives women a sensorial and amazing experience as they create a self-care ritual to care for the wellness of their skin, body and spirit. The product line includes Awaken Cleanser with natural floral extracts to rejuvenate and restore the appearance of firmer and smoother skin; Harmony Toner with CoQ10 and hylauronic acid that balances and primes the skin; Powerful, a daytime super serum to help defend the skin from the environmental assaults of modern-day life and promote the appearance of bright, firm and supple skin; and Faith, a retinol-based night serum for rejuvenation and to help fight the signs of aging.

From traffic-stopping formal wear to classy casual wear, Yelé Stitches creates bespoke, handmade African and Western fusion fashion for women. Accessories and outfits from Yelé are so delightfully unusual and thoughtfully ethnic that it's almost impossible to choose! We love the Abike dress with its playful combination of straight and billowing lines. From now until January 1, 2022, take 30% off your online order. 

Tranquility starts inside, and there's nothing more nurturing than including homemade beauty products into your relaxation and self-care routine. Natural and organic skin cleansers and moisturizers from Minnie Beauty Essentials are made from high-quality, all-natural ingredients that add another dimension to home spa treatments. All of Minnie's soaps and lotions are beautiful to look at—the colors are soft and organic and beg to be displayed. There's so much goodness to choose from, but we love the Miracle skin bar and lotion for troubled skin, the beautifully layered salt scrubs and the yummy cherry papaya lip balm.

Using the clean beauty practices of West African women, SKNMUSE creates creams and oils that guarantee 24-hour hydration. The product line includes oils, balms, butters and nail care. SKNMUSE also has a fantastic refill policy that reduces waste (and saves you money.) 

This is the perfect gift for the modern-day goddess who knows strength comes from self-care. Try one of Toastyy's CBD bundles, which include combinations of supplements, topicals and tinctures. Or go with the no-fail favorite, CBD-infused hand and body lotion. Toastyy is FDA-registered, U.S. Hemp Authority Certified, vegan, cruelty-free, made fresh and always lab-tested, so you can feel great about gifting.

Looking for a decadent treat this holiday season? These vegan cookies are made with intention and with unique, quality ingredients inspired by the founder's Jamaican-American roots. Handcrafted from scratch, each flavor has a special story behind its inspiration, and each is surprising and delicious.

Whether she's bare or prefers hair, conditionHER is a natural, daily-use moisturizing cream scientifically formulated for external intimate areas, such as the vulva (external genitalia), inner thighs and underarms. Safe, soft and effective ingredients help reduce the appearance of ingrown hair and razor burn, soothe irritation from chafing, nourish skin and soften hair without disrupting healthy vaginal flora and pH levels. Pro tip: Women are raving about this product, so order two tubes and get a free pair of their adorable Body-Ody drop earrings. 

Using the finest moisturizing ingredients, such as capuaçu butter, babassu oil, shea butter and jojoba oil, the butters, soaps, soaks, masks, balms and scrubs moisturize, heal and restore dry, damaged and irritated skin. The products are all-natural, vegan and eco-friendly. The products are like holistic love bombs for your body. As if it couldn't get any better, the glass jars with warm wood lids are beautiful on the countertop and the 3-ounce size is TSA-approved.

Whether you're sleeping, napping or traveling, this therapeutic pillow will help you relax in comfort and style while holding the neck in the correct position. Choose a washable cover from 10 colors and patterns, including a new silk option. You can even have the pillow monogrammed.

If you have a tea drinker you're shopping for this holiday season, consider joining the True Serenity Tea Club. Each month a box filled with classic, luxury and award-winning loose teas from around the world, tea blends and tea accessories, and a gourmet snack to go with teatime will be delivered. Each tea is blended and boxed by hand. Samples make 10 cups of perfect tea and may include green tea, white tea, black tea, oolong or specially blended herbal teas. You can gift month-to-month or purchase a three-, six- or a 12-month subscription gift. Plus, each giftee will receive a Tea Starter Kit with the first order. 

Classic Touch spa candles, room sprays and body wash are designed to merge the benefits of CBD and sexual wellness, helping you achieve your most intimate desires. Indulgent favorites include the magical C'est Pour Eux room and body spray, a neutral fragrance for her, him or them, and the hemp oil-infused C'est Pour Eux candle and massage cream with hints of jasmine flower and citrus. Light the candle and let it burn for 10 minutes, let it cool, then use the creamy massage oil on your (and your partner's) hands and body. 

Relax Mom's new CBD-Infused Whipped Body Butter is made with pure organic shea butter and infused with 100mg of premium CBD distillate and cashmere vanilla or lavender. This decadent treat supports reduced inflammation, increased blood flow and pain relief. Relax Mom also offers lavender-infused after-shower body oil for a restful sleep and luxury bath bombs for a soothing soak.  

Packing your beauty and skincare essentials for a trip is never easy, especially when you need to be TSA-friendly. Black Travel Box ensures you don't have to pay to check a bag to have what you need. The company offers a gorgeous line of natural hair and personal care products that cater to Black travelers. We love the Carry On Starter Box—a five-piece set of essentials, with hair balm, body balm, lip balm, and conditioner and shampoo bars, all in the perfect size to breeze through airport security.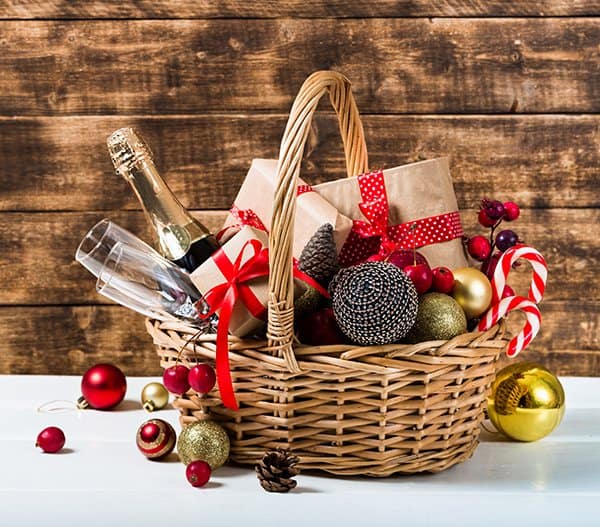 Elegante Creations can customize gift baskets with your loved one's favorite treats and indulgences tucked inside. The new "Mr. & Mrs." customizable gift basket includes champagne or sparkling wine or cider, matching flutes or wine goblets, sweet treats and a special gift for each couple. The boxes are not only beautiful, but they also spark magical, unforgettable moments to remember. Choose from small, medium, large or extra-large baskets.

For the yogi in your life, the Daybreak Yoga Mat just gets better with time, heat and sweat. Made from cork, this mat is nonslip and naturally inhibits the growth of bacteria and other microorganisms that make other yoga mats not fit for your Queen or King. The mat is 100% recyclable, renewable and biodegradable. Get 15% off the mat on Black Friday and Cyber Monday.

Laughter. Good stories. Great food. Most of all, family. Books by Rev. Dorothy Scott Boulware are like a hug for the soul and are powerful reminders of God's love and His expansive vision for our lives. 

Monthly beauty subscription boxes are fun, especially if all the goodies inside are specifically for Black and brown skin. Each month those you gift to will receive a pretty Cocotique package with up to eight carefully curated beauty, self-care and lifestyle products specially designed for women of color. Luxury brands included in the subscription boxes include Aveda, Befine, Semaine, Wakati, Mixed Chicks, Carol's Daughter and Nature by Canus, with so many more to discover.

It's the season for the tea lovers on your list! Sustainably sourced, premium loose-leaf tea from Persnickitea has the maximum concentration of vitamins and antioxidants—and flavors are remarkably smooth. The Double Ginger is a winter favorite with the perfect blend of ginger and red and black peppercorns; this tea has high levels of vitamin C and magnesium for a robust immune system and deep sleep, plus mood-boosting B3 and B6 vitamins, iron and potassium that helps regulate fluid levels in the body.

Gift those you love with home spa gift baskets from NuYu Body Spa. Choose from five different collections. We love the SCRUB ME DOWN box with five sugar scrubs infused with all natural sugar, oils and essential oils, plus an exfoliating glove. Or try the KABOOM Detox Juice box. The SNATCH ME SIS box is filled with gel cream, body wrap, detox gel and detox juice; the MEOW MEOW Box contains yoni wash, yoni oil and yoni herbs; and the CELL-U-LATER cellulite box is filled with creams and scrubs and wraps.