Take your glass

of bubbly to another level with one of these refreshing champagne cocktail recipes.
Over the past few weeks of social distancing, people have found creative ways to keep in touch with family, friends and colleagues using online video conferencing platforms like Zoom, Google Duo, and Skype. Thousands of brides and grooms-to-be have planned virtual bridal showers, engagement parties, and Happy Hours to keep the celebration of their love in motion. What is one thing that these types of celebrations all have in common? Champagne.
Since the 18th century, Champagne has become the drink of choice for any special occasion. There are six main styles of Champagne to choose from, we recommend selecting a Brut Champagne (Veuve Clicquot, Korbel), as it's not too sweet for these 5 cocktail recipes. From there, we'll leave the rest of the virtual party planning to you.
Get ready to pop some bottles.
Sparkling French Martini
Ingredients
1.5 oz Vodka
.5 oz Chambord Liqueur
2 oz Pineapple Juice
.5 oz Brut Champagne or Sparkling Wine
Raspberry or lemon twist to garnish
Handful of ice
Directions
Pour the Chambord, vodka, and pineapple juice in a shaker. Then add ice and shake briskly. Next strain into a chilled martini glass. To finish this version off, top each glass with a bit of cold champagne and a raspberry or lemon twist. For an added touch, sugar half the rim of the glass.
Grand Royal
Ingredients
3/4 parts Grand Marnier

4 parts Champagne
Directions
Pour Grand Marnier to fill 3/4 of a champagne flute. Then top with your choice of Champagne. Garnish with an orange twist.
Blushing Mimosa

Ingredients
2 oz Orange Juice
1 oz Pineapple Juice
2 tbsp Grenadine
Brut Champagne
Maraschino Cherries for garnish
Directions
Mix orange juice and pineapple juice together. Fill a champagne flute 2/3 full of the juice mixture. Next, add Champagne, then grenadine. Top with 2-3 Maraschino cherries.
Champagne Punch
Ingredients
Brut Champagne
1 oz Brandy
1 oz Cointreau or Orange Liquor

1 bottle Club Soda
1 Orange Rind
Pineapple slices
Orange slices
Mint sprigs

3-4 strawberries (optional)
Directions
In a pitcher, add the ingredients and mix. Serve cold, garnished with sliced fresh pineapple, orange, and fresh mint. Crushed fresh strawberries add a fancy and flavorful touch.
White Peach Bellini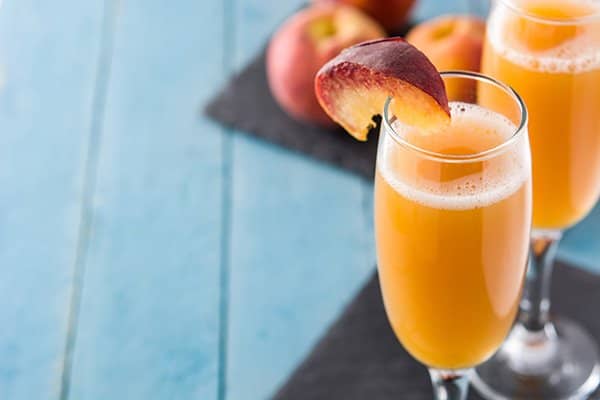 Ingredients
2 parts Champagne
1 part White Peach Purée
Directions
Place one tablespoon of white peach puree into the bottom of a chilled flute glass. Slowly fill the glass with champagne so it stirs up the puree. Garnish with peach slices.
If you make any of these cocktail recipes for your next virtual happy hour, share them with us on Instagram using the hashtag – #SignatureSips