As a creative director

and content creator for many Hollywood A-listers and Fortune 500 companies, Wisdom Sewell has spent an entire career mastering the art of visual storytelling.
So, needless to say, when it came to planning her Big Day, the storytelling of her fairy-tale wedding was certainly a task in which she wanted greater authorship.
"We were told numerous times that the day would be a forgettable whirlwind for us. Once we saw the investment we were making, that was not OK with either of us," says Sewell, who wed her now-husband, Gregory, this past Labor Day in Atlanta. "We wanted to remember this day because it meant more to us than many may have realized—him, 40-something and having given up on love, and me, a whole widow. One of our first hunts was for talented creatives to capture our event."
Sewell, who also creates original content for her own 13K-plus Instagram and 68K-plus TikTok followers, had very thorough concepts of how she wanted to capture memories for her wedding day. So much so, she confesses, that some of the interviewed vendors were a bit intimidated by her detailed requests and elaborate Pinterest boards.
And, according to professional photographer Foon Fu, that's actually the best way to go—a detailed wedding shot list is a necessary step to ensure you get your most desired snapshots as well as all those classic, coveted captures.
"Don't assume your photographer will know what you want," Fu says about the importance of communicating your desires to your photographers. "Photographers are visual people, so visuals are the best way to provide them guidance to replicate the event of your dreams."
Fu highly recommends putting together a shot list or mood board. This should offer your prospective photographer a glimpse into the type of visuals you like. As an example, he says some clients prefer more candid shots, where the photographer aims to discreetly capture organic moments as they unfold. Others may have very specific shot concepts of food or the wedding party, which would require a bit of staging or planned posing. Fu adds that a shot list can also help to align expectations on the other side of the vendor contract—as it also gives the photographer an opportunity, if necessary, to price adjust for extra staffing, equipment needs and more.
Sewell, who used Pinterest for her wedding plans, says the platform is a great tool to collect photos and other visuals that catch your eye. While you can share a lengthy list of photo inspiration, she recommends prioritizing no more than 10 must-have shots.
"It was simple to share these with the photographer and videographer to make sure they understood what we wanted as well as what was most important to us," she explains about the narrowed-down must-have list. "Then we let them do their thing."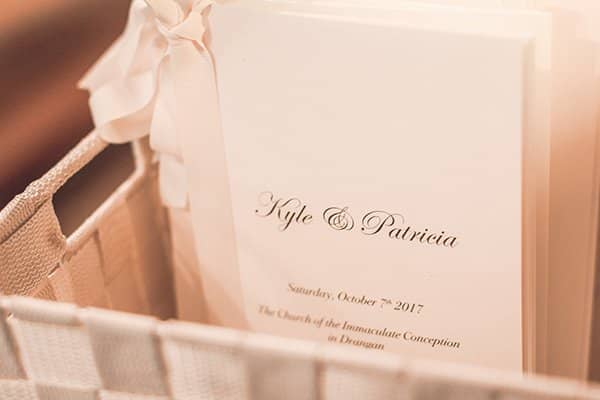 There's no shortage of inspiration on the web, but if you're looking for some curated concepts, Sewell and Fu have identified a few of their favorite must-capture moments to consider below.
1. A nontraditional pre-ceremony, behind-the-scenes shot
The classic shot of the bride framed in the mirror is a perennial favorite. While Sewell was looking for unique ways to capture this shot, she fell in love with another image that showcased the pre-ceremony routine of the flower girl. So, of course, she added the concept to her shot list as well.
2. The program shot
When you think about telling a story in photos, this image aesthetically conveys the story settings. Fu says the program shot is a subtle and sophisticated way to capture the wedding date, the couple's names and other core details. Plus, if you spend a pretty penny on your programs, why not memorialize it in a photo?
3. The food shot(s)
As a rather talented home chef in her own right, Sewell said the reception meal was another important element in her Big Day. Spending a lot of money and attention on your wedding menu can ensure that conversations about the impressive offerings will live long into the evening. However, those memories hardly linger years beyond the wedding. For a memory sharp enough to re-trigger your taste buds, great food photography can do the trick.
4. Captured moments of emotion
An image is worth a thousand words, especially when that image depicts scenes like a beholder's first glance at the bride, the misty eyes of a parent who escorts his or her child down the aisle or the laughter of the guests during a wedding speech. If candid moments are a big desire, Fu strongly advises interviewing photographers who have notable showcases of that work in their portfolios. 
5. Venue photo and décor shot(s)
So much attention often goes into the venue decorations and ambience. And with so much going on during the ceremony and reception, it's not unusual for little details to go underappreciated or even unnoticed. Fu recommends getting staple shots of the venue and setup. These establishing shots help set the scene for the perfect visual retelling of your wedding.
6. The bride and groom shot(s)
The bride and groom kiss at the altar or the posed photo by the wedding cake are both timeless favorites. Sewell and her husband decided to do "first look" photos (a popular modern concept when the bride and groom see each other for a brief private moment before the wedding ceremony). Sewell says this allowed them to shoot wedding day photos when they were fresh-faced and relaxed before the rest of the day's events unfolded.
7. Video content
Don't assume your photo vendor is capable or even interested in also capturing video of your day, Fu warns. The two visual mediums involve different skill sets, he adds. However, if your photographer does offer a video package, Fu recommends communicating your expectations with some sample clips—whether a series of small 15-second stories or an edited highlight reel. As a popular social media influencer, Sewell wanted video content of her wedding day, so she hired a separate videographer.
8. Photos from your guests
While your cousin's new iPhone 13 Pro is no match for a trained professional armed with a DSLR, your cousin and other wedding guests may still stumble onto a few cinematic gems. Sewell says couples should encourage their guests to add their photos and videos to a shared cloud-based album, like Google Photos or The Guest app.