The typical destinations that

come to mind when you think of a Florida honeymoon are predictable spots like Orlando, Miami and Key West. Regardless of these well-known settings, a largely overlooked location can be the perfect place to mark your new life as a couple.
Just 13 miles long, Amelia Island is a tranquil hideaway of beaches, lush foliage and an eclectic mix of activities.
With the Atlantic Ocean on the east and the Amelia River and Intercoastal waterway on the west, this hidden gem is a mere 30-minute ride from Jacksonville International Airport.
Rich in history and quaint in charm, Amelia island offers a welcome respite from the typical fast-paced agenda associated with bigger cities. Located on the northeastern coast of Florida, Amelia Island is the second oldest settlement in America—and the only place in America to have been ruled under eight flags—with roots dating back to the 1500s.
Originally settled by Timucuan Indians, French explorers led the first wave of European exploration. Named for the daughter of King George II, Amelia Island abounds in a plentiful landscape of natural wonders, including marshlands and profuse vegetation.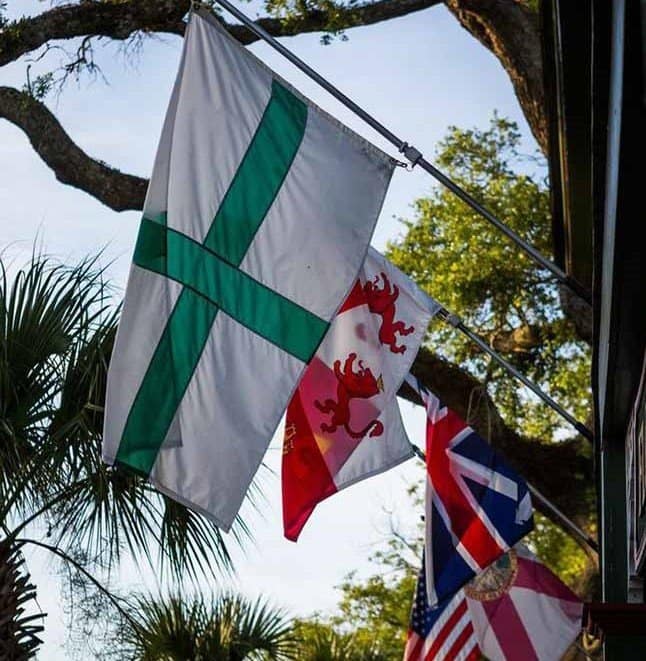 However, don't let the island's small size fool you. It's a treasure chest of choices reflecting a wide array of tastes, and the location is an ideal place for a romantic interlude. The only town on the island is Fernandina Beach, a seaport community of around 11,000 residents. Its golden heyday spanned roughly from 1870 to 1910 as a summertime playground for northern tourists.
As the tourism boom of the 1890s moved southward, the Victorian expanse of "painted-lady-styled" dwellings and picturesque shops was left behind. The ambience of yesteryear is the cachet of Fernandina Beach — and the locals prefer it that way. They persistently fight to maintain a low-profile lifestyle to protect their historic legacy.
Luxury resorts, such as the opulent Ritz-Carlton and Amelia Plantation bookend a minuscule district known as American Beach, a resort area founded by a Black insurance executive in the 1930s. The spirit of his great-granddaughter and most ardent activist, the late Mavynee Betsch, lives on as acknowledgment of a long-standing Black presence, with the remaining acreage now on the Register of Historic Places since 2002.
Be sure to stop by the American Beach Museum, which was created for African-Americans in 1935 and stands as an anchor to preserve the area's rich history and ties to the Black community. It's all about nature at the southernmost end, where you will find Amelia Island State Park, an ecological sanctuary of flora and fauna. This is home to all manner of tropical plants, nature trails and animal life, as well as being the only state-endorsed horse ranch on the beach. Alternating between environs of both nature and town provides a vivid experience during your stay.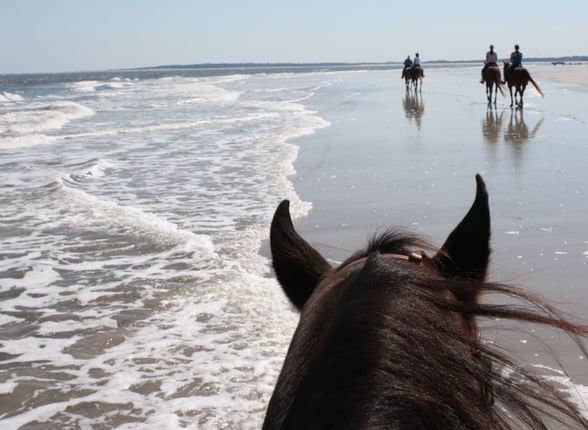 Return to Fernandina and you'll be transported back in time when walking through the town's Centre Street Historic District, a 30-block stretch of structures, churches and other landmarks, many of them pre-dating 1900. Pick up a map and brochures for a self-guided tour at the 1889 depot turned Welcome Center, a must-first stop. Buildings adorned with ornamental archways and Italianate flourishes now house boutiques, restaurants and specialty shops. You'll also see numerous Victorian houses painted in pastel palettes lining the streets.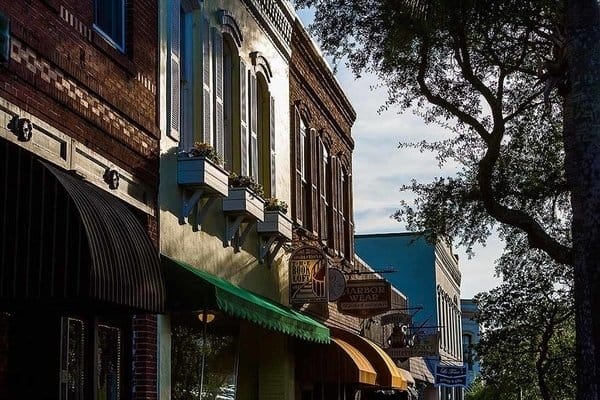 As Centre Street tapers off into the Amelia River, another chapter of island history unfolds. It's here, at the docks, that the modern-day shrimp industry was born. Today, the town still harvests about 80% of Florida's sweet Atlantic white shrimp annually. Incidentally, there are several annual events throughout the year, such as the annual Shrimp Festival in May or a fall Jazz Fest. Other activities include golf, tennis, bike riding, carriage rides, water sports and heritage tours. You can be as active as you want, or just be inclined to lounge under a shady umbrella—the choice is yours.
No visit to Amelia Island would be complete without a cruise along the beautiful Amelia River. A relaxing excursion will immerse you in the history of the island, while taking in breathtaking views of Cumberland Island, located at the tip of Georgia.
Despite the varied lodging options found on the island, it's the exquisite bed and breakfasts of Fernandina Beach that truly celebrate romance. Several inns dot the island, nearly all of them historic mansions restored to original splendor. Each one of these inns expresses its own signature style and are wonderful combinations of Old World charm and Southern hospitality. Innkeepers are very receptive to honeymooners and provide several romantic honeymoon packages to enhance your stay.
You might even think of broadening your visit by having a destination wedding at a historic bed and breakfast. Rates vary depending on the season and length of stay. Amenities such as in-room DVD players, private showers, wireless internet service, cable TV, chocolate, fresh flowers, chilled champagne and feather coverlets are just some of the possibilities. We recommend you check each individual inn for services.
Here are a few historic inns in Fernandina Beach Historic District to check out:

Built in 1885 by a local prominent citizen, this four-story, 20-room villa gave the town its first elevator. Now it's an inn of eight individual luxe quarters fusing the convenience of this century with the attention to detail of the 19th century. The Italianate architectural elements, piazza and abundant gardens complete the surroundings.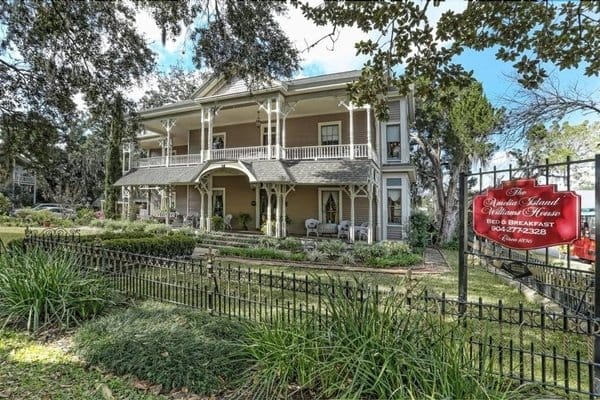 Cozy and comfortable are the hallmarks of the Amelia Island Williams House. This 1856 mansion reveals beautiful antiques, crystal chandeliers and fine craftsmanship throughout the rooms, with some featuring Jacuzzis. Many awards have been bestowed upon this property as one of the best inns in the country. If you like lemonade on the veranda, you'll love the Williams House.
With more than 150 years of continuous service, this is the oldest surviving hotel in Florida. Located in the heart of the Historic District, Florida House Inn has hosted a string of luminaries throughout the decades. Guests are within walking distance to dining, shopping and entertainment downtown. The 16 rooms and two carriage houses feature fireplaces and are pet-friendly. A cozy pub and restaurant featuring regional dishes set the stage for a glimpse of Floridian history. 
The Hoyt House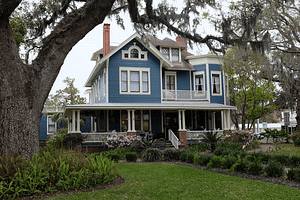 A 1905 Queen Anne mansion of 10 elegant guest rooms, each one with one-of-a-kind décor, including a sleigh bed. Wrap-around porches, lazy ceiling fans and tall bay windows are in store for you, while still enjoying 21st century necessities. Just a stroll or bike ride away from the ocean and its cooling breezes.