The couple's micro-wedding was

a celebration of their culture and womanhood.
We aren't letting COVID-19 stop us from spreading the love with our virtual Love Conquers All Wedding & Honeymoon Giveaway. And guess what? We did it again! For four months we worked alongside our partners, WebWed Mobile and Equally Wed Magazine, to plan a very special Pride wedding in Los Angeles.

 
When it came time to choose the theme for their wedding, Brandy Owens and Stephanie Grigsby told us they wanted to be unapologetically Black. The couple selected the theme 'BLACK IS QUEEN' for their October 3rd wedding, and we were all for it!
With the assistance of SIGNATURE BRIDE's staff, celebrity wedding planner Slomique Hawrylo of Carpe Diem Events, and our LGBTQ-friendly vendors, Owens and Grigsby had the wedding they've always dreamed of. 
"It was important with this wedding that I showcased the tenacity that these women exhibited in their lives, their family, and their careers. The phrase that encompassed that overall strength was 'Black Is Queen,' a play on Beyoncé's Black Is King," said Hawrylo.   
Following California law, the wedding was held at Collective Rentals, a luxury production studio and rental company, with the couple's two children and six guests in attendance. And with the innovative technology of our partner WebWed Mobile, more than 100 guests attended virtually. JC Banks, the co-founder of WebWed Mobile and an ordained minister, married the couple.
"WebWed created a powerful platform that allowed our friends and family to enjoy, feel and love on us from afar, and that meant the world to us," says Grigsby.
When they first met at work, the vibe between Grigsby and Owens was organic; it was as if they had known each other forever. They never thought their friendship would evolve into love. After three years together, the couple decided to solidify their relationship by getting married. 
When COVID-19 halted their original wedding plans, the Los Angeles-based pair were devastated. While scrolling through Instagram, Grigsby came across the announcement for SIGNATURE BRIDE's Love Conquers All Wedding & Honeymoon Giveaway. Taking a leap of faith, the couple decided to apply for the opportunity to have the wedding they've always dreamed of.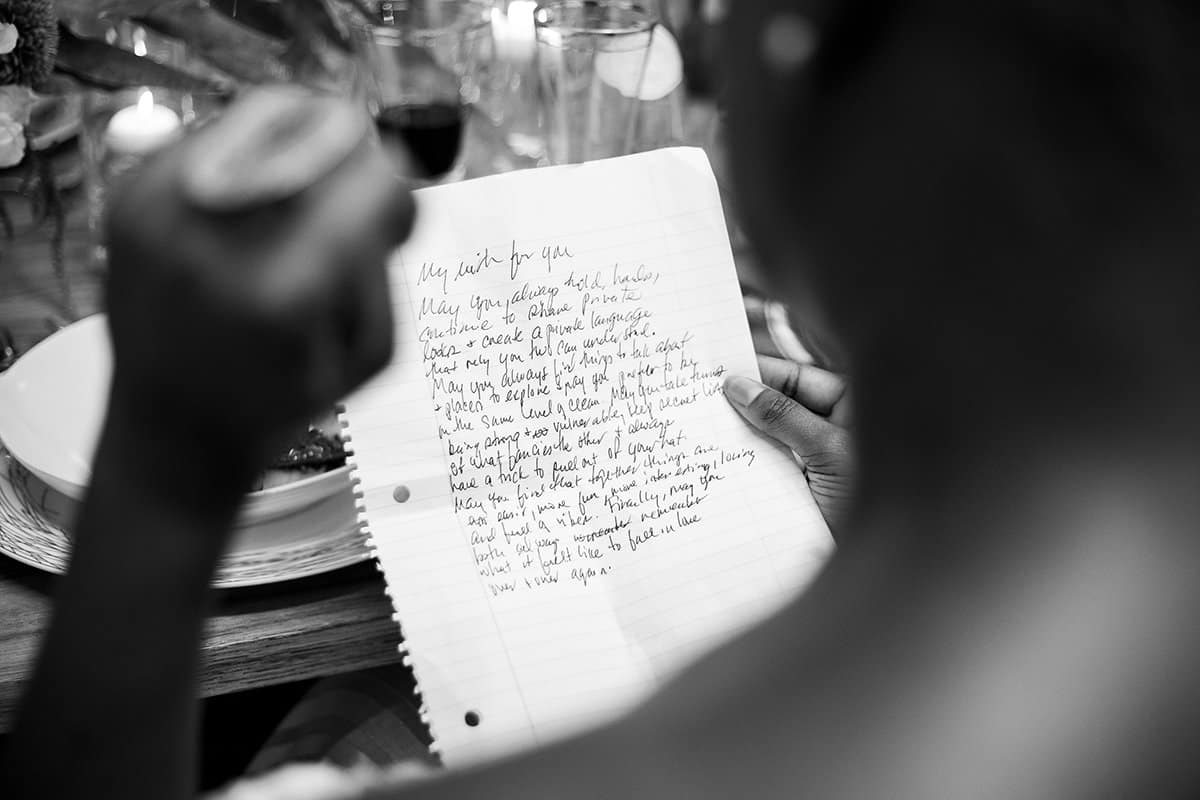 "Rarely do I sign up for things because I usually do not win. So, my hopes were not high, and time had passed for me to relax from the jitters of it all. When Steph told me we were a finalist, I was surprised and excited, to say the least, and nervous all over again," says Owens.
Several weeks later, the couple was contacted by SIGNATURE BRIDE's executive and editorial team to inform them that they were the winner. 
"When I received the initial call from SIGNATURE BRIDE, my mind went into a state of, 'Did she just say WE won?!' I just blanked out on the rest of the conversation! I hid it from Brandy for an entire day so that I could surprise her with the news," says Grigsby. "For weeks after the call, I would just shake my head and say, 'We really won!' We had no clue what all that meant until Debra from SIGNATURE BRIDE introduced us to Slomique."
"When she called to introduce herself, she began with an immediate desire to get to know us. Not in a questionnaire way, but in an 'I'm intrigued by your story' way. She then focused on what our perfect wedding looked like to us. The most thought-provoking moment was when she asked us, 'What are the two or three things you need to make this day perfect, outside of the décor and ambiance?' And she told us she would make sure we had that," says Owens. "She took our desires from a vision to such a culturally, monumental oasis." 
In the midst of the Black Lives Matter movement, the couple wanted to create a modern aesthetic that celebrated their culture and lifestyle. 
"During the planning and implementation of this wedding, the world was hearing from Blacks, and we were no longer apologizing for who and what we are. I believe that this wedding, for me, was a statement," says Hawrylo. "It was a statement of Pride. Pride in our heritage. Pride in ourselves. Pride in our womanhood. And Pride in our love. There was no better time to showcase this Pride than now."
As they say, planning is in the details. Hawrylo and her team at Carpe Diem Events spared no detail. "There was something truly organic with Stephanie and Brandy's love, and there was no better way to embrace that organic love than to have Stephanie, an artist by trade, surprise Brandy with a custom art piece that embraced the alter," says Hawrylo.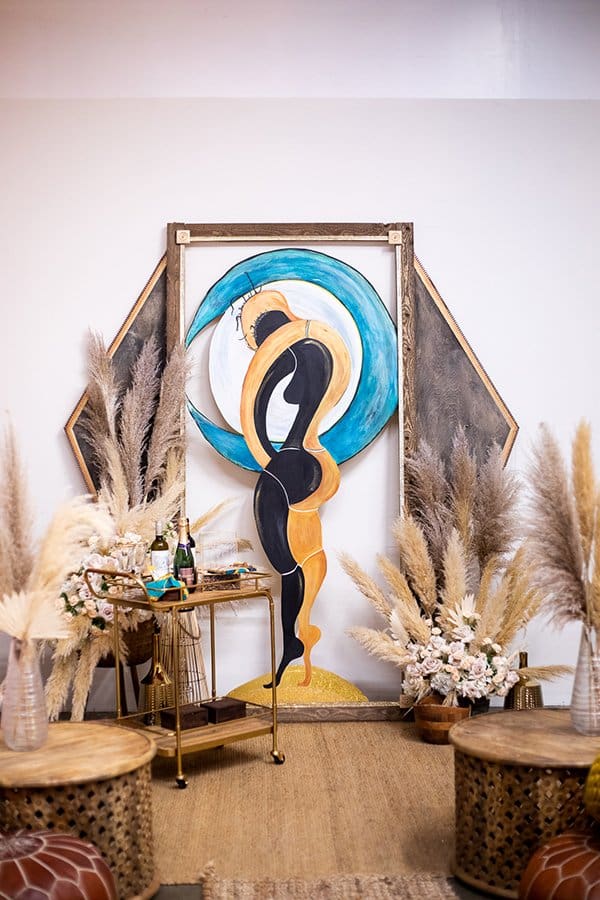 Only giving Grigsby colors and the vibe of the design, Hawrylo had to trust that the art would truly reflect their love and that she would be able to bring it to life with other décor. "The art was the center of my design. It flowed through the invitation design, the place setting and the live entertainment," adds Hawrylo. "As Stephanie sketched and sent me renderings of her vision, I pulled textures and design elements that continued the story. With the inspiration of her work and the release of Beyoncé's Black Is King, the ancestral African vibe of this wedding was born. I wanted them to feel like Queens."
The stationery reinforced the vibe, showcasing African artistry. The invitation was designed from wood, African fabrics, dried wild florals and jewels, and finished in a custom glass box. 

With a limited guest count due to the guidelines for COVID-19, it was important that the seating for the ceremony was unique, inclusive and purposeful. Hand-selected furniture full of wood accents and unique curves from Collective Rentals was the center of the design.
Floral décor was provided by Blue Iris and designsbyher. Hawrylo brought the two florists together with the goal of letting their talent complement each other. "Julie from Blue Iris is a true master in textures and making a statement with her designs. Pairing her with Amber of designsbyher brought in the finishing touches with her masterpiece of color and unique and museum-worthy floral vessels," she says. 
Upon arrival, guests were handed custom mahogany-stained, engraved wooden boxes—another nod to African artistry. "To ensure that COVID did not hinder the design aesthetic, it was important that I made the boxes a part of the design as an additional art element," Hawrylo says. "Within the boxes, we provided each guest their own custom African print mask by Lilyan Paris Design—the same print used throughout the design—complemented with lavender sanitizing spray in a small gold perfume bottle provided by a small kid company named Spray & Play. We had all the guests wear white so that the artistry of the masks highlighted the room and their attire embraced the spirit of purity of the couple's love."

White drove the fashion for the couple and the guests, birthing an organic love throughout the space and leaving the art of African roots filling the spirit of the room. Brandy wore a boho-inspired gown draped with African jewels and finished with an African fabric, hand-tied cascading bouquet. Stephanie took the pantsuit to a queen level. With her all-white pants and soft white top under a Madeleine Fig embroidered floor-length cape tied at the neck with a soft satin ribbon, she encompassed all that was Queen.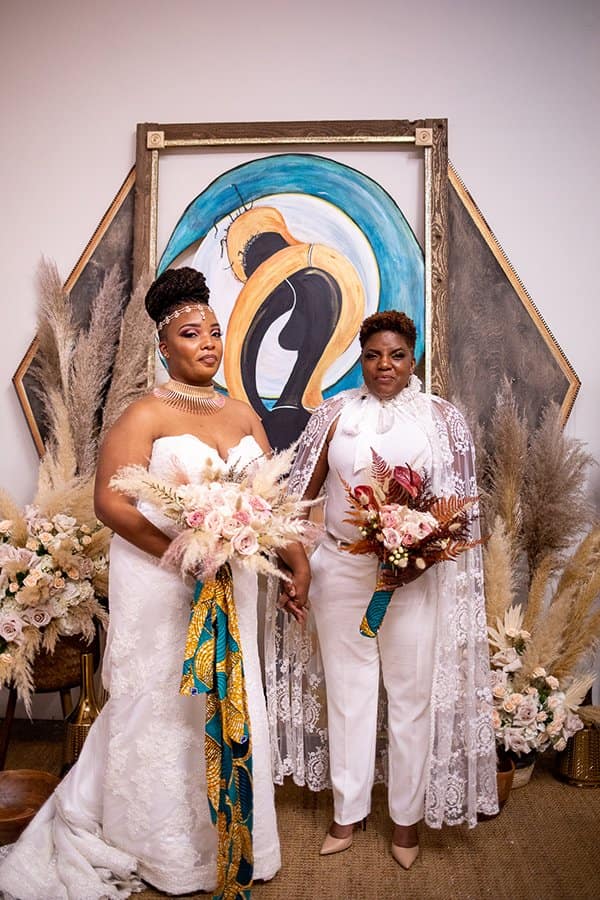 Ensuring that the couple stood alone in their beauty but complemented each other when side by side, Grigsby's bouquet was filled with color and texture to embrace the artist in her. To continue the curated fashion, Hawrylo placed their daughter in a tuxedo jumpsuit. "I decided to skip out on the bouquet and enlisted designsbyher to design a cascading, asymmetrical bib of floral to drape down from the back of her neck, then extend along her lapel. It was accented by a handcrafted bronze metal arrow necklace designed by Regal Sovereign, a New York-based business specializing in custom tribal jewelry. Her brother's boutonniere was the finishing touch to the entire look of the wedding party," says Hawrylo. 
There are no African Queens without the organic sounds of Africa. Rhythm and beats replaced the traditional sounds of classical strings as the wedding party entered the ceremony. From the elongated moves of the African dancers to the rhythmic beats of the drums by master drummer Dramane Koné, the ancestors were awoken, and their vibrations were felt with every beat of the drum.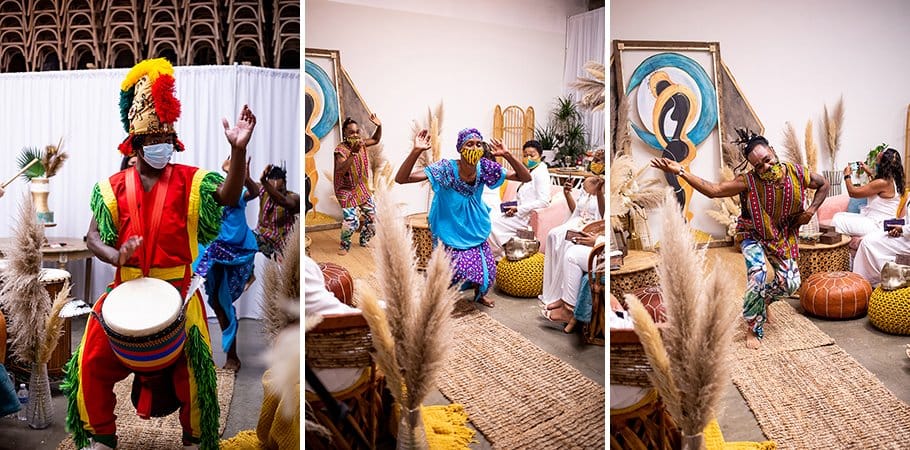 After a champagne toast with family and friends, the couple and guests enjoyed an amazing dinner catered by Chef Ayo Cherry, who curated an African-inspired menu of Seychelles smoked ceviche and jerk scallops. Red, white and sparkling wine from Bordeaux, France, was gifted by Gregory + Vine. The table setting featured die-cut wood place cards and menus in the shape of Africa that accented the napkin, which was finished with African belt fabric. 
The vision for the wedding cake was brought to life by Sifted by Cyndi. Staying true to the beauty of African heritage, the cake took the essence of the Motherland, resembling the strong, elongated neck of an African Queen draped in gold bangles. "The cake was original, delicious and so Black," adds Grigsby.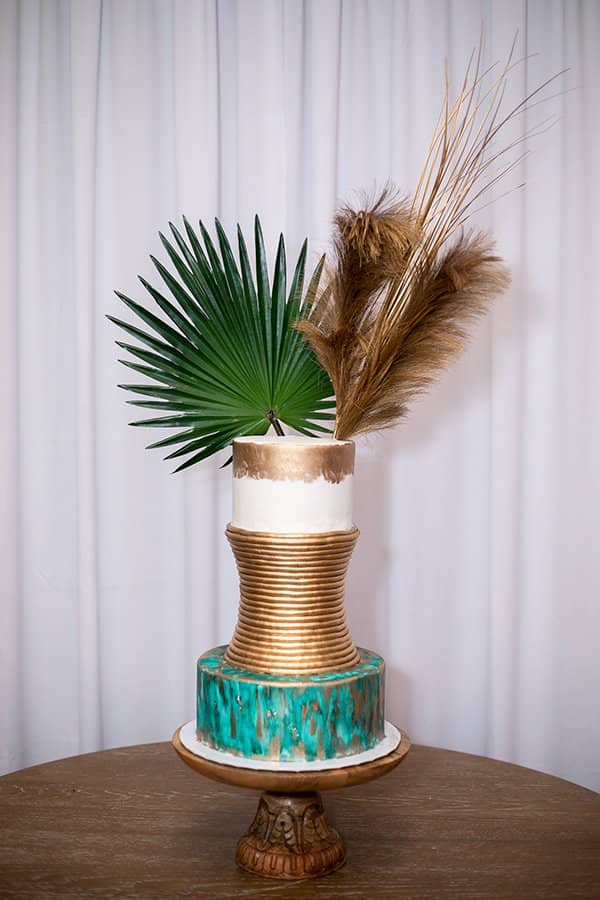 Hawrylo wanted the ladies to feel like Queens. She brought in her sister company, La Grande Final, for a personal day of concierge service. "I enlisted my top concierge rep for this task, Crystal Young. The two Queens were waited on hand and foot. Crystal made sure their makeup was always fabulous, listened for the grumblings of their belly, and had snacks on hand. The final touch was assisting the Queens with their wardrobe change for their stylized sunset shoot, and standing alongside them during the entire shoot," says Hawrylo. 
The day was a total surprise for the couple and is part of the surprise for the winners of the Love Conquers All giveaways. "We didn't see anything until the day of the wedding," says Grigsby. "We were treated like Queens from head to toe but especially emotionally. From the beginning, we called Slomique our fairy godmother. The African drummers and dancers were soul pleasing and so unexpected. The colors, design, and food were unlike any wedding I've ever attended. The smell of frankincense and myrrh in the air, the flowers, the African face masks and wooden boxes designed for our guests—it was all so beautifully done and thought of by Slomique and her team."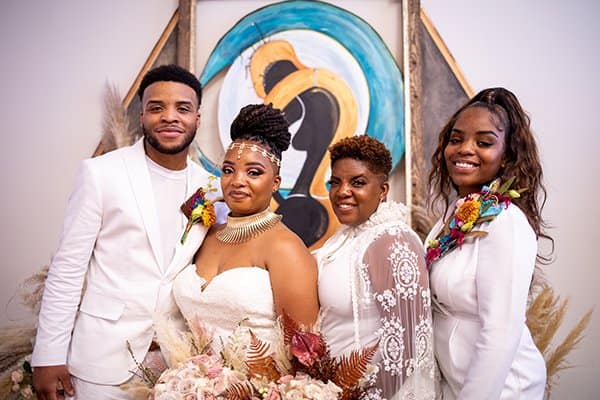 Behind the scenes, SIGNATURE BRIDE had a team of amazing sponsors who contributed to the day and honored the couple thereafter. Coloured Raine provided the makeup. The makeup artist was Stephanie Alford of Beat by Bombxbay. The Grand Prize also included a five-night honeymoon at the Fairmont Mayakoba in Playa del Carmen, Mexico, gifted by Plumeria Breezes Travel Agency. Financial coaching by The Money Coach; luggage by MYGOFLIGHT; name change services provided by HitchSwitch; and additional gifts were gifted by HEED NYC, Blissy, She-Y, Wink Brow Bar, Everlasting Comfort, Wow Skin Science, Freshie, and Orpheus. The event was captured by Crystal Lily Photography and The Siren & Co.
"Winning Love Conquers All has been a bright spot in a difficult year. It truly was a gift to be chosen. It has been the gift that literally keeps on giving. We won the golden ticket! Thank you beyond words to SIGNATURE BRIDE, WebWed, Equally Wed, and every sponsor that came together to give of themselves. We are beyond grateful," says the couple. 
Sponsors:
Event Stylist & Producer: Carpe Diem Events
Staging & Rentals: Collective Rentals 
Stationery: Carpe Diem Events
Officiant: WebWed Mobile
Catering: Chef Ayo Cherry
Wine + Champagne: Gregory + Vine
Cake: Sifted by Cyndi
Floral Curator: Blue Iris Florist
Floral Color Specialist: designsbyher
Photographer: Crystal Lily Photography
Videographer: The Siren & Co. 
African Drummers & Dancers: Dramane Koné 
Attire: Madeleine Fig
Custom Masks: Lilyan Paris Design
Rings: JNCY Jewelers 
Daughter of the Bride's Jewelry: Regal Sovereign Jewelry
Makeup: Coloured Raine
Makeup Artist: Bombxbay
Luxury Hand Sanitizer: Spray & Play
Day-of Concierge for the Couple: La Grande Finale / Crystal Young
Honeymoon: Plumeria Breezes Travel
Luggage: MYGOFLIGHT
Financial Coaching: The Money Coach
Name Switch: Hitch Switch
GIFTS: