After COVID-19 postponed their wedding

, Dr. Kerry-Anne and Michael Gordon's chose to elope. They had no idea that their first look wedding photos would become a global symbol of hope and love.
As thousands took to the streets of Philadelphia to protest years of police brutality and systemic racism, one couple stood out from the crowd. As they posed for their first look wedding photos with their fists raised in solidarity, they were surrounded by protestors who uploaded this viral moment to millions.
The Philadelphia couple—Michael, an IT professional, and  Kerry-Anne, an ob-gyn— were scheduled to wed on May 26, 2020, before the COVID-19 pandemic delayed their plans. As a healthcare professional, Kerry-Anne saw first-hand the impact of the coronavirus, and once borders were closed she knew that her family in Jamaica would be unable to attend. 
The couple then decided to reschedule for June 2021, but when the opportunity arose to hold an intimate ceremony at The Logan Hotel, which was offering its outdoor courtyard to couples whose weddings were affected by the pandemic for free, they began to consider the option of eloping.
"We wanted to privately and quietly say our vows together. This was never meant to cancel anything, it's just a postponement. But we didn't want to postpone our love for each other," said Kerry-Anne.
So the couple chose one of two dates offered to them by the hotel and arranged to elope on June 6, with just two weeks to coordinate. The bride and groom began to frantically contact vendors in the midst of a pandemic to pull this off. Sew Pretty Bridal Studio in New Jersey helped Kerry Anne select an off-shoulder Sophia Tolli dress that was paired with Aminah Abdul Jillil heels. Linda McQueen Photography and Sacred Pact Films were retained to capture the nuptials. Rev. Roxanne "Roxy" Birchfield served as the officiant.
Yet days before the ceremony, the hotel notified the couple that protests would shut down streets and highways in the city of Philadelphia that could impact their plans. Rather than fret, the bride and groom asked family and vendors to arrive early. 
"We wanted to privately and quietly say our vows together. This was never meant to cancel anything, it's just a postponement. But we didn't want to postpone our love for each other."
In an attempt to take their first look photos prior to the protest passing by The Logan Hotel, the bride accidentally left her bouquet at the hotel. Upon retrieving her flowers and stepping outside, peaceful protesters gathered around her cheering and taking photos as she awaited Michael's arrival. 
As the groom approached his beautiful bride he became engulfed in the energy of the crowd. Michael grabbed Kerry-Anne's hand as the words "BLACK LIVES MATTER" echoed around them. Without hesitation, the two raised their fists in unity, for what has become an unforgettable symbol of love and hope during these unprecedented times. 
Although the couple had wanted to protest, their work schedules did not allow and they had not planned to do so on their Big Day. And although they hadn't initially decided to join the protest on their special day, the moment went viral. 
Describing the impromptu moment as "very powerful," the bride told ABC News, "Not only are we feeling the movement of the people, but I'm meeting my husband, on our wedding day, as a strong Black man and a good representative of who we are as people, what our men are like, what our culture is like."
Seeing people from all races, religions, and creeds fighting for justice while celebrating their union was as touching for the groom. "For us to be a part of that, it's a beautiful thing," said Michael.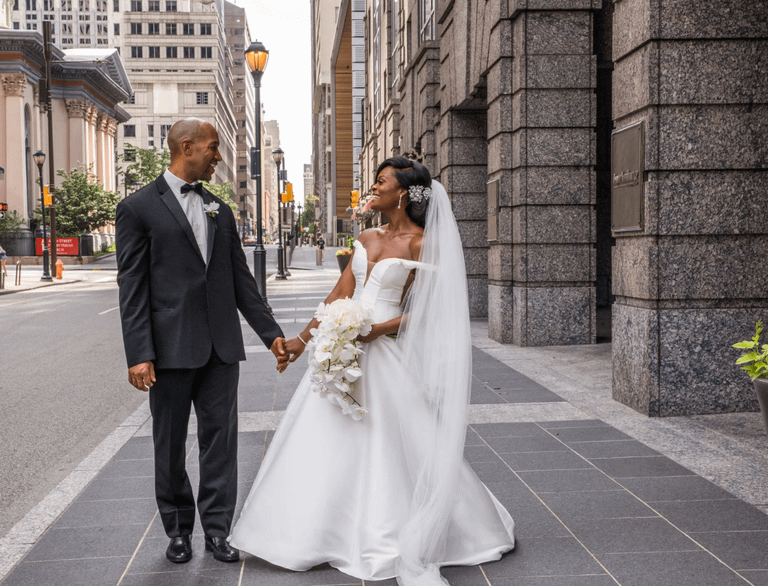 As for whether their micro-wedding will impact plans for their nuptials next year, not a chance! Kerry-Anne and Michael are excited to do it all over again in 2021!