Beer is big business

and as American as sweet potato pie. Whether you're having one over dinner or with friends while watching the game, there are craft beers for everyone.
Several Black-owned craft breweries have opened their doors and kegs to critical acclaim and growing fan bases. Here are just a few of the beer brands that we would happily pour a pint of.
The Hammond, Indiana brewery was founded in Drew Fox's home in 2010. After years of hands-on learning and exploration, 18th Street became official with the release of Sinister DIPA in 2013. Since then, Fox and his team opened a brewpub in nearby Gary, as well as a taproom and a full-service kitchen in Hammond.
Opened in 2019, this Huber Heights, Ohio, the brewery was co-founded by head brewer Jerrod Fisher. What we presume to be a nod to Nas' classic Illmatic, Alematic's signature beers include Brick City Porter, Sideline Reporter (Blonde Ale), OTB (Oatmeal Table Beer), Lesser-Known Favorites (Session IPA), Drip (Pale Ale), and New Steez (American IPA).
This Portland brewpub is Oregon's first Black-owned and -operated brewery. George Johnson, Assembly's founder, and head brewer pays homage to his Detroit roots via the brewery's décor and its pizza, which he also makes. Unlike many in the craft scene, Assembly's beer menu is fairly straightforward, with a Kolsch, a Stout, and two IPAs.
Michigan's first Black-owned brewery launched last November in Grand Rapids. Owned by Terry Rostic and Jamaal Ewing, Black Calder is proud to be part of the movement of diversity and inclusion in the craft beer scene. "The craft beer industry was full of flavor, community, and creativity," shares Ewing. "What we didn't see was diversity and themes that spoke to the culture that we represent."
Said to be the first Black-owned brewing company in the South, this New Orleans brewery was founded in 2011. Cajun Fire's mission is: "Brewing for socioeconomic gains one pint at a time." The lineup currently includes a Honey Ale, Big Chief Crème Stout and P-Train Funk Raspberry Milkshake IPA.
"Black People Love Beer." A pretty simple statement, but when Teo Hunter and Beny Ashburn (formerly of Dope & Dank) started rocking the phrase on a T-shirt, it felt more like a rallying cry. While the duo looks to open their brewery in Inglewood, California, they've already released three beers: 8 Trill Pils, the Elevated Cypher, and the eponymous BPLB, which stands for Black/Brown People Love Beer.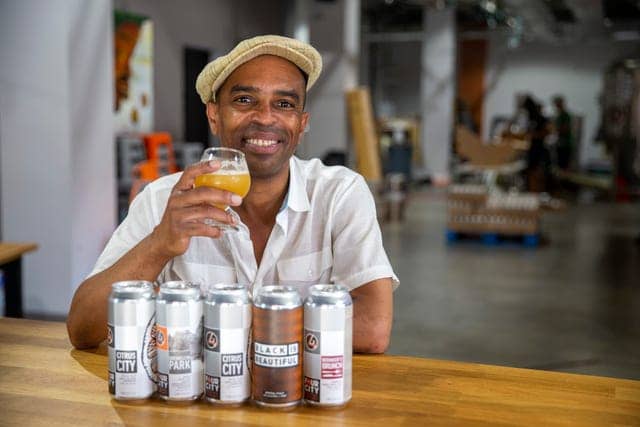 New Jersey has a deep brewing history. So, it's no surprise that this Orange, New Jersey, brewery follows in that tradition. Founded by Roger Apollon Jr,  Jeff Gattens, and Anthony Minervino, Four City was named for "the Oranges"—the city it's based in and the three surrounding cities. Recently, the brewery rebranded its patriotic Keg Stand Lager, an homage to the country's first Black woman Vice President, Kamala Harris.
While it's not a brewery, this Pittsburgh beer festival has hosted many of the brewers featured in this list. Founded by Black Brew Culture's Mike Potter and Drinking Partners Podcast's Ed Bailey and Day Bracey, the event brings together BIPOC brewers from across the country to share tips, love, and a beer or three.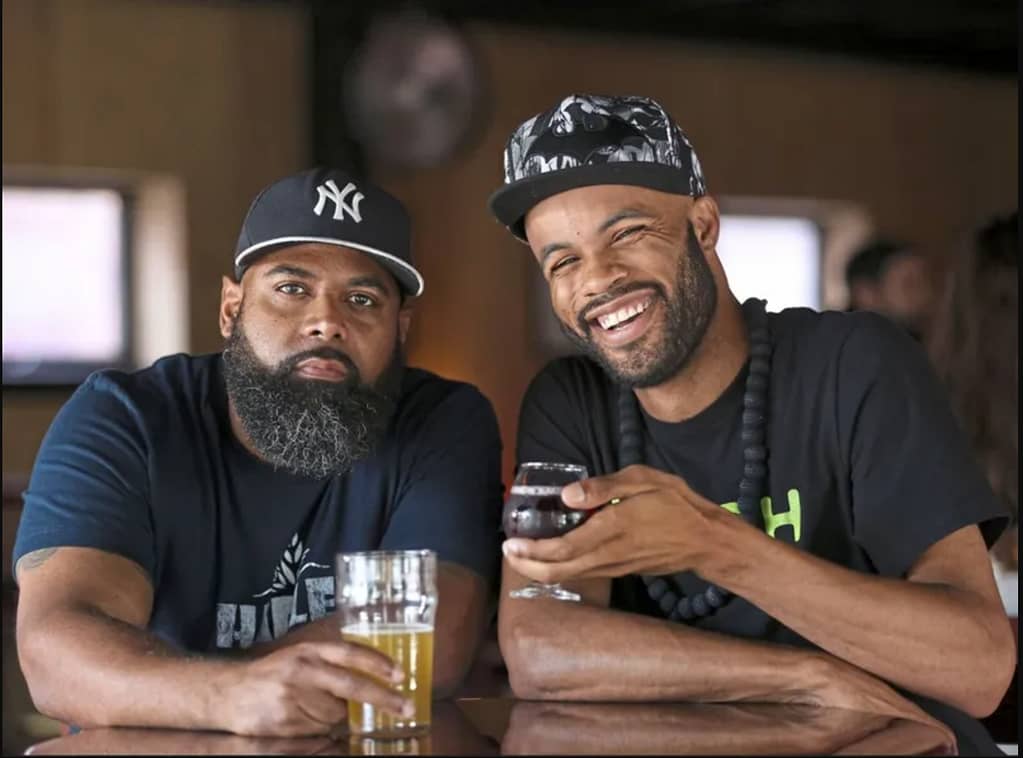 In 2016, new owners, led by Arthur Moye, took over the oldest-running brewery in California's Central Valley. Moye, a CPA with a passion for homebrewing, and team were dedicated to not only breathing new life into this old brewery but committed to reviving downtown Fresno and its historic Chinatown. Recently, the brewery released a series of collaborations with other Black-owned breweries, including several of those mentioned in this article.
Owners Steven Duffy, Nathan Stonecipher, and Khris Johnson opened St. Petersburg, Florida's first microbrewery in 2013. They recently hosted a private event for Green Book of Tampa Bay and collaborated with Beer Kulture, where Johnson is the vice president, to release a new line of beers called Kulture 'Tings. Every dollar made from the latter goes to Beer Kulture, an organization that creates opportunities that foster diversity, equity, and inclusion within the craft beverage space.
Named in honor of Khonso Im-Heb, an ancient Egyptian brewer to the pharaohs and the gods of the dead (Osiris and Anubis), this Atlanta brewery was founded by Kevin Downing, Corby Hannah, and William Teasley. In ancient Egypt, beer was for everyone, and Khonso looks to serve all with their Standing Peachtree Pale Ale, Pullman Yard Porter, and more.
This brewery says its calling is "brewing damn good beer and building stronger community to inspire bigger dreams for all." Founded by Rodney Hines and Todd Herriott, the Woodinville, Washington, brewery lives up to its motto in many ways, including a "Beer It Forward" program where you can buy a pint for a future customer.
Denise and Leo Sawadogo began working on the New Jersey-based brewery in 2014, and it became a reality four years later. Combining their West Indian and West African roots, Head Brewer Leo is particularly passionate about creating fruit-based beers. This month, they launched their 2021 Black History Month series, which includes brews inspired by George Washington Carver, Chadwick Boseman, and New York media icon Gil Noble.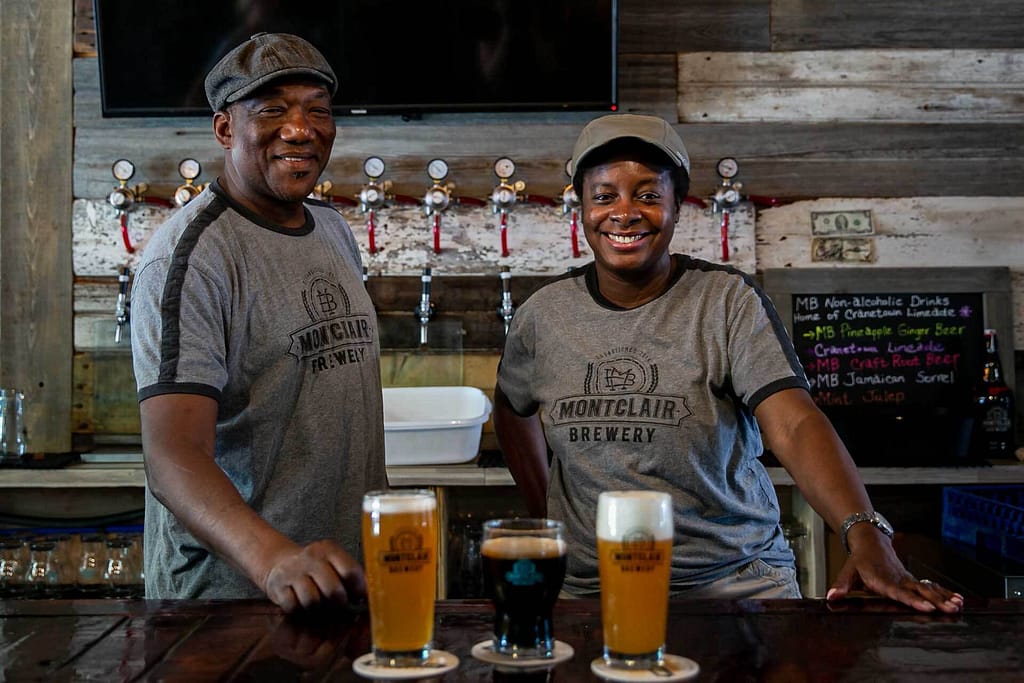 This Sacramento, California, brewery sees beer as a way to unite "people together around a table to relax and enjoy the moment." Led by head brewers Rodg Little and Geoff Scott, Oak Park hosts beer releases and benefit concerts to recognize local artists and raise funds for local nonprofits. Recently, the brewery launched the Mixed IPA four-pack; each beer in the pack is created in conjunction with a different brewery and in a different IPA style.
Launched in 2018 by Alisa Bowens-Mercado, the brewery's initial aim was to address the lack of craft Lagers on the market. Its flagship beer, Rhythm, is brewed with South African hops. Music, dance, and beer have played a significant role in Bowens-Mercado's life. Both of her grandmothers were beer drinkers, and on special occasions, they would sip, dance, and converse about "finding your rhythm in life."
Named in reference to the understanding that to ensure a strong future you must return to collect and understand your past, this Washington, D.C., brewery's mission is to expand the conventions of craft beer. Founded by Amado Carsky and Kofi Meroe, Sankofa released its first beer in 2018. Its current menu includes Hypebiscus Pale Ale, Harmattan Haze Wheat Ale, and Cocoa Coast Chocolate Milk Stout. 
Briana Brake and Celeste Beatty's brewery in Rocky Mount, North Carolina, takes its primary inspiration from Afrofuturism—a cultural movement that features futuristic or science fiction themes that incorporate elements of Black history and culture. "As in pop culture images of the future, minorities are scarcely represented in the craft beer industry," they say, and Spaceway Brewing wants to change that.
This San Antonio brewery recently gained a lot of attention for its creation of "Black Is Beautiful," a collaboration amongst brewers and distillers to raise awareness about injustice and police brutality. Opened in 2016, Weathered Souls is led by co-owner and head brewer Marcus Baskerville, who has a rotating tap list of more than 20 beers.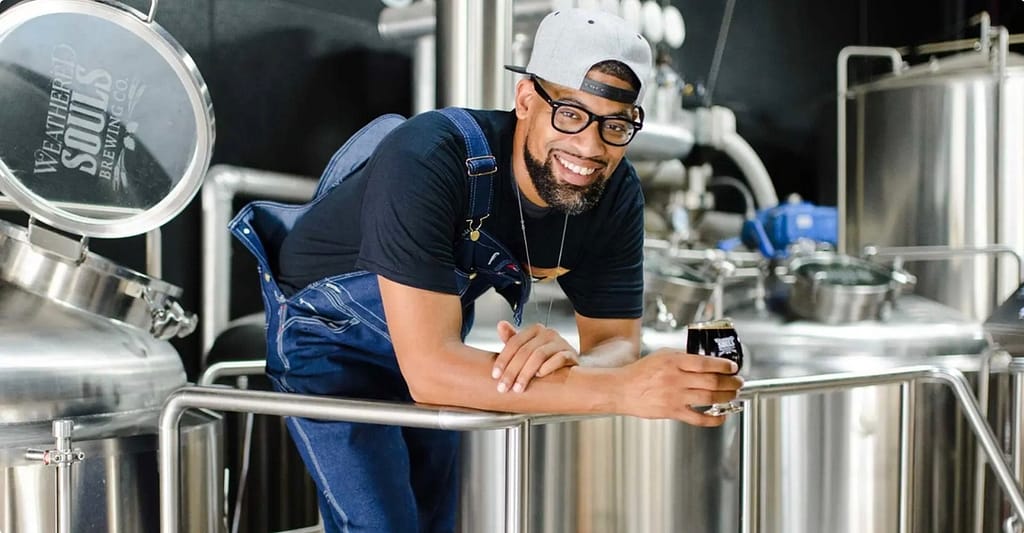 This Washington, D.C., brewery, whose name means "the embodiment of something great," started selling its Worldwide Pale Ale in 2019. Run by Howard University graduates Elliott Johnson and Jahi Wartts, Soul Mega does not currently have a taproom or production facility. However, you can find its Worldwide American Pale Ale throughout the District.
Founded in the fall of 2011 by Kevin Blodger, Adam Benesch, and Jon Zerivitz, this Baltimore-based brewery initially launched with its Duckpin Pale Ale. Since then, Blodger, who also serves as the chair of the Diversity Committee for the Brewers Association, has added Queen of Yas Sour Ale, People Power Oat Lager, and Steady Eddie Wheat IPA, a tribute to Baltimore Orioles legend Eddie Murray.