Cancún isn't just home

to mesmerizing turquoise waters and seemingly endless stretches of sandy beach; it's also home to the world's 10th busiest airport for international arrivals.
By no means large, Cancun International Airport (CUN) welcomes more than 30 million passengers annually, with more than 5 million Americans alone hitting the city's sunny shores (though plenty of those are additional arrivals from cruise ships).
Among those seeking the idyllic views of this Mexican Caribbean jewel are couples in search of eye-popping destination wedding settings that offer tropical paradise without a 16-hour flight for their guests, or even just themselves. Whether you're planning for two or 200, here's how, and where, to plan an unforgettable destination wedding in Cancún.
A blessed beach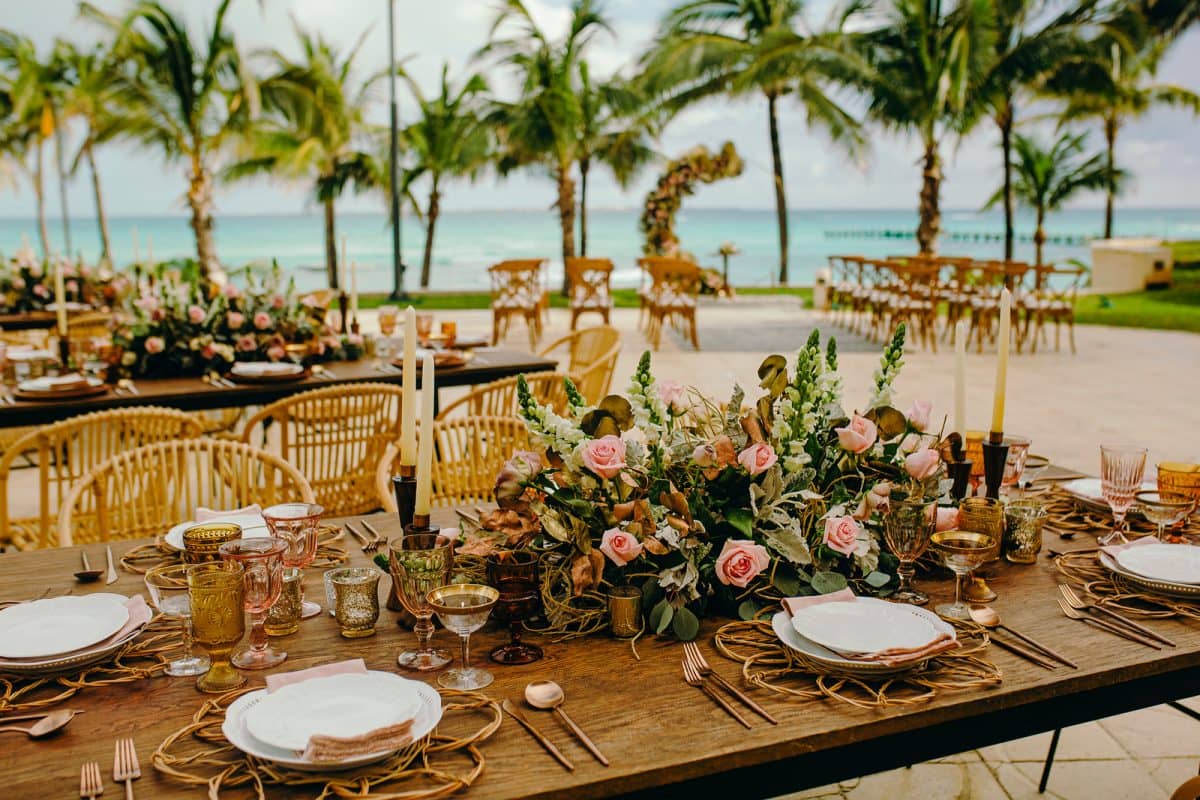 The sole scenic drawback of a Cancún getaway is the potential for mountains of sargassum (a large seaweed) to overtake beaches, making them not only inaccessible and unsightly but also emanate an unsavory odor. Even the Mexican navy has been called in to haul out sargassum at times, but it essentially returns every night when flourishing.
The beach at Grand Fiesta Americana Coral Beach Cancún All Inclusive Spa Resort, however, is practically immune to these outbreaks thanks to its position behind Isla Mujeres, which helps to shelter it. The result is a pristine stretch of sand that's ever photogenic—an ideal backdrop for ceremonies and photos—and the beach comes with a couple of other incredible bonuses, too.
The sand here is so fine, it's almost literally a powder (so much so that staff are available at every hotel entrance to rinse your feet and provide slippers after any beach visit) and, though beaches in Cancún are technically all public, the geography of Coral Beach makes it difficult to access from the outside, offering one of the only nearly private beaches in the destination.
Details, details, details
Grand Fiesta Americana Coral Beach has far more to offer engaged couples than a marvelous beach, though. From sandy shores to landscaped patios and penthouses, multiple picturesque perches are available for outdoor ceremonies and celebrations.  Sprawling ballrooms and state-of-the-art facilities can host the most elaborate of indoor events, as well, catering to all visions, from the most intimate and natural to the blowout bash of the year.
The operations team here has been trained by Disney, world leaders in hospitality from logistics to service, and Executive Chef Sergio Zarate has been personal chef to royalty; one of the property's restaurants, Le Basilic, is among fewer than a dozen in all of Mexico to hold a AAA Five Diamond rating.
Couples who contract with the resort are invited for two complimentary nights of menu tasting and venue selection. And couples can employ their own wedding planner and outside vendors or leave planning and sourcing to the property's weddings and romance manager. Perhaps best of all, the resort never hosts more than one wedding at a time, so there's no competition for venues, and staff are in full support of the wedding at hand.
Complete pampering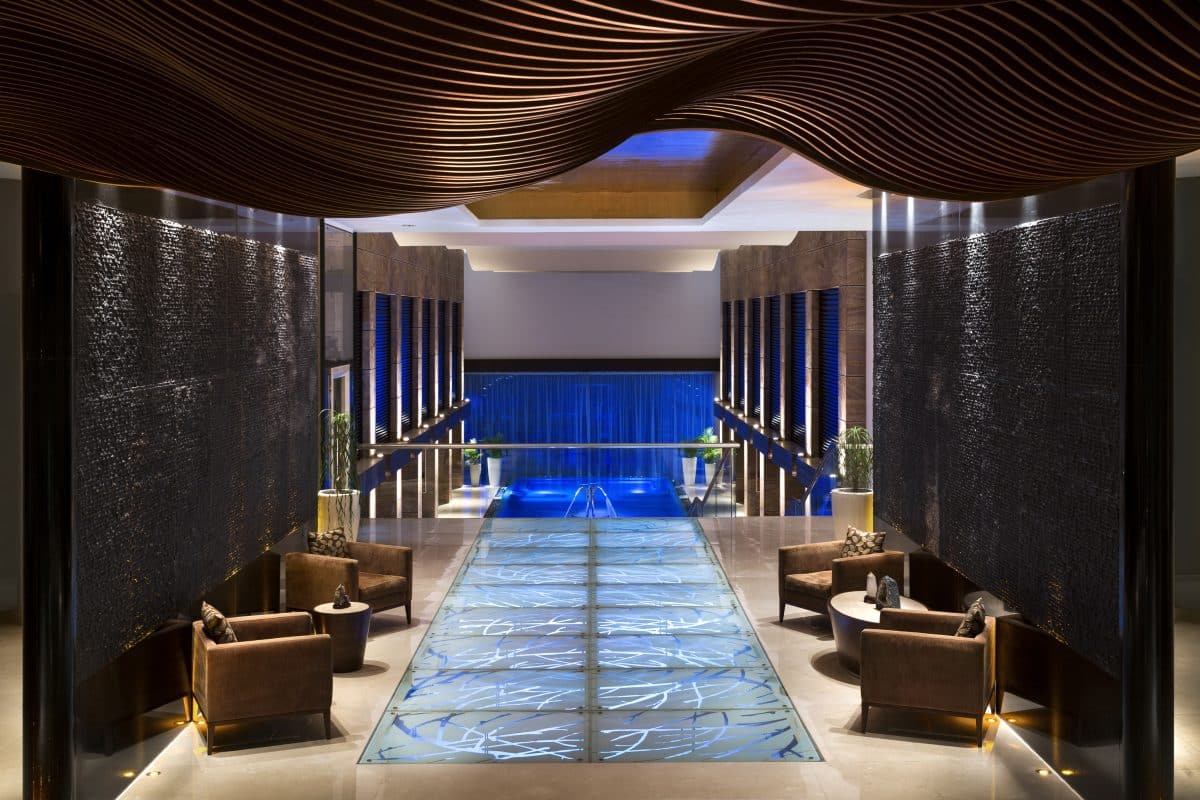 While many all-inclusives are infamous for boring buffets and cheap drinks, Grand Fiesta Americana was not designed as an all-inclusive and intentionally maintained its superior standards of luxury during its recent transition.
With suites, facilities and dining crafted for the luxury market, you'd be hard-pressed to offer your guests such a five-star experience at another Cancún all-inclusive, but the true showstopper here is the 40,000-square-foot Gem Spa. From the 10-step guided hydrotherapy circuit to the comprehensive menu of international treatments, ranging from the Swedish Herb Massage to the four-technique Asian Wisdom Massage, ultimate stress relief is practically a guarantee in this indulgent spa that's typically regarded as the best in Cancún. The salon at Gem Spa also offers a Bridal Suite for full wedding-day prep for up to six.
Get local
Cancún wedding planner Ilse Diamant met with SIGNATURE BRIDE to chat about destination weddings here in the area, and her number one recommendation was to get local with activities and vendors.
Because of Cancún's popularity in recent decades, there's a fair chance that some of your guests will already have been to the region, and with the expense of attending a destination wedding, it helps to offer them some authentic activities or excursions they haven't already experienced.
A local professional like Diamant is intimately familiar with options that go beyond typical resort excursions and can work with you to customize a destination wedding itinerary that will inspire you and your guests. They're equally able to source local vendors with not just the product you require but with cultural awareness and values that align with the needs of minority populations like the Black and LGBTQ+ communities.
Add some authenticity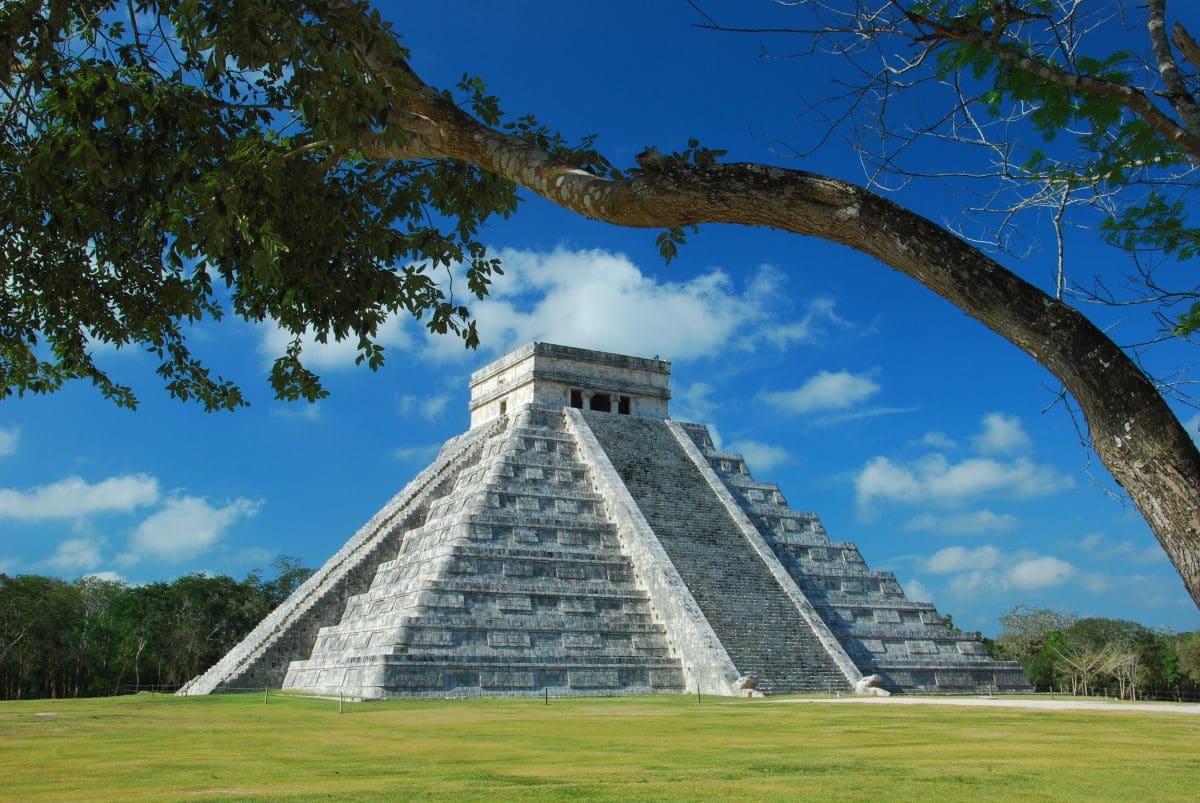 There's nothing wrong with taking a sunset dinner cruise or visiting a cenote while visiting Cancún, and if you haven't done either, then you should definitely consider both. There are some less typical attractions in the area that you should take advantage of for an even more rewarding experience.
Day trips to dramatic ruins, like those of Chichén Itzá, are easy to come by, but you don't have to leave Cancún to encounter Mayan history and culture. The lesser-touted El Rey archaeological site is located directly within Cancún's Hotel Zone, and the nearby Museo Maya is home to the county's premier collection of Mayan artifacts, which are accompanied by insightful exhibits.
Behind the museum is the entrance to San Miguelito, a precolonial Mayan village that once included the now separate site of El Rey. And if you do spend a day visiting cenotes, look for those that are still owned and operated by modern Maya communities to support the indigenous people and potentially learn more about their culture from additional offerings at sites like these.
Branch out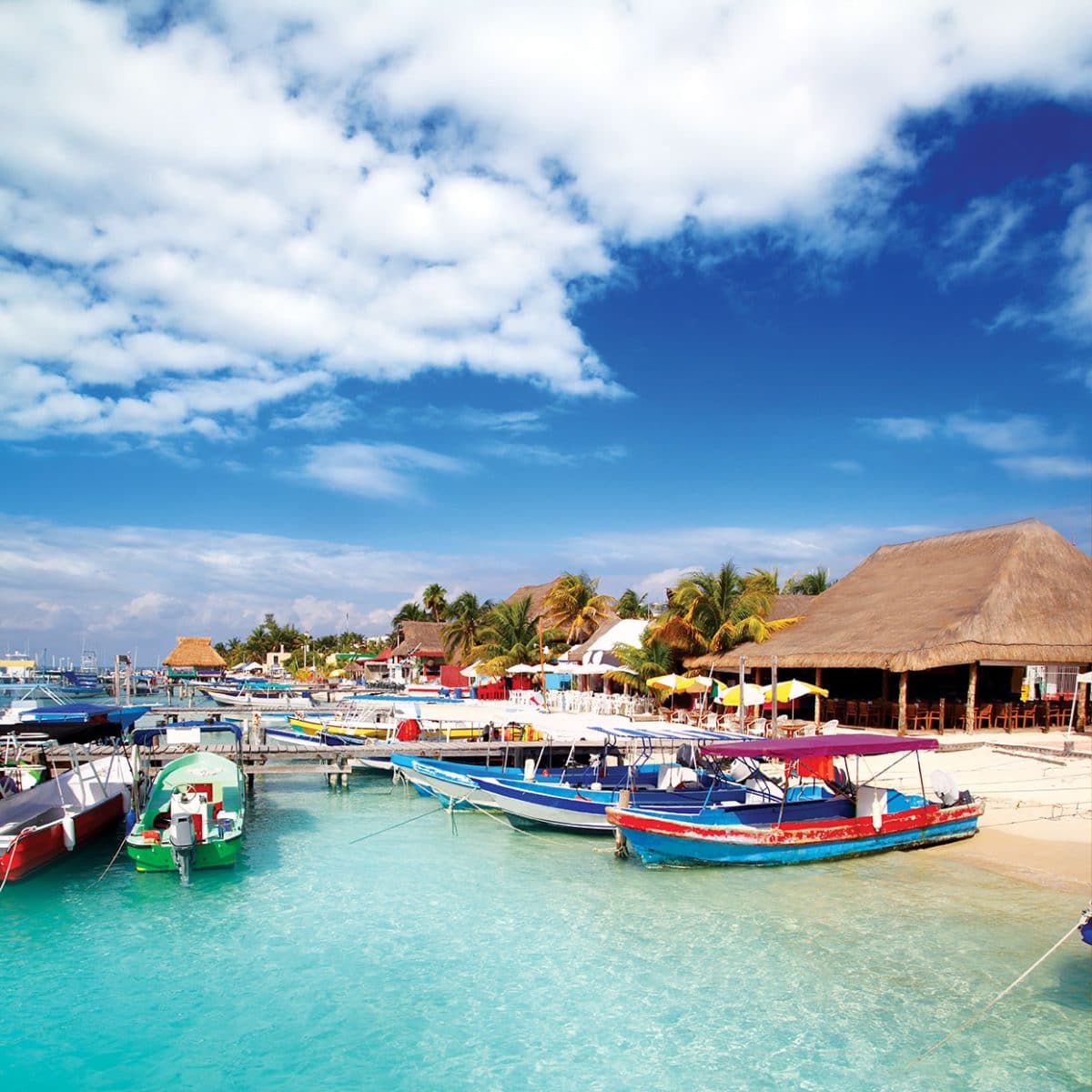 Cancún may have launched the Mexican Caribbean as a tropical tourism destination when it was incorporated in the 1970s with that express purpose in mind, but activity has since exploded down the coastline in what has collectively become known as Riviera Maya. This region is home to hot spots like Tulum and Playa del Carmen, which can play host to exciting day trips for guests or bonus destinations during regional honeymoons.
Even closer to Cancún, though, is the legendary island of Isla Mujeres. Aside from its isolated beaches, it's also an ideal launch pad for reaching both the underwater museum, MUSA, and some spectacular snorkeling along the Mesoamerican Barrier Reef. This 700-mile stretch of coral reef is second in size only to Australia's Great Barrier Reef and easily accessed from both Isla Mujeres and Cancún.
For those couples with family-building in mind for the near future, a visit to the southern tip of Isla Mujeres may also provide a poignant moment of reflection at sunrise. Here, the ruins of a temple to Ixchel, the Mayan goddess of fertility, sit on the first point in Mexico to catch the light of day and welcome new beginnings.