While all eyes were on the royal wedding this spring, there were also a few noses on high alert waiting for a whiff of what scent Meghan Markle would be wearing on her wedding day. It was widely reported that British perfumer Floris London, a royal favorite, created a special scent for Markle based on its Bergamotto di Positano Eau de Parfum, "a unisex citrus marine eau de parfum that evokes the warmth of a Mediterranean sea breeze, sunshine and clear shimmering water."
A quick trip to the Floris website reveals the scent's top notes to be bergamot, marine and Mandarin. The heart notes are green tea, orange blossom, ginger and vanilla, and the base notes of amber, spice, ambrette, woods and vanilla.
You too can create your own bespoke bouquet. We reached out to two state-side parfumeurs, Sharon Farsijani of Desert35 and Sharon Sexton of BLEND, to learn more about creating a bespoke bouquet and the myriad ways you can use the blend on your wedding day and happily ever after.
Sexton helps break down the musical composition of fragrance, noting that the mysterious art of fragrance is equated with the art of music. "In both arts, the process begins with a concept that is brought to life by the selection of notes. In scent, you have base or fond notes, heart or mid-notes and finally, peak or top notes. All notes come together in concert to create your melody. While composing, the parfumeur works at his/her desk, which is called an organ," she said.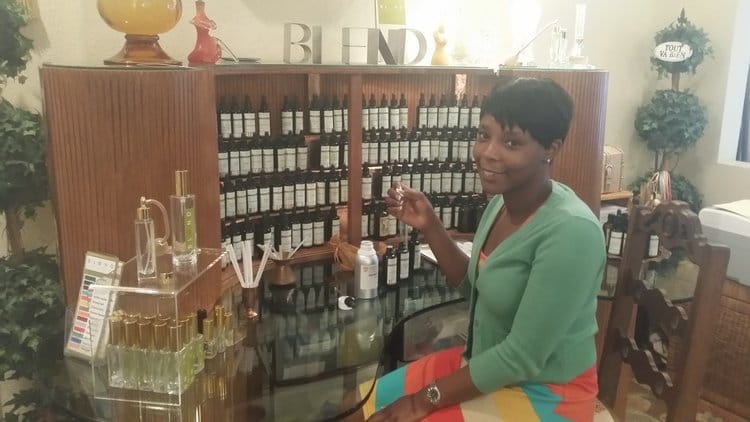 Trained in France, Sexton has been custom designing fragrances since 2006. Her brick-and-mortar shop is in Atlanta. Clients have three ways to create a signature scent. They can visit the shop, Sexton and her team can go to the client or she can connect by phone or an online interview. Along with a personal interview clients do a blind test sniffing from 14 small bottles.
"By using a proprietary guide just like we use in person, we craft a scentual profile for the client and then design their scent based on their personal profile. We offer three samples based on their input and refine one for their personal scent," noted Sexton.
ADD SCENT TO YOUR WEDDING
A signature scent is a beautiful way to capture your day and seal the memory.
"Scent, unlike any other sense, is directly linked to our limbic system, the area of the brain most closely associated with memory, feeling and imagination. This is why when we smell something, not only does it conjure memories, but it evokes emotion. This makes it perfect for the most special day in someone's life," said Farsijani. The process begins with a personality and mood quiz, and can take up to three months to complete. Fifty oils are used within four categories: simple, floral, Oriental and woodsy. Four distinct scents are created for the client to sample.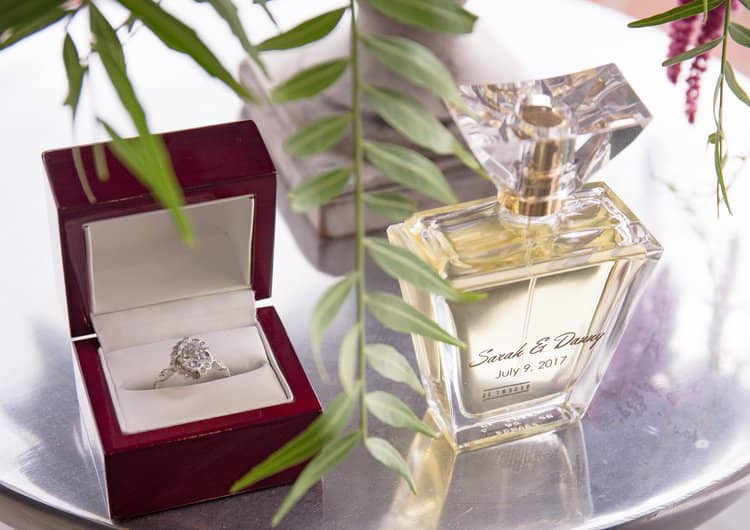 Here are ways to add scent to your celebration:
Make it personal. Create a scent that puts both you and your man in harmony.
Start with your bridal party — adding fragrance to people walking down the aisle is a perfect way to make a scent-ful ambiance. It is also a perfect gift to give your bridesmaids.
Receiving a wedding invitation in the mail is an exciting moment for anyone and it can be made even more memorable by spritzing it with your wedding scent.
Fresh flowers go without saying as an easy way to incorporate fragrance into your wedding day. Many couples opt to create their custom scent in coordination with their floral arrangement. Adding elements like herbs and lavender to your wedding design is a great way to add natural scent into the tablescape at your reception.
Fully scent your venue! The most effective way to do this is by using an intelligent dry air diffuser box that creates a beautiful atmosphere.
Ease yourself into the day and relax with your signature scent and a few glasses of bubbly while you get your hair and makeup done.
A great way to cherish the memories made is to wear your wedding scent or spritz it around your home. Smells have the ability to bring us back to a specific time in our life and to help us recall memories that were significant.
Create a great memory and favors for all the guests. Many will remember your wedding with the perfume that you personally created and appreciate more as it's truly an expression of your creativity. Loved ones will associate it with the joyous occasion.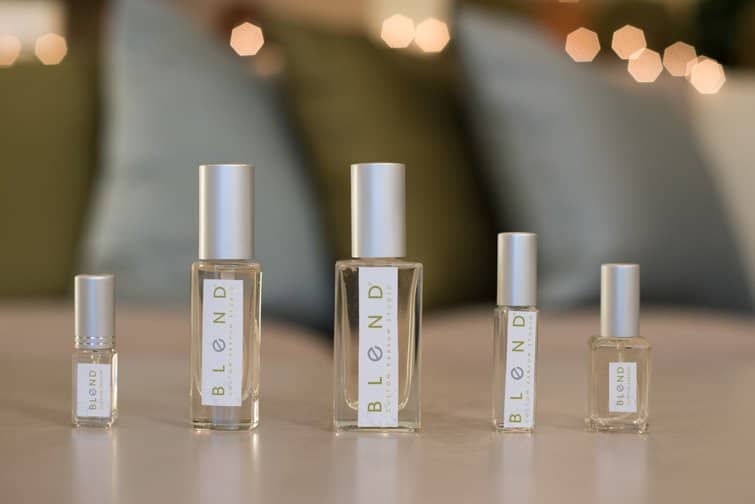 Give a keepsake to your mother and mother-in-law or father or father-in-law with an eau de parfum or eau de cologne that you created. It's better than any fancy gift they will most likely put in the closet!
Tips to Enjoy Your Wedding Scent
Sexton offers these tips to enjoy a scentsational wedding:
Select a Fragrance to Fit Consider your complexion, lifestyle and fashion sense in pairing a fragrance with your signature style. It's part of your personal statement. Consider your wedding dress, colors, venue and time of the event when selecting a scent.
Understand the Fragrance Triangle One of the things we hear a lot is: I loved it, I bought it and it changed. Fragrance is made in three parts: base, heart and top notes. So, keep in mind it is designed to change. Base notes last four to six hours, heart notes two to four hours and top notes 20 to 30 minutes. Let it dry down for the best fit.
Master the Art of Application Dab a little behind your ears, on your décolletage, pulse points or hair. Or, follow Coco Chanel's advice and place your signature scent wherever you wish to be kissed.
Time the Spritz Ready. Set. Spray! Sexton recommends brides apply their favorite scent two to three hours before the wedding so it will be in the heart, or the pretty part of the blend.
Layer, Layer, Layer The Number One way to make an impact with fragrance is by showering or taking a bubble bath with your signature product. Then slather on a luxurious body cream and finally, spritz your signature fragrance on your secret spots.
Entertain your Bridal Party Gift a personal scent or surprise your bridesmaids with a sensual party or bridal destination event where they can create their own scent.
Create Custom Favors and Scent Cards Carry your theme through and design custom favors to coordinate with your bridal theme and colors.
What is your favorite scent? Visit our Facebook page at SIGNATURE BRIDE MAGAZINE and let us know!