Bridal Hair Accessories for

all Textures
You have probably considered every detail for your magical day. The dress will be flawless. Your nails and makeup will be done to perfection.
But have you considered the accessory that will be front and center in every photograph from your wedding day? The hair accessories you choose can enhance your entire look and take it from beautiful to breathtaking. We've done some research on hair accessories for Black brides, intended to work with textures from straight to coily.
Before choosing just any kind of accessory, consider your look and the nature of your event. Consider your personality. Do you want to go with something delicate and feminine or bold and fierce to set off your bridal ensemble? No matter what you choose—whether headband, barrette, or comb—it needs a good grip. You'll be dancing and enjoying yourself, so look for an accessory that isn't too heavy or too frail. No matter how you wear your hair, there's a showstopping accessory to set your look off to perfection. Check out these independent brands we've curated with options just for brides in need.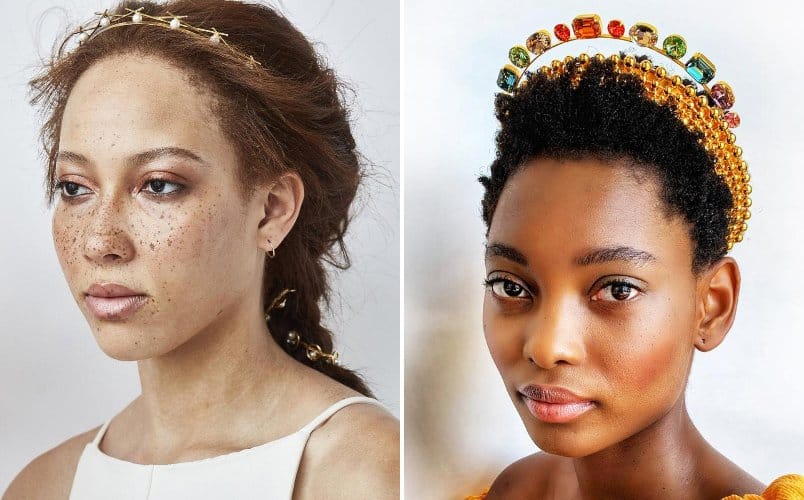 Lelet NY will have you serving modern luxury at your wedding. Designer Sara Bieler Sasson uses her architecture background to invent runway-inspired designs that are both feminine and fierce, using Swarovski crystals, gold plating, and semiprecious stones in her stunning creations.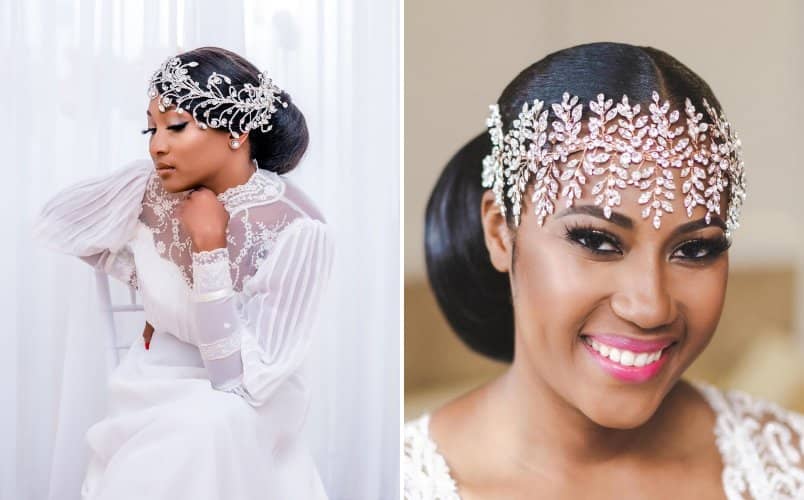 Rejoice Ginika Bridal offers incredible, bold, handmade crystal and rhinestone bridal headpieces that are truly regal head turners. Designer Rejoice Ginika makes her dazzling headpieces with durable, soft, bendable wire so these pieces can move and groove with you on your most unforgettable day.
You can find elegant, lovely cowrie shell hair jewelry from UniVersal Dreads. Here, turquoise, copper and cowry shells.

Island Treasures Boutique offers a range of affordable, distinctive bridal hairpins and clips that would work beautifully for ornate updos or twisted natural buns. 

Wild Rose and Sparrow offer beautiful upgrades to the usual flower crown. You can add fresh life and greenery to your bridal hair accessory game with a hair comb or half-crown that uses eucalyptus and baby's breath to breathtaking effect. 

If you're into crystals, you can find all kinds of gorgeous hairpins and crystal combs from Wonderful Selection. Consider a crystal barrette or a pair of crystal hair combs to set off a statement look.
Boutique de Bandeaux makes eye-catching, handmade floral hair accessories with thick, curly natural hair in mind. You can find glorious floral headpieces made to stand out and stay put in your gorgeous natural coif for your ceremony, and a bold headband to pull your hair up and back for the dance floor at the reception.