Selecting flowers for your

wedding in 2022 may prove a bit challenging.
The events industry was hit hard during the peak of the pandemic and has not had a chance to fully recover. Event planners are dealing with a nationwide flower shortage—yes, there is a shortage—and a wedding boom that will continue into 2022, making it the perfect storm for the bridal industry.
With the right event planner and florist on your side, you can have the wedding of your dreams, despite the challenges. A great event planner will work closely with your florist to achieve the look and feel of your floral vision based on what is available. 
What's causing the shortage?

 
During the height of the pandemic, weddings were canceled and floral farmers worldwide shut down. According to the International Flower Trade Association, out of approximately 3,000 floral farms, one-third closed due to the pandemic. Add to that a labor shortage and climate change, and you can expect the selection of flowers to vary. 
"It's as simple as supply and demand, and it's a heavy demand for it and limited supply.  And, with that, the prices have increased," says Shean Strong, a wedding and event planner and floral designer based out of Atlanta. "What could have been an inexpensive flower now has a higher price point because of the shortage."
Nakia Gouldbourne, floral designer and event planner at K. Vera Events in Miami, agrees. "We've seen a massive hit in the prices, and we are not able to get the same flowers as before. Sometimes, the prices have doubled. We just can't gauge it. It fluctuates so much more than before."
How can you plan your wedding during a flower shortage?
With the shortage of a variety of flowers, shipping issues and higher floral prices, event planners and florists are planning ahead and being more creative than ever—they are also working harder than ever to make sure your wedding-day vision comes true. 
"This is an opportunity for us to be creative and think outside the box and expand who we are as designers and not be stuck on needing one specific flower for your wedding. There are lots of options out there," offers Strong. "From the very beginning, we set an early precedence. We create a feeling for the day instead of a theme. The flowers are secondary."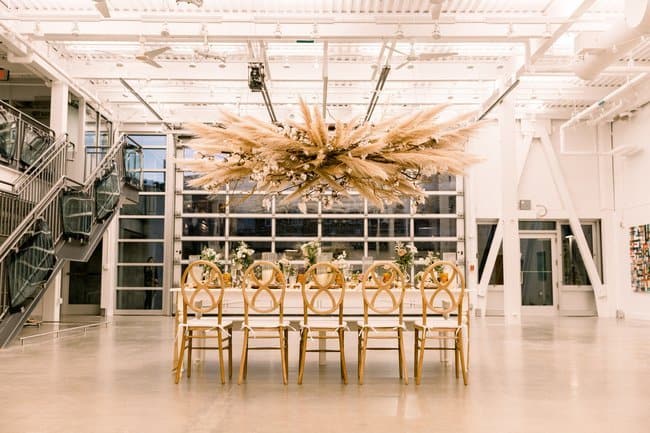 For décor, explore the use of dried and preserved flowers, silk flowers and pampass grass, which can work not only for a boho-style wedding, but also for a modern or minimalistic wedding. Pampas grass can be very elegant when paired with a crystal vase for a minimalistic look. Other décor alternatives include incorporating candles, gilded candelabras draped in crystals, and tablescapes lush with greenery and/or a woodland motif. 
Dare to be different with your bridal bouquets. Draw inspiration from Meghan Markle, who carried elegant, understated blooms at her royal wedding, or consider a non-floral design or even fewer florals and more greenery and natural elements like ferns, eucalyptus, tropical fronds, olive branches and organic greenery. 
Photos courtesy of Jenifer Michelle Photography, Megan Kay Photography, Michaela Photography, Shean Strong and K. Vera Events
"Allow your floral designer to be a little more creative and let them choose the type of arrangements they provide. Work with designers who have more accessories and vessels, who can elevate their table space," says Gouldbourne. "We have to get more creative with our flower design and arranging and trying to work with different and a variety of flowers, including dried flowers."  
The best advice we can offer is be flexible and open to change during these challenging times. Trust your planner and florist—and book your florist early. Because prices are going up, be prepared to increase your budget or agree to smaller arrangements or different blooms.