SIGNATURE BRIDE sits down with top fashion designers to get a glimpse into the creative mindset. This month we spoke with Brooklyn, NY-based Andrea Pitter Campbell, founder of Pantora Bridal. Known for combining contemporary flare with a glamorous edge, Campbell mixes modern textiles with classic silhouettes to create one-of-a-kind wedding gowns for her clientele.
Q How did you start designing bridal gowns?
A I started designing wedding gowns one order at a time. My first official wedding dress order was a very modest cotton maxi worn for a Central Park day wedding. I don't think I realized it was a wedding dress until I later received photos.
What was your first job in the fashion industry?
My first job in the fashion industry was interning with what was formerly known as Birnbaum & Bullock Bridal, the pair have recently split.
What drew you to bridal?
I love details and love stories. Creating a wedding dress is like writing a book. It's the telling of a very intricate story through garment construction.
Describe your style.
My design style is the fusing of modern details with classic silhouettes. We love trends, but hate being consumed by them.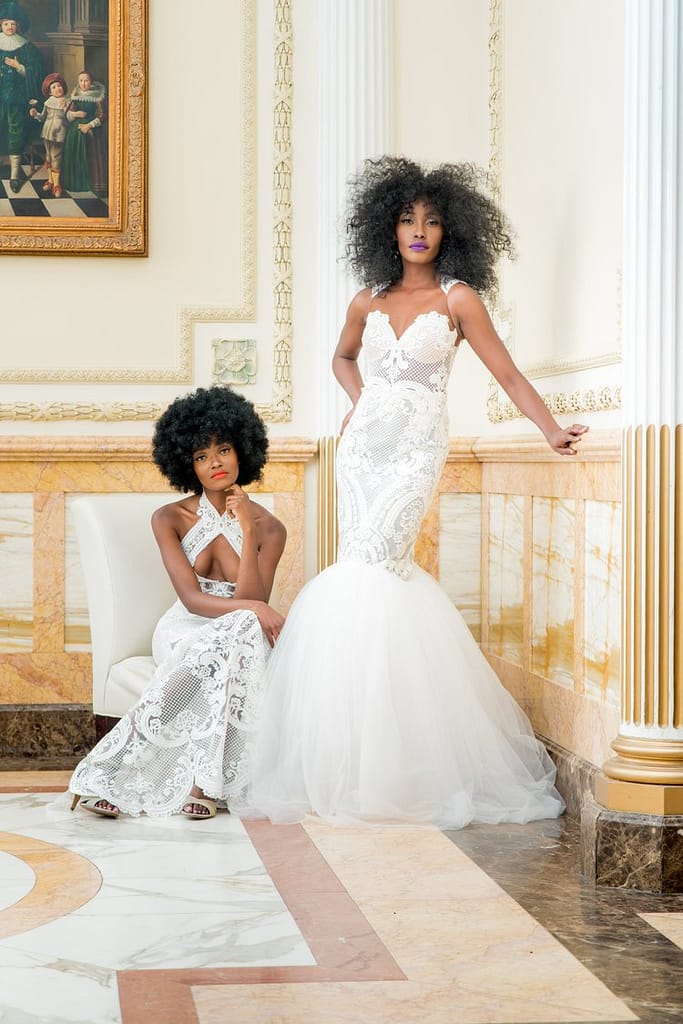 What influences your designs?
Our brides influence our designs. We love telling their story; it helps mold our gowns! We love finding out what makes them tick and creating a gown that is often a little off-beat but still speaks to our unique bride.
Who inspires you?
Women of color. We're so amazing and so strong in a world where we just don't have a choice. Our resilience is so inspiring.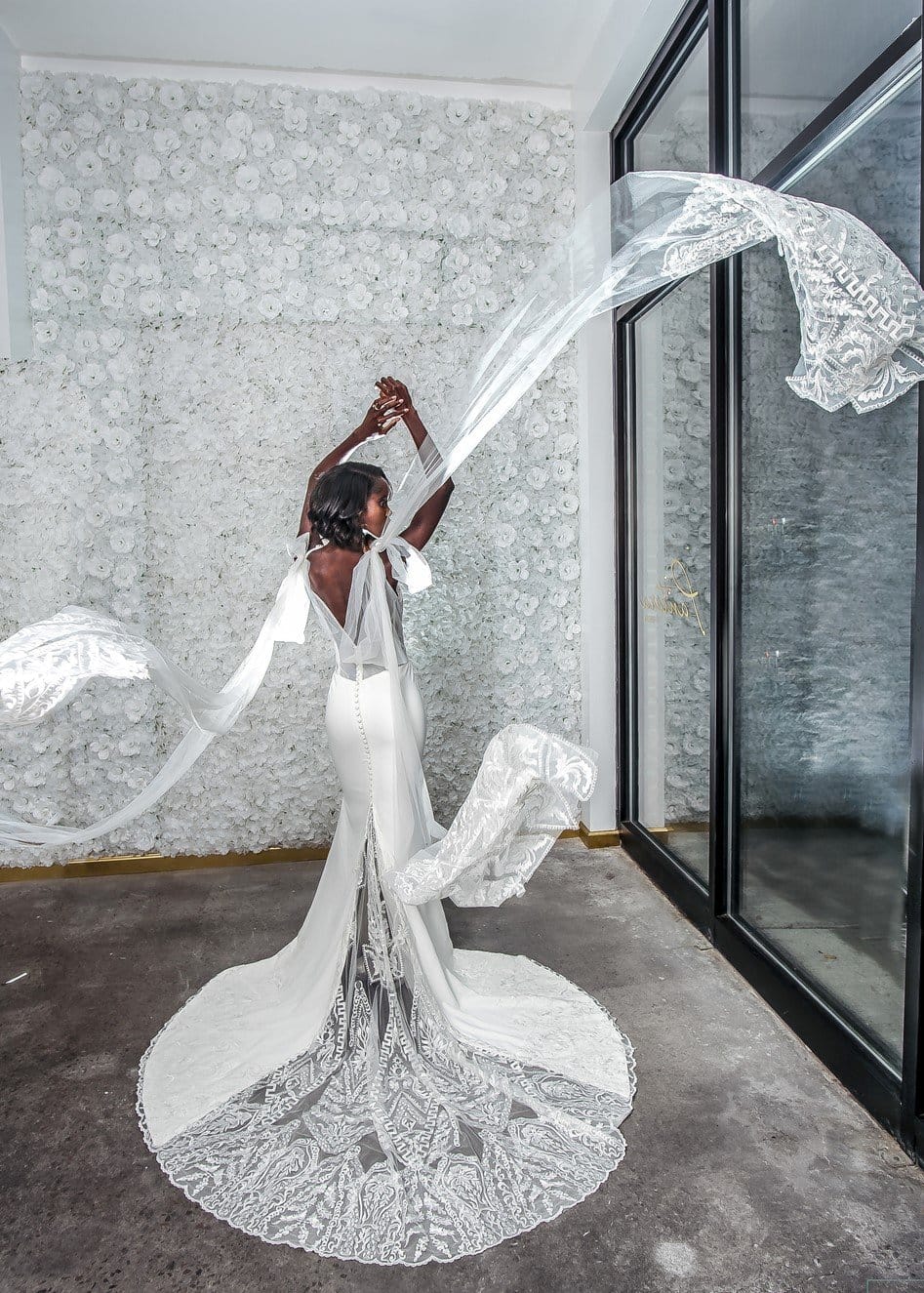 What inspires/influences you to create a new collection?
The previous collection always inspires the following. The next collection tells the story of how we've evolved.
What is your favorite part of the design process?
Fabric sourcing is my all-time favorite — finding new textiles in new places and often creating textiles of our own. I also really enjoy team meetings with our consultants and retailers to find out what our former brides really enjoyed from the previous collection.
What is the process you go through when designing a new gown or collection?
Falling in love is first! I always fall in love with fabric, trim, person, place or thing and then the let the story telling (through dresses) begin.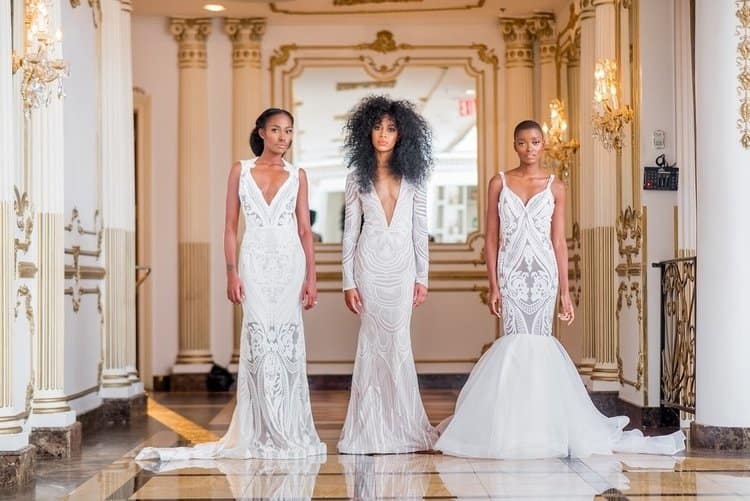 What do you love most about what you do?
I love the details, but more importantly, servicing brides in an underrepresented market.
What is the inspiration behind your latest collection?
The idea of when it rains it pours. I personally went through so many emotions last year. Between being a newlywed, having a baby, expanding Pantora through retailers and other areas it felt like a difficult but beautiful storm. So, the Storm Collection was born. It's icy, shiny, textural and dramatic — just like most storms are.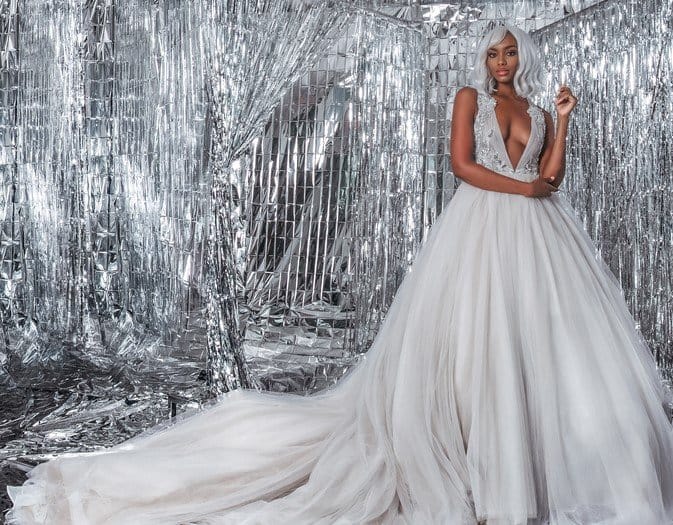 Best advice for a bride searching for her wedding gown?
Stop shopping when you have found the gown! Also, finding the perfect gown does not require 10 guests. keep your party small and bring only those whose opinion matters to you.
What do you want our readers to know about you?
Our number one goal is creating a safe space for brides, especially the underrepresented, to find a wedding dress that they love. Our retailers and consultants are your honorary bridesmaids. It is with a greatest intention to help you look and feel your best on your wedding day.