SIGNATURE BRIDE sits down with top fashion designers to get a glimpse into the creative mindset.
This month, we had the opportunity to speak with award-winning and celebrity men's fashion designer Miguel Wilson, the visionary behind the brand Miguel Wilson Collection.
Wilson, who grew up in Washington, D.C., attributes his love for fashion to his father and grandfather for their appreciation for a well-made suit. He began his career in fashion as a custom clothier, designing suits for many notable people in sports, business, politics and religion.
His collection is best described as conservative with a touch of excitement—color, cut, design, bold patterns—that makes it fun, functional, classy and personal. What differentiates a Miguel Wilson suit or tuxedo from its competitors and off-the-rack is the meticulous attention to detail.
Outside of fashion, Wilson is the founder of Ride to the Olympics Foundation (RTO), a nonprofit organization that provides underprivileged youth with opportunities associated with equestrian sports. Through RTO, Wilson became the co-founder of the Morehouse Polo Club, the first Historically Black Colleges and Universities (HBCU) polo team. Wilson and RTO also produce the Atlanta Fashion & Polo Classic and the Miguel Wilson Black Tie Experience, two of the biggest luxury fundraising events.
SIGNATURE BRIDE: You began your career as a custom clothier. When did you start your own design house? What is it about the world of custom that draws you?
MIGUEL WILSON: I started custom in 1993 and shifted to become more of a designer creating collections in 2011. When I started, everyone was focused on brides; grooms weren't being considered. My vision was to create a brand that would create as much excitement for men getting married. I wanted to create an experience.
SB: Define your style.
MW: It's a combination—not one style. Overall, my pieces are classic, conservative tuxes with a European fit. In men's suiting, a common problem is that men tend to wear three colors: blue, brown and black. I like to venture into color and create a classic, modern look with unique textures and color.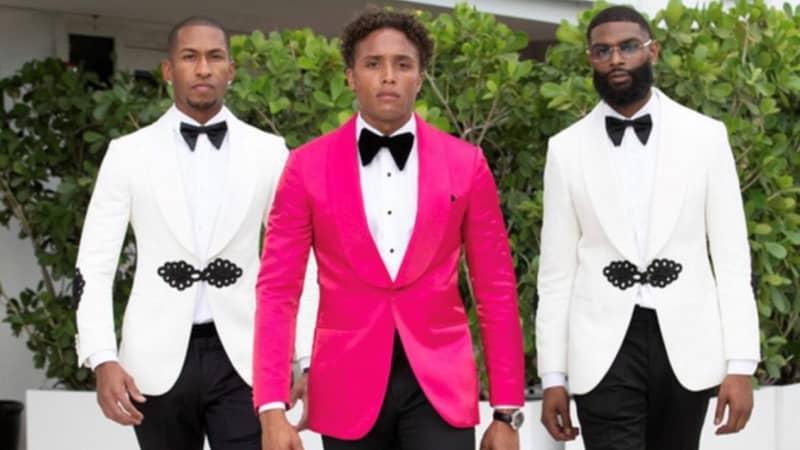 SB: Who or what inspires you?
MW: My father and grandfather are my strongest inspirations. They dress well. They have an appreciation for nice clothes. I've always admired the way they dressed; it rubbed off on me.
SB: What or who influences your designs?
MW: Inspiration comes from a variety of things. I can see a unique color, or inspiration could come from being in a place. A collection of jackets I designed came from being in a restaurant/lounge with photos of bullfighters. I loved the designs the fighters were wearing.
SB: What is your favorite part of the design process?
MW: What I enjoy most is working with my clients to create something special and then have them put it on for the first time and see their reaction. That's my favorite part—making people happy.
SB: Do you have a favorite fabric(s) you love to work with? If so, what is it and why?
MW: I love velvets for the fall. I also love cashmere, various wools, and silk and linen combinations. I use a lot of brocade fabrics with texture.
SB: If you were not a fashion designer, what would you want to be?
MW: My dream job would be a professional golfer or polo player, or maybe something in business.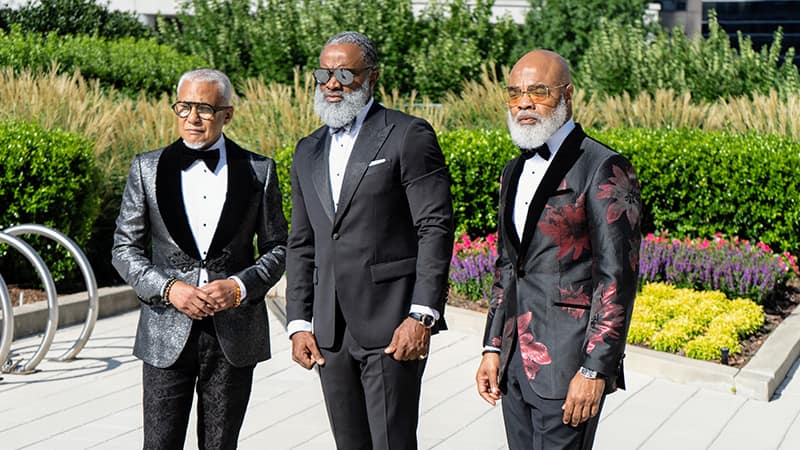 SB: What do you consider to be the signature design element(s) of a Miguel Wilson tuxedo?
MW: Quality and construction. Variety of design and style. The production is done in Turkey, the United States, Europe and China.
SB: You were the first to cater to the groom, creating the Miguel Wilson Wedding Collection. Please tell us more about the collection.
MW: I wanted to create a brand that gives men a similar experience to what women have. We give them the vision. We help them design the perfect tuxedo. It's the experience we offer. We have Grooms Lounges where we invite all the groomsmen into the lounge for cocktails, fittings and our signature roast and toast of the groom. It's a great experience. We have created a space just for the guys.
SB: For those who may not know, can you describe the Miguel Wilson custom tailoring experience.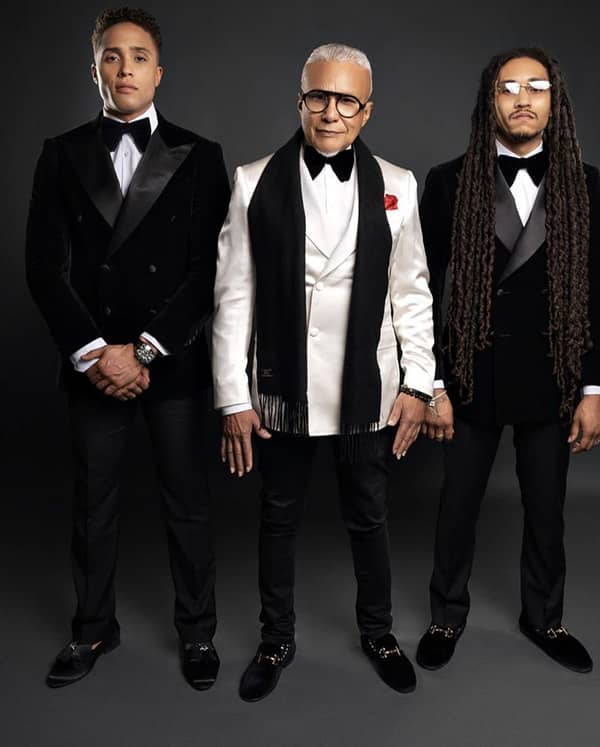 MW: The difference between custom and ready-made is that custom is tailored to your body. Having something custom-made is an experience. It is the only place where you can sit down to select fabric, lining, color, style, pockets, etc. One of the most special things a groom can do is put his name inside the tuxedo or jacket. We also offer the option of inserting a custom picture lining. I can't say enough about the whole custom experience in terms of getting the fit right.
SB: You also have the Miguel Wilson Collection, which includes the Lifestyle Collection—suits, sport coats, trousers, shirts and accessories. Are you finding grooms are leaning more toward suits? Are they doing a wardrobe change like brides for the reception?
MW: We end up doing more suits for the groomsmen while the groom does a tux. In some cases, the grooms are also designing a casual jacket for the reception.
SB: Describe the Miguel Wilson groom.
MW: They value and want something special. They are particular about what they want, and they want the personalized experience.
SB: What do you think is the next big fashion trend for grooms?
MW: While the most common look is white/ivory with a cream jacket, I think we will see variations coming into a variety of textures. We will see more custom in 2023.
SB: Your fashions can be found in luxury bridal boutiques and at your own locations in Atlanta, Miami, New York and Washington, D.C. If grooms want to work with you but are not in or near these locations, how best can they do so?
MW: We have two ways to work with grooms: in-person at one of our locations—we have many grooms who come to us from all over the world. The other option is virtual appointments. It is very effective and saves time for those who can't meet in person.
SB: Aside from your fashion label, you are the founder and producer of several annual events, including the Atlanta Fashion & Polo Classic Weekend, Ride to the Olympics and fashion shows, can you tell us what is next for Miguel Wilson?
MW: Promoting my book, "Peace Over Everything," which published in December 2022. I am also creating a show called "Because It's His Day, Too."