SIGNATURE BRIDE sits down
with top Black fashion designers to get a glimpse into the creative mindset. 
This month, we had the opportunity to speak with Belgian fashion designer Valentine Avoh.

 
Hailing from Côte d'Ivoire (Ivory Coast), Avoh started her own label after working for Alexander McQueen, Spanish wedding dress label Pronovias, San Andrès Milano and Alexis Mabille. In 2014, she made two dresses for Queen Mathilde of Belgium under the name of fashion designer Marc-Philippe Coudeyre, and in 2021, she made a wedding dress for the rom-com I Want You Back. 
SIGNATURE BRIDE: Define your vision of bridal fashion.
Valentine Avoh: Bridal fashion to me must be fun and stylish. You need to look like an upgraded version of yourself, almost like a red carpet star, while still feeling like your true self. You don't need to be disguised or looking like a Disney princess.
SB: You completed your first wedding dress in 2009. How did that come about?
VA: A few years after my studies, in 2009, I was asked by a friend to make her wedding dress. This was new for me, but I loved the whole process—the different meetings to come up with the concept for her dress, the search for the right materials, the fittings. And then when I saw her wearing my creation on her wedding day, it was the cherry on the cake! I was so proud. I knew what I wanted to do from then on. In the end, it is the closest to haute couture as you can be. Working with precious materials, only by order and made to measure. 
SB: You've worked for fashion houses Alexander McQueen, Alexis Mabille and San Andrès Milano. What lessons and/or ideas did you take from working there and bring into your own fashion house?
VA: McQueen was just amazing; it was such a creative place. He was at the peak of his career at the time, so it was a real honor to be able to work in his studio. I learned a lot about how to research inspiration and interpret it. How to create your own fabrics, develop a color palette and basically just think out of the box. But more importantly, I learned patience. A lot of the pieces we were working on took many hours to make, a lot of hand sewing, and sometimes we were working in two or three on the same piece. At San Andrès, I learned how to make clothes for the ready-to-wear market. It was also very formative. At Pronovias, I was in direct contact with the brides for the fittings when I was not working in their atelier.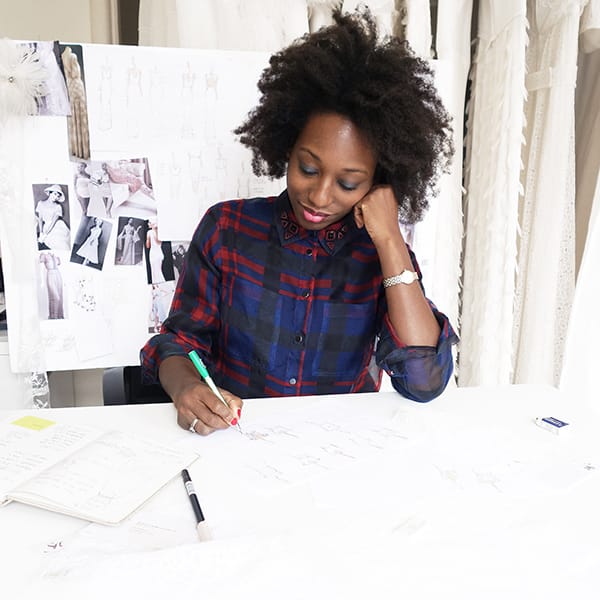 SB: Who or what are your inspirations for creating your designs?
VA: I used to watch a lot of old movies from the early '30s until the late '50s, which really fascinated me. I loved how feminine and sensual women were in those films and yet had very strong personalities. Aside from movies, I am inspired by the fabrics I select and always try to create pieces with their movement, flexibility and properties in mind. And then I get inspired every day by my brides, watching them trying on my dresses and listening to their comments gives me so many new ideas and ways to improve my designs.
SB: Describe your design style.
VA: I think that having lived in three different fashion capitals has definitely influenced my style and broadened my sources of inspiration and how I view elegance. My style is not Belgian, nor Italian, nor French, English nor Ivorian—it's a mix of all. I definitely think that it is a strength.
My designs are not for the traditional bride. They are quite minimal but with unique details and fabrics. I am very inspired by old movies, red carpets and women's curves. Many of my gowns could be worn not only for a wedding but for a red carpet or an elegant event. That is how I imagine them. I try to differentiate myself from other designers by looking at what has already been done and what I could bring to the table. Then for each order it is very personal as everything is made to measure with the finest fabrics. I am always being very honest when advising my clients. I will never push or do something that doesn't fit just to make a sale.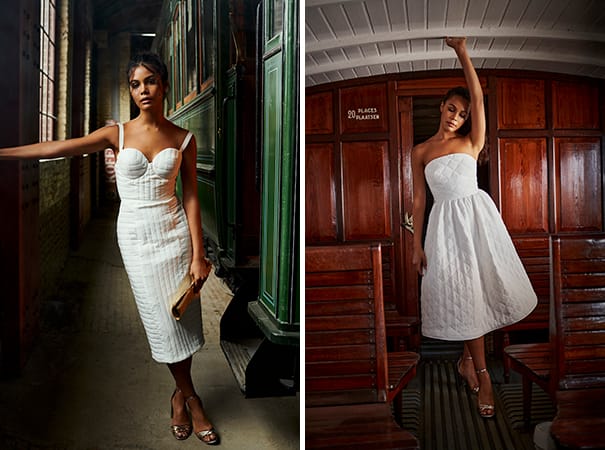 SB: What do you consider to be the signature design elements of Valentine Avoh?
VA: Surprising fabrics, lightness and a highlighted waist.
SB: What is your favorite part of the design process?
VA: Being able to play with the fabrics, research and drape on the mannequins, watching movies or going to exhibitions.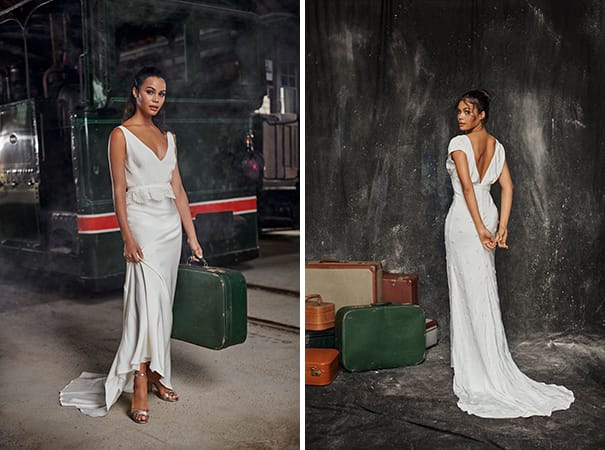 SB: If you were not a fashion designer, what would you want to be?
VA: A photographer or a writer.
SB: What aspects of the bridal fashion industry would you like to change?
VA: I would like some brands to be more up-front about the material they use. A lot of brands use polyester as their main fabric but will omit to write it on their website or will use terms such as "signature crepe or luxe crepe," which is misleading for brides who think they are paying for silk, and they are not.
SB: What is your favorite part of being a designer?
VA: Being able to create and invent things.
SB: What are your favorite materials/embellishments to work with?
VA: Feathers, embroidered or beaded tulle … anything beaded.
SB: Do you have a favorite dress that you designed? Why is it your favorite?
VA: I love the Harlow because it represents everything that I love: beads, bias cut and silk. Ginger obviously is a favorite, too.
SB: Describe the Valentine Avoh bride.
VA: Women who wish to highlight their femininity without compromising ease. Women who want to look glamorous on their wedding day wearing a carefully handcrafted piece made in the finest materials, such as silk, French lace, embroidered tulle or feather.
They want to make an impression without looking disguised and love a minimalistic, well-cut piece with unique details or material. That is why they love the bespoke approach of my work, knowing that each dress is made to their measurements and can be customized according to their taste and curves, or that they can also go for a truly unique design.
SB: What do you think is the next bridal fashion trend?
VA: Embroidered tulle is still going strong as well as lace. Many of my brides are tired of the boho romantic trend and are looking for more glamorous, couture dresses. Short dresses and separates are becoming more popular every year. I think the brand that can offer a bespoke service will have a large audience as people really want to differentiate themselves from the masses, especially with Instagram and wedding blogs.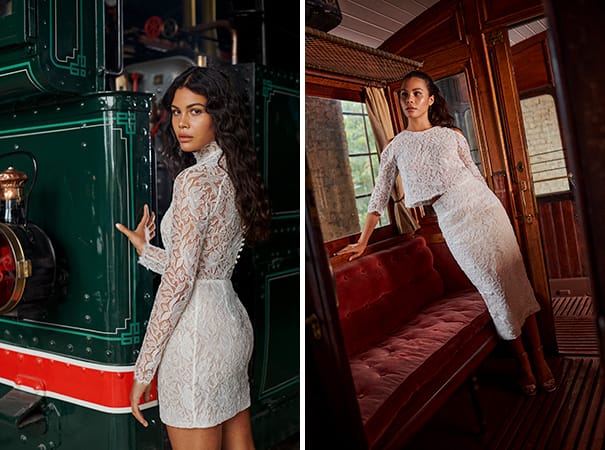 SB: What is your process for designing a collection?
VA: I mainly start with the fabrics and see how they move to know what I will want to create with each one of them. On the side, I will have many visual inspirations/images that will influence my designs or a detail on a dress. Obviously, I will also think about what my brides want, what design was successful last year or what I think is missing in the collection.
SB: Can you tell us what is coming up for your next collection(s)? 
VA: Just one thing—silk satin will make an entrance in my collections.