SIGNATURE BRIDE sits down

with top Black fashion designers to get a glimpse into the creative mindset. 
This month, we had the opportunity to speak with fashion designer Yemi Osunkoya, the visionary behind the brand Kosibah.

 
Growing up in Nigeria, Osunkoya had an eye for detail. After attending weddings with his parents, he would sketch the bridal party fashions with pen and paper. Years later, he turned that talent into a flourishing career as a fashion designer in couture.
Osunkoya counts among his clients members of the British Parliament, senior staff of the British royal family, daughters of a member of the British House of Lords, members of the royal families from Nigeria and Ghana, actresses, entertainers, and celebrities.
SIGNATURE BRIDE: What was your first job in the fashion industry?
Yemi Osunkoya: Technically, my first job in the fashion industry was working at Way-In, a fashion boutique within the famous department store Harrods, in London. I worked there while I was studying fashion design at the Paris Academy School of Fashion. But my first proper job was working for myself when I registered my brand Kosibah Creations on September 1, 1991.
SB: What drew you to bridal design?
YO: I have always been fascinated by weddings and the attire of the entire wedding party from when I was 6 or 7, accompanying my parents to weddings in Nigeria. I was especially drawn to the wedding dress, which was the center of attention on these occasions. I trained in couture techniques in fashion school, which is quite labor-intensive and directed toward creating bespoke clothing from scratch for individual clients. When I started my brand, I created both casual and formalwear pieces for my clients, but very quickly it became very apparent that creating casual wear was not viable businesswise, and in an organic way I began to focus on and specialize in bridal and evening wear dresses.
SB: Define your style.
YO: Modern classic and figure-enhancing. My superpower is my ability to recreate the classical hourglass silhouette with my gowns, using corsetry and structured bodice techniques developed over my 31 years of experience.
SB: Tell us about the brand name, Kosibah. 
YO: I came up with the brand name Kosibah in 1983 when I was invited by Nigeria's Ministry of Youth, Sports, and Culture to participate in a fashion show and each brand had to have a name. Even at age 16, I knew I did not want to use my first name and surname but a name that was meaningful to me that could crossover internationally. My parents were extremely supportive of me as a young child who was gifted with the ability to draw, and specifically to sketch fashion illustrations. They encouraged and nurtured my talent. I, therefore, wanted to pay homage to my mother when coming up with my brand name and came up with a different spelling of her name Cosiba (girl child born on a Sunday in Benin Republic, which is her heritage) to Kosibah. So, long story short, the name is a derivation of my mother's name.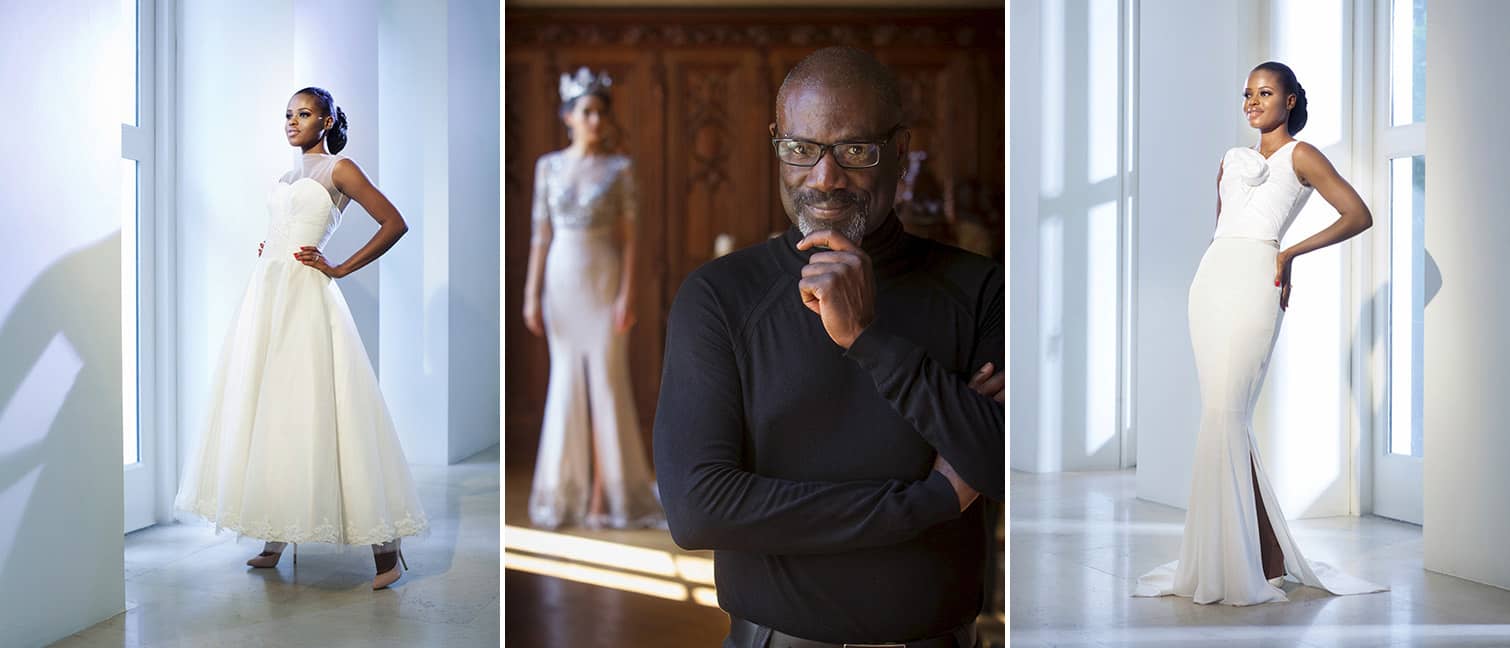 SB: What changes—if any—have you seen in the attitudes toward wedding dresses since the early days?
YO: The most significant change I've noticed is how quickly bridal fashion trends change and how fashion-forward bridalwear has become. In the early days, trends lasted for three to five years, overlapping in some cases. But now, trends change every season. My theory about this change is that over the years, most brides have come to have more say about their choice of wedding dress because a lot of them are paying for it themselves instead of relying on their parents. Also, the combination of social media platforms like Pinterest and Instagram, where brides can see more styles quickly, and the opening up of more secular locations for marriages to take place legally has meant brides are more adventurous and individualistic in their wedding dress choices.
SB: You've designed and created fashions for heads of state, celebrities, and royal families. What keeps you drawn to bridal?
YO: The fact that my creation will enable my client to look and feel their very best on such an important day to them and be the center of attention at this event makes all the hard work that goes into creating each wedding dress worthwhile and gives me artistic satisfaction. My designs lend themselves to the classic, timeless nature of a wedding dress that will be seen for many years to come after the day it was worn. I love to witness the look of wonder and amazement on the faces of my clients when they try on the finished dress after going through the various fitting processes involved in creating a couture dress. They are usually struck by the way I've been able to whittle down their waists and support their busts without them wearing a bra—just with the internal structure of the dress.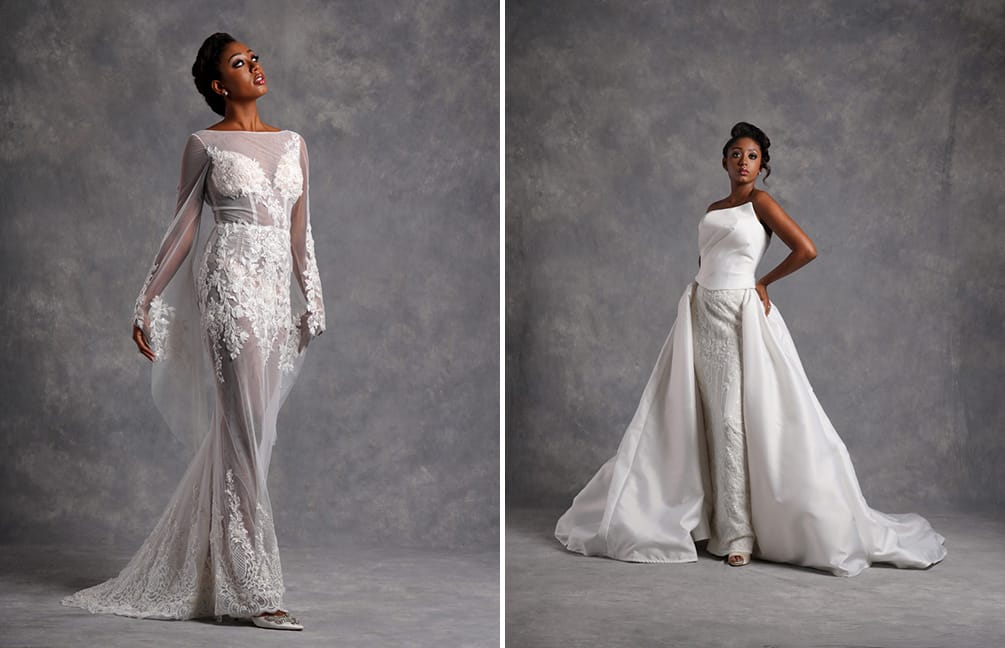 SB: Who or what inspires you?
YO: Because of the very bespoke nature of each dress I create, I'm especially inspired by the specific elements each client brings to the table. The body shape of my client, physical attributes she wants to celebrate, concerns she may have, the location style and type of the wedding, the time of year, and cultural and/or religious factors that have to be taken into consideration are all factors that go into the inspiration for the gown. I am very good at listening to what my client wants and being able to come up with three or four sketches in real time for her to consider and narrow down to the final design. Of course, fabrics and embellishments play a part in the inspiration behind each dress design. In addition, I love art, theater, ballet, traveling to different countries, and exploring different cultures—all these also play a part in my thought process when designing.
SB: What influences your designs?
YO: Whatever it is that can enhance the figure of the client sitting in front of me and that I think will flatter her the most is what influences the design I come up with for her at that time.
SB: What do you consider to be the signature design elements of a custom Kosibah wedding dress? 
YO: The variety of design options I can come up with is endless; therefore, my gowns are unique in their own way. The overarching element that is featured in each dress is the figure-enhancing aspect. If a client is full-figured, I can take about 3 to 4 inches off their waist, and I can create curves where they are lacking. This is all done with techniques I have created and refined over the years. 
SB: What is your favorite part of the design process?
YO: The answer to this can be different depending on the client or the dress I am designing. Sometimes it's coming up with a design that makes my client look at me as if I were a genius. Sometimes it's sourcing the fabulous fabrics, embellishments and notions for the gown. Sometimes it's challenging myself in the drafting stage of the creation of a difficult pattern design and coming up trumps. Sometimes it's the look of the client when she tries on the finished dress as she gazes in wonder at her reflection. 
SB: What is your favorite part of being a designer?
YO: The opportunities and experiences that have opened for me because of what I do. I count myself extremely lucky to be doing something I am passionate about and am very good at. It is a privilege I know a lot of people do not enjoy. 
SB: You work with and are inspired by all types of luxurious fabrics, but you are repeatedly drawn to lace. What is it about lace that keeps you coming back?
YO: I love to make each dress unique, and a way of doing this is creating bespoke fabrication. Deconstructing lace into appliqués I can then rearrange in a way totally of my making lends itself to this ethos. Sometimes I use two or three different but complimentary laces to create one gown, again making the fabrication unique. 
SB: Describe the Kosibah bride.
YO: The Kosibah bride is a woman who doesn't compromise on style, fit, or fabrication. She appreciates and knows the value of couture. She is a strong, confident woman yet wants to celebrate her femininity and, most importantly, wants a classic, refined and elegant gown with unique elements to it. She may be getting married for the first or second time and sometimes does not want to look like the typical bride.
SB: What do you think is the next big bridal fashion trend?
YO: I do not think there will be one major fashion trend to come. Brides will continue to be more individualistic in their choices and go for styles that are more aligned with their aesthetics. I predict high necks, though, with sheer or lace fabrics, colors such as various hues of blue, and separates that enable items of the ensemble to be worn again after the wedding; these are some elements I believe will be the next trend.
SB: What is next for the Kosibah brand?
YO: I envision the Kosibah brand being more open to collaborations with other brands, be that in actual fashion, accessories, or education-related ventures. Kosibah will continue to be the go-to brand for custom/couture wedding dresses that flatter and enhance all body types.