Floral arrangements are a

work of art that displays your taste and helps to tell the story of your love on your special day. We spoke with florists to get their sage advice on what they expect to be the top fall and winter wedding floral trends. Here's what will be some of the most fashionable floral concepts to incorporate into your upcoming nuptials.
Understated  Bouquets
Black brides will continue to draw inspiration from Meghan Markle, who carried elegant, understated blooms at her royal wedding. Some brides interpret the trend literally and choose to carry a single variety of blooms for a lush and memorable bouquet. "We're seeing more paired-down minimalist and monochrome designs using one to three single statement flowers such as anemones, heirloom roses and proteas," says South African florist Sylvia Lukach of Cape Lily.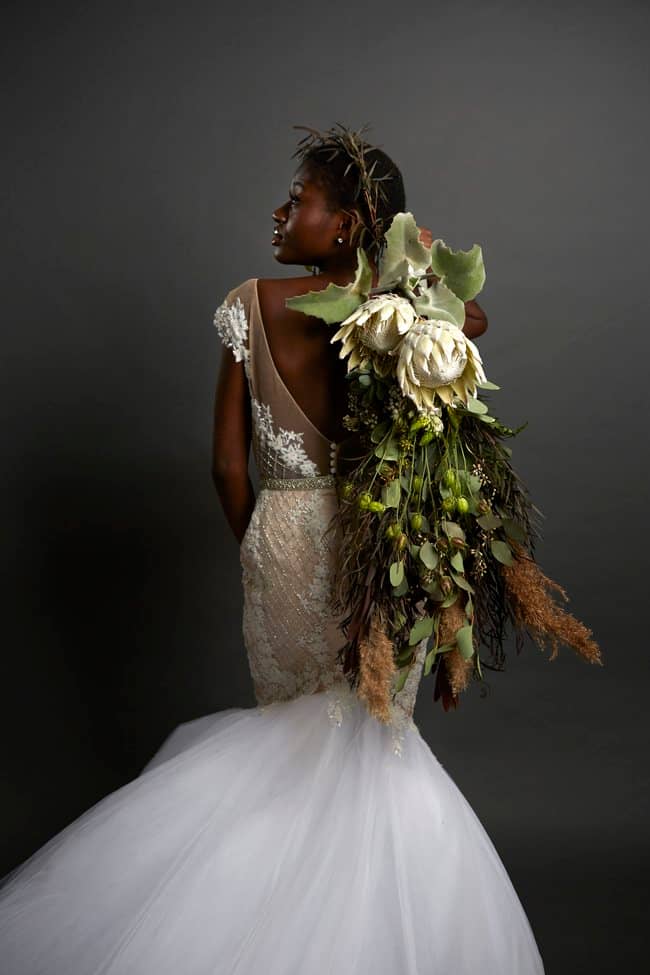 All-over Color
Muted tones have served as the color palette of choice at weddings for the last few years, but it's time to brighten things up a notch. "With understated tones being a thing of the past, dahlias in bold, rich hues will dominate into fall. Such vibrant statement flowers require a lesser quantity due to their powerful impact," says Says Benjamin Newbold, the creative director of floral events at Winston Flowers.
Annette Lindsey from I Do Weddings With Love agrees. "As the seasons change, it's inevitable that the tones of the florals will also shift. Trending this Fall and Winter are show-stopping, bold, jewel tones," she says. Brides have moved toward favoring richly hued blooms to give their wedding a festive feel. Vibrant statement flowers offer plenty of depth when tucked into textures of foliage. Luxurious flowers like rare orchids are also stunning in fall and winter wedding florals."
If you prefer to stick with neutral flowers, add a bit of color to your arrangement with painted foliage. There's also a trend to incorporate more texture than ever before with wild seasonal elements that mimic the beauty of the natural world. Plumose ferns in vivid colors add a dramatic effect when dangling from a ceiling or woven through floral designs.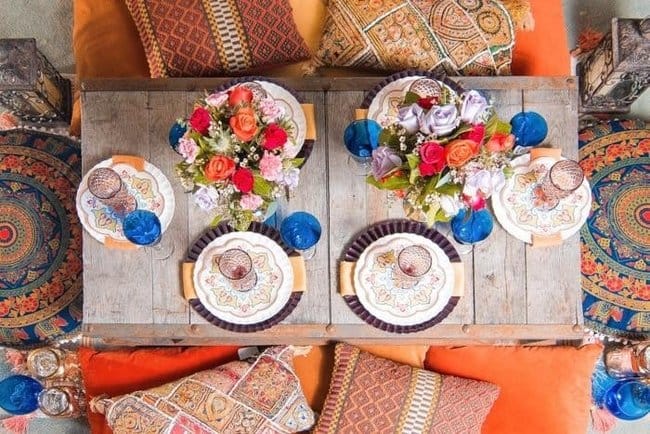 Creative Scenery
Weddings are all about making memories that last, especially in this digital age where photos live indefinitely on social media. "Creative scenery came to life with the advent of social media and idea of creating Instagrammable moments," says Newbold. Floral walls and canopies of greenery will continue to be popular, even as brides are becoming more creative in the vignettes they're creating with flowers at their weddings. Over-the-top floral table runners that cascade over the side of the table make a luxurious statement, as do floral chandeliers and stairways.
Playful circular-shaped infinity altars are attention-catching and make for beautiful photos. They can be used as the sacred space where partners will exchange wedding vows and can then be repurposed as a photo op for guests during the reception.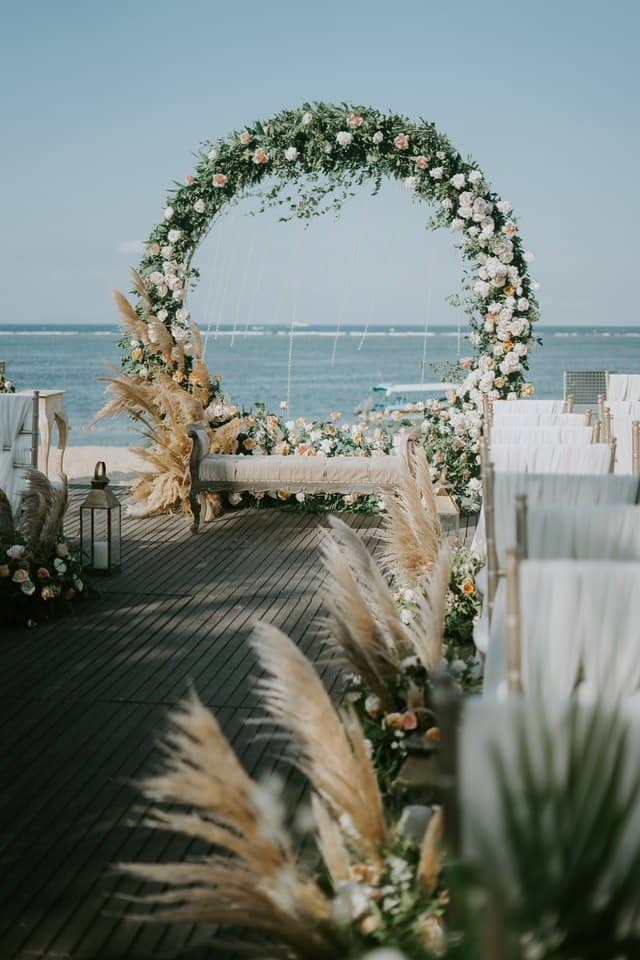 Global Inspiration
More and more brides are drawing inspiration from their culture and travels around the world to influence their floral designs. "Expect to see some globally inspired walks down the aisle taking guests on a proverbial 'destination' wedding, without having to book the flight," says Newbold.
Guests will be transported to the couples' favorite destination through thoughtful design elements and florals native to the place that inspired the wedding. Popular travel-themed concepts include safari-inspired rehearsal dinners or the kaleidoscope of colors found in Indian celebrations. These warm-weather destinations are a popular inspiration for fall and winter weddings, when couples are tired of the gloomy winter and want to embody the warmth and light of summer at their wedding.
Preserved Florals
Dried flowers will enjoy a renaissance this fall and winter. "The autumn bride may be inclined to play with dried and preserved florals. Manipulating their forms creates unique shapes and structures, resulting in exquisite, whimsical sculptures," says Newbold.
As flowers dry, they take on textures that are a beautiful way to enhance event décor. Cascading textures can be intricately woven into arrangements with fresh flowers for an elaborate look. As dried flowers are sustainable and can last forever, they're a perfect keepsake to share with guests after the ceremony and reception.
Pampas grass is a feathery plant that makes for a stunning showy display when arranged gathered together in a bunch. Pampas grass can be very glamorous when paired with a crystal vase for a minimalistic look. "You might wonder why grass is so popular now. It's because it gives off a wispy, airy look. The best part about these is that they can be used in almost every arrangement," says Lindsey.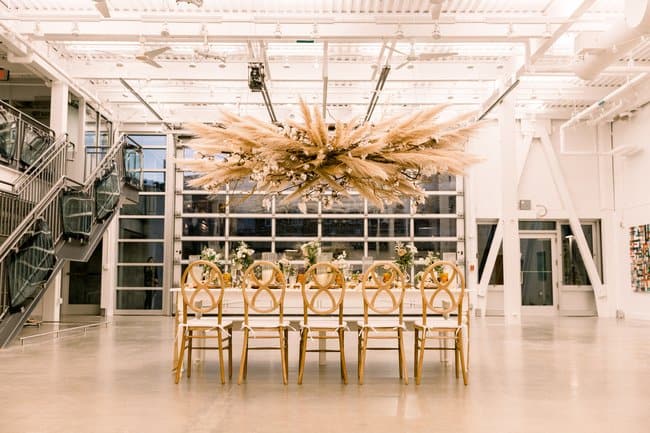 Asymmetrical Designs
Brides are opting for centerpieces that feel less polished and more organic. "Where in past years the perfectly symmetrical arrangement has been desired, 2020 will gravitate toward perfectly unproportioned designs," says Newbold.
Asymmetrical shapes featuring freshly gathered vines, berries and branches gathered from a garden will replace the impeccably balanced pieces of the past this fall and winter. The loose design style feels if they've naturally grown where they're displayed rather than installed.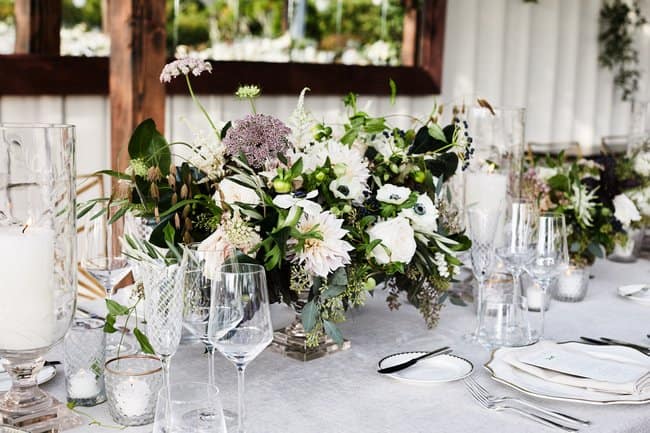 Floral Accessories
Who doesn't love the idea of wearing living flowers as they walk down the aisle? The ethereal look is sure to be a show-stopper. "A delicate floral hair accessory offers a touch of glamour to any bride's aesthetic, as well as a connection to her bouquet," says Newbold.
Floral crowns are finally a thing of the past after being overdone at music festivals and ruining the whimsical look for brides. Instead, at fall and winter weddings we'll see beautiful floral embellishments on combs and barrettes. These are excellent accessories to add on to a sleek updo or bohemian loose bridal hairstyle on the Big Day. Be mindful of the placement of the floral hair accessories so they don't get crushed when the veil comes off or wear them exclusively to the reception to add a bit of fun and flair to your bridal look as you party the night away with your loved ones.
Lukach finds that bridal adornment goes beyond hair and can be worn in fascinating ways. "Brides are opting for more bold fashion choices and flowers to accompany them. Great florals for adornment would be anything that looks good out of water for a day, such as succulents, ball dahlias, and miniature roses," she says.