What turns a recipe

into a weeknight favorite? How about something easy and packed with flavor that can be made partly in advance? Add excitement by exploring cuisines like those of North Africa, with flavor contrasts of spicy, sweet and tart.
The following recipes use grapes as a fresh accent to the flavorful North African spices in each dish. Grapes are also a handy snack while putting the finishing touches on dinner. And better yet, grapes are in season throughout the fall and winter.
Harissa-spiced steak with grapes and preserved lemon delivers big flavor in an easy and quick way. Two North African ingredients, spicy harissa paste, a staple in Moroccan cuisine, and preserved lemon, a flavorful condiment with a mildly tart but intensely lemony flavor, offer a zesty contrast to a refreshing and lightly dressed grape salad. Marinate the steak ahead of time—in the refrigerator during the day, overnight for more intense flavor, or even shortly before grilling.
Quinoa with grapes and roasted carrots reprise the North African theme with a flavorful seasoning of cumin, coriander, paprika and cinnamon, accented by the subtle sweetness of crisp, juicy grapes. To save time, make the carrots and quinoa in advance and assemble this side dish right before serving. Double the recipe to make enough leftovers for lunch the next day.
Keep grapes on your weekly shopping list so they are handy for weeknight meals, a quick and refreshing dessert, or snack any time of day.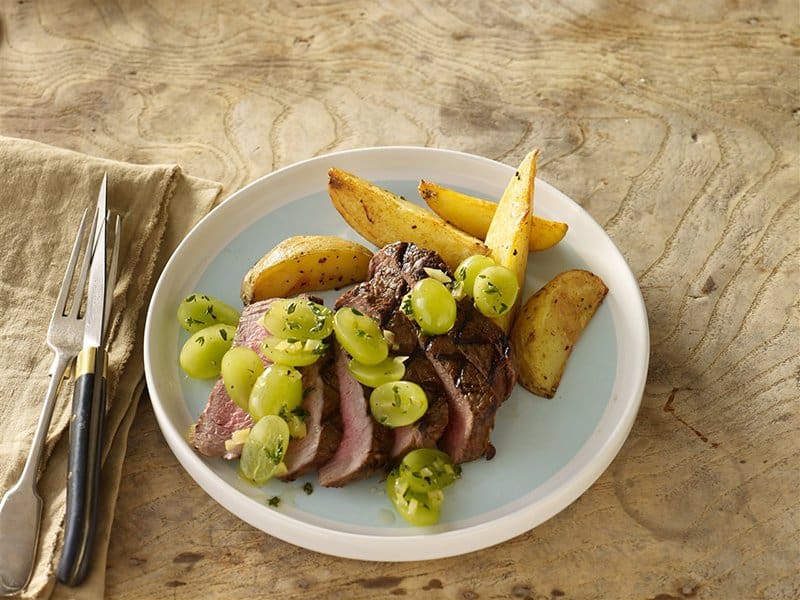 Harissa-Spiced Steak with Grape and Preserved Lemon Salad
Prep time: 20 minutes, plus marinating time
Cook time: 18 minutes
Yield: Makes 4 servings
Ingredients
3 tablespoons extra-virgin olive oil, divided
2 garlic cloves, grated or minced
2 tablespoons reduced-sodium soy sauce
1 tablespoon plus 1 teaspoon honey, divided
1 tablespoon harissa paste
1 1/2 pounds top sirloin, cut 1 1/2 inches thick
2 tablespoons lemon juice
1 tablespoon preserved lemon, minced
1 tablespoon thyme, chopped
1/8 teaspoon coarse salt
1/4 teaspoon freshly ground black pepper
2 cups green or red California grapes, halved
Directions
Combine 1 tablespoon oil, garlic, soy sauce, 1 tablespoon of honey and harissa paste in a glass pie plate. Add the meat and toss to coat. Cover and marinate for 30 minutes at room temperature, or refrigerate and marinate for 2 hours or overnight.
Heat grill to high. Pat steak dry and grill 7 to 9 minutes on each side for medium-rare. Transfer to cutting board and let stand while making the salad.
Combine the remaining olive oil and honey with lemon juice, preserved lemon, thyme, salt, pepper and grapes. Slice steak into 1/2-inch-thick pieces and divide between serving plates. Top with the grape salad and serve.
Nutritional analysis per serving: 330 Calories; Protein 32 g; Carbohydrate 19 g; Fat 14 g (38% calories from fat); Saturated Fat 3.5 g (10% calories from saturated fat); Cholesterol 85 mg; Sodium 440 mg; Fiber 1 g.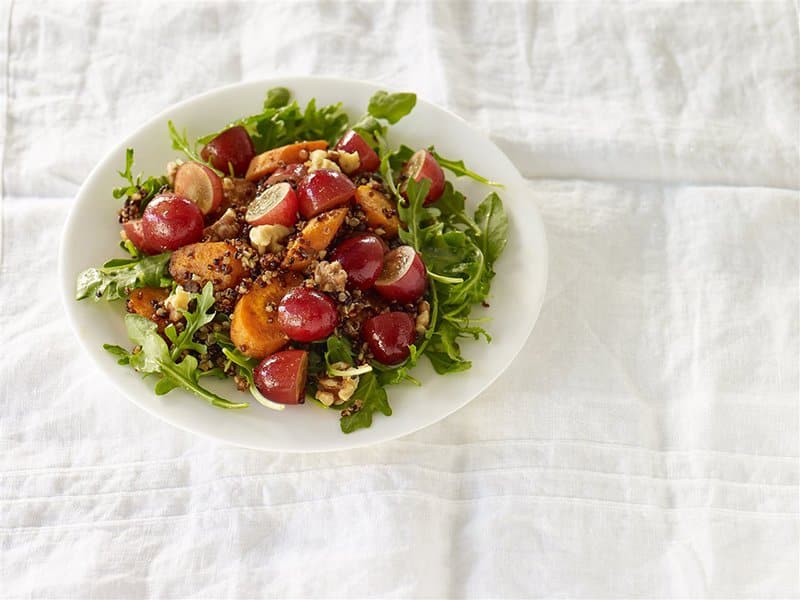 Quinoa with Grapes and Roasted Carrots
Prep time: 20 minutes
Cook time: 25 minutes
Yield: Makes 4 servings
Ingredients
1 teaspoon smoked paprika
1 teaspoon ground cumin
1 teaspoon ground coriander
Pinch cinnamon
1/2 teaspoon coarse salt, divided
3/4 teaspoon freshly ground black pepper, divided
3 tablespoons extra-virgin olive oil, divided
4 large carrots, cut into 1/2-inch diagonal disks
1/2 cup walnuts
1/2 cup multicolored quinoa
2 tablespoons lemon juice
1 1/2 cups red California grapes, halved
1 package (5 oz.) baby arugula
Directions
Heat oven to 400°F.
Combine the spices in a large bowl with 1/4 teaspoon each salt and pepper and 2 tablespoons oil. Add the carrots and toss, then spread into a single layer on a small baking sheet. Bake until roasted and tender, about 20-25 minutes. At the same time, bake the walnuts on another small sheet pan for 8 minutes, or until lightly toasted. Cool and then coarsely chop.
Meanwhile, combine the quinoa in a medium saucepan with 1 cup of water. Bring to a boil over high heat, reduce the heat to a simmer, cover and cook until quinoa is tender and the water is absorbed about 20 minutes.
Let stand covered 5 minutes, then stir in the carrots, scraping up any of the spices from the baking sheet and adding to the quinoa. Add 1 tablespoon of the lemon juice and the grapes and toss.
In a large bowl combine the arugula with the remaining tablespoon of lemon juice and olive oil. Sprinkle with the remaining salt and pepper, and mix well. Transfer to a serving platter. Top with the quinoa mixture and walnuts and serve.
Nutritional analysis per serving: 340 Calories; Protein 7 g; Carbohydrate 36 g; Fat 20 g (53% calories from fat); Saturated Fat 2.5 g (7% calories from saturated fat); Cholesterol 0 mg; Sodium 360 mg; Fiber 6 g.