This winter Hallmark Channel debuted Winter Castle, a romantic movie that takes place on location in a real-life ice hotel.
The hotel has inspired us to explore what other ice hotels are available for a destination winter wedding. So, we searched the internet and came up with these awe-inspiring, must-see real-life ice hotels — structures that are rebuilt (and redesigned) each winter from ice and snow. Winter-loving brides can have their happily ever winter wonderland theme! We know the photos will be magical!
Hôtel de Glace
Located 20 minutes north of Quebec City, Canada, on the Valcartier Vacation Village site, the Hôtel de Glace was the backdrop of Hallmark Channel's movie, Winter Castle. Made entirely of ice and snow — we're talking all the furniture and accessories, the walls, beds, bars, glassware and more — Hôtel de Glace features numerous sculptures, a majestic chandelier, more than 40 rooms and suites, a café and a romantic ice chapel. Suites include a fireplace and the hotel also boasts an outdoor hot tub and sauna. Not feeling the cold? Overnight guests can stay at the nearby Valcartier Resort. The hotel offers six different wedding packages and is open from December through March.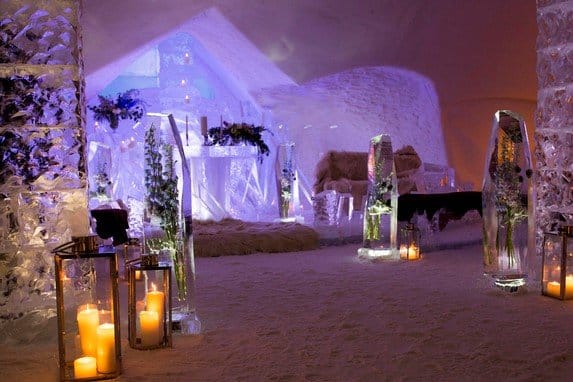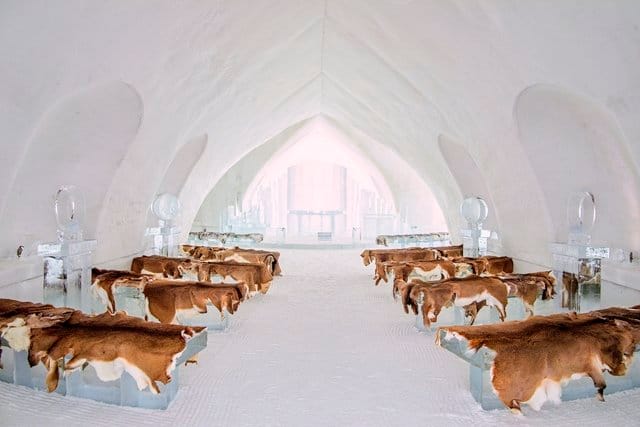 SnowCastle Resort
Since 1996, the SnowCastle Resort in Kemi, Finland, has offered guests a unique seasonal experience. Ten artisans work on the SnowCastle each year creating a different design. Filled with enchanting snow sculptures and light effects throughout, the rooms are equipped with thick sheepskins and thermal sleeping bags. The hotel also has a snow restaurant and a beautiful snow chapel.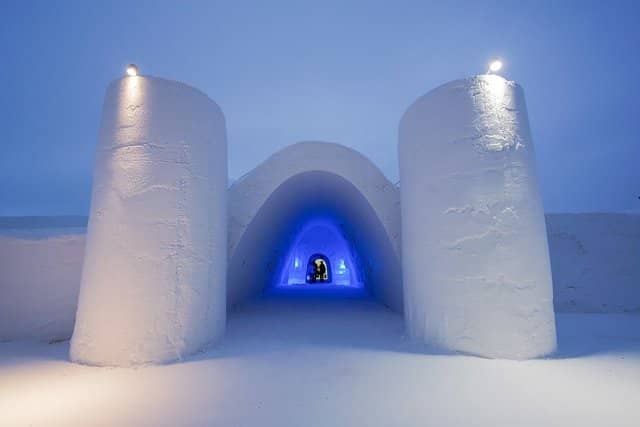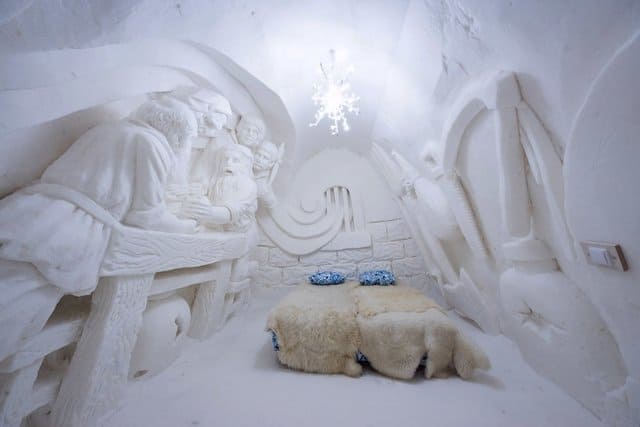 ICEHOTEL
Founded in 1989, the ICEHOTEL is reborn in a new guise every winter in the Swedish village of Jukkasjärvi — 200 km north of the Arctic Circle. The hotel features an ice bar, lounge and restaurant, and warm and cold rooms. The hotel's Ceremony Hall and main hall offer winter brides options in venues. Ceremony Hall opens Dec, 26 every year and stays open until April. The intimate venue accommodates up to 40 people; its walls and ceiling are made of snow and the altar details and benches are made of ice.