Damilola Okuboyejo loves celebrations

—and not just the ones for life-altering events such as weddings and baby showers, for which she crafts unbelievable luxury stationery and other items. "I tend to celebrate everything, from half birthdays to the turn of every season," she admits.
The founder and creative director of By Dami Studios (BDS), a luxury stationery company, may even be whisking up specialty cakes soon for her and her loved ones to savor during those everyday celebrations. One of the cake connoisseur's goals for 2023 is to be able to make the baked good she loves so much (red velvet being a particular favorite).
While Okuboyejo says she's always considered herself crafty and enjoyed working with her hands, she never envisioned that would lead her down the path of entrepreneurship and stationery. She also had no desire to start her own company. Her first love is teaching. It's what brought her to New York City, where she lives and operates her business. Originally from Nigeria, Okuboyejo has lived in the States since she was a teen and wound up in the Big Apple to attend Columbia University, where she obtained her master's degree in education in 2010.
A Calling Comes Knocking
Okuboyejo became a reluctant business owner when, after successfully dodging requests from others to make high-end wedding invitations for them as beautiful as the ones she crafted for her nuptials, she finally agreed to create some for a friend. The rest, as she says, is history. "I started this company over 12 years ago and have been full time for nine years," she explains. "We now have a solid team that includes operations, graphic designers, bookkeeping, production, etc."
BDS exclusively serves a luxury clientele, providing visionary designs for invitations, menus, name cards, signage and other décor elements, stationery elevated. Projects often require three to 10 months of collaboration. And while client input is essential, Okuboyejo says the most vital ingredient is trust. "Simply, TRUST the professional you hired. That, to me, is truly all I need to be able to bring my client's designs to life," she says. "This year, we have decided to take on less work at a higher price point so we can serve clients a bit deeper and focus on our gifting." There's no need for couples to fret, though. Openings for 2023 and 2024 are still available.
The Love Language of Gifting
The company's aforementioned gifting arm is known as Boxed By Dami (BBD) and previously provided gifts for parents, children, bereavement and other life events. "Gifting is my love language, and honestly, it is the future of BDS," she says. "I think gifting is underrated and so important. I really want to become an authority when it comes to the art of gifting and gratitude. And that is what we are working on." The focus is now on custom corporate gifting, but Okuboyejo says BBD will also provide gifting ideas throughout the year.
She explains that reflecting and making changes as needed over the years has been a huge part of the company's success as a whole and acknowledges that its survival wouldn't be possible without evolution. However, Okuboyejo has never felt compelled to follow trends in her professional or personal life. "I enjoy being me," she states.
Finding Inspiration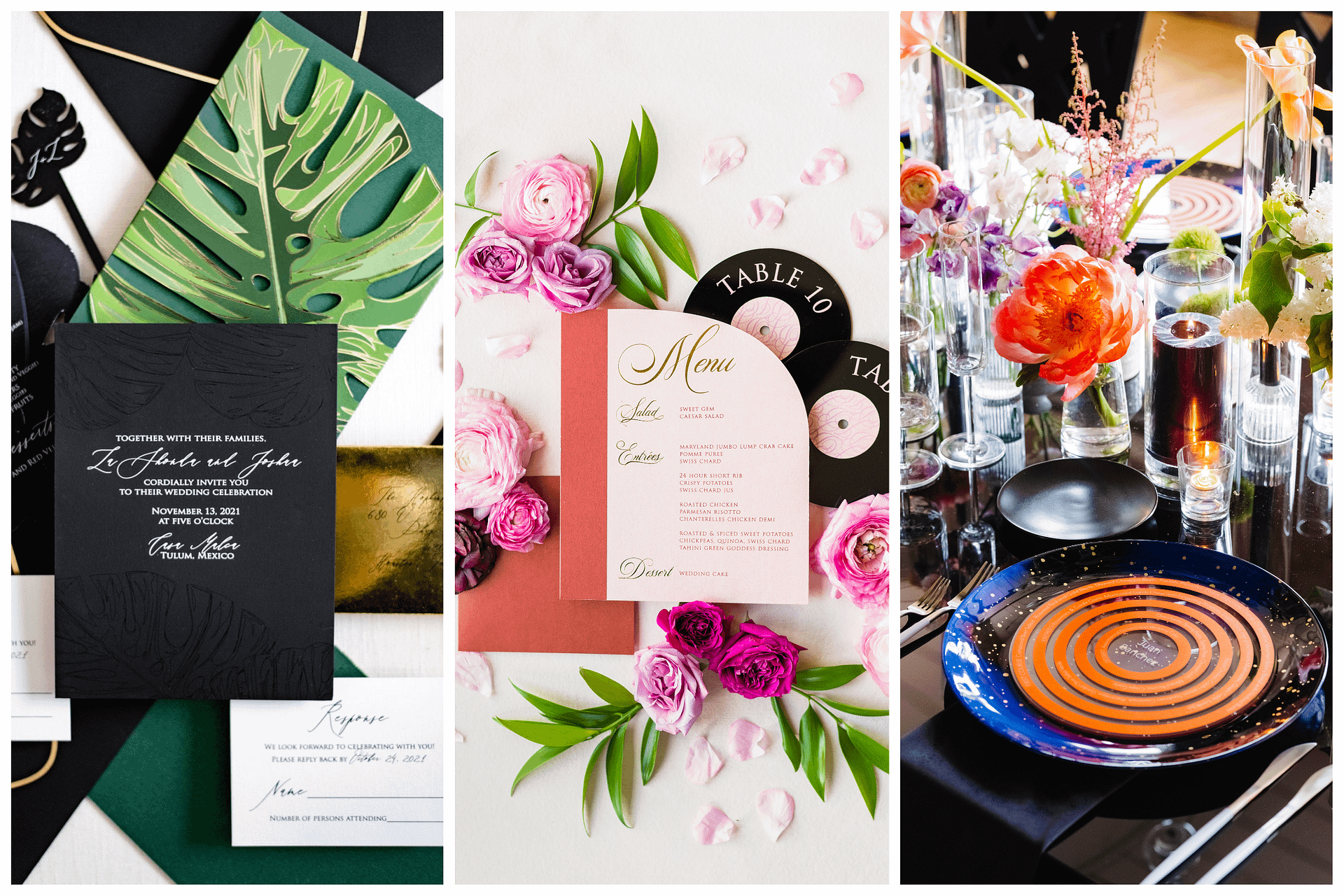 For all the creative work she does, you might be surprised to know that Okuboyejo didn't consider herself a creative person before launching her luxury stationery company. "But I now realize that I am indeed a creative and have always been," she says. "I have always had a very unique and personalized sense of style. I always loved planning celebrations and making things with my hands. But I just never saw myself as one, and I had to fix that way of thinking."
The mother of two says it's everyday life and the things around her that fuel her creative spirit. "I get inspiration from everywhere—from art, from architecture, texture, pattern, nature. I feel like I live my life with a lens of awe. So, that means never taking anything for granted. Moving slowly. Touching the flowers. Watching the sunrise. Smelling the rain. I find that when I move slowly, I can really stay in awe of the world around me, and that is where my inspiration ultimately comes from," she says.
A Mindset Shift
The richness of her everyday life also includes traveling and simply spending time with her husband and sons—one of her many passions. "We have been on so many amazing adventures. I think the bottom line is, I love creating memories with the family," she says. Staycations, serving as a board member for The Ruby Ball Foundation, living with no regret, and taking time for herself are also enduring interests.
In fact, one way she's been taking more time for herself is through her love of reading. Okuboyejo says she's recently decided to take a break from burying herself in business and self-improvement books and is pushing herself to resume reading for entertainment and leisure. One of her all-time favorite tomes is "The Power of Positive Thinking," which she says, "absolutely changed my life and how I view life." Clearly, that change has been for the better.
As far as what the rest of the future holds, Okuboyejo says, "I am building a gifting empire that serves top corporations while fostering a community that values and prioritizes living a life of gratitude."