As vaccination rates

rise

and new COVID-19 cases fall, most U.S. counties are dramatically reducing, or even eliminating, pandemic restrictions.
Spring has sprung nationwide and, with the traditional wedding season nearly upon us, many of the newly engaged are wondering if it's time to plan large weddings yet, while those who've already been canceling and postponing for a year want to know if they can actually have large weddings now.
Guidelines and restrictions vary from county to county, so what's possible in one town may not be possible in another, but the CDC maintains a detailed set of evolving guidelines explaining not what's possible, but what's safe. We combed through the CDC's current guidance on large events to bring you a streamlined summary, then spoke with a couple of our favorite wedding planners to see how they're helping brides navigate these COVID considerations to keep everyone safe.
So, is it time to have a large wedding yet? The short answer from the CDC is no, but everyone understands that what happens in the real world is rarely as simple as what is possible on paper. Some brides scaled back or even went digital in order to pull off a wedding in 2020, but for the countless couples who postponed and have now waited up to a year to reschedule, improved COVID conditions and the arrival of warm weather are making it increasingly difficult to continue waiting. For those too eager to wait, and that seems to be almost everyone now, the CDC lists some best practices to minimize risk at large events. Here's our streamlined summary.*
Social Distancing is still the number one recommendation for interactions of any size, but especially as crowd size increases. The ability to remain 6 feet away from anyone who doesn't live in the same home is critical for reducing the spread of infection, and there shouldn't be exceptions for congratulatory hugs, etc.
Mask Wearing is essential, not just for staff supporting a wedding but for all guests. Of course, masks need to be removed while eating and sipping, but they shouldn't remain off while guests are merely seated at their tables. They should be worn by anyone not actively eating or drinking.
Volume should be kept lower than usual on music and entertainment to discourage guests from shouting or singing, which increases the chance of spread.
Handwashing should be done regularly throughout the evening and hand sanitizers should be provided when washing frequently with soap and water isn't feasible.
Signage should be used throughout event venues to remind guests and staff of all precautions in place.
The CDC provides further guidance for venues and vendors involved in preparing and presenting a wedding, and these items cover everything from sanitization to food service but don't require any action from the bride, groom or wedding guests. It's important to check with all venues and vendors in advance to be sure they're following these guidelines, though this potentially cumbersome task may be best overseen by a wedding planner.
Celebrity event designer and wedding planner Slomique Hawrylo of Carpe Diem Events says most of her brides have been waiting a year to have their weddings so they're ready to take any and all recommended precautions to be able to finally get married. In order to accommodate larger guest lists, some of Hawrylo's clients have relocated their weddings to countries with looser crowd-size restrictions, but for those who haven't opted for a destination wedding, she's found a clever solution.
"For some weddings with 150 guests, we've selected venues that could accommodate 500 people. This allows us to have spaced-out seating, place fewer people at individual tables, have a bigger dance floor, and it just allows people to comfortably maintain a safe distance," she says. "Another practice we've used is having on-site testing where we allow guests to come early and get tested with a rapid test. This promotes safety and makes people a little more comfortable."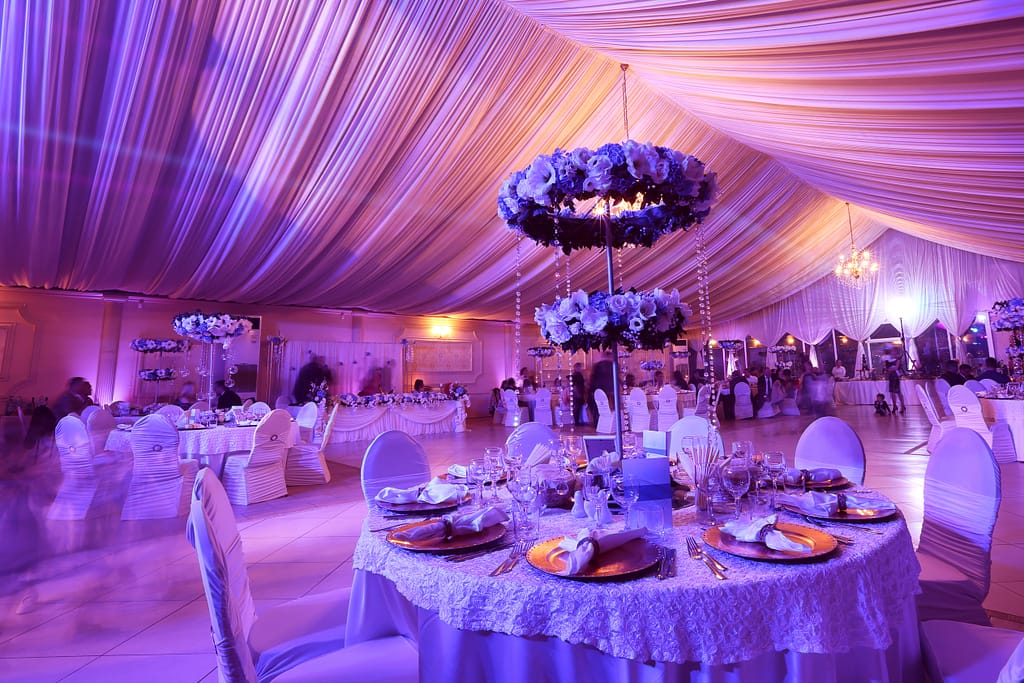 These precautions may be out of reach for brides with smaller budgets, but there are steps all brides can take. For example, many of Hawrylo's brides have used QR codes for digital menus to reduce touchpoints at the table. And for those brides who feel they can provide safe environments but are still battling size restrictions from local regulations, Hawrylo recommends a standby invitation list for those who would be willing to attend on short notice if the guest count can increase as restrictions relax. Monitoring guidelines is another element that's best left to professionals like Hawrylo, as restrictions change rapidly.
"As a planner, I'm always up to date with the latest guidelines in the counties where we have our weddings," she says, noting that just because a destination will accommodate a large wedding doesn't mean it should. When scouting for a destination wedding, she looks for regions that have low levels of COVID cases. The CDC agrees with this practice.
Like Hawrylo, Melisa Brown, CEO of Lux Lifestyle Event, has found that most of her brides have opted for destination weddings during the pandemic, often to seek more relaxed restrictions. Brown's brides have already begun increasing their guest counts, too. In December she hosted a wedding for 180 guests, but notes that this was an outdoor wedding.
"Our clients are very interested in the safety and comfort of their guests. They all take the necessary steps to ensure that all guests wear a mask, are provided personalized hand sanitizers and practice social distancing. This is a conversation we have with all of our clients when planning," Brown says.
Hawrylo agrees, adding: "I don't allow my clients to not take these precautions because I have to think about my vendors and their families, too, and I have a family to protect, so I can't show up in an environment that's not safe. I don't leave room for my clients not to take precautions. They know that I'm looking out for their best interest and their guests' best interest, so I educate my clients from the beginning."
It's important to check with all venues and vendors in advance to be sure they're following these guidelines, though this potentially cumbersome task may be best overseen by a wedding planner.
Despite relaxed restrictions and creative ways to host a socially distant wedding, Brown says that there can still be value in delaying weddings further. "Some of my brides have moved their weddings to 2022 because they feel that, by that time, all their guests will be able to travel as the vaccine becomes more available. These are often the brides who are not willing to scale down on their guest count and are in the 250-plus range."
For those with large but not astronomical guest counts who want to host now, Brown asks that all guests get tested between two and three days before the wedding and provide their results to a dedicated email address she maintains. And, because no amount of precaution can completely eliminate the possibility of infection, she has guests complete contact tracing forms on arrival. In the event someone gets sick, she can notify other guests to get tested quickly.
The bottom line remains as true as it has been all along: The longer a wedding can be delayed, the safer it will be, and the CDC does not recommend any large events at this time. But for brides who feel they've waited long enough and who have guests willing to attend, the health landscape is improving, restrictions are relaxing and wedding planners like Hawrylo and Brown have plenty of techniques at their disposal to make large weddings as safe as possible in the current climate.
*NOTE: CDC guidelines change as new information is obtained. The information provided here was accurate at the time of writing, but please stay up to date with any potential changes by reviewing current guidelines here.