For many families

working

and schooling from home since the onset of COVID-19, home improvement spending has been on the rise.
The National Kitchen & Bath Association (NKBA) and John Burns Real Estate Consulting (JBREC) reported that their Q3 2020 NKBA/John Burns Kitchen & Bath Market Index (KBMI), the industry's definitive gauge of kitchen and bath industry condition, was at 61.9, up from 44.2 in Q2 and indicating expansion in the sector.
While the pandemic has caused problems with the supply chain, the expansion of home renovation projects is projected to continue through 2021. The biggest opportunities: kitchens and baths. 
NKBA shared the hottest trends for 2021:
Purposeful Design: Today's designs can't just look good; they need to stand up to the high demands of busy households. For example, luxury kitchen brand Signature Kitchen Suite blends innovation and high-end design with a brand-new—and highly customizable—undercounter convertible drawer refrigerator. Precise temperatures in each drawer, from -7 to 50 degrees, and six temperature zones—pantry, fridge, bar, seafood, meat or freezer—make it the perfect way to maintain the freshness and integrity of foods.
Hands-Free Options: With a focus on cleanliness, touchless options can now be found in countless products. If it can be hands-free, it's in demand in 2021. Hands-free options are user-friendly. Motion-control lights and smart-home features make living easy and limit the spread of germs. Even self-closing lids are becoming common, making it simpler to live well and minimize contact.
Space-Saving Appliances: With most of us spending more time at home, space is at a premium. Bulky appliances have given way to space-saving counterparts that don't skimp on performance. For example, the LG STUDIO WashTower's single-unit, vertical design makes the most of space efficiency while tackling ultra-large loads, all in a sleek, streamlined design. 
Smart Technology: From touchless and voice-control faucets to smart appliances to intelligent, fabric-detecting washers, homes are getting smarter than ever. High-tech controls with finger touch and swipe controls are replacing knobs and more manufactures are designing appliances that allow you to control everything from your cellphone.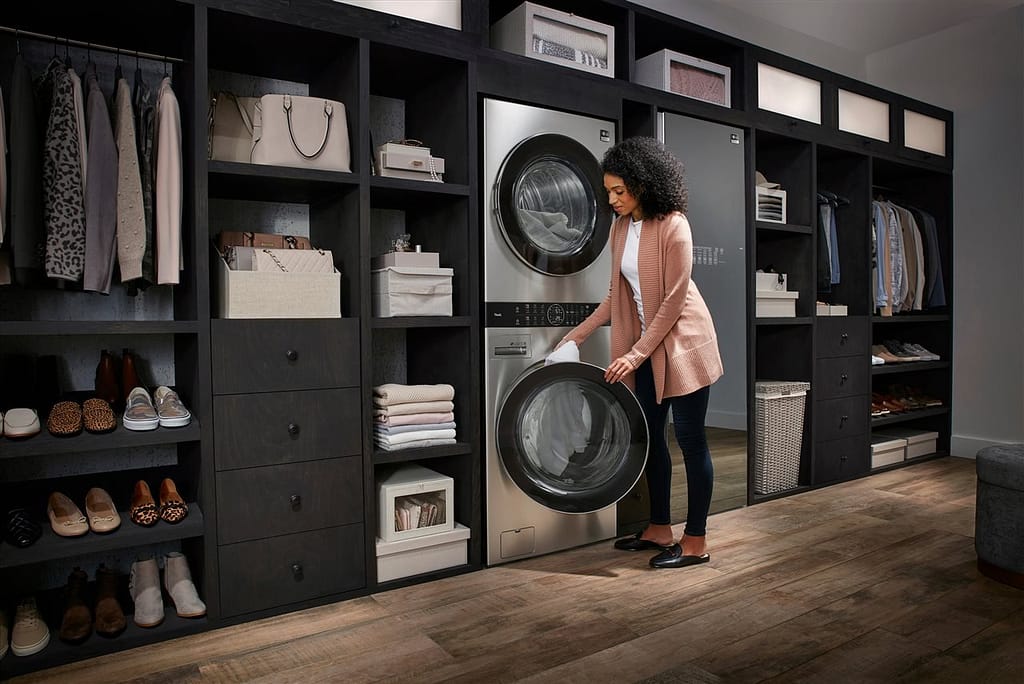 Wellness: With health and wellness center stage, home upgrades that support well-being are particularly popular. From advanced home air filters to bacteria-resistant surfaces, cleanliness is integrated into virtually everything. If you suffer from allergies look for laundry appliances that are certified "asthma and allergy friendly" by the Asthma and Allergy Foundation of America. 
Rich Metals and Clean Lines: Clean lines continue to be integrated into designs to elevate spaces in a modern way, and they're accessible to transitional-style homes that blend traditional with contemporary. Matte finishes are gaining popularity, from faucets to cabinetry. Black and steel offer a fresh way to upgrade hardware and appliances for a sleek, eye-catching look that stands out from everything else on the block.