Last summer, the congress

of the Mexican state of Yucatán approved same-sex marriage.
Those laws went into effect in March 2022. Same-sex couples can now legally marry in 22 of Mexico's 32 states. The approval in Yucatán came two months after the legislatures of Baja California and Sinaloa voted in favor of marriage equality. The Yucatan peninsula, best known for Cancún and Chichen Itza, has long been a favorite of the LGBTQ+ community, which enjoyed its beaches along the Mexican Riviera and its accepting attitude.
Mérida, the state's capital and largest city, is now gearing up to host same-sex weddings. But why should a couple consider a destination wedding in or around Mérida? Other than the breathtaking scenery and lush tropical gardens, how about the fact that Mérida is one of the safest cities in the world? Also, a destination wedding for 50 people will cost less than a wedding half that size in the United States—and that includes renting out a private hacienda or two to house all your guests and host your event. You might even be able to rent a private jet to take everyone to your exotic destination wedding and still walk away with a few extra Benjamins in your wallet. A weekend stay at a hacienda is about 1500 pesos or $75. For the weekend! Overnight accommodations at nearby Hotel Mesón del Marqués are also reasonably priced.
There are a few things you should be aware of though. If you like a 24-hour gay party atmosphere, you won't find it in Mérida. Despite holding one of Mexico's biggest gay Pride parades every year, there is no gay nightlife per se. Folks gather with friends everywhere and are welcome to do so. Also, if you have elderly or disabled members of your party, most of the venues are not handicapped accessible. In fact, one hacienda had 80 steps just to walk up to the first floor. Many of the colonial buildings are multiple levels, and few pathways are paved. But, with those few caveats stated, let's look at some of the delights that await.
Midway between Cancun and Mérida, you'll find one of the most magical places, Zazil Tunich, a cavern-type cenote. A cenote is a body of water formed by the gradual dissolving of highly porous limestone, causing a collapse of the underground rock. When the collapse is deep enough to hit an aquifer, freshwater ends up in the sinkhole, where it collects and forms pools and streams that can sometimes even connect to underground rivers. Some are just a few feet below the surface while others are in pits several stories deep. They are considered almost sacred places, and some have been known to host weddings. The cenote at Zazil Tunich has a deck overlooking the aquifer, which has hosted small wedding parties and romantic dinners for two.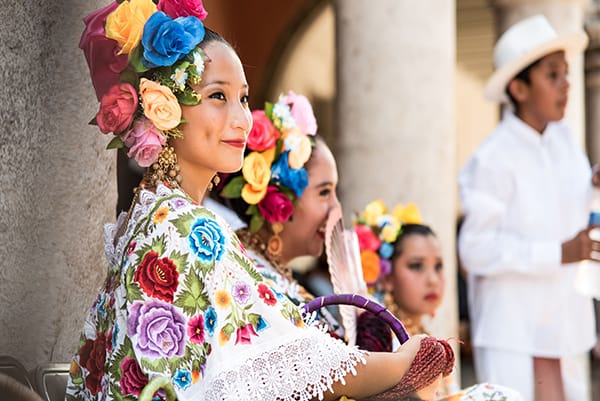 Mérida, a city of 1 million people, is accessible from many major U.S. airports, and it is only a three-hour drive to Cancun, 40 minutes to Chichen Itza and just minutes to the beaches of the Gulf of Mexico/Caribbean. It is a young and hip city with tons of restaurants, bars and cultural attractions. The residents are proud of their Mayan culture, which is on display and preserved in the cuisine. In fact, many residents speak Mayan as well as Spanish (and, to a lesser extent, English). While you can rent a car for day trips outside the city, Ubers are plentiful and an inexpensive way to get around town at less than $5 a ride.
For centuries, Mérida was a prosperous center for textiles and sisal rope used in sailing vessels, with strong trade connections to Europe, particularly with France. It was dubbed "ciudad blanca," or the white city, for the white garments worn by the townsfolk, a tradition that continues to this day. It was already the center of Mayan culture when it was discovered in 1542 by the conquistadors. Mérida's historic downtown, where some of the city's top attractions can be found, is laid out as a grid, making it much easier to navigate than many other Mexican towns.
Thanks to its warm, humid climate and numerous attractive parks and flower gardens, it is a laid-back alternative to many of Mexico's busier cities. A good place to begin exploring the city is Plaza Mayor, also known as Plaza de la Independencia or Plaza Grande. It is both the commercial and cultural hub of Mérida, as well as the centerpiece of the old city center and a short walk from Municipal Market. The Museum of Contemporary Art, the Natural History Museum and Mayan World Museum of Mérida are all worth a visit, as are the numerous galleries and studios featuring international and local artists. Yucatan is also a wonderful place from which to embark on a fun day trip to explore Mayan sites such as the ancient ruins of Uxmal or the beaches of Celestún.
Check out the local cuisine, which will, no doubt, feature some regional favorite dishes. Among those are cochinita pibil (suckling pig rubbed with achiote paste, marinated in sour orange juice, wrapped in banana leaves, and then cooked in a sealed earthen pit, called a pib, that forms an airtight oven, cooking and smoking the meat), poc'chuc (pork marinated in sour orange juice, grilled or cooked on a wood fire and served with pickled red onions), tikin xic (white fish marinated in a regional mix of achiote and sour oranges), sopa de lima (a soup of lime-marinated shredded turkey or chicken) and sikil pak (a dip of toasted pumpkin seeds, cilantro and roasted tomatoes).
Museo de la Gastronomía Yucateca is a hip, airy restaurant that dishes up local classics, spirits and craft cocktails. Other spots that are highly recommended include Ixi'im at hotel Chablé Yucatán (see more about the hotel later in this article), Olivia, Pizzeria Raffaello, La Negrita Cantina, Pola Gelato and the food stalls at Mercado de Santiago.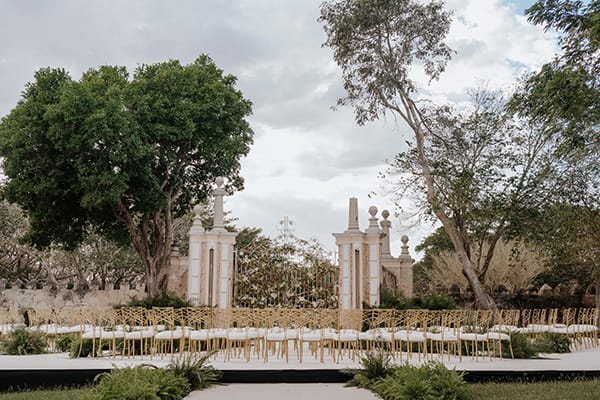 In Mérida, the wedding venue options range from the serene to out-of-your-mind luxurious, from the intimate Casa Azul by Private Haciendas (which, despite its name, is yellow on the outside) to the grand Grupo Izamal, which has two hotels to conduct the weddings of its clients. The Rinconada del Convento Hotel is a 12-room hotel that has a Mayan pyramid overlooking an esplanade in the garden. The esplanade has enough space for an event of up to 450 guests, and there is a wonderful side view of the Izamal Convent and a unique panorama of this beautiful, magical town. Villa San Antonio de Padua is a colonial house with four rooms that offers privacy and elegance when holding events for up to 50 people. It features a catering service that offers regional Yucatecan foods made with local ingredients.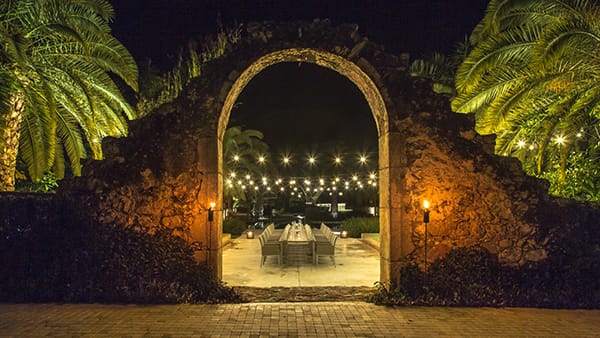 Villa Mercedes Hotel offers modern amenities (and elevators) for guests. Chablé Yucatán Resort & Spa is part of a collection of ultra-luxury boutique hotels. Built in a beautiful former hacienda, it is located around a sacred cenote, where nature connects through architecture. Upscale Hacienda-style weddings artfully combine the ancient Mayan environment with modern sophistication, accommodating weddings of up to one hundred people. A culinary experience enhances the setting for your wedding as tropical gardens boast a marvelous view of the original 19th-century walls of the former hacienda. Its sister location, Chablé Maroma, on the coast of the Riviera Maya, offers spaces that merge with the beaches and the rain forest.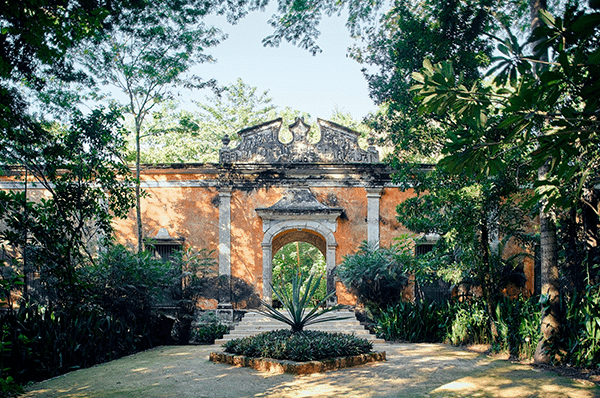 The Haciendas by Luxury Collection is the most "Americanized" of the offerings. With three haciendas in Eastern Yucatán, the exclusive collection offers a wide range of experiences. Each atmosphere transports you to an era of luxury and comfort that the hacendados (hacienda owners) of the Mexican southeast enjoyed in the past with all the amenities of today. Built in 1700, Hacienda Uayamon reflects the sophistication of a luxury resort with attention to surrounding natural beauty. Walk through its candlelit private gardens amongst the whistling frogs or discover Edzná, a historic Mayan site. Hacienda Santa Rosa is a former nobleman's private estate, featuring uniquely carved columns, ornately furnished gardens and mysterious evening campfires. All offer top-of-the-line services and luxury to the finest detail.
Of course, as with all weddings in Mexico, certain documents are required. If one, or both, of the couple are Mexican nationals, that requires an application for marriage provided by the Directorate of Civil Registry of Yucatán. It must be filled out with the general data of both parties, data of the parents, data of the witnesses and the general data of where the wedding will take place. Additionally, you will need an updated birth certificate(s) and official identification of both parties, along with an analysis and prenuptial medical certificate. You will also need to attend the premarital orientation workshop at the registry office and provide three witnesses over the age of 18, with official identification. Foreigners need to have the following: legalized or apostilled birth certificate(s) (with Spanish translation), a letter of naturalization and a valid passport. All documents must be presented in their original form, along with a copy. And, of course, you'll need payment for the corresponding civil wedding fee. It is a good idea to secure a local wedding planner to help take care of these issues for you.