For many people, attending Nevada's annual week-long desert festival, Burning Man, is considered a kind of spiritual awakening, a chance to deeply connect with one's self and the community in a meaningful way. 
It's no wonder then, why the Playa is often an ideal place where couples in love decide to get engaged or married.
The fascinating music/arts/fire self-expression event takes place for eight days in the desert every August into early September. When couples walk around Black Rock City for the first time, they are often dazzled by the big art, the mutant vehicles, the impressive lasers and the sophisticated grandeur of it all. Burning Man is a place without advertisements, sales pitches or billboards, sans any marketing.
"If you are a little eccentric, Burning Man is the perfect place to have a wedding," says veteran burner, Chakra Khan. "This very special city is what connects all of the wonderful, beautiful and magical relationships we have in our lives and with one another. You can't be too quirky or fanciful. That part really appealed to me."
Being at Burning Man is what drew Khan's husband and her together. "It's the biggest shared interest. It's also where we met, fell in love and fall in love every single year," she enthused.
What made the wedding ceremony extra special for the happy couple is that they had the ceremony in Khan's husband's art installation, entitled, The Infinity Boxes. "Once I decided that is where I wanted the wedding to be, then I took over!" she quipped. "We bought 1,000 single stem wisteria and 300 LED candles, and hung them from the ceiling. It came together beautifully. We had about 10 of our good friends traveling to Burning Man to help."
Khan noted that when the wedding had taken place, there was a strong feeling of pride in the room. "Because not only were our best friends there watching us get married, they were surrounded by the art piece," said Khan. "Everyone had a hand in it somehow. The wedding was our collaborative project."
Of course, there were many challenges in marrying on the Playa, managing the design and clean up, but nothing the guests couldn't handle. "We had the reception at the Golden Cafe in Black Rock's French Quarter camp. My friend Sheri transported an 80-pound suckling pig to the Playa, which we roasted. Gadget Abbott, who likes to be called "Daddy," is my Playa dad; he married us and left the pig on the spit. I guess the pig caught fire during the ceremony and part of the building got torched! I don't know how in the hell they put the fire out!"
Khan had sage words for any prospective bride: "When something goes wrong on Playa you gotta roll with it and 'MacGyver' shit! There is no room for Bridezilla at Burning Man! You have to love imperfection, and not be tied to the outcome nor the process. I was meant to be married at Burning Man; it is not a week-long vacation for us. We live Burning Man every day and are a big part of our local regional community. We make sure to volunteer in addition to bringing art and a camp, and spend about eight hours at the regional events, volunteering with our kids."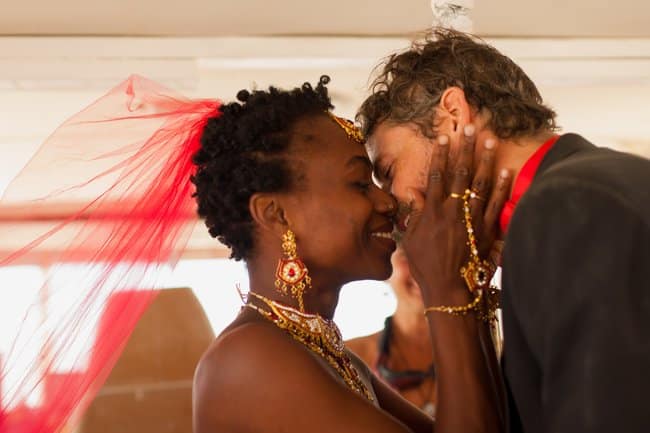 Event coordinator/private chef/wedding coordinator DeeDee Hopkins loves the spontaneity of a Burning Man wedding. "I have taken part in many ceremonies over my 10-year history as both a coordinator and a participant and have loved the variety of it all. Weddings on the Playa can include anything one could imagine — art cars, DJ's, art installations, etc. Whatever you can think of, it can be created on some level or another.
"If you can participate in something as magical as Burning Man and be fortunate enough to support the confirmation of two souls declaring their love for one another, you are doing life right!"
Hopkins was a guest at Khan's ceremony. "Their New Orleans-esque nuptials was a beautiful event that married culture and style. From her handmade architecturally inspired dress, to the artisanal signature drinks and beignets made on site, the entire wedding embodied the true burner spirit, mixed with the glamour of a traditional wedding.
What You Need to Know
Getting married at Burning Man is not unlike getting married in Las Vegas. "You go to the county recorder's office, present your driver's license or another form of identification, pay the $60 fee and they issue you a license to get married," said Khan, who suggests going to the Pershing County Clerk's Office to get a marriage license. "The County Clerk will issue your license immediately, so you can stop there on the way to your burn," she said.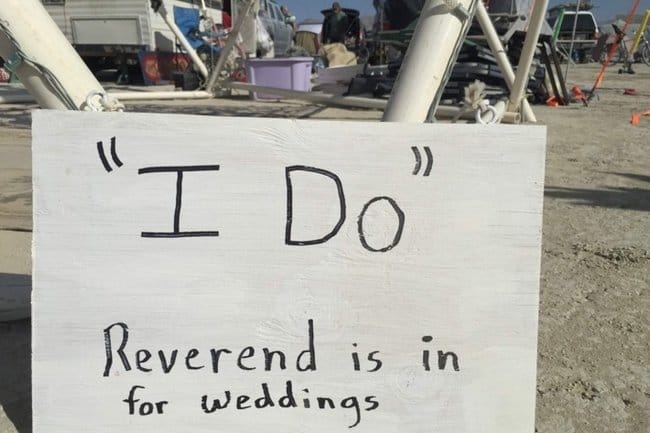 Nevada does not require a blood test to get a marriage license. The County Clerk's office is in Lovelock (east of the Burning Man site on I-80) at 398 Main St., and is open normal office hours, Monday through Friday.
Get a licensed officiant or judge to marry you. It's important to find this person at least a few weeks in advance of Burning Man. Many wedding officiants attend the event; ask around, send a message to weddings@burningman.org, and post a message on the e-playa. The website has a variety of wedding tips and insights to help you create a fantastic ceremony.
Even if you can't find someone to marry you, one of your friends can do it by getting ordained at the Universal Life Church website. Make sure they don't wait until the last minute to prepare! Make sure you get your marriage license signed by the officiant and two witnesses after your wedding. They are legally responsible for sending your certificate to the County Recorder's office after leaving the Playa. Alternatively, couples do a symbolic wedding ceremony at Burning Man and then do the legal paperwork when they get back home.
Going to Burning Man can be logistically challenging for one person, so coordinating your wedding guests to head to the desert for blissful camping and ceremony can be a bit much. Think about the myriad of details, such as the florals, the bridesmaids' dresses, photographer, music, etc. Nevertheless, always remember: with love anything is possible!
The desert can be a difficult place to camp much less marry, so be prepared for anything. Dust storms, cold, heat, allergies, etc., can be brutal. It's vital to be flexible. Bring a bicycle, as there's so much to see! If you are feeling a bit overwhelmed, check in with several Facebook burner groups to hear some recommendations for the many items to bring along with you and your boo.
Bring pads of paper so you and your boo can write your vows together! Whether you do it as you watch the sunrise or while admiring the many impressive art installations, the Playa creates the perfect space for this beautiful bonding moment.
What better place to start the rest of your lives together!