Nateya and Daniel's wedding day

finally arrived, and it was beautiful.
Coral Gables, Florida, delivered on the weather—bright blue skies offsetting a white sand beach that spread out for miles, with views enjoyed from well-appointed hotel suites. A long-awaited day of hope and excitement for the couples Florida wedding.
This couple was taking a much-needed reprieve from demanding careers in medicine (Daniel is a pharmacist; Nateya is a doctor of obstetrics and gynecology) to do their wedding day right. From lavish décor to the luxurious venue, each detail was carefully orchestrated toward welcoming and pampering family and friends who had come from as far away as Kenya.
For three years, Nateya and Daniel waited for this day. They endured career demands, the rigors of putting together a new home, the ongoing limitations and subsequent rescheduling necessitated by the pandemic, and very sadly, the deaths of important family members. Yet through all the waiting and their mourning, life did what it does … it went on.
Their beautiful son, Zane, was born during it all, bringing joy to their lives and providing a daily reminder to stay the course. When the big day did finally arrive, their hearts and minds were ready to receive all that it had to offer: the promise of a strong, enduring marriage wrapped protectively in the embrace of new family bonds and bolstered by shared values and life goals. In each other, they had found someone on their level—emotionally, professionally, and spiritually.
How They Met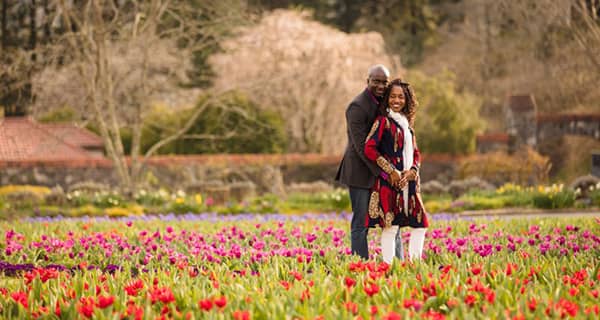 As is the case with many professional couples, especially in the field of medicine, the long trajectory of education and establishing practices can mean putting off marriage and parenthood. Add to that rigorous work schedules and many in the profession find courtship a near impossibility. Yet, Nateya and Daniel found each other, thanks to technology and Match.com.
Nateya, a self-described homebody, was not going to find her life partner at a bar or club. It wasn't her style, nor did she want to waste time going out when she had yet to ascertain whether a connection was worthwhile. As it turned out, Match.com was perfect for this busy doctor. It gave her the opportunity to explore options at her convenience and from the comfort of her home and the privacy of her laptop.
On Match.com Nateya soon found Daniel, and his profile was intriguing to her. He liked to travel and, of course, there were many commonalities in their chosen professions. From the get-go, Nateya also found Daniel to be a great conversationalist. In fact, their first date, which was slated to be a short one, ended up extending to nearly five hours. They just couldn't stop talking!
Daniel describes another dimension of his connection to Nateya, namely that he was drawn to her physically. He found her attractive and very well "put together." Both Nateya and Daniel were already well into their 30s at the time they first met, and of utmost importance to each were the deeper connections they shared, namely the ability to communicate intelligently, their common interests and professions, and the knowledge that each was solid in their career and ready for prime time.
As an aside, Nateya shared a funny story about their attempted first conversation. As the two were initially connecting online (while also connecting with other singles), Nateya gave Daniel her phone number, expecting he would call. He did not. She was a bit confused, as they seemed to have a genuine connection, but she moved on. While on a date, the young man let her know that she had also been talking with his friend (Daniel). An "aha!" moment for Nateya: There was Daniel's reason for not connecting with her; he was not about to tread on his friend's "territory." As soon as Daniel learned there was no love connection between this friend and Nateya, he made his move.
When They Knew It Was Love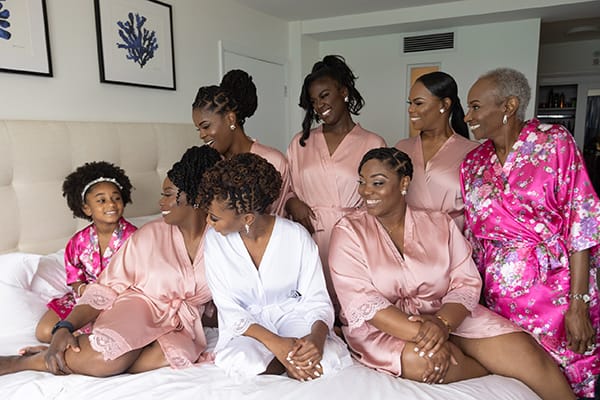 So, when did intrigue turn to love for this couple? Both describe feeling the earth move under their feet on the "whirlwind of fun" road trip they took to Las Vegas and Napa Valley. As they navigated the miles through mountain passes and over icy roads, they talked, shared a bit of stress and excitement, and comfortably dealt with long stretches of silence—who can talk for six hours straight, right? And through it all, they were fine with it.
Daniel's birthday took place during that trip, and on the day, as Nateya expressed her true feelings on the card she intended to give him at dinner, she felt compelled to spell it out: She loved him. As fate would have it, before he had even opened that card at dinner, he told her he loved her. Serendipity!
Soon thereafter, Daniel felt it was time to move forward in their relationship. He would take a more traditional approach on this next step in their courtship, meeting discreetly with Nateya's parents and requesting their permission in asking for her hand in marriage, which they happily gave him. The three agreed to keep the impending marriage proposal a secret. Daniel then proceeded with a romantic plan for the proposal. He would take Nateya on a trip to breathtaking Asheville, North Carolina, during which they would tour the spectacular Biltmore Estate. Daniel's plan was to pop the question in the Biltmore's legendary gardens. A professional photographer was conveniently on hand to capture it all. Fortunately, she said yes, and the rest is history.
The Florida Wedding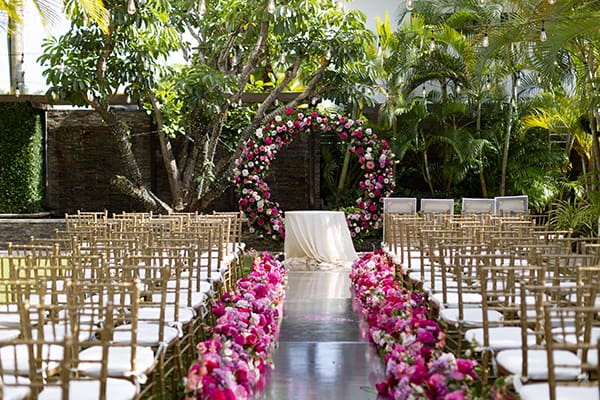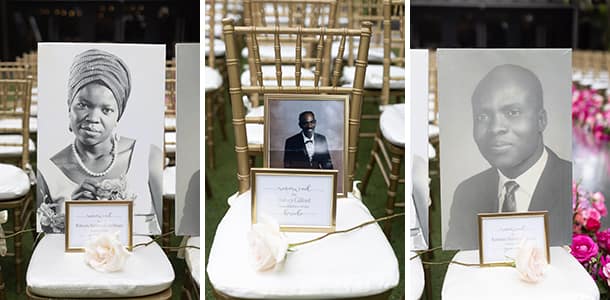 Wedding planning ensued, and early on, it became clear that the bride and groom had different visions for the setting and time of year. Fortunately, they shared a common goal of making the event about bringing their families together. The theme of the planning became about "compromise" with an overriding concept of everyone coming to Florida to have a good time and be well taken care of in the process. Their Florida wedding was underway.
Guests would be coming from everywhere, with much of the groom's family from Kenya and Canada. There was much to coordinate. Thankfully, from stage left entered Tawanda Sims of Elite Events by Tawanda. Sims pulled together a plethora of details, sprinkling in some design savvy, then gave her problem-solving muscles a full workout as she dealt with two pandemic-related postponements.
Then miraculously, May 7, 2022, arrived. No more waiting, no more postponements. Gorgeous weather, great vendors, an amazing venue, and everyone of importance gathered to celebrate. The ceremony was held in the lush garden at the Club of Knights in Coral Gables, with a dinner and dance reception in the ballroom. Perfect for a Florida Wedding.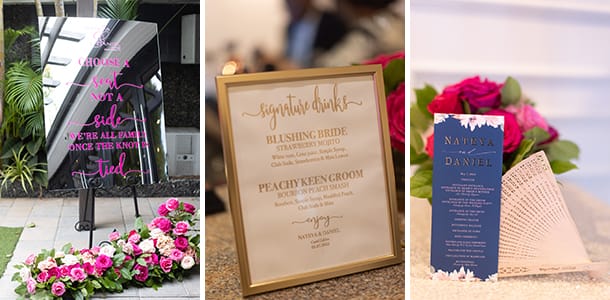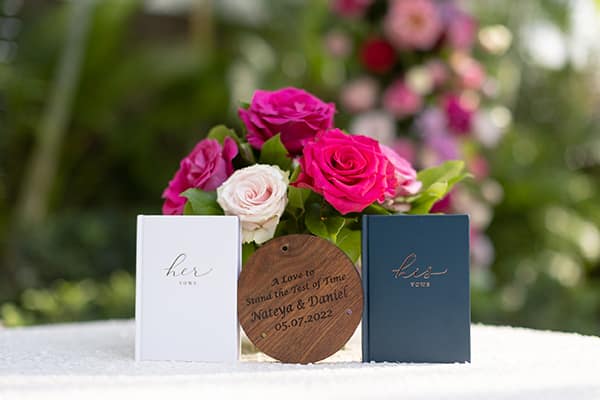 To kick off the Florida wedding day, bride, groom, bridal party and VIPs enjoyed lengthy preparations, followed by photo taking and a bit of pre-ceremony celebrating. Groom and groomsmen wore sapphire blue suits with black lapels and crisp white dress shirts. Soft pink pocket squares were tucked into breast pockets, and the groomsmen wore pink silk ties; the groom distinguishing himself with a stylish bowtie. Bridesmaids and the flower girl donned gold sequined dresses in a variety of necklines. The bride wore a romantic dress with a soft, sensual silhouette, a deep cutout in the back and a semi-sheer botanical lace bodice.
As guests were beckoned to the seats for the ceremony, they were greeted by a lush backdrop of garden greenery and guided to their seats down a monogrammed mirrored aisle flanked by luxurious roses and accented with dahlias, gladioli, lisianthuses, and Canterbury bells in pinks, lavender, fuchsia, and cream.
The sanctuary area was framed with a moon gate of similarly colored roses, plus some in deep reds, on which was centered an altar table with a swirled floor-length drape in cream and an accent arrangement of fuchsia roses. Gold Chiavari chairs with cream bow-tied cushions elegantly contrasted with the botanicals. Also of note in the ceremony area was a display with monarch butterflies and special seating in the front row, commemorating those who had recently passed. On front-row chairs rested large canvas portraits of loved ones so they might be present in spirit throughout the service.
The bride's bouquet featured fragrant peonies of note, namely 'Coral Charm,' 'Sarah Bernhardt' and 'Bowl of Cream' intermingled with 'Pink Floyd,' 'Shimmer,' 'Country Blue' and 'Pink Mondial' roses.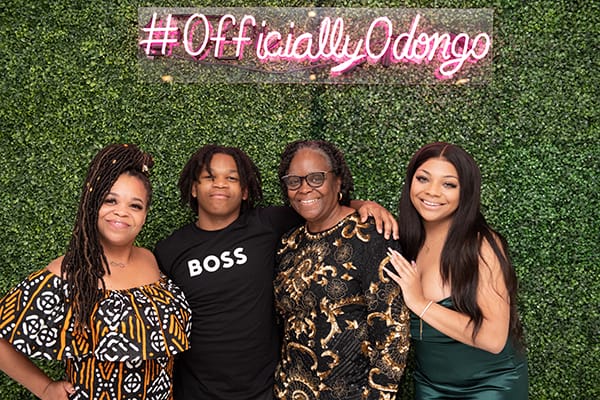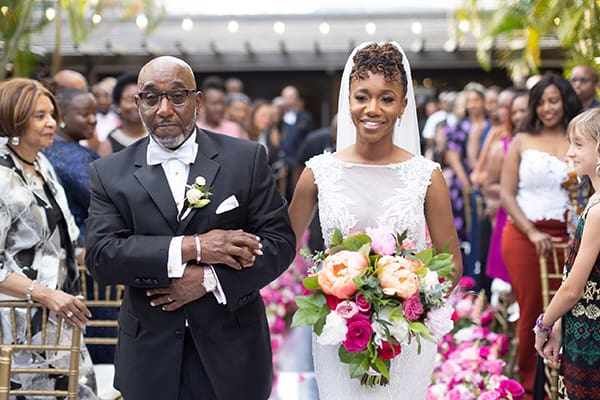 Upon arrival to the venue, guests enjoyed a welcome bar and took pictures under a custom-designed neon sign sporting the #OfficiallyOdongo logo with a live hedge wall as a backdrop.
The wedding processional was especially moving. The bride and groom's beautiful little boy, only 2 1/2, successfully made his way down the aisle to deliver the rings to his mom and dad.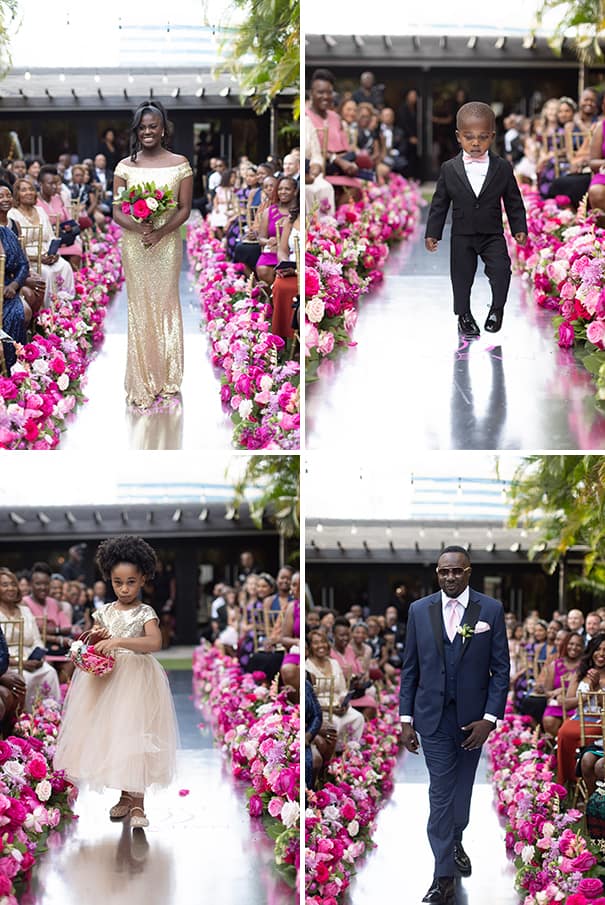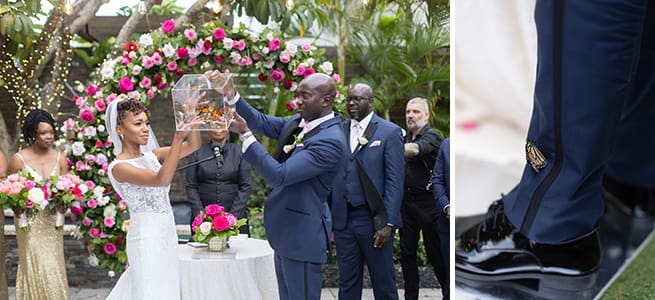 Guests shared this moment in time with the memories of those who had been lost during the pandemic. The bride and groom beautifully commemorated their loved ones not only through the shrines in the VIP seating but in a deeply moving monarch butterfly release. One butterfly was released for each deceased loved one, the final being for the groom's mother. Sweetly, this last butterfly clung to the groom's leg before departing. There was not a dry eye in the house.
The Reception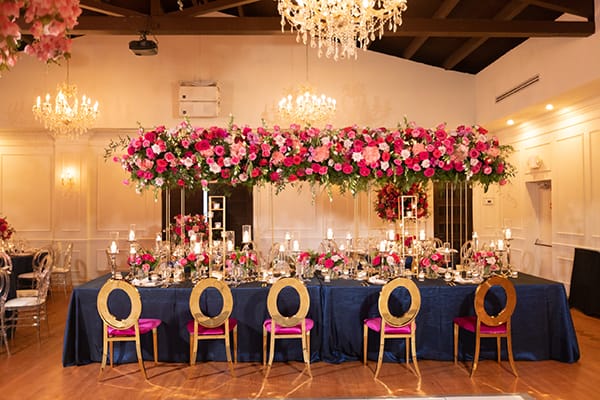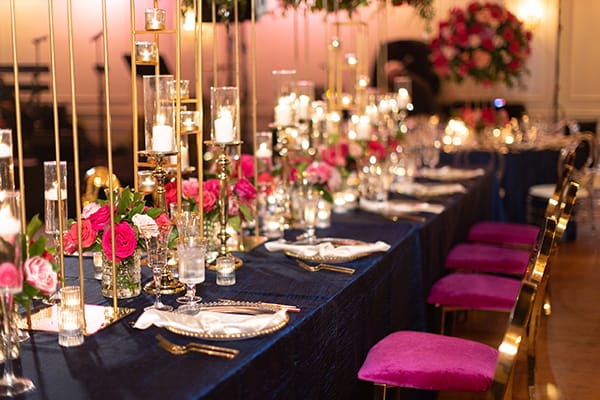 Following a jubilant recessional, the wedding party and guests were whisked into the opulently decorated ballroom. The palette of joyful fuchsia, pinks, purples, and creams with gold accents carried into the main hall. It was enhanced by candlelight, uplighting and towering tabletop arrangements with roses in fuchsia and assorted pinks, pale pink hydrangea and assorted greenery tucked in throughout.
The tabletop carried a lively rhythm of multicolored rose arrangements in short hobnail vases, alternating with ribbed and plain clear glass votives, pillar candles in hurricanes on brass candlesticks, and tall-stemmed floating candles. Each table setting consisted of gold pearl chargers, gold-tone "bamboo" flatware, and crystal stemware trios with a gold lip. Satin napkins tied in an elegant knot were situated on the chargers just to the left of off-white dinner menus.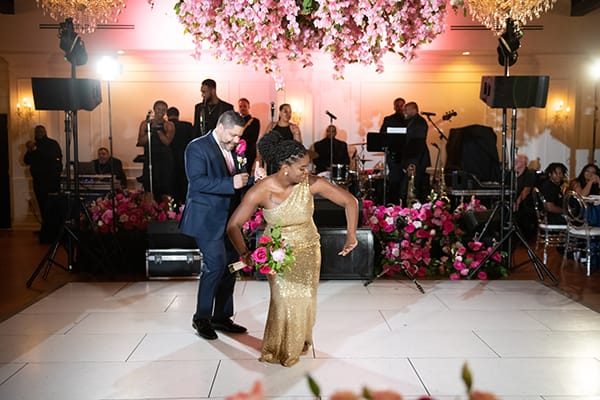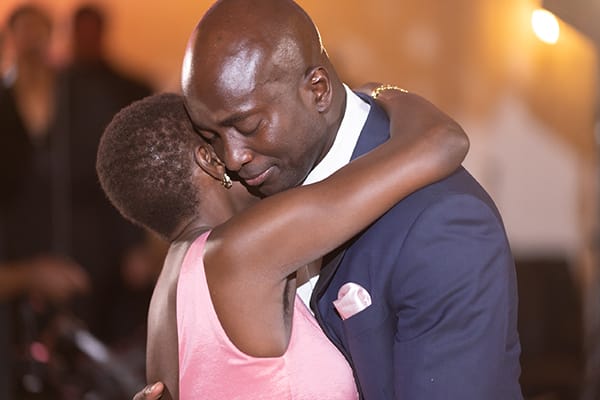 Showy, gold-tone oval-backed dinner chairs with fuchsia seat cushions pulled the whole look together. This beautiful display of color and bling was perfectly offset by sleek, full drape sapphire linens and cream-colored walls with simple, classical detailing; faux columns were ideal for the soft, understated lighting and occasional chandelier.
The bride and groom (at their sweetheart table) were tucked behind a romantic wall of pillar candles in clear glass hurricanes and a huge spray of roses, with a bounty of gigantic blossoms on the ground in front of the table. A gold-print botanical table linen and pale pink stemware completed the statement: over-the-top romantic!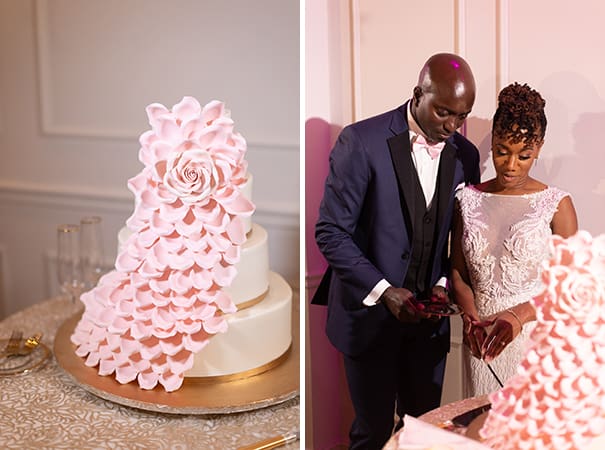 The pièce de résistance for the reception was undoubtedly the gorgeous pink wisteria "chandelier," which hung romantically from the ceiling over the white dance floor and sparkled with LED lights. It made the perfect setting for that first dance and the unbridled partying that followed.
Music throughout the evening included the meandering violin of Frank Lima during the cocktail hour, followed by the fabulous Valerie Tyson Band interspersed with sets by DJ Big Man Kelly. Once the dinner, formal speeches, and special dances were enjoyed, the BIG celebration broke out for this beautiful florida wedding!
The Team
Wedding Planner: Elite Events by Tawanda @eliteeventsbytawanda
Photographer: DavidZ Photographer @davidz_photographer
Venue Florida Wedding: The Club of Knights @bestmiamiweddings
Florist: Taylor Event Design @tayloreventdesign
Cake: Eddas Cake @eddascakedesign
Videographer: Bridges Cinema @bridgescinema
Band: Valerie Tyson Band @valerietysonband
DJ: Big Man Productions @dj_big_man_kelly
Violinist: Frank Lima Violinist LLC @franklimaviolin
Rentals: Wrap My Floor @wrapmyfloor
Hedge Wall: Sensational Experience @wrapmyfloor
Groom/Guests' Transportation: Bus One
Bride and Wedding Party Transportation: South Florida Luxury Limo
Fried Ice Cream: Nelly's Fried Creamery @nellysfriedcreamery
Hair Stylist: Diamond
Makeup Artist: Sglam Pro @sglampro