The love story of

Nathaniel (Nate) and Robianca (Bibi) Jones has all the makings of a modern-day fairy tale.
For their Real Life Luxury wedding on March 26, 2022, in Fort Lauderdale, luxury event planner Melisa Brown of

Lux Lifestyle Event

knew she had her work cut out for her to pull off a high-end wedding ceremony and reception during a pandemic. Brown recalls initially meeting the bride-to-be, Bibi, a year ago, when Bibi served as maid of honor for her best friend Amber's wedding, which Brown organized. Bibi was impressed by her work, and Nate had previously made Brown's acquaintance professionally, so the couple knew that Brown could make their Big Day magical. And a magical day it was—the beauty of Nate and Bibi's wedding day is only eclipsed by the simplistic beauty of their love story.
How They Found Each Other…
Nate and Bibi met in college. When then freshman Bibi met upperclassman Nate at Florida Atlantic University, it didn't take long for them to spark a friendship that ultimately blossomed into a full-blown romance. Bibi, a self-described shy girl, says it was his outgoing personality that first attracted her to Nate, a junior at the time. "We were at an event, and he was trying to make me dance. I was like, no good. And from that, he got that I wanted to, you know, further things with him," says Bibi. "But, you know, we have different versions of the story."
Nate's version speaks to the silent strength and power that he was instantly drawn to. "She was staring at me. So, I said, OK, I know what time it is." After their initial conversation that night, Nate says, "I already felt like Bibi was really drawn to me. In her story, Bibi said she never opened the door, but I still walked through, somehow."
When They Knew It Was Love…
Their fateful on-campus meeting proved to be the beginning of a modern-day romance that hearkens back to the "boy-meets-girl" and "happily-ever-after" love stories of old. Nate, now 29, says that he knew 27-year-old Bibi was the one about four years into their relationship. "I loved her without a doubt, but it's when I really realized, OK, I really trust this girl with all my heart. To learn this about Bibi, it was what was needed to get us to this point of marriage," he says.
The warmth and character that attracted Nate to Bibi back in college has endured the test of time and, ultimately, it is this unwavering strength that Nate fell in love with. "She betters me," he says. "She showed me that she is selfless when it comes to me if I truly need her."
For Bibi, the foundation for their fairy-tale marriage was laid slowly over time. Although she admits that in many ways she and Nate are complete opposites, Bibi says it was his character that she ultimately fell in love with. "It started to become like, wow, I'm seeing the values that this person has. I'm seeing what he's passionate about. I'm seeing what he believes in. All the things I was looking for just literally fell into my lap," she says. After discovering who Nate "the man" was and meeting his family, Bibi knew that she wanted to take their relationship to the next level.
The Proposal…
Pulling off the perfect proposal during quarantine and COVID-19 was no easy feat, but Nate says that he was able to make it romantic and memorable thanks to help from family and friends, along with a little faith. To set the stage for his picture-perfect proposal, Nate, a professional videographer and owner of Cool Guy Media, selected a park near Hollywood Beach that is fashioned with an amphitheater. After having his mother and sister decorate the stage with a banner that read, "WILL YOU MARRY ME?" Nate lured Bibi to the location under the guise of having a work function that he needed her to accompany him to. Nate successfully popped the question on October 16, 2020. "He got choked up, and he doesn't get emotional that often at all, especially not in front of people," Bibi says. "My friends were there, my family was there, his friends, his family. [As] women, we never really know if the man is really hearing us or really seeing everything, so that really was like, wow. Okay. He hears me, he sees me."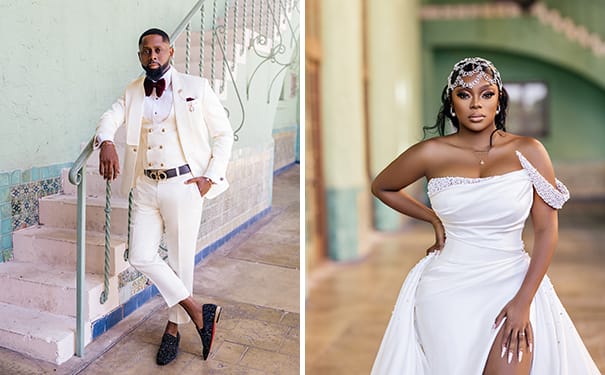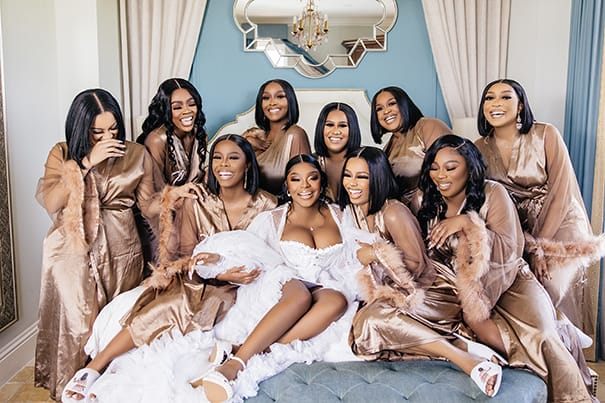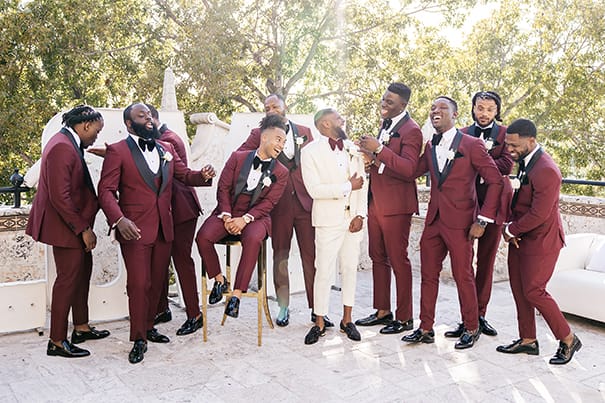 The Wedding…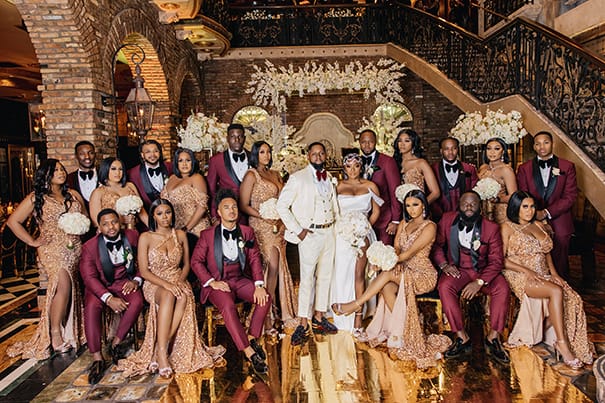 Nate and Bibi's dream wedding took just over a year to plan and had a lot of moving pieces that ultimately came together to create the perfect wedding day. The words "elegant" and "glam" come top of mind for Brown when describing the couple, and she characterizes their wedding as "absolutely beautiful."
"From the moment Nate and Bibi reached out to me to design and plan their wedding, I had every intention of giving them their dream wedding," says Brown.
The ceremony and reception were held at the Cruz Building in Coconut Grove, Florida. With 236 guests, the multilevel cobblestone building comfortably housed the celebration and allowed the couple to have their ceremony and reception in one location. "The first time we looked at it, we just [were] like, yeah, this is it. It's one place. It's big. And it looks very romantic," says Bibi.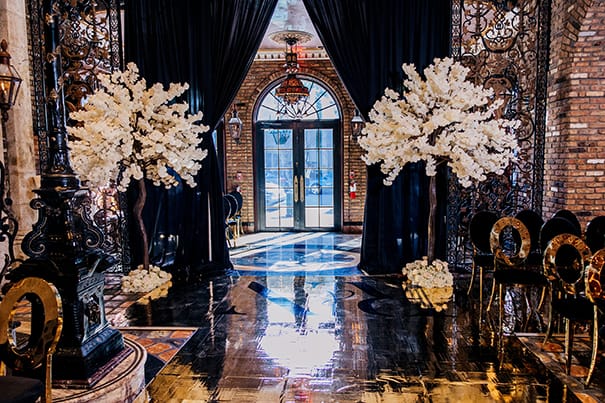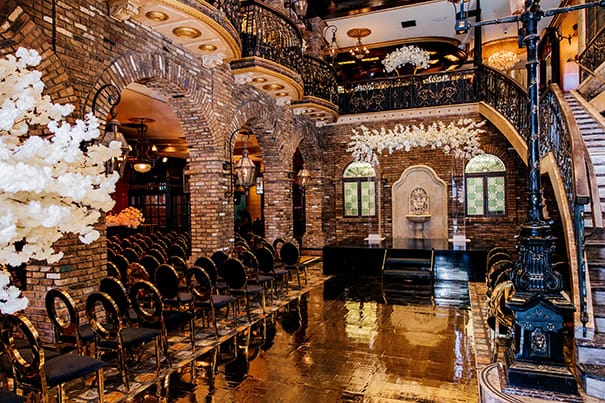 The theme for their wedding was Met Gala Glam, as inspired by the bride herself. "Everybody looks forward to watching the gala and seeing what everybody's wearing. And I am pretty extra, so I like looking nice," says Bibi. "We're pretty stylish people. So that's why the Met Gala came to me."
Brown knew all the design elements would come together elegantly to celebrate Black love. She achieved that goal with a black, white, and gold color scheme that worked to enhance and elevate the space.
Upon walking through a dramatic entryway of black draping, guests were greeted by two full-bloom cherry trees anchoring the entrance and offering a simple, natural yet elegant feel. A mirrored gold aisle with a black monogram of the couple's initials created a high-glam aesthetic while beautifully anchoring the space for an unforgettable ceremony. The altar was wrapped in black mirror vinyl. A simple yet elegant canopy of white apple blossom hydrangeas, roses, and orchids elevated on an acrylic arch added the perfect touch. Guests sat in Tiffany chairs draped in black and gold.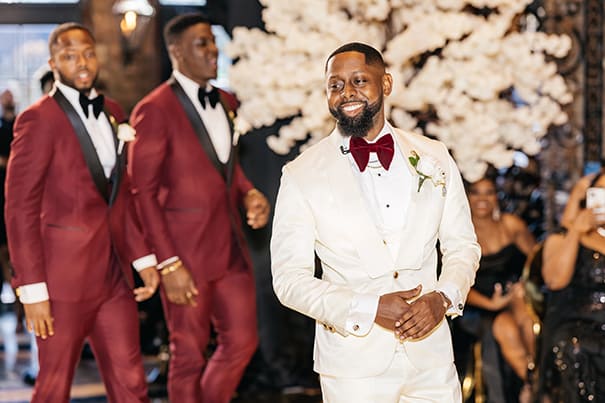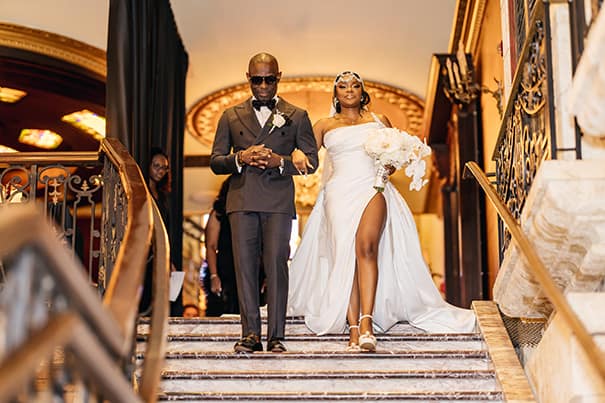 To create the Met Gala look and feel that the couple wanted, Brown continued the reception space with lush, custom floral designs of white apple blossom hydrangeas, roses, and orchids overflowing from large, tall gold vases and elevated, modern gold stanchions. The tables were draped in black Lamour linen and dressed with gold charger plates, gold flatware, burgundy Lamour napkins, gold-rimmed glassware, and candles. Napkin rings with personalized names and beautiful gold candelabras of various sizes were a perfect combination to pull together the modern glam look and feel. Displays, runners, backdrops and elevator wraps were specially sized and customized for the space in shades of black, white, and gold.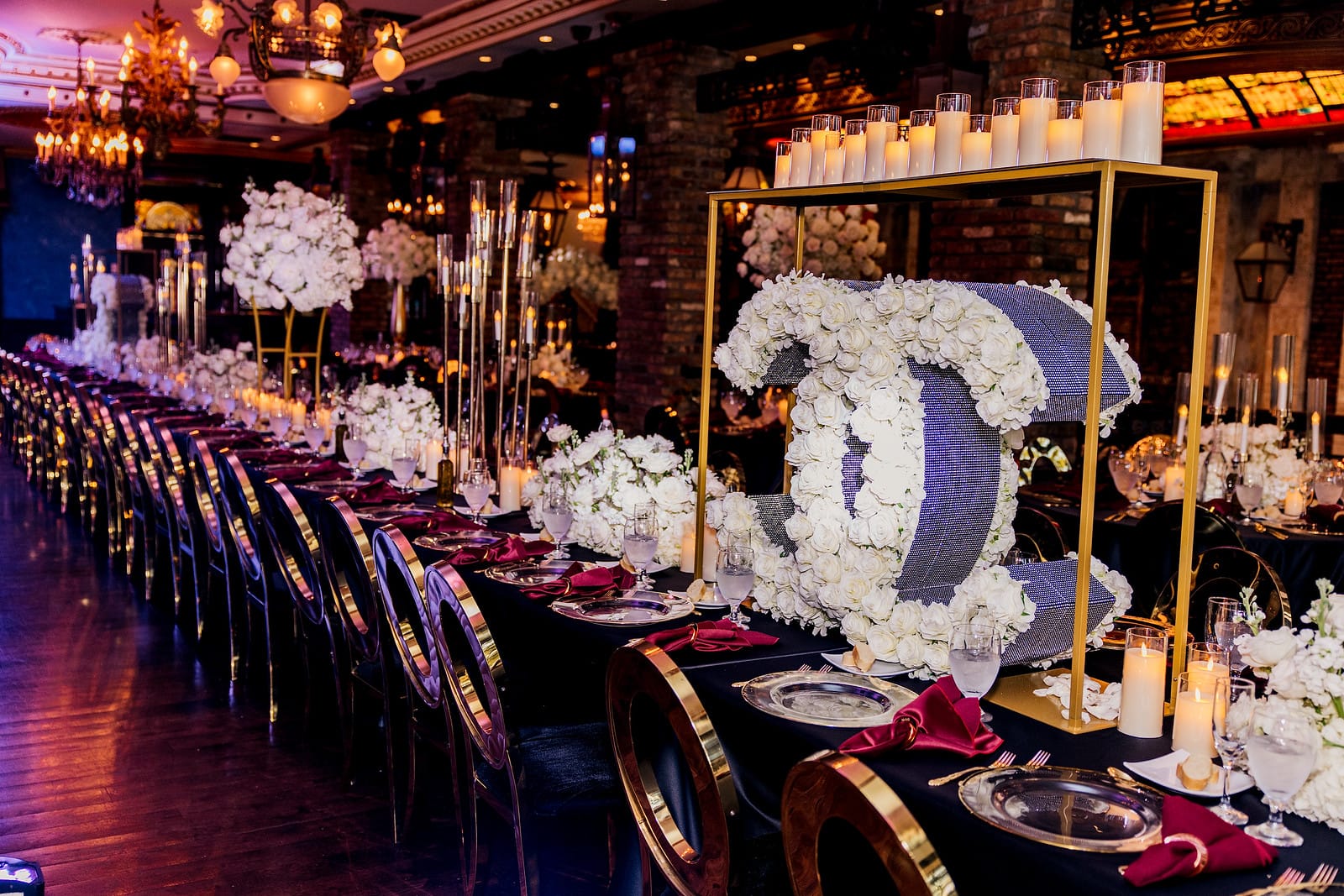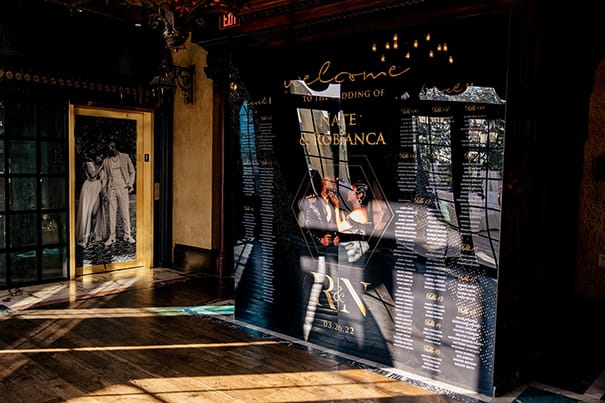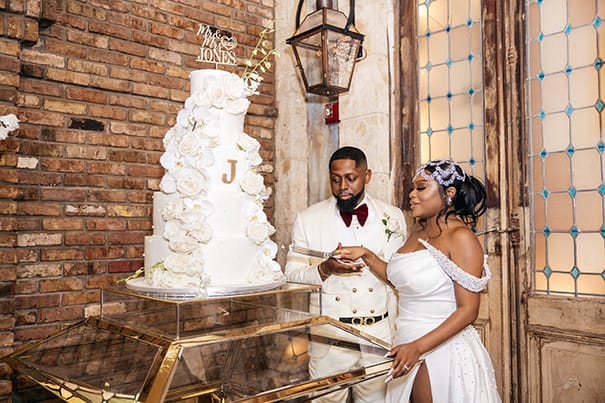 A custom floral double C in the design of the Chanel logo was created with white roses to signify wealth, prestige, and class—traits Brown saw in her clients. "They are truly a powerhouse couple. They are both two amazing individuals that have this outstanding drive and dedication," she says.
As Bibi descended the staircase of the venue to say "I do" to her destiny, she recalls time slowing down to allow the couple to savor their special moment. "The moment I think that I'm gonna remember forever is me just walking down the steps. I started crying. As soon as I turned around and saw him—that was, like, the moment I'm gonna remember," she says.
Nate says that when his sister began to serenade Bibi as she descended the staircase that's when the emotions started to overwhelm him. "I don't know if I've ever felt so anxious in my life," he says, laughing. "Bibi already told me a million times, 'You better cry,' but [I was] a hundred percent out of control of my body."
The Vendors