This newly wedded Cincinnati

pair, Sylvia Brownlee and Douglas Menifee, are the quintessential power couple. As an aesthetician, beauty business expert and founder of the highly successful Skin by Brownlee and Co. skincare line, Sylvia has her hands full. She is laser-focused, a perfectionist and very much into her professional life.
And the same can be said for Doug, who does business development for HBCU Connect as well as real estate management. Both Sylvia and Doug love to work but also describe themselves as being "really into their families."
How They Met
Sylvia and Doug were first introduced through a mutual friend who imagined they might enjoy each other's company. Doug was the first to reach out. Early days were mostly the two of them getting to know one another through texting, and this carried on for several months. Both were a bit shy, having recently come out of long-term relationships, and both wanted to take things slowly.
Eventually, they had that first date, enjoying a romantic dinner in Cincinnati. Over cocktails, a long conversation ensued, during which they discovered they had grown up in the same neighborhood and that Doug's brother, David, had been in middle school and high school with Sylvia.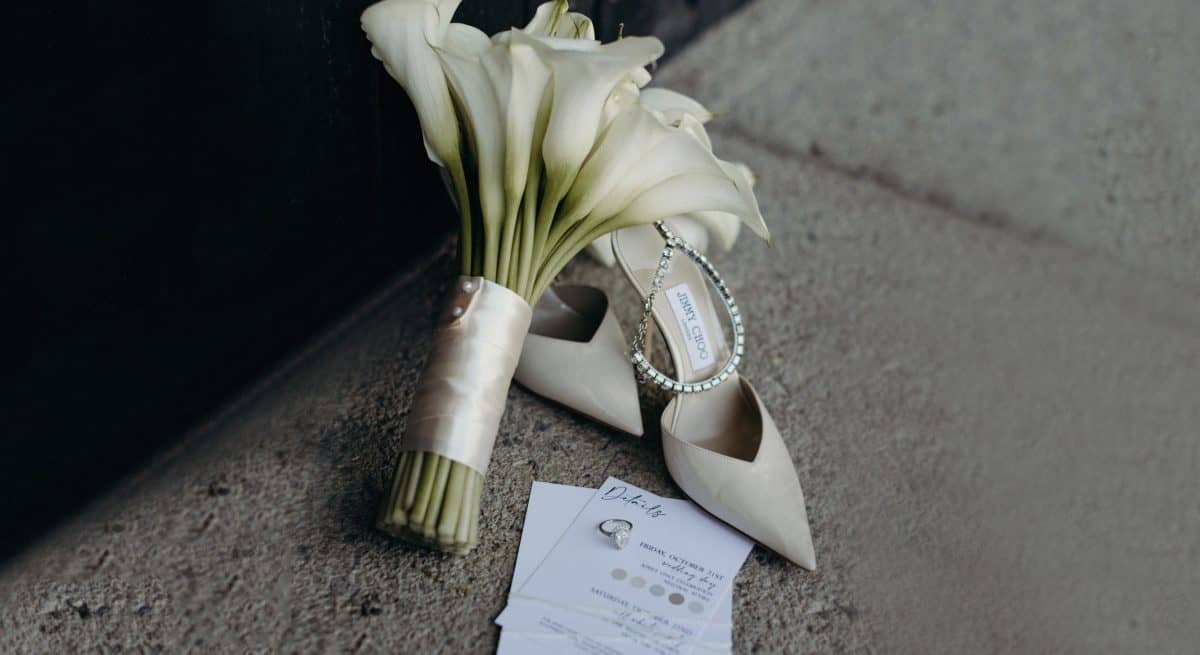 Sylvia's first impression of Doug was that he was really nice. "Doug was a gentleman and a great listener, plus tall, dark and handsome." And there is no doubt that Doug was a bit awestruck by Sylvia's beauty. The date lingered, with the two of them talking for several hours, right up to the restaurant's closing.
Doug and Sylvia found they truly enjoyed each other's company, and so they continued to stay in contact, though the relationship that followed felt a bit "long-distance" in nature due to their busy careers and family life. Nonetheless, Doug and Sylvia worked in dates whenever they could, even if it was only a couple of times a month.
After nearly a year of togetherness, they decided to introduce each other to their children … namely Sylvia's daughter, Jazzmyn, and Doug's sons, Ian and Daniel, and his daughter, Nia. Yet, even after making things "official" with the families, Sylvia and Doug continued to proceed with caution. Both had recently dealt with losses in their families and maintaining a life balance was a big challenge. Despite these challenges, or perhaps because of them, it became clear how very important getting married was in the scheme of things. After all they had endured, creating new family ties had become hugely important. Life is short, and instinctively they knew they must not let it pass them by.
The Proposal
For nearly six months, Doug gathered his resolve to propose to Sylvia. Yes, it was important to seize the moment, but he knew the time and place had to be just right. And before asking Sylvia for her hand, Doug needed to know he had her daughter Jazz's blessing. Jazz is everything to Sylvia, and if she wasn't on board, it would be an issue. Together the two of them joined forces to choose Sylvia's ring and find a location for the proposal. They settled on the AC Hotel in Downtown Cincinnati. With the basics in place, Doug put the remaining details in the hands of event planner Simone Charles, who saw to buttoning up all details and adding some bells and whistles to the proposal scenario, which, by the way, was to be a complete surprise!
To this end, Sylvia's sister, Cortnee, and her best friend, Angie, concocted a story whereby the trio would meet for drinks at a favorite hotel prior to Doug and Sylvia's impending vacation in Jamaica. Secretly, Jazz was flying in for the occasion, too, and would meet them at the hotel; also involved was Doug's daughter, Nia. Once everyone was situated, a hired saxophonist's intonations filled the room with the melody "Love Like This" by Donell Jones as Doug appeared on cue with a huge bouquet of white roses. While this transpired, a photographer and videographer were on hand to capture the special moment.
Following the big proposal (to which Sylvia enthusiastically said "yes"), the two of them, in what had become their style as a couple, patiently took time to set a wedding date and pull together the details. This they knew from the get-go: They wanted a destination wedding. They both felt that after two years of being cooped up due to the pandemic, friends and family would welcome attending a celebration in a beautiful, exotic location. And so began the wedding planning process.
The Wedding Details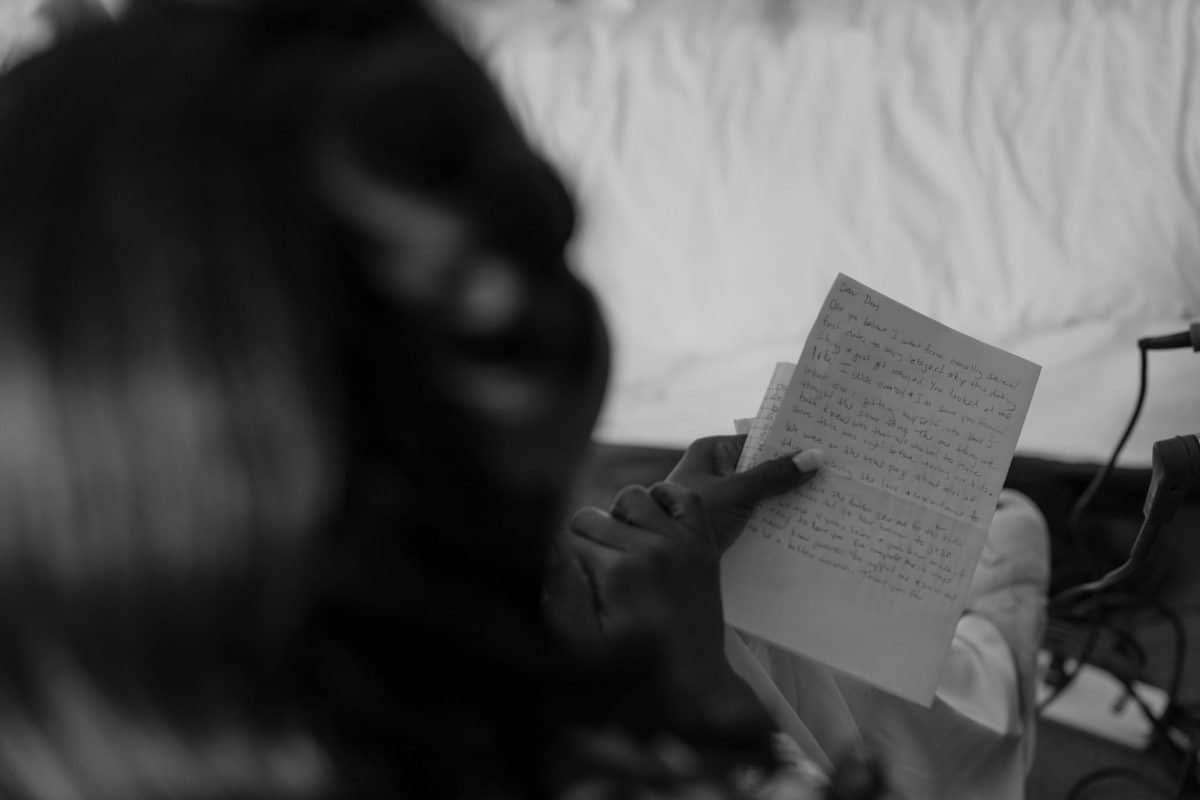 Because of the ongoing challenges of busy careers, Sylvia and Doug connected early on with BTS Event Management, which they found through social media. Planner Trista Croce helped them explore options in Aruba and Cabo San Lucas. The goal was to create an extra special celebration, as this would be many guests' first trip since the pandemic.
After much consideration, Doug and Sylvia settled on Cabo San Lucas. While visiting there, they discovered by happenstance a restaurant they loved: the Sunset Monalisa. It turned out this beautiful venue was also available as an event space and was the perfect size for their group. Sunset Monalisa's gorgeous terraces had unfettered views of the ocean with spaces perfect for both the ceremony and reception. And the venue was a short distance from the Westin Los Cabos Resort Villas and The Cape, which would be the hub for many of the guests and wedding party.
From the beginning, Sylvia and Doug decided to steer clear of a litany of standard wedding traditions. Gone were the bouquet and garter tosses. No big rehearsal dinner, etc. In their minds, guests were coming to enjoy a luxurious vacation in Cabo, in the middle of which would be their wedding. They envisioned a simple ceremony during golden hour, with the ocean as their backdrop. Following would be a world-class dinner under the stars, with the remainder of the evening spent dancing to music sets by their favorite DJ, Krate Digga, whom they planned to fly out for the occasion. During the course of the next year, as they worked on their planning, Doug and Sylvia traveled to Cabo three times.
Once the wedding date of October 21, 2022, had been set, there arose the issue of several VIPs not being able to attend a long-distance wedding, Doug's mother in particular. Since she was such an important part of their lives, Sylvia and Doug had the notion to do their legal wedding ceremony in Cincinnati. This would allow Doug's mother to be part of their celebration even though she was unable to travel. They set the date of October 7 for their legal service and asked Doug's mother and elder brother to join them for this. Fittingly, October 7 also happened to be the birth date of Doug's father, who had passed away just one year prior. Now Sylvia and Doug would have two wedding anniversaries to celebrate each year.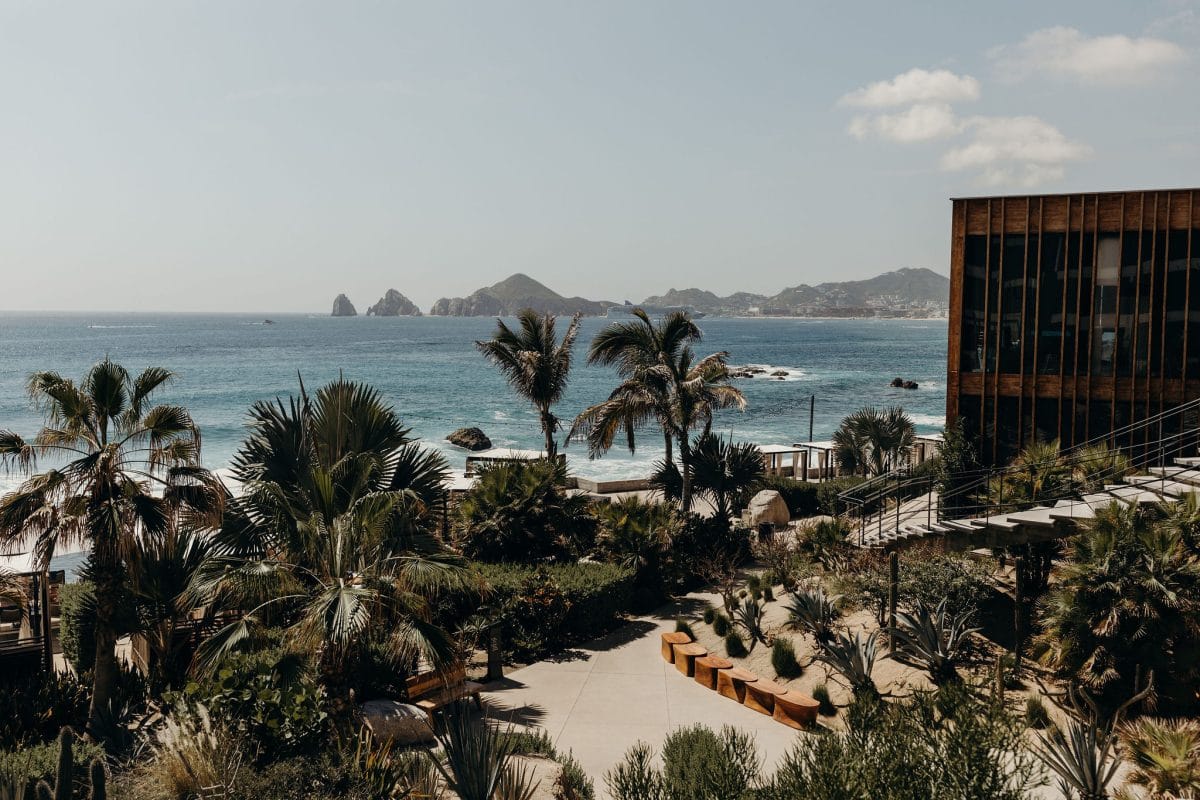 The final trip to Cabo for the wedding celebration was much anticipated. Many friends and family were arriving early to make the experience a full-on vacation. Though no formal event schedule had been put into place, everyone found themselves gathering ad hoc for dinners, sightseeing and sitting around the firepits. There was a generous amount of socializing and partying that took place in the days leading up to the wedding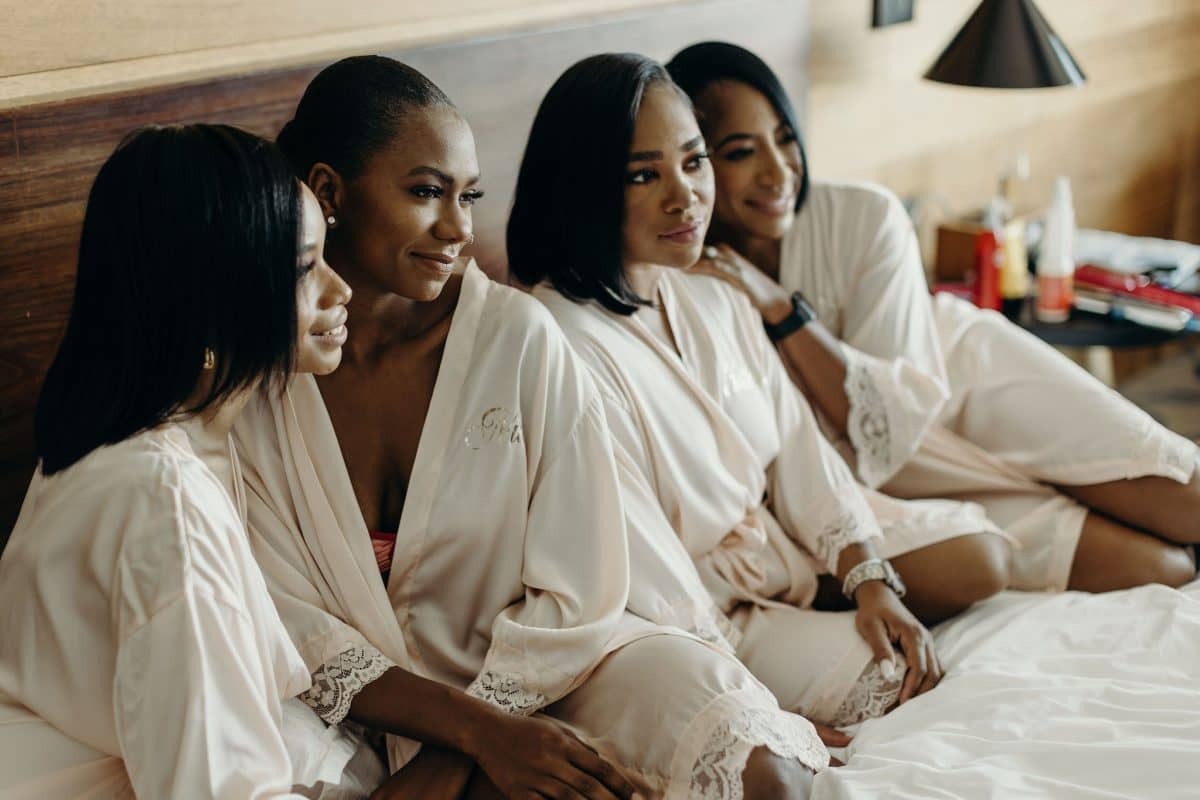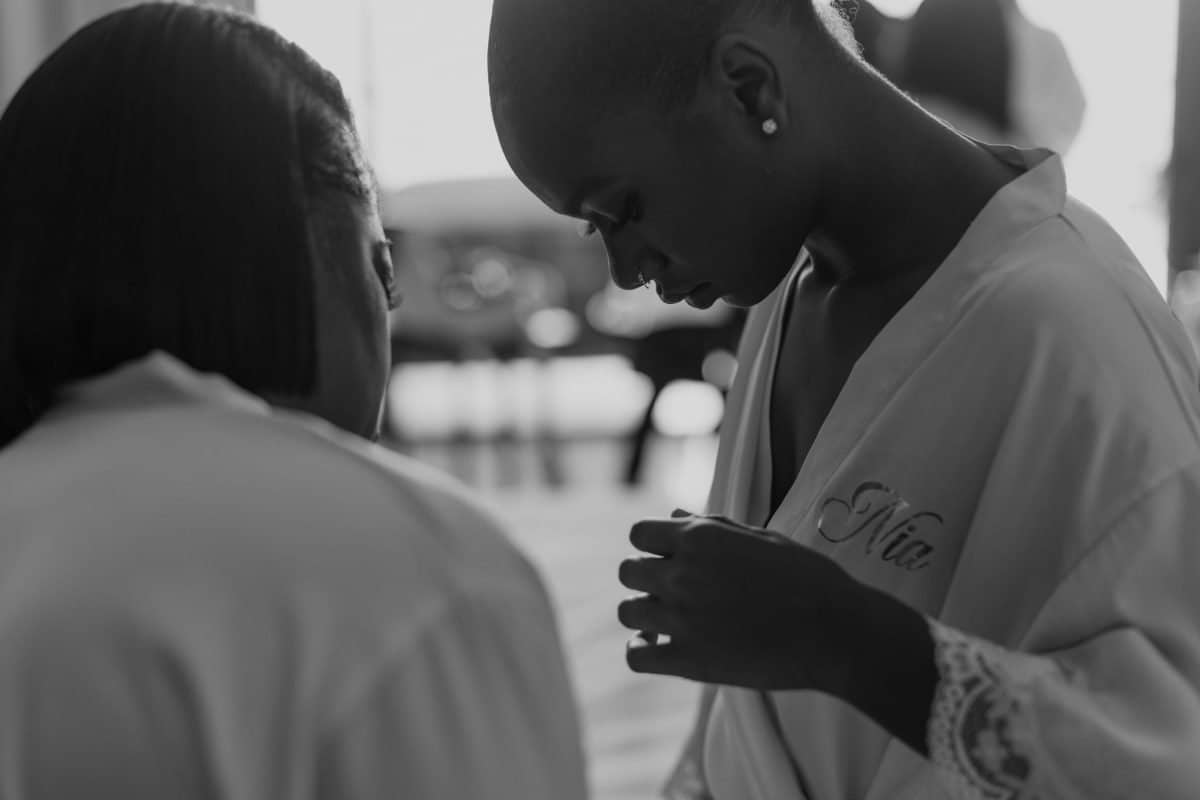 When the long-awaited wedding day finally arrived, some of the usual rites of passage remained intact. The ladies, who were staying at The Cape, gathered together to do hair and makeup, with Sylvia nearby writing her vows. As a well-known professional in the beauty world, appearance was especially important to Sylvia, and she was not to have any dull surprises on her big day. To this end, Sylvia flew her Cincinnati hair stylist to Cabo to oversee her tresses.
The men had their own traditions to honor, namely gathering to bond over brunch with the usual humorous anecdotes and men's "wisdom" going down. This casual pre-wedding celebration continued through the afternoon, rounded out by everyone leisurely getting coiffed and dressed to the nines. The ceremony was set to begin at sundown.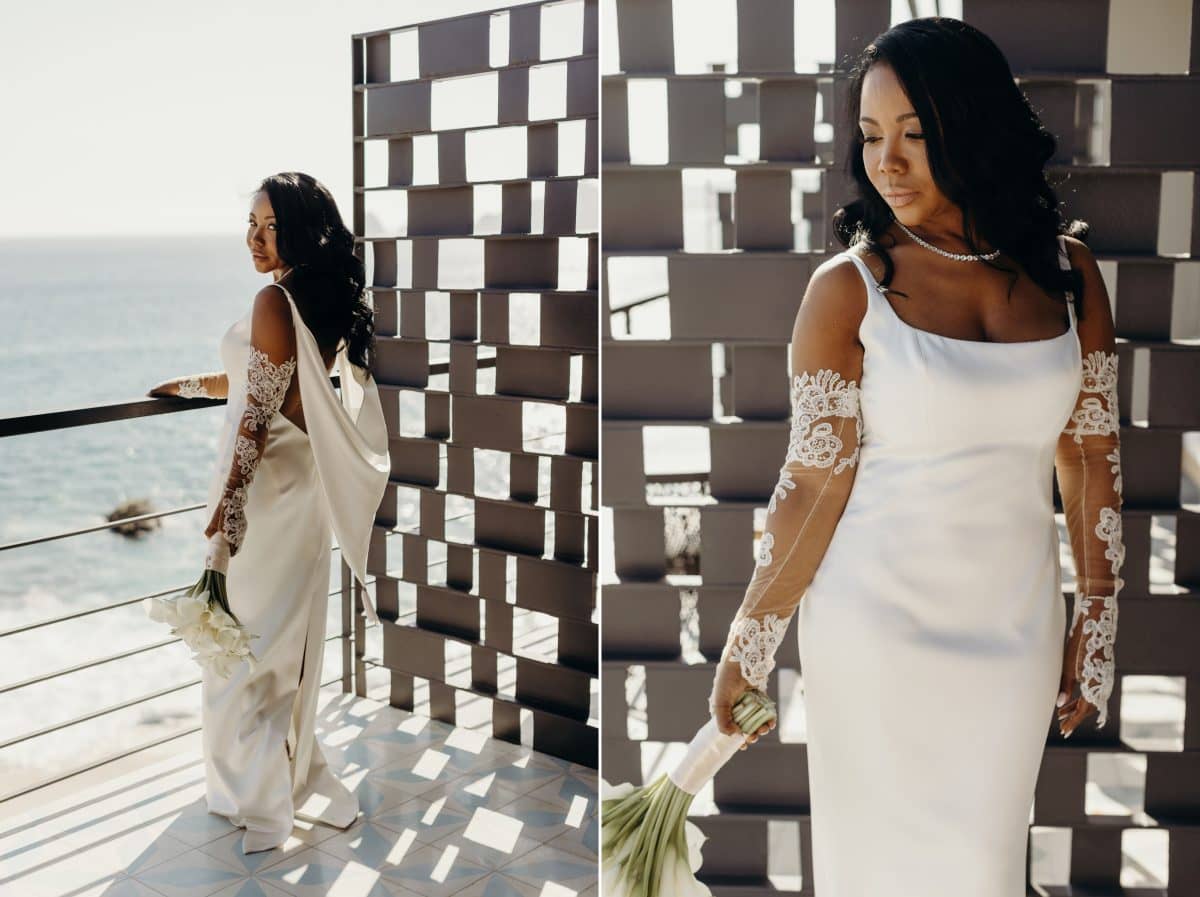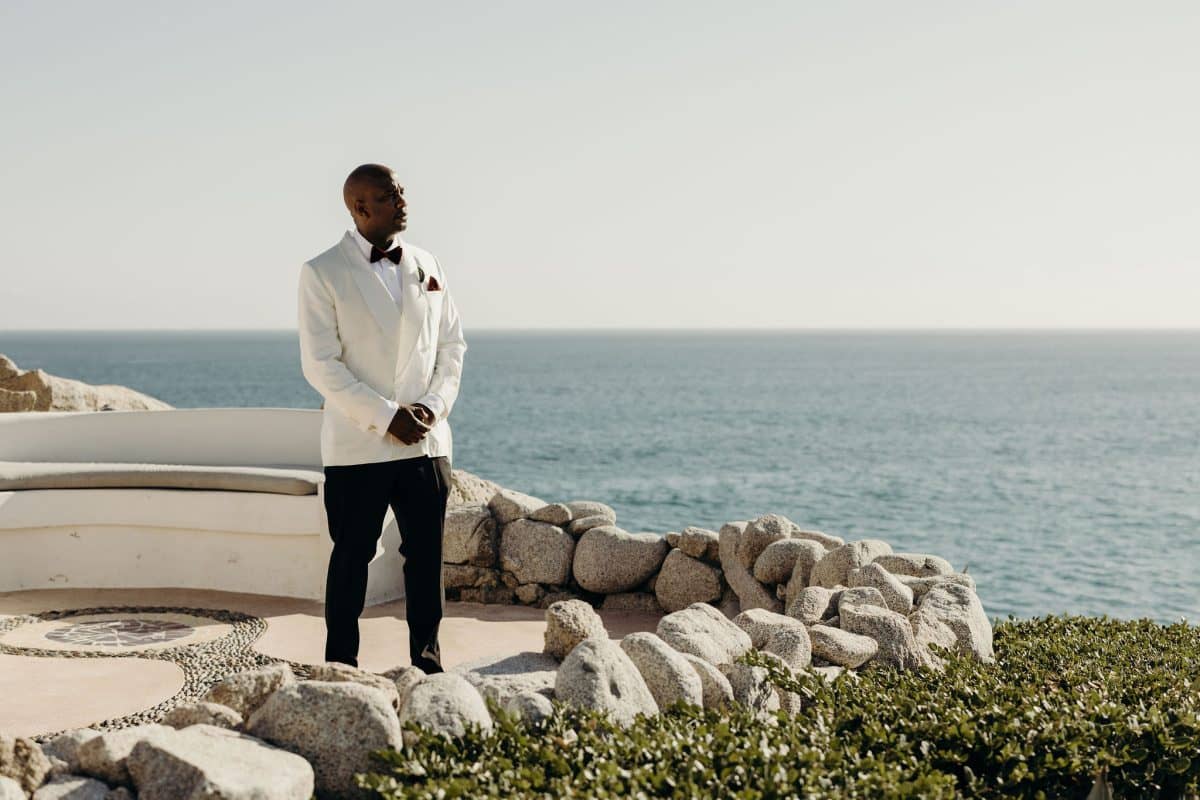 The stylish attire for the event was carefully planned out, not only for the bride, groom and wedding party but extending to the guests. The bride wore a sleek, contemporary-style dress in creamy satin with a dramatic cowl back accented by a triangular satin shawl. Long fingerless lace gloves added a romantic touch to the ensemble, as did the full-length tulle veil that pooled at feet adorned by delicately styled, pale taupe Jimmy Choo heels.
The bride carried an elegant single floral bouquet of calla lilies wrapped in satin. Bridesmaids wore strappy black crepe dresses with a sexy, high front slit, and they echoed the bride's florals with half-size versions of the same satin-wrapped calla lilies.
Doug and his groomsmen's attire met the mark, as well. Dressed in full-on black tie, the men stood out against the ocean backdrop. Especially of note was Doug's beautiful double-breasted cream dinner jacket with oversize shawl lapels coupled with a deep maroon bow tie and pocket square.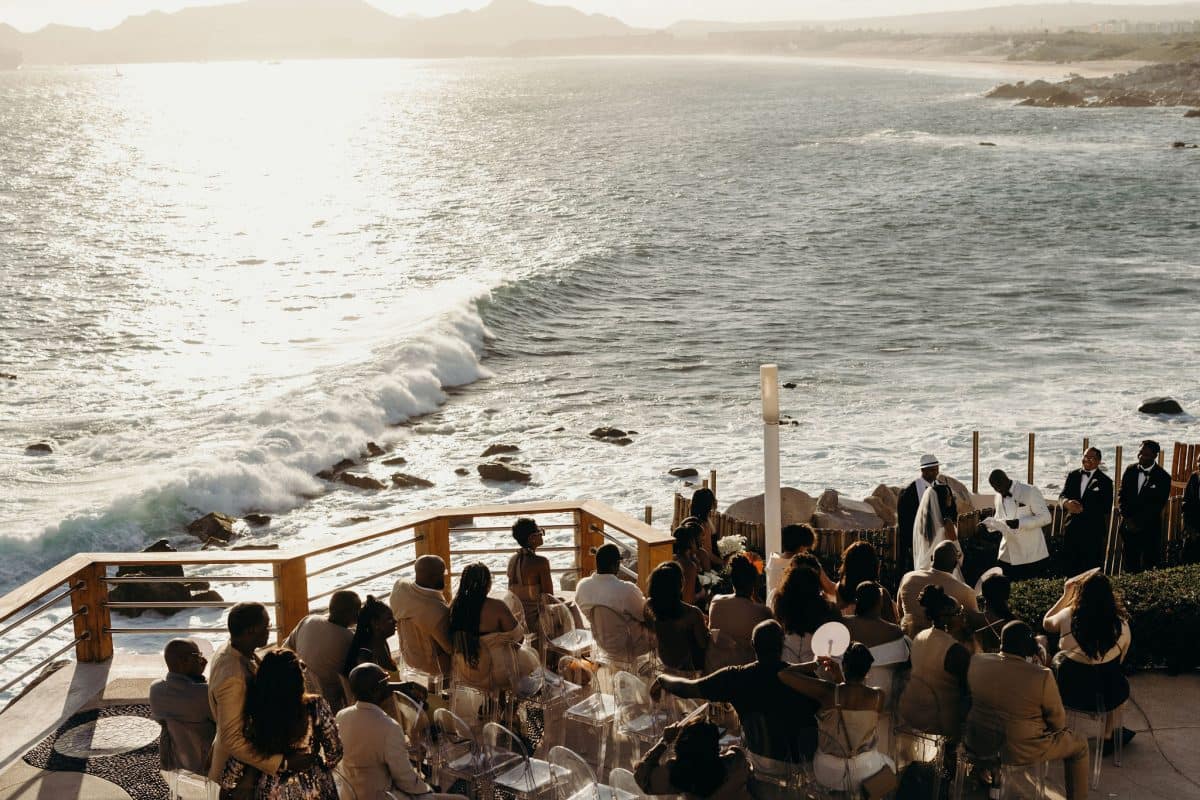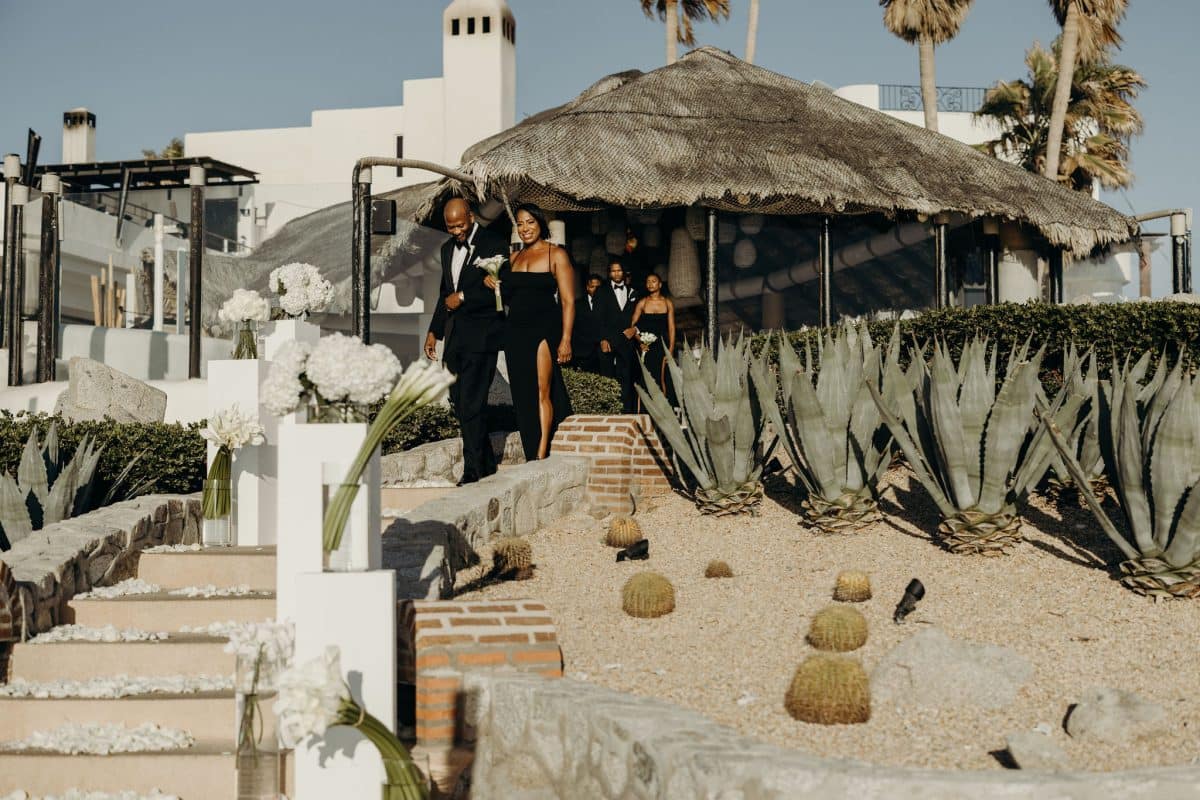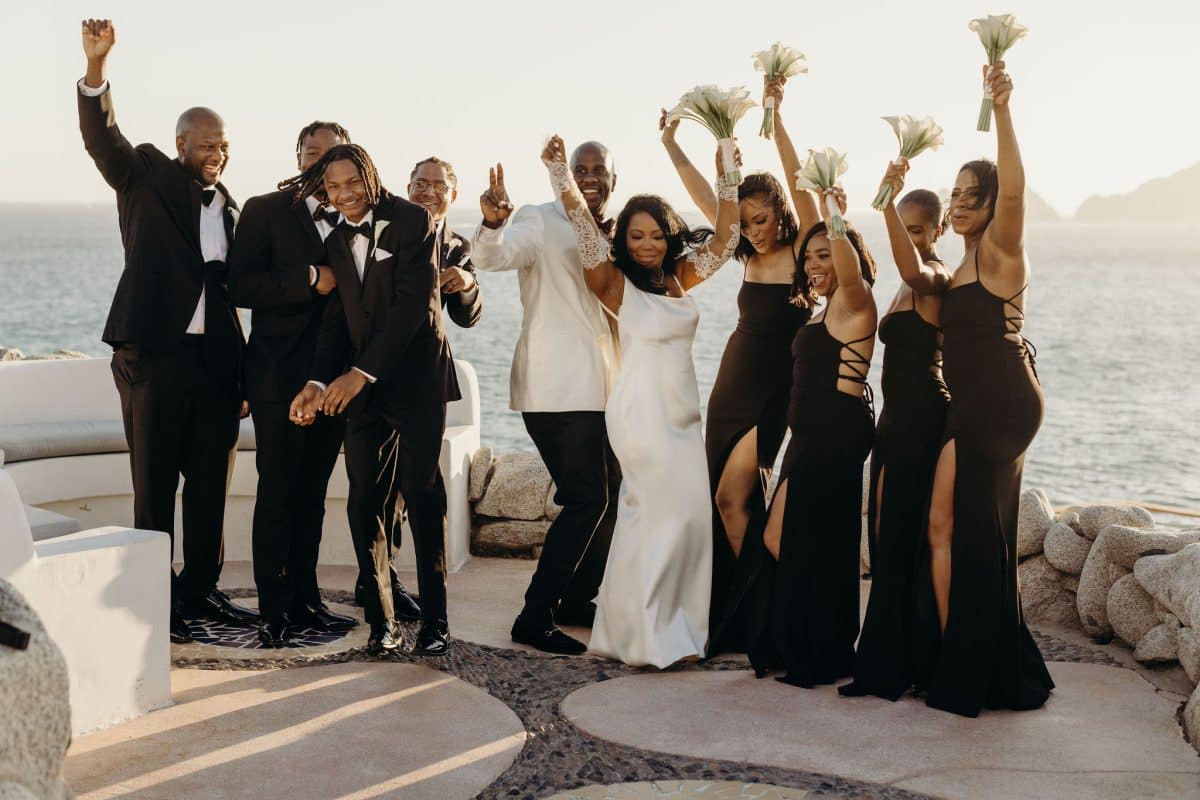 As is now the trend, guests were asked to dress in a particular palette of colors—in this case, the "sundial" palette. Guests happily complied, arriving in attire that was perfect for the setting. The colors were not only flattering on the guests but blended well with the natural elements of bamboo, succulents, palm grass and saltwater-bleached wood that comprised the venue décor and aesthetic.
Upon arriving at the Sunset Monalisa, guests were greeted with refreshing beverages and invited to take their seats on the terrace overlooking the ocean. Lovely backdrop music was provided by DJ Krate, featuring Sylvia and Doug's favorite romantic melodies. The ceremony "aisle" was a wide and gently descending staircase flanked on both sides by bold, white rectangular pedestals of varying heights that were adorned by all-white monofloral arrangements of large phalaenopsis orchids, 'Giant White' calla lilies, Ecuadorian roses and fluffy clusters of hydrangea. This elegant and simple décor defined the ceremony area. Guest seating was comprised of clear acrylic Ghost chairs, also contemporary in style.
The ceremony "altar" consisted only of the wide expanse of ocean and blue skies, with wispy clouds and mountains in the distance. Bridesmaids included daughters Jazzmyn and Nia, Sylvia's sisters and her Aunt Pat, while Doug's side was represented by his sons, Daniel and Ian, his younger brother, David, and his nephew, Steven. A close friend of Doug's from college acted as officiant. At the end of the sunset ceremony, there was a dramatic dove release over the ocean, with Sylvia and Doug recessing to "Love Like This" by Donell Jones.
The Reception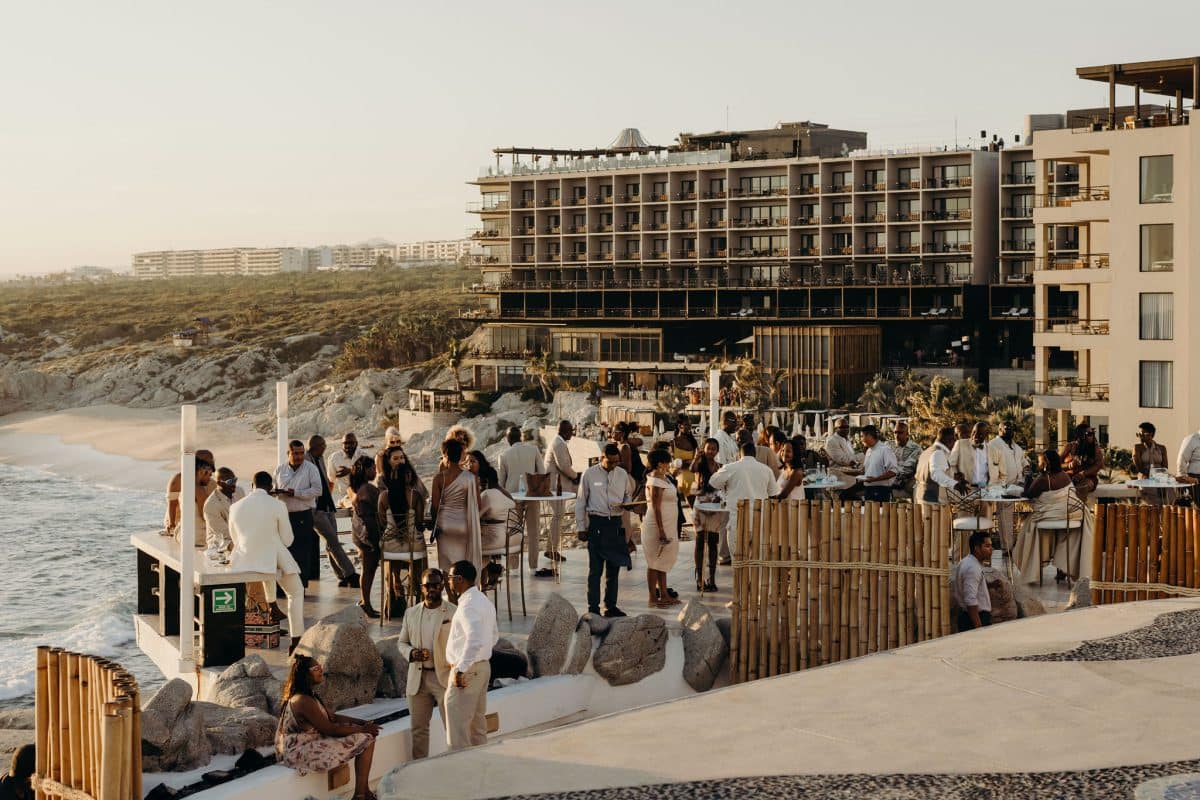 Post-ceremony, guests were directed to the cocktail reception area, where they enjoyed hors d'oeuvres and specialty his-and-her libations at the bar. Sylvia's specialty drink was a French 75, while Doug weighed in with an Old-Fashioned. As the cocktail hour neared its end, guests were invited up to the second floor for dinner, where they enjoyed the big reveal—a spectacular tablescape of creams and whites, with hundreds of candles and three crystal chandeliers lighting up the patio trellis, a spot that would later be used for speeches.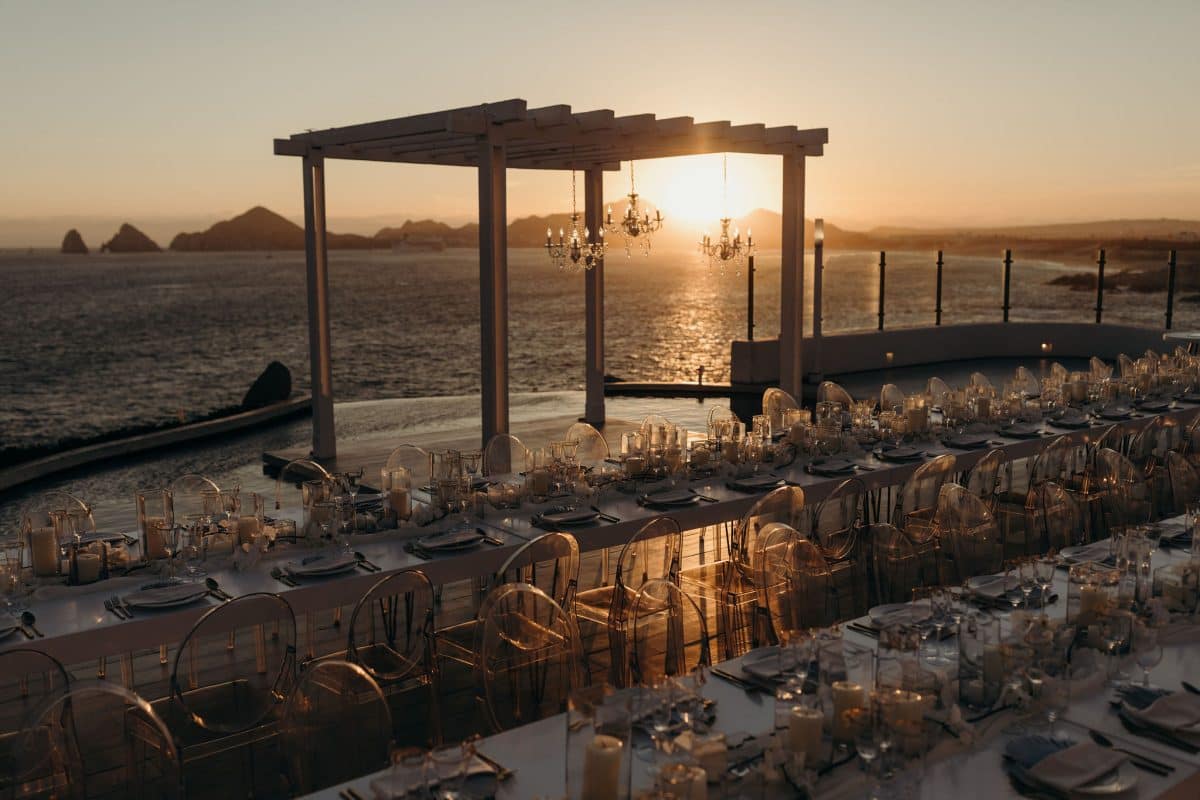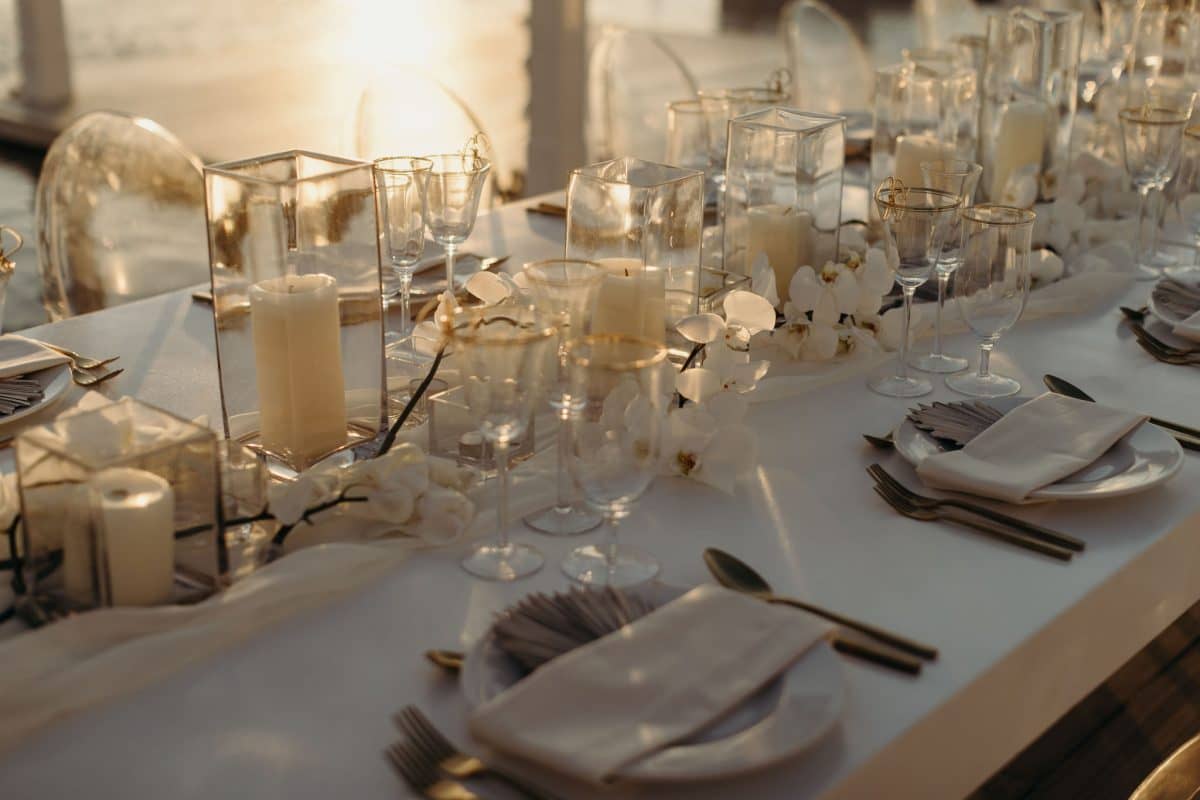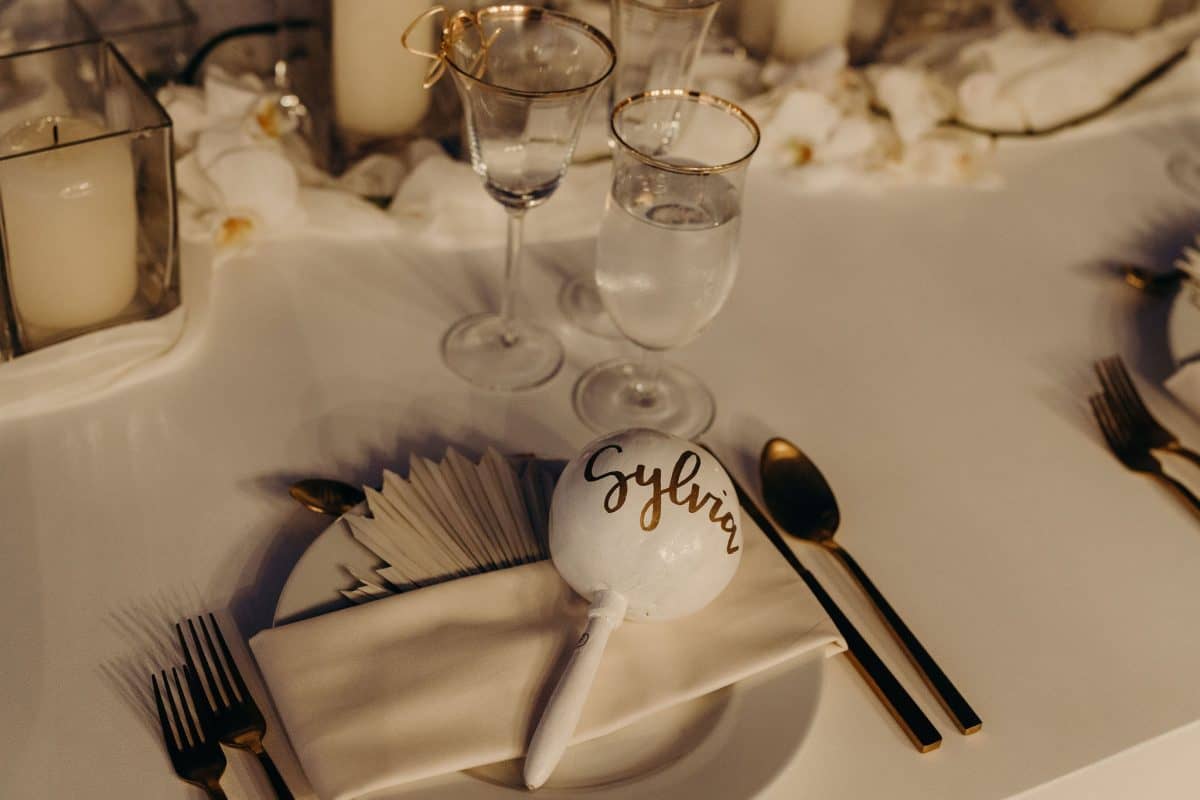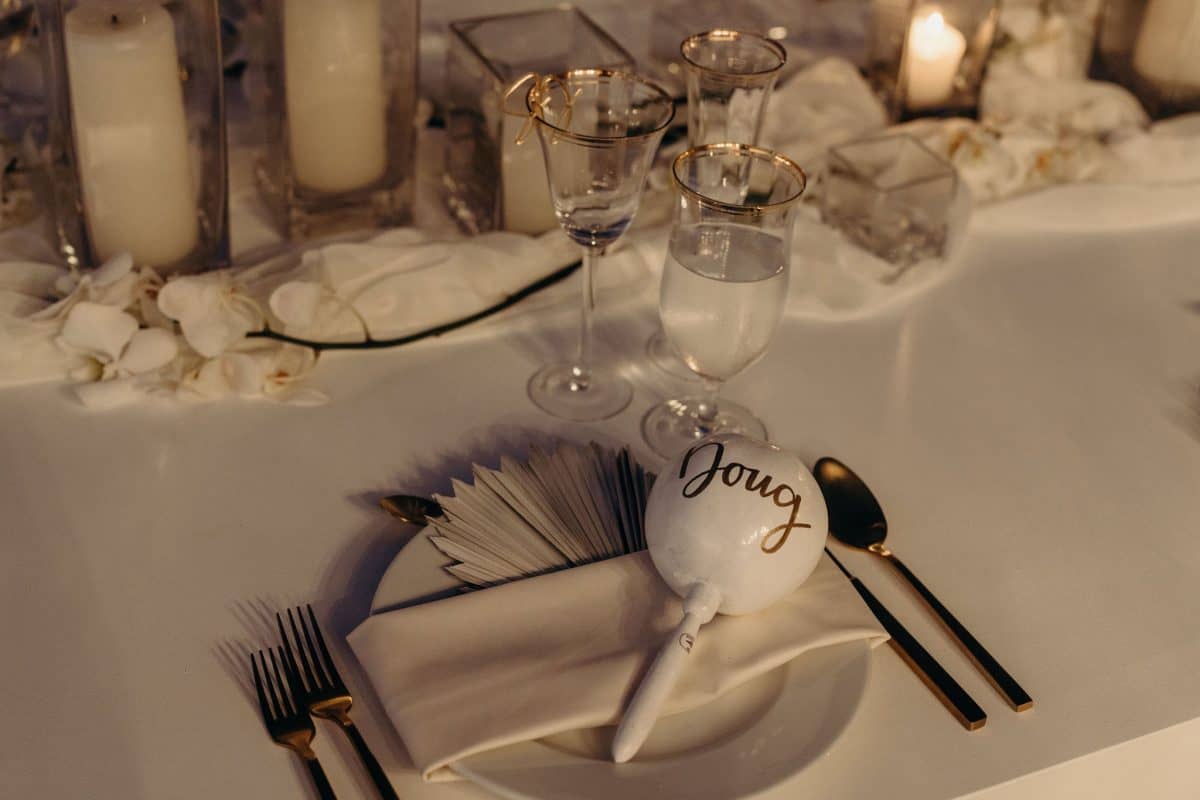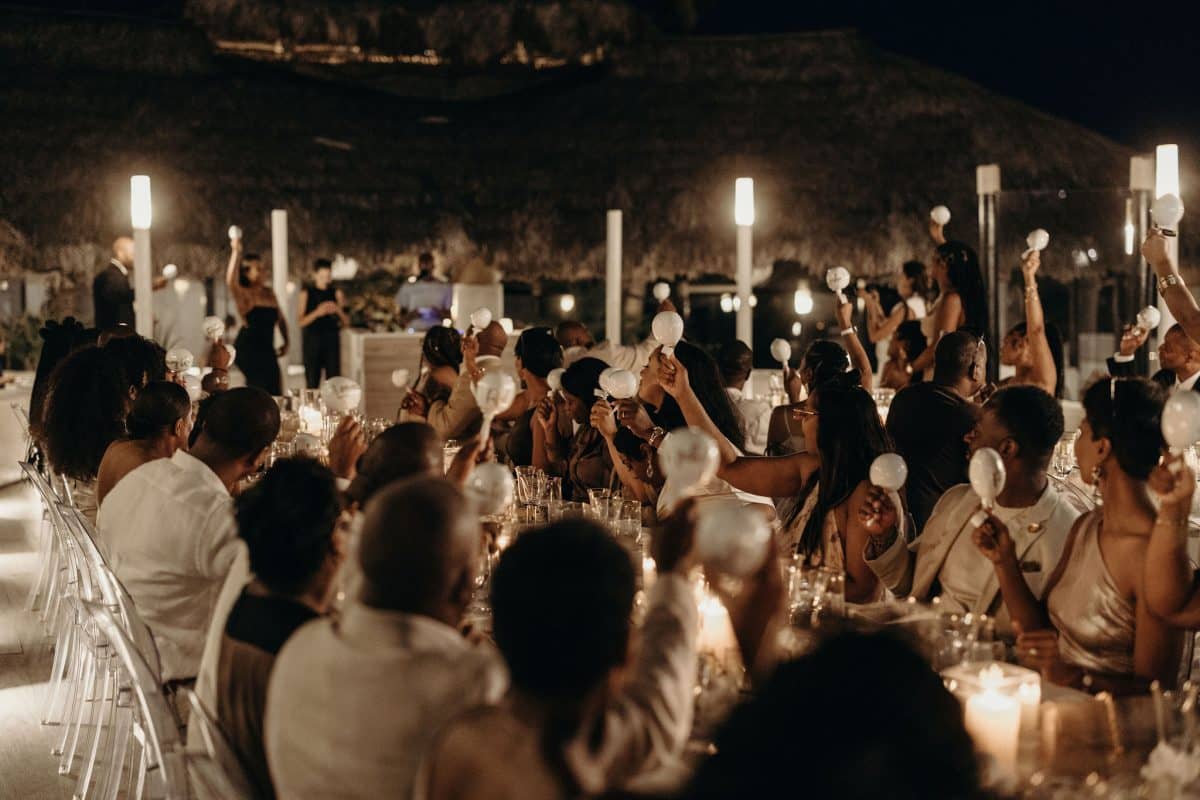 Guests were seated at lacquered white kings tables, simply but elegantly adorned with classic white bistro plates wrapped with pale blush satin napkins under which were tucked bleached gray sun palm branches. A trio of gold-lipped stemware and modern Capri gold flatware added sparkle to the setting. Atop the plates were custom maracas with the bride's and groom's names hand-painted in gold, while wine glasses were adorned with a whimsical bit of bling in the couple's initials. Clear acrylic Ghost chairs flanked each side of the long tables, and the center of the tables were aglow with a wealth of cream pillar candles in varied height glass hurricanes. Loosely woven around the candles were silky white table runners punctuated with sprigs of soft white orchids. The warm glow of this white and cream tablescape illuminated guests' faces as they dined under the stars.
Partway through the dinner, champagne was poured for all as numerous friends and family toasted the couple. Once guests were done eating, Sylvia and Doug led them out to the dance floor, initiating the party with their lively special dance to "Cuff It" by Beyoncé. For the remainder of the evening, it was nonstop dancing. This incredible, lively party was the perfect way to round out an amazing week in Cabo.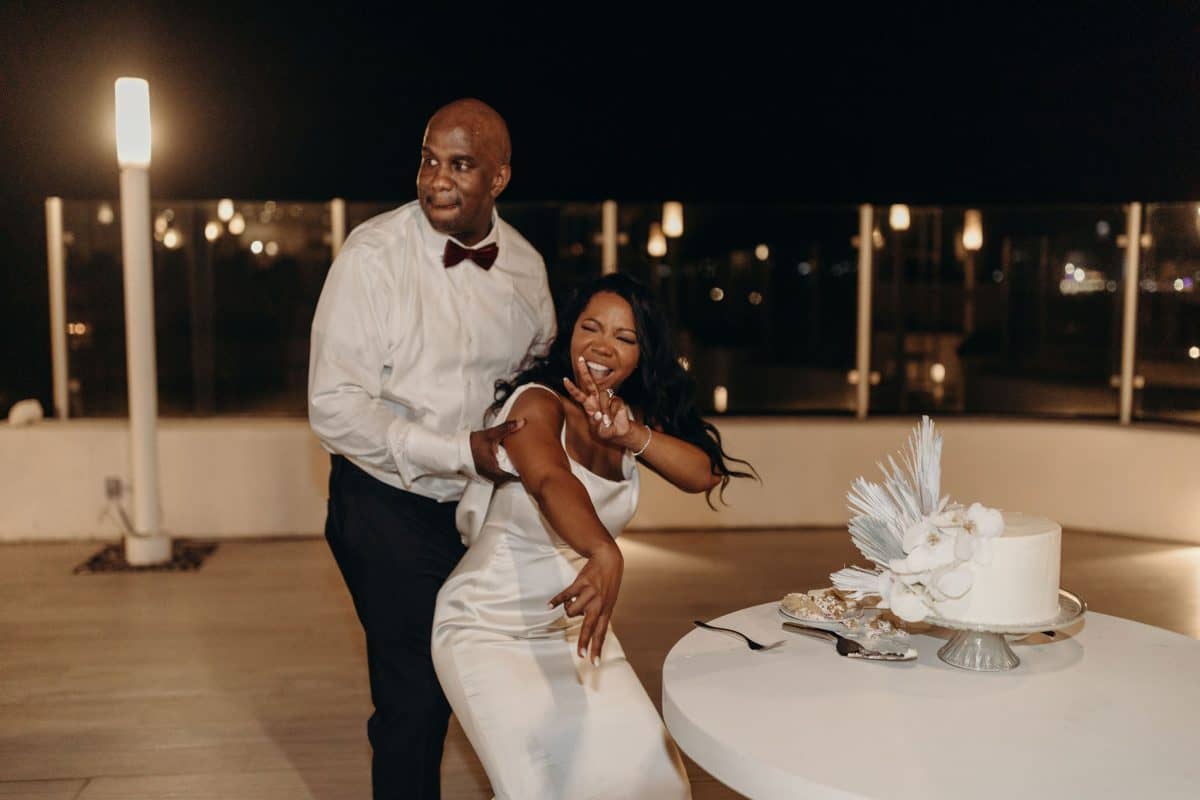 Doug has this to convey to couples planning a similar destination wedding: "It's never too early to plan; get your ducks in a row before you arrive and, most importantly, make sure the bride does a trial run for her hair and makeup (lol)." Sage advice from the handsome groom.
Are you thinking about planning a destination wedding? SIGNATURE TRAVEL offers an experiential opportunity for you and your fiancé to visit amazing destinations and discover incredible venues and personal experiences to host your wedding and celebrate with family and friends. For more information, contact editor@signaturebride.net.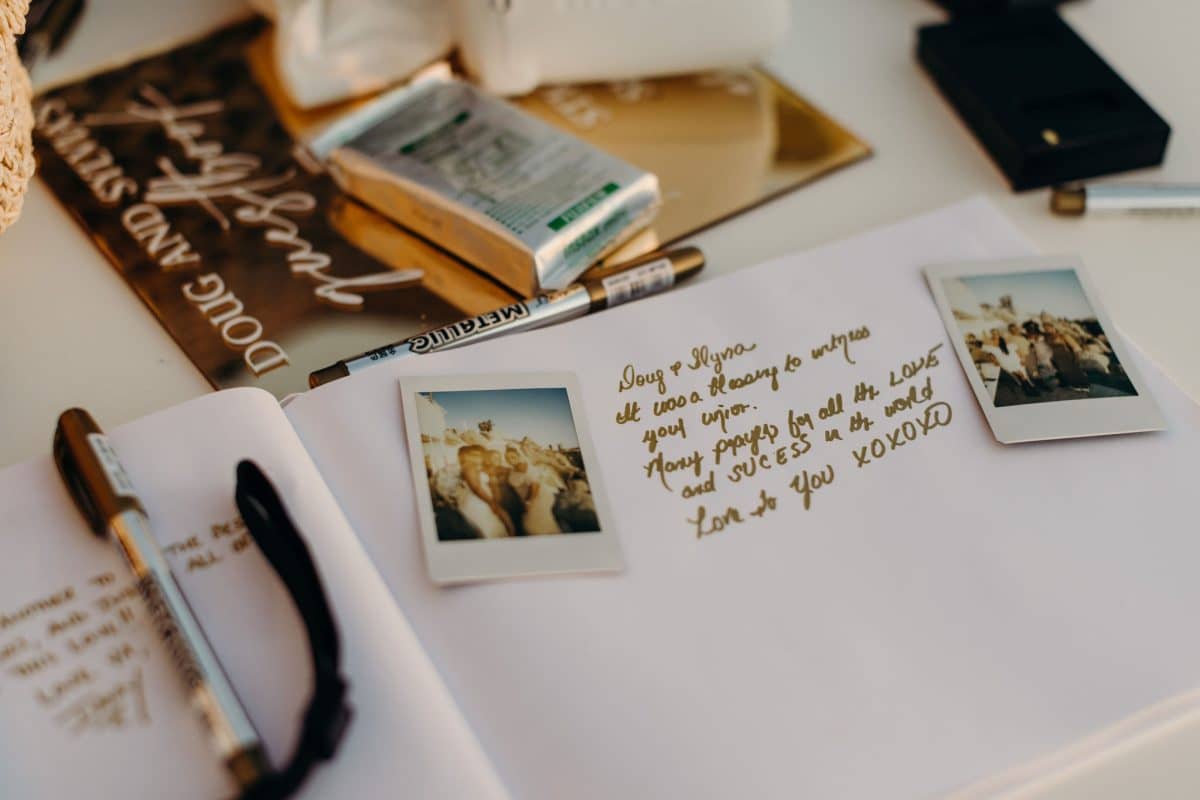 The Team
Wedding Planner: BTS Event Management @luxurybyBTS
Photographer: Memory Box @memorybox_photo
Venue: Sunset Monalisa @sunsetmonalisa
Florist: Cabo Floral @cabofloralstudio
Entertainment: DJ Krate Digga @kratedigga
Entertainment: Ceremony Sound @nestormoralesdj