In marriage, one could

easily say the hard work is never done, but for Vincent and Briana to some extent it is.
During a sprint-like filming period, Married at First Sight participants must not only navigate getting to know the stranger they wed moments ago, but also learn to collaborate and build intimacy with this person. On top of that, the intense self-reflection and conversations the pairs have on and off camera with the experts are arguably equivalent to years' worth of couples counseling crammed into a matter of weeks.
However unconventional the process may be, it is all designed with the hope of achieving a realistic version of marital bliss, which Vincent and Briana Morales seem to be living out today.
"I really give a lot of credit to the show for being genuine and sincerely concerned with helping the couples to work, even above creating a great TV show. … At the heart of it, we really want these couples to succeed," says Pastor Calvin Roberson, one of the three experts on the show.
Now that the production crew has packed up and gone home, Vincent and Briana say an abundance of quality time is making their marriage flourish. The duo has filled their days and nights with wine tastings, outings at their favorite restaurants, laid-back hikes with their dog Cookie and more.
Memorable moments aren't all they've gotten out of these experiences as they further embrace day-to-day life together. Briana and Vincent both note they have learned more about each other since being on their own. "He loves when I cook and cater to him in that way. I love when he brings me random gifts, and he definitely caters to me in that way," Briana says.
As they settle into married life, bigger realizations have sunk in as well, such as the importance of compromise and putting their newly created family first, even when that means placing it above themselves.
Though communication mishaps caused friction between the two during the show, Vincent says much of the couple's tension came from simply not being familiar with each other yet. The knowledge they've gained about one another combined with continued appreciation for and understanding of who their spouse is has helped smooth out many of those issues.
The pair hasn't been immune to bumps in the road, however. They've needed to lean on each other and the solid foundation they've built to take on their current toughest challenge, finding a home. The first-time buyers have faced many of the same struggles as others entering the abnormally hot housing market, which is affecting nearly every state in the country, Georgia included. "Something that's supposed to be so exciting and fun has not been so much," Vincent explains. Putting in offers only to get drastically outbid or lose the purchase to an all-cash buyer relocating from a pricier area has been especially frustrating and occasionally disheartening. Though time is ticking on their current lease and Briana has her mind set on having a home, the couple hasn't let obstacles derail them. She says: "We just try to reassure one another that it'll be fine, and we'll get what's intended for us. We can't really rush something just because it's what we want." She adds that Vincent's faith in the process and patience have also been comforting.
The couple's positivity is something show expert Dr. Viviana Coles points to as one of their greatest strengths, along with their dedication to commitment and ability to communicate openly. "The two of them have such a great outlook on life. Overall, they just exude positivity. They tend to be more optimists than pessimists, and that definitely helps them see things from a different lens than maybe a mixed personality couple would," she says.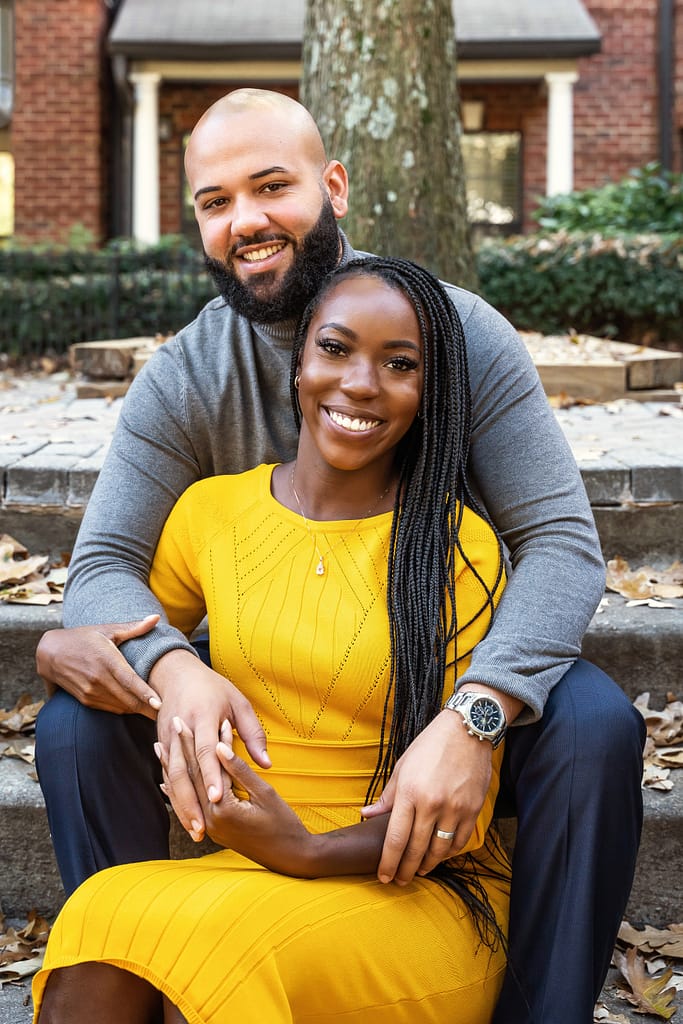 The pair can also turn to family and friends when life gets tough. Additionally, they cherish being able to return the favor by encouraging their loved ones when facing roadblocks of their own. And building relationships with one another's support system has been a joy. In fact, Briana says those moments have been some of her favorites so far. "Vincent's entire family speaks Spanish, right, and I cannot say that I speak a lick of Spanish other than what Vincent has taught me or what I learned in high school," she says with a laugh. "So being around his entire family—but also feeling like I am at home —is a very unique experience, but I love it. I wouldn't want another family even if we don't speak the same language. You just feel the love within the room."
As far as what the future holds for the not-so-newlyweds, continuing to travel is at the top of their list. They have hopes of going to the Dominican Republic soon so Briana can see where Vincent grew up, and they plan to eventually buy a house there. The extremely ambitious and goal-oriented husband and wife are also focused on expanding their careers. A special engineering project is in the works for Briana, and Vincent is focused on taking his entrepreneurial pursuits to the next level. Success is written all over this couple, and we can't wait to see what more they accomplish.