Looking for an intriguing place for a wedding and/or honeymoon? If so, you may want to add Doha, Qatar to the list. One of the most fascinating countries in the Middle East, Qatar offers a lot to couples getting married — sandy beaches, stunning five-star hotels and spas, exceptional international dining opportunities and exclusive experiences, including desert safari and desert camping, museums, exhibitions and traditional souqs (marketplaces).

Located on the eastern coast of the Arabian Peninsula, Qatar's rolling sand dunes and crystal waters are a perfect complement to the city's capital, Doha. Established only 47 years ago, Qatar and Doha boast a unique cosmopolitan contrast of tradition and modern times.

"Qatar is a unique and exotic wedding destination with a plethora of five-star luxury properties, beautiful beaches, year-round sunshine and gourmet food," said a representative from the Qatar National Tourism Council. According to the Council, destination weddings have seen an uptick in recent years.

A beautiful place to visit, the country has developed quickly into a world-class city. In fact, Doha, Qatar, is known as the world's richest city. Much like its neighbor, Dubai, Doha offers some of the best luxe shopping you will find in the world. From luxury brands to exotic cars to trendy restaurants, this is a shopper's paradise.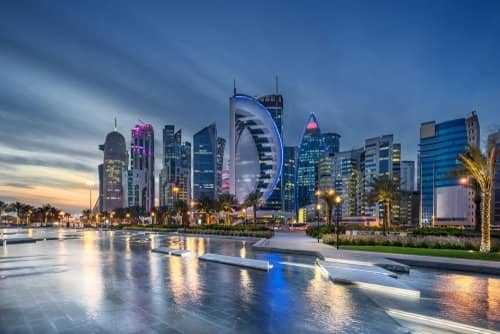 But there's more to the city than bling. Read on for highlights to make your trip memorable. Some advice: be sure you hire a tour guide and remember to pack a scarf to cover your head for the mosques and museums. Most sites will provide one, should you forget to bring.

Art & Culture
Qatar's cities feature public art installations by renowned global artists, including Richard Serra, Damien Hirst and El Seed. Many iconic buildings are themselves works of art and masterpieces of architecture.

According to Culture Trip, "Doha has become the art capital of the Middle East, where astonishing collections of European and regional art often surpass those found in many western art centers."

Must-see galleries and museums include the Museum of Islamic Art, which represents Islamic art from three continents over 1,400 years, including textiles, glass, metalwork, ceramics and manuscripts.
The National Museum of Qatar opened to the public in March 2019. Designed by Pritzker Prize-winning architect Jean Nouvel, who was also behind the Louvre Abu Dhabi, the $434 million building is a sprawling array of curved discs, cantilevered angles and surprising intersections, and was inspired by "desert rose" crystal clusters which form in the Qatari desert. The museum celebrates the culture, heritage and future of Qatar and its people, embodying the pride and traditions of Qataris while offering international visitors a dialogue about rapid change and modernization.

Shopping
Retail is serious business in Qatar. Check out The Pearl, an artificial island and a 15-minute drive from the city center — and the most exclusive address in the city. A mixture of commercial and residential properties, The Pearl offers you and your entourage a selection of renowned restaurants and luxury shopping outlets from luxury fashion brands, as well as a multitude of culinary offerings from around the world to suit every taste.

If you're looking for a wedding dress, Vera Wang is said to have one of the best bridal boutiques in Qatar. Spanish label, Pronovias, also has a presence, offering simple yet elegant wedding gowns designed by the brand's haute couture designers, including Karl Lagerfeld, Christian Lacroix and Zuhair Murad. For tuxedos, Canali and Massimo Dutti offer quality and design.

The Venetian-themed Villagio Mall not only offers luxury shopping with brands including Louis Vuitton, Christian Dior, Gucci, Valentino and Dolce & Gabbana, but also offers visitors an array of entertainment, including romantic gondola rides, an indoor Olympic-size ice skating rink and a theme park; there's also an Imax theatre.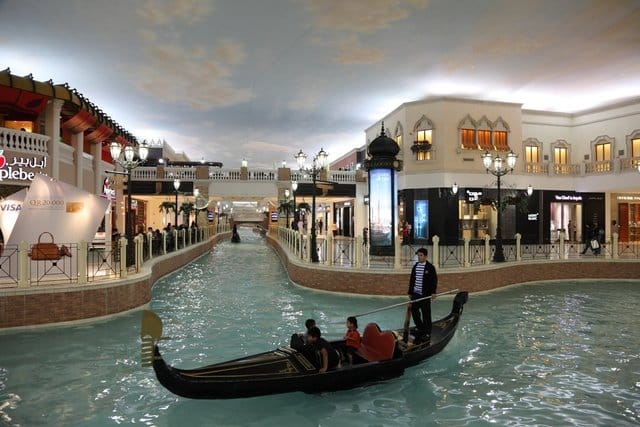 No trip to Qatar would be complete without a visit to the souq. Since ancient times, traders and merchants have congregated in traditional markets to both socialize and to provide for the daily needs of the local community. These souqs are still very much part of modern life in Qatar. Some sell fish, fruit and vegetables, while others sell clothing, fabric, jewelry and spices.

Souq Waqif, with its maze of alleyways and unique architecture and ambience, is a major tourist attraction. You'll be sure to find souvenirs and regional specialties.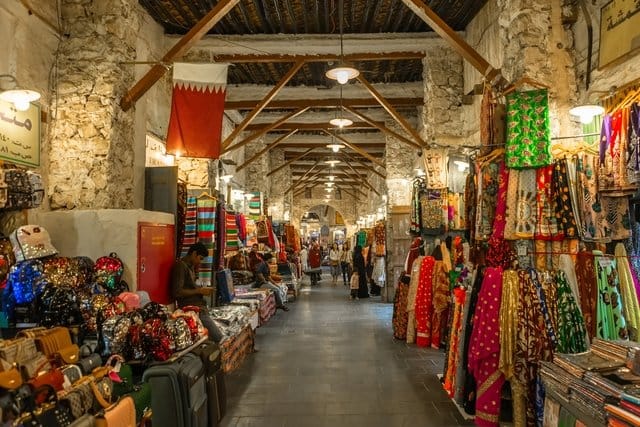 The Faclon Souq is not to be missed. According to Lonely Planet, "evenings are the best time to come, especially on Thursdays, when you can watch customers examining the birds — most of them hooded in black leather and perched on posts or railings — and discussing the finer points of falconry with the shopkeepers."

Experiences
A truly unique experience is the Arabian Dhow boat excursion around Doha. There are many operators offering half-day, full-day and dinner cruises. Be sure to check with the hotel concierge for recommendations.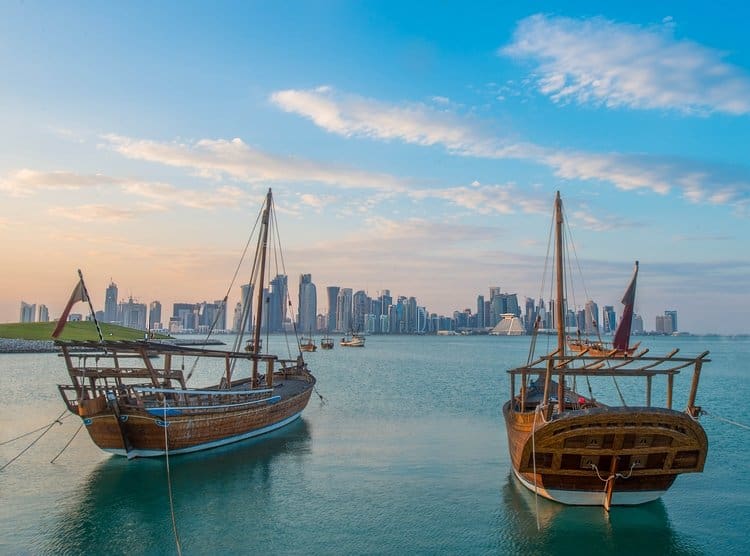 For a heart-stopping roller coaster ride over the steep dunes, try a 4×4 off-road safari, or have a go at camel riding, sand boarding or driving a dune buggy. Many safaris take place in the spectacular Inland Sea, about an hour from Doha. The area is a UNESCO-recognized natural reserve with its own eco-system. This is one of the few places in the world where the sea meets the desert.

Interested in checking out the local sports scene? Enjoy camel racing at the track at Al Shahaniya. Known as the "sport of sheiks," camel racing is big sport in Qatar. It's so popular, there's a TV channel dedicated to the sport.
You can also watch traditional fishing and pearl diving accompanied by a flotilla of dhows (boats) at the Senyar Festival, a four-day competition at Katara in April.

The Al Galayel Championship, a hunting and falconry competition set in the desert, is another celebration of Qatar history and tradition, involving four days of hunting houbara, gazelle and curlews.

Doha has several green spaces and parks around the city. You can go kayaking in the mangroves in the north of Doha or play golf at the Doha Golf Club — be sure to bring ID, including your passport or driver's license. Sports fans can get a look at some of the new sites being built for the 2022 FIFA World Cup. Several new cities are being built, including Lusail City (where the finale stadium will be) and Mshereib City (where the new Mandarin will be), along with a new resort-city called Salwa Beach.

Dining
While you can get authentic Arabian and Middle Eastern food, Qatar is a blend of cultures, and the restaurant scene reflects that, often bringing flavors from around the world to add to one major theme — a Lebanese restaurant serving Turkish dishes, for example. Options range from formal fine dining to fast food outlets, food stalls and coffee shops. Many top restaurants are found in Qatar's luxury hotels and at destinations like The Pearl, Souq Waqif and Katara Cultural Village.

Qatar is big on tea time, serving the traditional karak, a sweet black tea with milk, throughout the city. Homemade dishes served from Qatari women are served throughout the souq.

Hotels
There are many beautiful four- and five-star resorts in Doha to host your guests, wedding and dinners. In fact, many of the wedding festivities happen at the hotel. It's important to note that alcohol is only available at licensed hotel restaurants and bars.

One hotel to consider is Banana Island Resort Doha by Anantara. Set above the azure waters of the Arabian Gulf, the resort features 34 private pool villas, 72 rooms, 24 suites and 11 private over water villas. Other amenities include spa, water sport activities, a diving center, a nine-hole golf putting course, a bowling alley, VIP cinema theater and floating hammock. It's important to note that the hotel does not serve alcohol.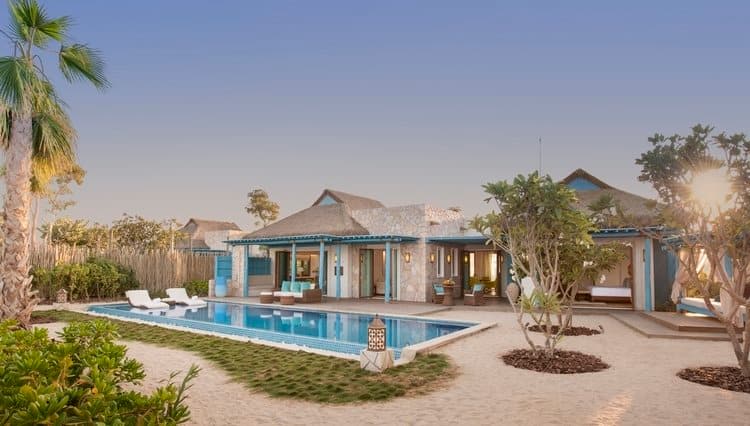 The Westin is another destination venue to consider. Just 20 minutes from Hamad International Airport, the location offers easy access to West Bay, Souq Waqif, the Corniche, local malls, as well as the museums.

The St. Regis Doha is adjacent to the Pearl and has 336 rooms and suites. You can relax at the luxurious spa and state-of-the-art fitness center then take your pick of dining — and shopping — among 10 restaurants.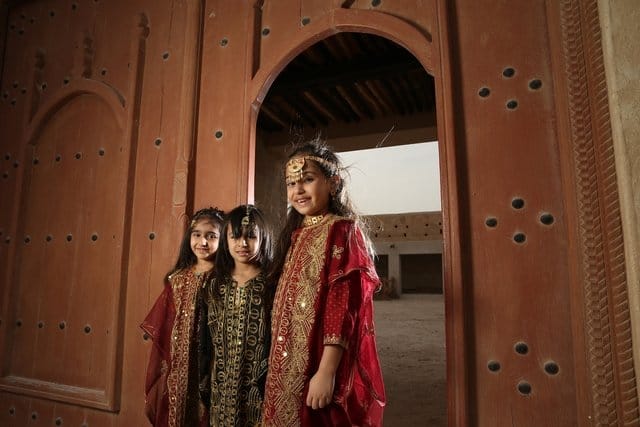 Just the Facts
Qatar is a peninsula in the Arabian Gulf with a population of 2.5 million and 563 KM of coastline
The ruler is His Highness Sheikh Tamim bin Hamad Al Thani
The currency, the Qatari Riyal, is pegged to the U.S. dollar at a rate of 3.65 riyals to the dollar
Arabic is the official language with English widely spoken and understood
According to the UNWTO, Qatar is the only country in the Middle East to achieve consistent growth in tourism arrivals in the past 10 years. (2005-2015)
Getting There

The country's national carrier is Qatar Airways. The airline connects Doha to more than 150 destinations across six continents. The country allows visa-free entry for citizens of 80 countries, including the United States, Canada, United Kingdom, India, South Africa, Seychelles, Australia and New Zealand. The waiver means that citizens of these countries wishing to visit Qatar will not need to apply or pay for a visa; instead, a multi-entry waiver will be issued free of charge at the port of entry, which for most travelers is Doha's Hamad International Airport (DOH) upon presentation of a valid passport with a minimum validity of six months, and a confirmed onward or return ticket. For more information, go to  www.visitqatar.qa/plan/visas-requirements.html. Muslim marriages are performed at the Sharia Court. Non-Muslim marriages granted official recognition by the State of Qatar are Christian marriages performed by churches registered with the Ministry of Foreign Affairs and by clergy recognized by the Ministry to perform non-Muslim marriages. For more information, visit //qa.usembassy.gov/u-s-citizen-services/local-resources-of-u-s-citizens/marriage-in-qatar.

Getting Around Town
Most visitors rely on taxis to get around town. Karwa taxis are widely available and reasonably priced. Another option is to hire a car service. Check with your hotel's concierge to make accommodations.