Santorini. The very name

of this Greek island

 

floating out in the southern Aegean Sea elicits dreams of exotic ruins, rugged black cliffs topped with boxy stone houses, white-washed cupolas and romantic vistas of deep dark blue water.
Many say it is the most sought-after place for a romantic getaway. It is certainly the "wedding destination" for couples near and far. But if you are more than a stop-over traveler, like many with cruise itineraries, Santorini has much to offer.
Crescent-shaped Santorini (or Thíra) is a group of islands consisting of Thíra, Thirassiá, Asproníssi, Palea and Nea Kaméni in the southernmost part of Cyclades (circular islands). Gorgeous sandy beaches, architecture in white and blue, traditional lifestyle, folk music, warm, hospitable people and barren landscapes with isolated chapels turn a trip to the Cyclades into once-in-a-lifetime experience.
Santorini and the capital town of Thira (Fira) welcomes the exploration of those travelers who wish to stay awhile to appreciate her history, monasteries, unique cuisine, local wine, sensual sunsets, languid dining and sumptuous accommodations. We have some insider suggestions to help make your time there an exceptional journey.
Travel to Santorini is best in early May. The island is seasonal in that many who cater to tourism do not live there year-round, so they open in spring and close in the fall. May is also a cooler time of year; shops and restaurants are not as busy and daily cruise traffic is lighter. September is another favorite time, as the summer crowds have gone. Make sure you check with your hotel concierge that everything you want to experience is still available. The end of season is typically mid-October but could be as late as November.
When you arrive you simply must slow down! Santorini is to be savored. Hire a car to take you to your hotel. Beaches are a little far from the best hotels in Imerovigli or Oia along the caldera rim, so opt for hotel poolside drinks and a swim in the pool on the first day. Then make a reservation for dinner.
The local gastronomy scene is uniquely influenced by the sea, land and history. There are typical cafés and tavernas where you will share the views with an octopus drying on the patio, but the food will be authentic. Santorini also has award-winning establishments of note like Selene, where you can meet Georgia Tsara, sommelier and restaurant manager. A culinary class via Selene lets you taste the unique Santorini tomatoes, tiny eggplants and creamy fava. The innovative cooking classes also discuss local products and the influences of Egypt, Turkey, France, Venice, Libya and Persia in the Santorini cuisine. When you book your stay, ask your concierge to book the class and make a dinner reservation too, as they are both popular.
THINGS TO DO
Once you fall in love with the local wines at dinner, it's time to learn more about them. Back in the United States, Greek wines are the new darlings of discovery. Here you will have the pleasure of tasting them where they originate. On the island — away from the towns — you will notice what looks like baskets dotting the rocky earth. Grape vine stock is trained to curl around itself forming a basket to protect the fruit and young leaves from strong winds and blasting sun. The terroire (natural environment), little water, extreme sun, harsh wind, lava soils and heritage grape, produce beautiful wine with great character and minerality.
Santorini wines are delicious and a stop to wine taste at several small family wineries should be on your list. Visit the vineyards and tasting room at Estate Argyros, planted with the indigenous heritage grapes of Assyrtiko, Aidani, Athiri and Mavrotragano. Look for P.D.O. designation on the label, telling you the wine is completely grown and produced in Santorini. Also try the Vin Santo, a famous wine mentioned by the Venetians in the 1500s, made from a mix of sun-dried indigenous grapes aged a minimum of four years in oak barrels. If available, taste the spectacularly smooth Vin Santo aged 20 years.
A larger wine concern called Santo Wines Winery in the village of Pyrgos offers tours of the winery. With its open patio and jaw-dropping view of Thira and the sea below, the shaded terrace is a perfect stop to sip the local bubbly to celebrate your visit.
Interested in history and culture? Immersion classes in Greek culture and language are offered at the Hellenic Culture Center. A recent program in Santorini included a Greek language crash course, art, poetry, music, singing and cookery.
For some time away, rent a boat or hop on a day cruise at Athinio, Gialos or Ammoudi, and take a tour around the caldera. Discover the churches built into caves and the old stairs used for mining excavations along the cliffs. On the small island of Palia Kameni, you can dive into the thermal waters that form a volcanic spa.
A walk along the volcano of Nea Kameni is also a must for the itinerary. Red and black lava rock offer a striking contrast against Santorini's sapphire blue skies and ocean. Dating back nearly 2.5 million years, today Nea Kameni is a protected natural monument and national geographic park. It has erupted approximately eight times in the past 1,900 years and has been dormant since 1950. The myth that Santorini is the ancient city of Atlantis, which submerged more than 9,500 years ago, comes to life before your eyes at Nea Kameni.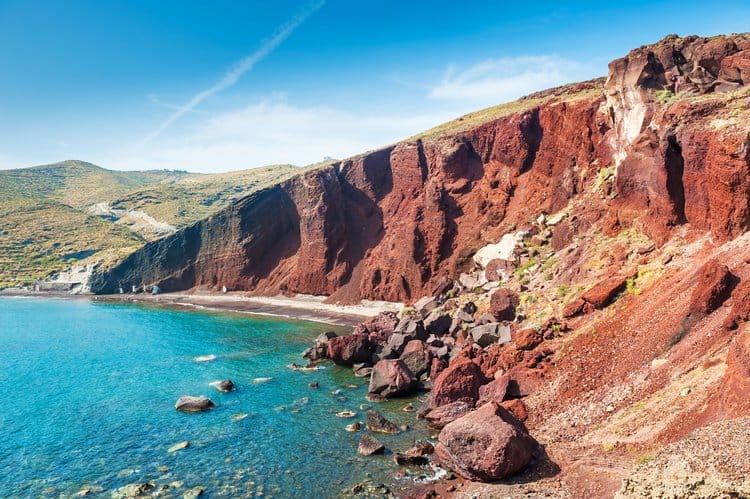 Local connections and knowledge of the hidden Santorini make all the difference in your experience of the island. If you truly want to experience the real Santorini, you must book a day tour or longer with Your Greek Friend. Your Greek Friend creates bespoke tours based on what you want to experience, and a few things you hadn't thought of. They will pick you up at your hotel or villa and whisk you away to secluded beaches, boat trips, private visits to the Monastery of Prophet Elias of Thera (Thira) to see a centuries-old handwritten manuscript book open right in front of you, wine tasting and farm visits, locals-only tavernas to sip Tsipouro or arrange bespoke excursions and more. Best to book them well before your honeymoon.
Take your time in Santorini. Savor every moment. Do what you want when you want. After all, you are both here together, you are in love and Santorini is a magical place for lovers.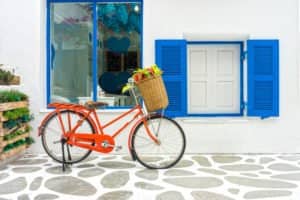 Getting There: There are different ways to arrive to Santorini. Some arrive by private or chartered yacht. Some fly in from Athens, normally a 45-minute hop. But flying out on your return trip in the afternoon, there is usually up to an hour delay. The airport is small, so be prepared to stand for a length of time, as there are not enough seats in the gate area. Island hopping is great, but many flights take you back to Athens before you can board another flight for another small island. Travel by ferry is an option to avoid the airport situation, but it can take up to eight hours from Athens (Pireaus). If, however, you are coming from another island close by it might be a great option. Ferries are on time, fast and dependable. On some, there are first-class seating options available. For a longer ride, opt for the private bar and comfortable lounge in first class.
Air Aegean Airlines, Olympic Air
Sea: Santorini has two ports. Athinios Port is for ferry and commercial boats and the Old Port is for cruise ship travelers. Ask your concierge about Blue Star Ferries and Hellenic Seaways. For more luxury vessel charters, check out Silver Star Yachting and Riginos Yachts
Getting Around Town Santorini's towns are compact with narrow, winding roads, making walking an easy way to get around. Another option is the local bus service. The KTEL transportation company operates buses from the main station just south of Fira's square to areas all over the main island, Thira. During the summer, most routes are served at least once every hour between morning and early evening. Bus drivers collect the fare (which ranges between $1.10 and $3.15 USD — depending on your destination) as you board the bus. Don't want to walk or take the bus? Consider renting a car or moped or take taxis. You will find major car rental companies as well as small, local companies.