With all its many

styles and variations, the martini continues to be a mainstay. In fact, the wildly popular martini is the second best-selling cocktail, according to Nielsen.
While the exact origin may be disputed, it's believed that the first martini was created during the gold rush with gin in Martinez, California. Since then, the martini has earned a place of honor in pop culture. Marked as James Bond's cocktail of choice (shaken, not stirred) and lauded as "so cool and clean" in Hemingway's, A Farewell to Arms.
Though some may think of the martini as a drink that's difficult to master due to the many variations and styles. We promise that you will not travel to your local bar to satisfy your desire. In reality, the classic cocktail is easy to make and just as effortless to customize to your taste preferences and palate.
Find the Perfect Foundation
The classic 50/50 Martini is quite simple to create. The Perfect Martini has only three ingredients: gin, dry vermouth and orange bitters. The base is the star of the cocktail and focal point for flavor, so it is important to be selective. Made with 22 hand-foraged botanicals, The Botanist Gin has a beautifully balanced flavor profile with notes of citrus and florals and a smooth finish, providing a highly distinctive and complex taste perfect for sipping neat and as the foundation for numerous cocktails. Expect a taste sensation that's smooth and cool on entry then warmer and more complex as it reaches the back palate.
Craft the perfect or 50/50 Martini in four simple steps:
Add 1.50 ounces of The Botanist Gin, 1.50 ounces of dry vermouth, and two dashes of orange bitters into a mixing glass.
Add ice and stir the mixture.
Strain the cocktail into a chilled glass, whether a martini, coupe or Nick & Nora.
Garnish the cocktail with a lemon peel. For added flavor and scent, try "expressing" the lemon peel above the cocktail, which is simply twisting the peel above the glass so the oils are released, and dust the rim.
Make it Your Own
Classic, dry, wet, dirty, with a twist, shaken or stirred, there are hundreds of martini variations. Creative mixologists can play with a range of flavors to customize their cocktails—from adjusting the ratio of gin to experimenting with infusions, garnishes and twists. For example, try a citrus zest with fresh lemon or orange peel. Select from a chilled martini, coupe or Nick & Nora glass to beautifully present your creations
Recipes to Get Started
There are so many recipes to choose from, but you can get started with these unique and refreshing takes on the classic 50/50 martini courtesy of The Botanist Gin:
Breakfast Martini: Combine 2 ounces of The Botanist Gin with .75 ounce of Cointreau, .75 ounce of fresh lemon juice, and 2 spoonfuls of peach marmalade or jam in a cocktail shaker. Add ice and shake. Fine strain the mixture into a chilled glass and serve for a delightfully sweet and fruity twist on the standard classic.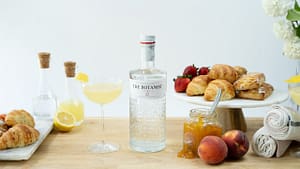 The Heirloom: Add 1.5 ounces of The Botanist Gin, .5 ounce dry vermouth, 1 ounce of tomato water (the juice of a blended ripe tomato strained through cheesecloth) and a pinch of sea salt into a mixing glass. Add ice and stir. Strain into a chilled glass and garnish with a lemon peel for a savory treat for morning, afternoon or night.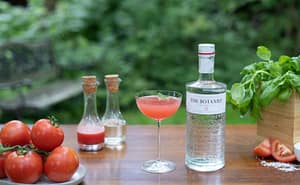 Visit thebotanist.com and @thebotanistgin for more recipes and inspiration. To purchase Botanist Gin, go to drizly.com.