To audiences, it may

seem as though the future of two strangers lies entirely in the hands of the psychologists and experts who make on-camera appearances to explain their decisions and heighten dramatic tension before pivotal moments in each couple's story, but they're not the only ones molding futures here. Off-camera, there's a dynamic powerhouse bibbidi-bobbidi-booing these weddings into existence. Celebrity event planner Slomique Hawrylo shares the magic behind season 12 of Lifetime's Married At First Sight (MAFS).
By now, the premise of MAFS remains a mystery to a mere few. Applicants ready to tie the knot leave their fates in the hands of a team of relationship experts who pair them with the spouses they believe will build the most unbreakable bonds,
and bride

and groom don't meet until they face each other at the altar. In fact, they learn nothing about their future partners, including their names, until this moment. It's the ultimate blind date with the highest of stakes, and Hawrylo's visual and emotional storytelling is just about all that exists to ease them into their journey of unknowns and guide them toward compatibility on what will be one of the most important days of their lives. The MAFS relationship gurus may be the ones leading the horses to water, but it's Hawrylo who must convince them to drink.
With more than a decade of experience crafting visions that have graced magazines and televisions nationwide, Hawrylo returns to MAFS this year as the off-camera tour de force behind every wedding of season 12.
If planning a wedding truly is one of the most stressful events of a couple's early life together, imagine doing it without the couple. By now, everyone knows that the brides and grooms of MAFS come into the weddings blind, but few realize that the events themselves are planned with near equal blindness yet must be personal and intimate enough to spark a lifetime of unity. If the expectations for pulling off a wedding fit for television weren't enormous enough, add to that the pressure of shaping a relationship for people you've never met—that's what Hawrylo is tasked with, over and over. 
To plan the most personal event of a couple's life together, Hawrylo receives a single piece of paper from the bride and the same from the groom. "It's one page of information and maybe five questions," she says. "What's your favorite color? What flavor of cake do you like? Do you have allergies? Are there cultural traditions we should be aware of? And that's about it. I don't have much more to go on. I don't even know what they look like. I really need to channel their spirit and hope and pray that I capture them the way they want to be captured."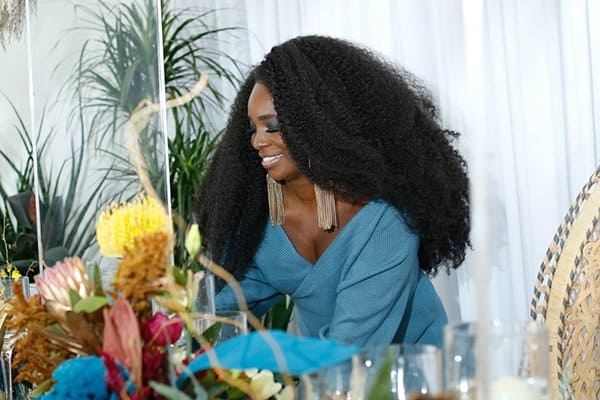 The obstacles stack up before Hawrylo's design process can even begin. These simple questionnaires are completed before applicants are even selected for the show, and not everyone is a wedding expert or even interested in design. "Sometimes I'm quite confused because they might say, 'I want something natural. I want neutral elements in my wedding,' but then they'll give me burgundy and emerald green for colors, and I have to decipher if they really want burgundy and jewel tones or neutral colors," she says. But there's no consultation. Hawrylo must decode based on intuition and years of industry experience. 
And then there's the issue of conflicting concepts. Hawrylo takes ideas provided by a bride and groom who never had the opportunity to sit down and make a plan together and must somehow blend their interests. "Once I'm finished understanding what they each want individually," she explains, "I need to put that together as a collaborative story. Only then am I ready to sit down and design." And the design process is nothing short of a miracle. 
Knowing so little of the couple-to-be, to say nothing of the millions of unknown guests behind the cameras, Hawrylo's initial approach is to tell an overall story that everyone can connect to. "Because the couples don't really have much to say about the wedding, I need to make it so, no matter what, they're going to fall in love with what I do," she says. "So, I need to make it romantic, have it tell a story, and make it as beautiful as possible." And all with a budget that would surprise most.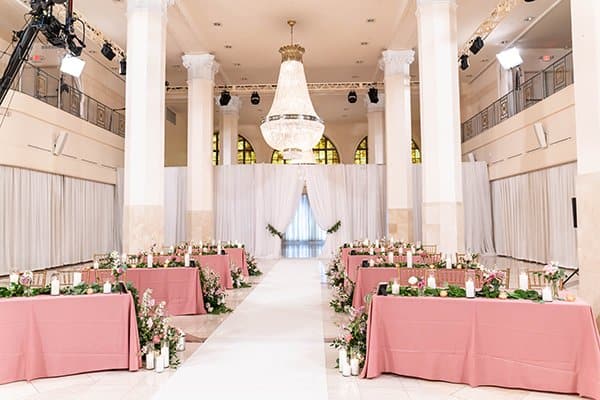 Though she can't say what the budget for each wedding is, Hawrylo's quick to point out that she could always use more. "A lot of people say to me, 'Oh, it's TV so you have a really large budget.'" But she does not, adding a new layer of intensity to the process. Still, where lesser visionaries would reel over the task of producing a wedding magical enough for television without the purse of a Hollywood production, Hawrylo's heart is with her unknown clients. "Although we have a limited budget, our job is to make their dreams come to life no matter what," she insists. "It doesn't matter what the budget is; the only question is how to tell the story, and if you're a great storyteller, you tell the story no matter what."
Part of her tremendous success with MAFS weddings lies in remembering that the TV audience isn't the most important audience to speak to. In considering the balance of production versus personal occasion, Hawrylo manages to connect with viewers by tipping the balance toward intimacy and focusing on the bride and groom. "I do consider what will pop on television, but I also want to design something that will be organic enough to the couple in real life that it doesn't seem over the top," she says. "These are everyday people and I want to tell their everyday story.
"So, when I sit down, I'm thinking about how the décor can warm their hearts when they walk in, and how I can give them comfort as they meet their bride or groom for the very first time." It's something most wedding designers never need to consider, let alone overcome. Hawrylo isn't just setting a production stage; she's the one and only voice setting the life stage for an entire (legally binding) relationship. 
In the case of season 12 couple Paige and Chris, it was immediately clear to Hawrylo that faith was an important element to both, which guided her vision toward a focus on traditional elements that would speak deeply to their spirituality and help comfort and unite them from the start. For this wedding, the altarpiece was a particular focal point of her design story, featuring wood beams with elegantly draped cloth, subtly but clearly reminiscent of the Christian cross at Easter.
Complementing the altarpiece, Hawrylo incorporated natural wood pedestals topped with vase-less floral arrangements at the ceremony, and she lined the back row with more florals to provide a spectacular first impression for the bride as she made her entrance to the ceremony. "I really wanted the florals to stand out as a traditional element. I designed florals that had a big impact but also didn't obstruct the camera," she explains, noting a television wedding quirk. "At the reception, they either have to be very low or very, very tall so they don't block the guests' faces." Hawrylo opted for low centerpieces flowing over wood bases during the reception and repurposed the elegant altarpiece as a backdrop for the sweetheart table.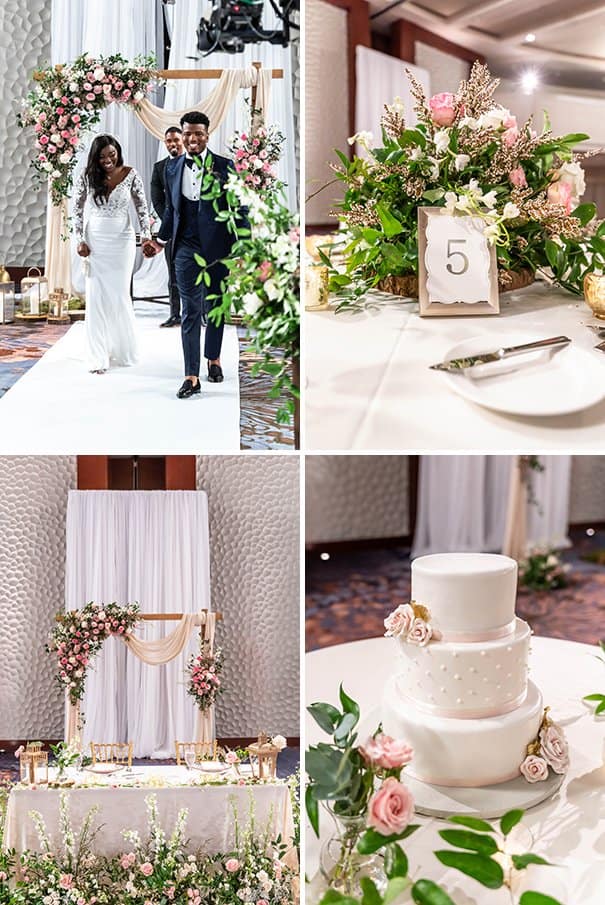 While the cake cutting is sometimes not much more than a lighthearted moment at a traditional wedding today, it's more of an occasion on camera. "That's a big moment for television," Hawrylo says, "and I want it to be a beautiful moment for the couple and for the camera, so I really like to build up that table because the couple spends a lot of time there." And that's not always easy to do when the cake is small. While most seasons of MAFS feature parties of 50, pandemic considerations reduced this season's guest counts to 12 each for bride and groom, resulting in smaller cakes that generally maxed out at two or three modest tiers. 
For Briana and Vincent, another couple featured this season, Hawrylo's vision went in a completely different direction. Sensing a princess vibe from Briana's application questionnaire, Hawrylo went full fairy-tale fantasy, including something she generally tries to avoid: "I went really, really heavy on the pink, and that's something I really don't do normally, but Briana and Vincent's wedding was in a beautiful ballroom with chandeliers and marble floors, so I had a lot to work with that lent itself to that side of softer beauty. The story, to me, was that this girlie girl met her Prince Charming and this was her castle." To flesh out the vision, Hawrylo incorporated candelabras and trailing vines on tables, and she created a dramatic entrance of chiffon billowing down from the second-story balcony that was pulled aside with floral-accented vines. 
While she may have gone pure princess in theme, Hawrylo didn't want the event to feel old-fashioned. "It was important that I did something new and fresh with Briana and Vincent because that energy was there in both of their questionnaires," she says. "To hide the fact that there weren't really that many people there, I created a dinner theater aspect to their ceremony by using tables instead of just chairs and placed them on diagonals that formed the aisle. I cascaded florals down the sides of each table, with candles at the base, so that it created a beautiful aisleway for the bride."
What it truly takes to reach the wedding day is surprisingly streamlined, at least as Hawrylo explains it. She generally spends around five hours per wedding in the planning phase, which includes two primary areas of research. To keep each wedding fresh for the audience, she reviews what has been done previously on MAFS, and to bring authenticity she explores local vendors at the filming location to provide elements like florals and décor for her visions. 
And then comes wedding week.
Hawrylo spent a total of five days on the ground in Atlanta, where all five of season 12's weddings were filmed. For the first two days, she met with vendors to inspect the wedding elements personally before making her way to the venues. This season's weddings were held at Southern Exchange and The Westin Peachtree Plaza, and though Hawrylo can review measurements and floor plans remotely, reality often brings surprises that require last-minute changes. "Within that first 24-hour period, I'm really redesigning elements of the weddings to make them fit more accurately and beautifully in the space," she says. It's important that she has every element exactly right because there are no second chances. "People think that we can just say 'cut,' but these are real weddings. Once they begin, they begin." And that's why it's critical that she's on-site for the weddings, which are filmed over the final three days of her visit. 
"I deal with last-minute changes quite often, especially when it comes to filming," Hawrylo notes. "For example, I might have a wedding where I have candles throughout to warm the space with that illumination, but the director might show me that a jib—which allows a camera to float through the air—could come down and hit some of the candles, so in that moment I have to rearrange. I may need to come up with an entirely new floor plan on the spot to make sure the jib doesn't knock over my candles."
"Another instance I've had is where my director came in and said, 'This wedding is beautiful but, where the couple is standing I'm getting a lot of open air space on the side.' This is usually not a space I decorate in a traditional wedding because it's outside of the guests' view, but as the camera is scrolling by it picks it up, and we need every area on-screen to have beautiful wedding elements, so I need to look around the venue on the spot for unique furniture, beautiful candles—things that can fill every space the camera is seeing. There's never a time I design one of these weddings where a crew member doesn't have at least one issue, so I need to change things all the time. But the wonderful thing about this team is that we're all working together to help show the story without compromising my beautiful vision for the bride and groom."
"I'm like the invisible fairy godmother. I come in, read everything about them, deliver this beautiful wedding, and they never get to know who I am." — Slomique Hawrylo
This season, COVID-19 brought another last-minute change for Briana and Vincent's wedding. "I set up all the tables and the Covid inspectors and producers came up to me right before the ceremony and asked, 'Are we sure the three people at each table are family? Are we sure they were quarantined in the same home?' I had to run to the guests, who were in a holding room, and interview them to be sure they were seated with people who were safe for them," Hawrylo explains. "I had two people almost placed at a table who weren't quarantined together, so I had to rearrange their seating moments beforehand to get Covid approval." Fortunately, other than the crew wearing masks and the guests and crew undergoing testing, the pandemic had a surprisingly little impact on this season of MAFS and did not add much to the heap of hurdles Hawrylo already faces. 
Despite the tremendous efforts she puts into planning the perfect day for MAFS couples, Hawrylo never gets to meet her clients, even after the weddings. "I'm like the invisible fairy godmother. I come in, read everything about them, deliver this beautiful wedding, and they never get to know who I am," she says. "But I don't think that's important for me. I know that when they're getting married, at that moment, they're thinking about the fact that they're marrying someone they don't know, and they don't think about who did all this. I get to see them at their wedding, but I never get to have a conversation. But I do think we're kindred spirits."