Micro-weddings are here to

stay! Actually, they've always been out there, but over the last two years, they have become hugely popular. Until recently, and due to the pandemic, large events had not been an option, and an emphasis on intimate weddings has flourished.
This situation left every wedding planner and event professional scrambling for solutions both to save their client's important day and their careers. Those who adapted survived and thrived! And as is often the case with seismic changes, some of the adaptations continue on as the way to do things. Such is the case with micro-weddings!
We turned to top Black wedding planners nationwide to hear how they adapted and how they continue to make small weddings and elopements a viable and desirable option for their clients.
Founded in 2012, Favored by Yodit Events & Design specializes in luxury weddings in the metro Washington, D.C., area. Award-winning planner Yodit Gebreyes Endale's passion is to make her client's dreams a reality, whether that is putting together a wedding for 300 or an elopement. Endale believes that all wedding planning needs to be highly personalized, and she strives to bring dignity and timeless elegance to each event. Endale offers her clients over a decade of wedding planning experience, a roster of top-drawer event professionals and venues, plus the creative grist and intelligence that clients from the D.C. area demand.
"Post-pandemic couples are still turning to micro-weddings," Endale says. "Many attended smaller gatherings during the pandemic and appreciated their more intimate, less formulaic and stress-free ambiance. This helped them envision a different way of doing things. Other couples opt for smaller weddings for one of the time-honored reasons: busy careers, biological clock, preferring to bank money toward a new home, and challenging family dynamics, to name but a few."
None of Endale's weddings, large or small, are cookie-cutter. Each is unique, and she aims to provide the highest-quality services even when the volume of those services is scaled back. Micro-wedding clients enjoy the same team of wedding professionals as her larger events, from catering and floral design to bridal hair and makeup. Though a micro-wedding might have a more compressed timeline, she finds that clients still want to weave in many of the important wedding traditions couples typically look forward to—first look, wedding processional, special dances, cake cutting, and sharing toasts with family and friends. Some small events go on to have a short cocktail reception followed by dinner. It all depends on how the couple would like their Big Day to go down.
Prior to her incarnation as a wedding planner, Lea Stafford of Lea Stafford Events spent years as a luxury interior designer in the San Francisco Bay area. Following that and before arriving at her life's work in wedding and event design, Stafford learned her craft while working for one of the Bay Area's leading caterers, Paula LeDuc Fine Catering & Events. During Stafford's 10 years in the events and design industry, she has had the opportunity to plan, produce and conceptualize events ranging in size from a handful of guests to thousands of attendees.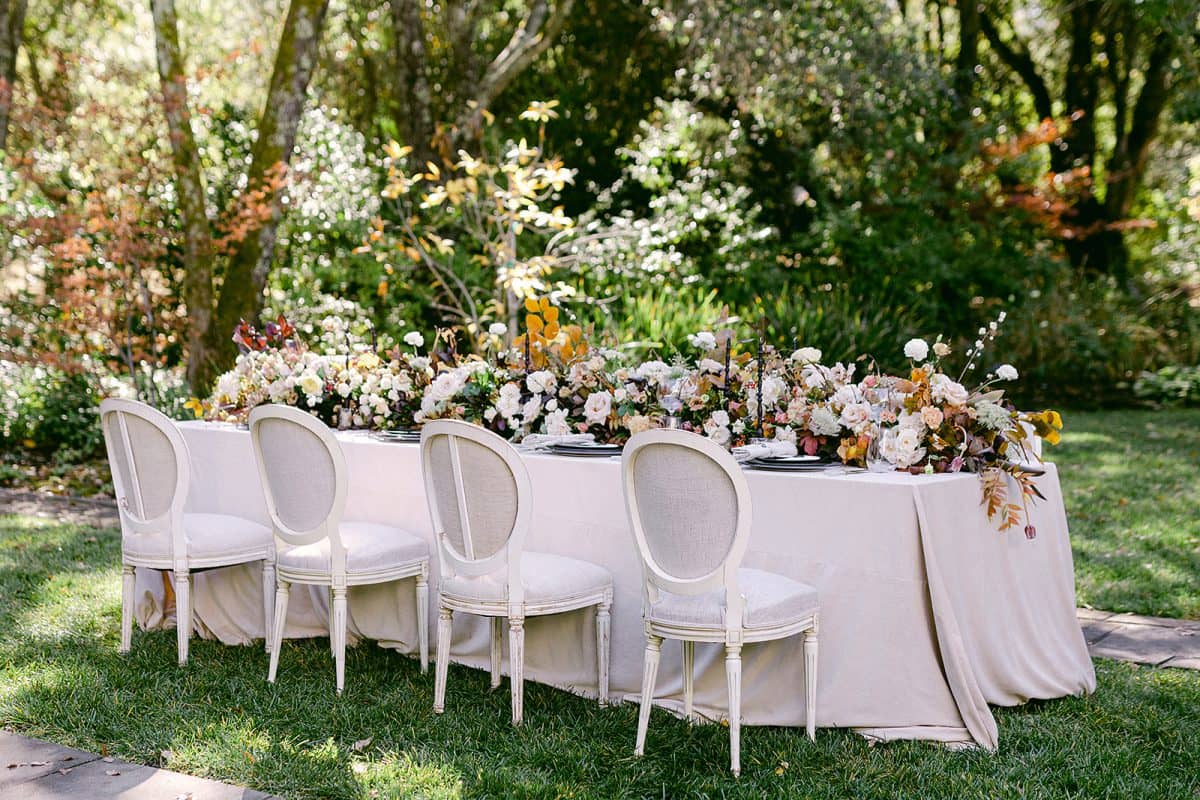 A native of Oakland, California, Stafford brings to her work all the sensibilities of a rich family life, bright creative chops and a passion for major life celebrations. Add to that her knowledge of and appreciation for gourmet food and beverages, as well as her access to luxurious venues and spectacular scenery and you've got the winning ticket!
All of Stafford's micro-weddings are fully customized. Her mission is to guide clients toward venues and vendors she anticipates will speak to them. Stafford's desire is to capture the soul of the couple in all elements of the day. Favorite settings for micro-weddings are often the boutique hotels and luxury resorts of the Napa Valley and Sonoma County, small winery settings and, on occasion, private estate settings. Stafford and her team take care of every last detail, coordinating with the venues to achieve the highest level of experience.
Oniki Hardtman, founder and creative director of Oh Niki Occasions and Petite Palm Beach Weddings, says her specialty is the destination micro-wedding from "head-to-toe, start-to-finish." And Hardtman's definition of "destination wedding" can mean couples who come to Palm Beach from outside the area or quasi-local couples who want a "destination" experience close to home. Though known primarily for her events in South Florida and the Caribbean, Hardtman is prepared to provide experiences anywhere, from Africa to Italy, Bermuda to Costa Rica.
A graduate of NYC's Fashion Institute of Technology, Hardtman enjoyed a 20-year career in the fashion industry, traveling the globe as a designer for several notable corporations. In 2015, she decided to put her creative talents toward designing events large and small, producing events for discerning clientele from around the world: weddings and elopements, not-for-profit galas, business conferences, corporate retreats and social occasions.
In creating the perfect micro-wedding, Hardtman tries, as much as possible, to keep all the elements of a traditional wedding in her packages. She has found that clients who have settled on a smaller event still desire an experience that fully honors the importance of this milestone day. Offered are all the traditional bridal preparation services, photography, music, florals, wedding cake, etc. Micro-wedding and elopement venues range from boutique hotels near the beach, presidential suites in larger hotels, restaurants, local "villas" and, in some cases, the client's backyard. Post-ceremony activities can include a cocktail hour, dinner, special dances and cake cutting. And in lieu of a dance reception when it's a small group, many couples organize an after-party at a nearby hotel or club. There are infinite ways to celebrate!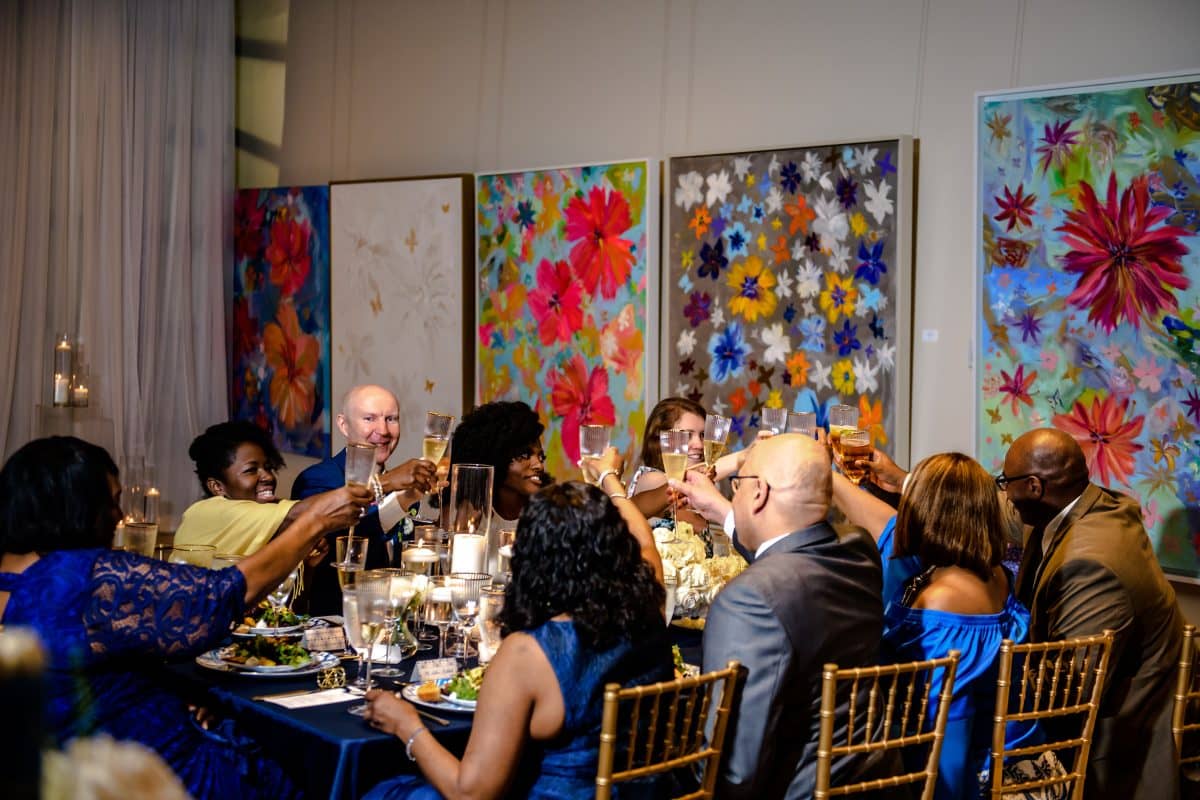 Andrew Roby of Andrew Roby Events is not only a passionate event planner but a proud Army vet. His event portfolios speak for themselves. His events are full of bold color, personality, romance and beauty with a splash of fun and intrigue. Born in Miami and a world traveler, Roby has seen the best the world has to offer, and he brings these visions to wedding planning.
Roby loves doing micro-weddings and puts the full force of his creativity into making small events as magical as large affairs. "No cutting corners" is his motto. Micro-wedding packages include all the important elements of the day with numerous add-ons and upgrades available as desired by the client. Roby's micro events are for groups of 30 to 50 and can be done in a wide range of settings in the Washington, D.C., area, including museums, the D.C. War Memorial, restaurants, and in clients' homes and backyards.
Micro-weddings are a wonderful option for many couples. They offer a level of intimacy that keeps the day focused on the couple, and they are considerably more cost-effective. Many also find smaller events are more in keeping with their values and accommodating of their life situation. Micro-weddings are here to stay!