Ever meet someone and

think, "This person is going to change the world!"? Spend 10 minutes talking to Zozibini Tunzi, the reigning Miss Universe (2019), and you'll immediately get the sense that this South African queen is the real deal. Her genuine commitment to humanity gracefully pours right out of her.
Not only is Tunzi the first Black woman from South Africa to win the Miss Universe crown, but she was also the very first contestant ever to win the title wearing her natural hair, illustrating an unprecedented shift away from European beauty standards.
During the Miss Universe pageant, Tunzi was asked: "What is the most important thing we should teach young girls today?" 
Her eloquent answer clearly set her apart from any other contestant, wowing the judges and audiences from around the world. "I think the most important thing we should be teaching young girls today is leadership," stated Tunzi. "It's something that has been lacking in young girls and women for a very long time, not because we don't want to, but because of what society has labeled women to be.
"I think we are the most powerful beings in the world and that we should be given every opportunity. And that is what we should be teaching these young girls: to take up space. Nothing is as important as taking up space in society and cementing yourself."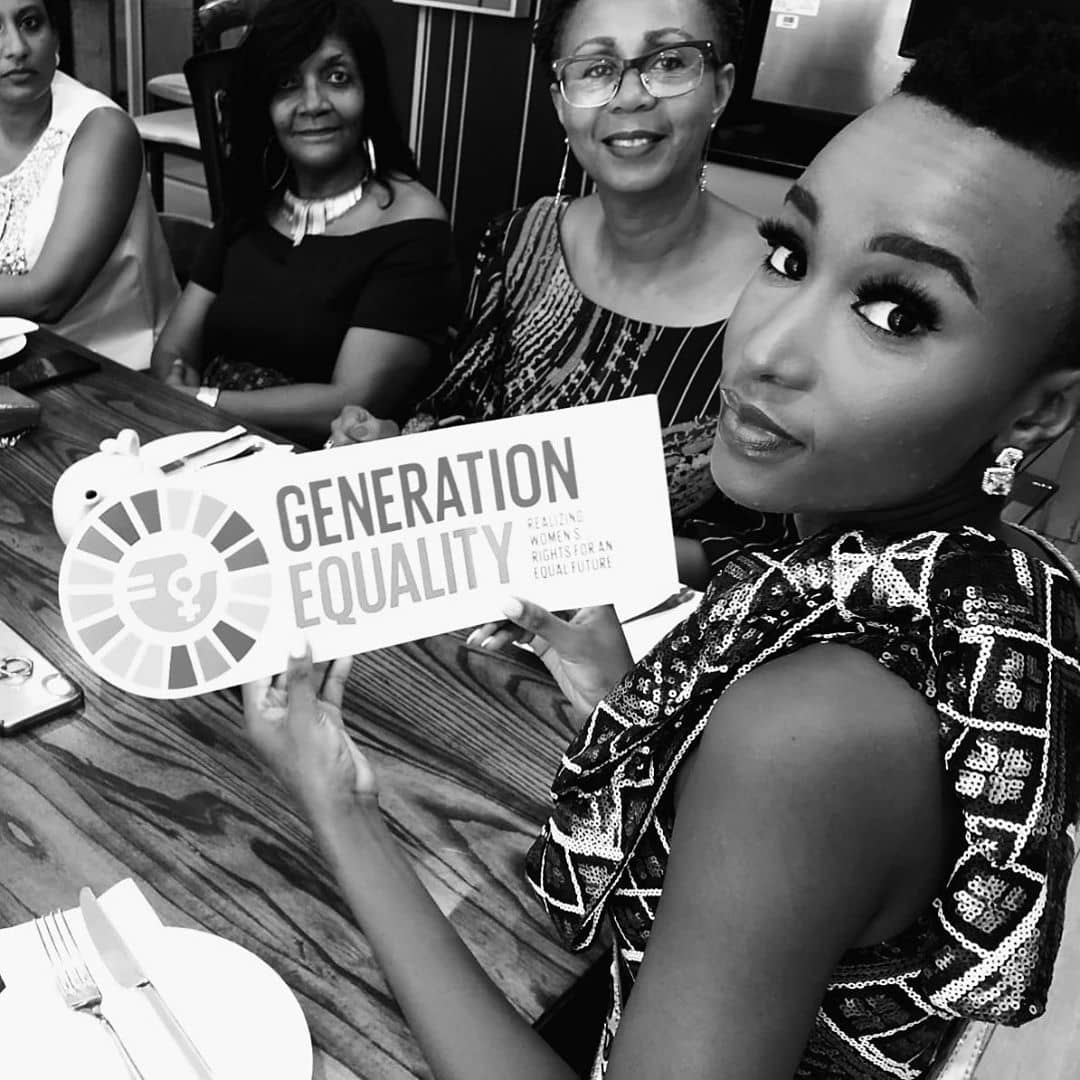 Tunzi has been hard at work using her pageant title to help with the pandemic crisis. "Being Miss Universe comes with the privilege and opportunity to be able to reach different people from across the globe," she says. "With that knowledge, we have started a campaign, #UniverseUnited. The purpose of the campaign is to create a global, virtual community where people can see that they are not alone. We are all fighting the same fight right now, and we need each other more than ever."
The campaign creates a positive space where people can share how they feel, their successes, and even their struggles during this time of uncertainty.
"We use this platform for information and knowledge in the form of live Instagram and Zoom interviews with people from different professions," Tunzi says. "From entrepreneurs, psychologists, writers, and UN women representatives, just to name a few. It's been a successful campaign and a privilege to be a part of it."
Tunzi's tireless passion for activism and innate desire to inspire young women is evident in this interview she did with SIGNATURE BRIDE. 
Susan Hornik: At your crowning, you said, "I grew up in a world where a woman who looks like me, with my kind of skin and my kind of hair, was never considered to be beautiful." Growing up in South Africa, what were the messages that you got about the standards of beauty, and what was considered beautiful?
Zozibini Tunzi: I think South Africa, like many parts of the world, has been exposed to Western standards of beauty. Fair skin, soft hair, small waist, and small hips, to mention a few. You see it in every magazine and television show. Those are not common traits for a majority of African women, and because of that many people have felt, and some might still feel, marginalized.
SH: During the competition, you were advised to wear a wig. Why did you reject that suggestion? Why was it important for you to keep your hair natural during the competition?
ZT: Every hair type is beautiful, including wigs—including mine. My kinky, coarse hair deserved to be there as much as every other hair type. Having my natural hair for the competition was not a strategy. I have had natural hair for almost four years now, and I was not going to change it because I was going into a beauty platform. My hair is beautiful as it is, and I felt like it was worthy and enough.
SH: You are an advocate for natural beauty and encourage women to love themselves as they are. Define beauty in your eyes.
ZT: Beauty is subjective; there's no measurement for it, and there's no one way to be beautiful. Because of that, anyone can be beautiful. I don't think we can define beauty because that is where beauty stereotypes are born. Beauty can be anything—it comes in every shape, form, color, and size.
SH: What advice can you offer brides who want to showcase their natural beauty, thus instilling pride in their hair and skin color?
ZT: I think the first step of instilling pride in our hair and skin color is to believe wholeheartedly that we are beautiful and worthy. It is very difficult for others to see our beauty if we do not see it in ourselves first. This is not something that happens overnight; you must work on it every day. Wake up every morning and face yourself in the mirror. Self-affirm and remind yourself that you are beautiful, smart, lovable, and worthy. The world is already so harsh on who we are as individuals; we do not need to be tough on ourselves, too.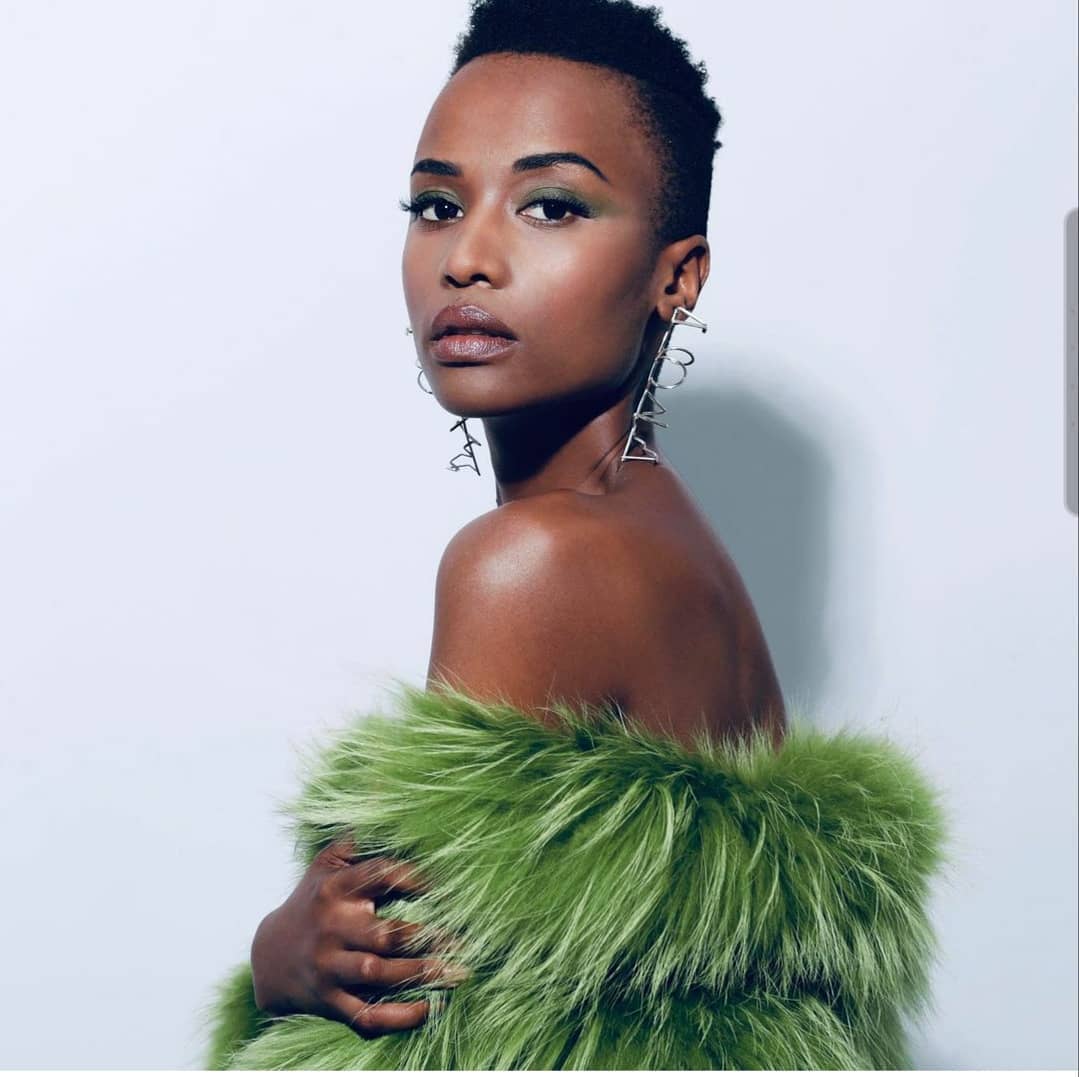 SH: What has your victory meant to the pageant world in terms of diversity and to women of color?
ZT: Inclusion and representation matters, and I think the world is now waking up to that realization. I know my win mattered to a lot of people who have felt previously that they cannot enter the competition. I know before I won, a lot of people said my hair could be the reason for not winning. In 2017, when Miss Jamaica, Davina Bennett, who did the competition in her natural afro, came in third place, there were comments from people who said she would have placed much higher if she didn't do it with an afro. Now that people see it is possible to do it with your natural hair, it opens a possibility of knowing we can do it however we look. And this is speaking not just about hair, but anything considered "unusual" in the past.
SH: You are one of five black women who have been crowned in the pageant world. What does that mean to you?
ZT: It is an honor to be a part of that. All of us being there shows that you do not have to have only one seat for a Black person at the table, you can have more. It opens a lot of possibilities and shows young Black children that their dreams too are valid.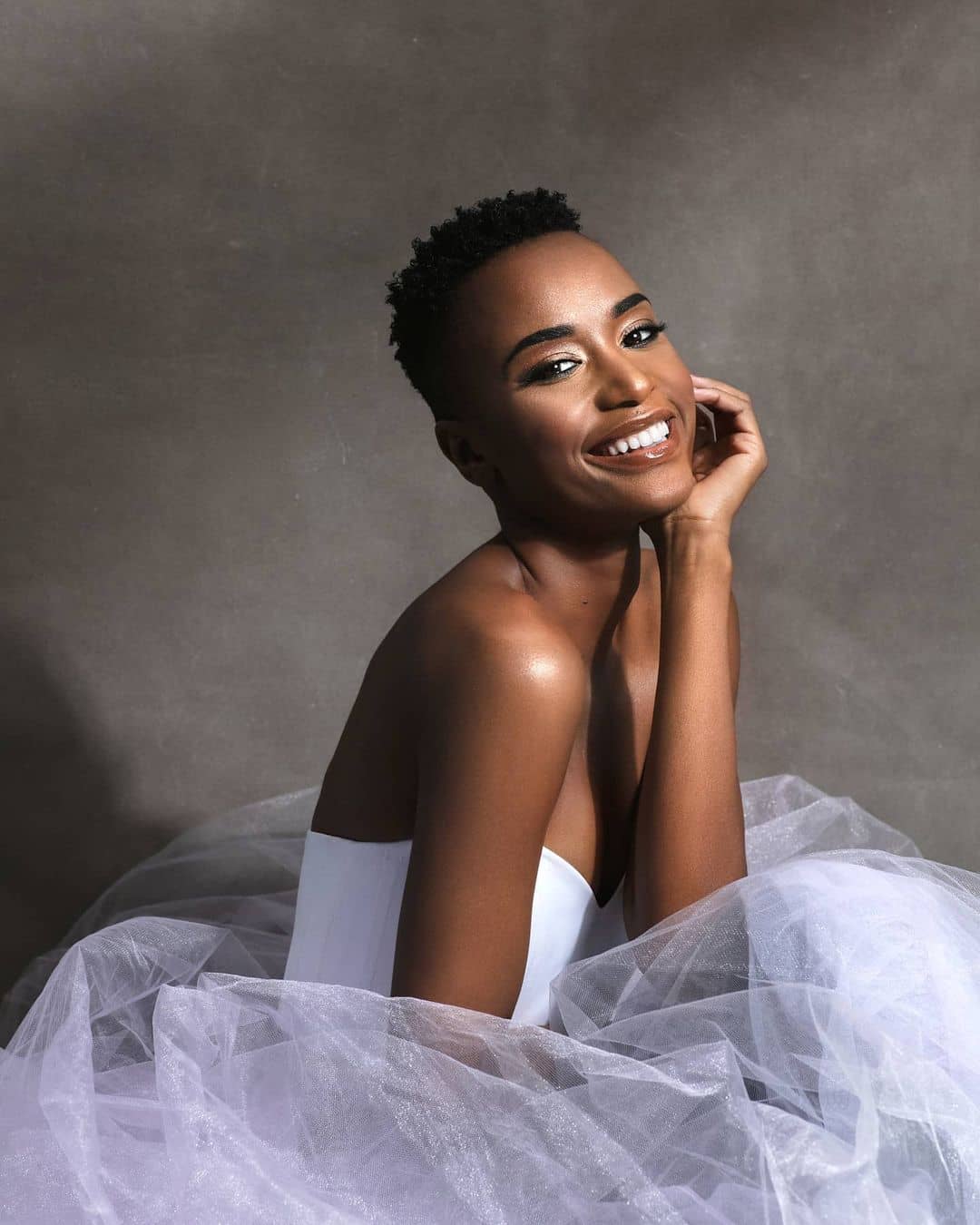 SH: Tell us about your activism against gender violence and gender equality.
ZT: Awareness is a very important part of social change. The louder we scream about social issues, the more the world cannot continue to ignore us. As someone who has a large number of followers and a voice that people are willing to listen to, I feel it is my responsibility to use my platform and voice wisely, and responsibly to help fight social injustice. I am very passionate about women, their rights, and their safety. I am in a position where people are willing to listen when I speak, and I choose to use my voice to echo the struggles and sometimes successes of women.
SH: You are working with the United Nations on their "HeForShe" campaign. 
ZT: When I was Miss South Africa, I was introduced to the #HeForShe campaign by Standard Bank. My messaging about gender equality has always been that we need to include men as well, because it's not just a woman issue, it's a global issue, and everyone should be involved in ensuring that we close the gap between all genders. The #HeForShe campaign stands exactly for the same thing.
SH: What has the win meant to you? 
ZT: This win has meant a lot to me. When I went on this journey to Miss Universe after winning Miss South Africa, I soon realized that my win wasn't just about me. South Africa had won; girls and women all around the world who relate to my story won. It was a victory for many people and brought back hope into many hearts that dreams are possible, regardless of what you look like, what your situation is, or where you come from.
SH: You graduated from the Cape Peninsula University of Technology with a bachelor's degree in public relations and image management in 2018. Are you working in the PR field now?
ZT: No, I am not working in the PR field right now. My full-time job is being Miss Universe.
SH: What message(s) or lessons do you feel we should be teaching young girls today?
ZT: We should be teaching young girls to never shrink themselves. We should let them know every chance we get that it is OK to be ambitious and competitive. They must take up space wherever they find themselves in the world and be unapologetic about it.
SH: What do you envision for the future women of our world?
ZT: I envision a world where women are safe and don't have to constantly fight for the right to be alive. A world free of abuse and femicide. Where we do not always have to prove more than the next person that we are enough and worthy of leadership positions. I envision a world where all genders are equal.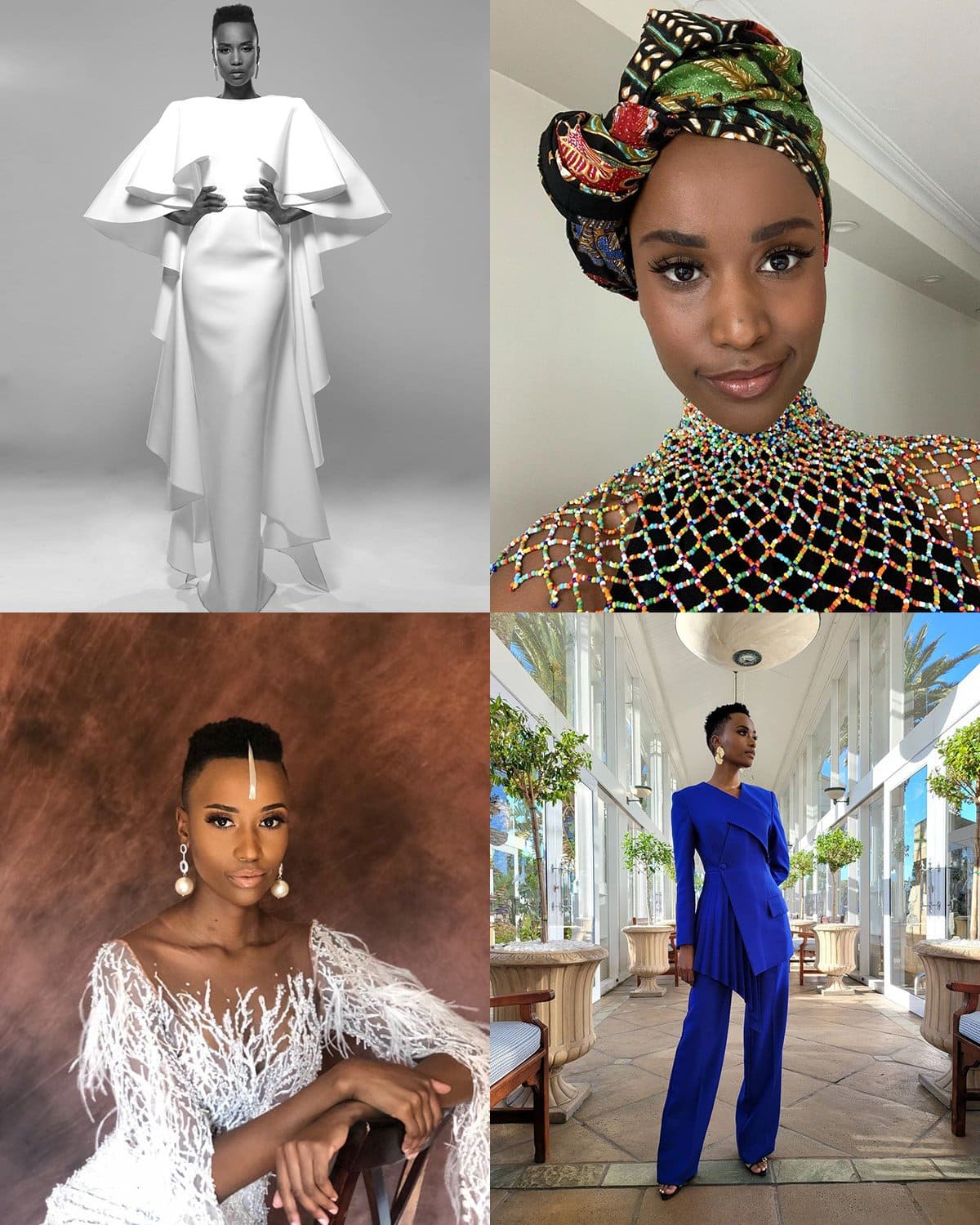 SH: What's something only your family/friends know?
ZT: I am a little messy and a crybaby.
SH: Favorite food?
ZT: My favorite is umngqusho (samp and beans) and a nice beef or oxtail stew.
SH: Favorite travel destination?
ZT: I love sitting on the beach. If possible, I would love to have a major tour of the islands of the world. At least be able to say I've seen half of them.
SH: What are your goals/dreams?
ZT: My biggest dream is that when I die, I must leave this world knowing that I served my purpose in life, that my existence made a difference in somebody's life. I do not want to live a life that just serves me but was of service to others as well. My other goal is to create a happy and comfortable life for my family. I want us to have all the things we've never been able to have before. I want my children to have a better life financially than my parents had, one better than the one my sisters and I had.
SH: Hobbies?
ZT: I love reading, playing board games, and road trips with family and friends.