Amanda Orso, party maven

about town (NYC, that is), spins a new holiday tradition, "Momsgiving," a celebration of motherhood in all of its manifestations, while bringing together women from all walks of life, each replete with their unique and valuable life experiences.
Orso, who is popularly known as "

The High-Low Hostess

," has played party stylist at events drawing A-list guests P. Diddy, Fergie, Below Deck "Captain Lee" and Caitlyn Jenner, to name but a few. She has also curated high-end custom gift bags for the likes of Housewives and reality stars Phaedra Parks, Vicki Gunvalson, Taylor Armstrong and Jill Zarin, as well as Hannah and Jon Gosselin and Tiffany Trump.
Planning parties has been one of Orso's lifelong passions, so it is no surprise she has made a career of it, coordinating top-tier social events in New York and L.A. for over 15 years. Armed with years of entertaining expertise and a penchant for incorporating fashion elements into her tablescapes, Orso offers clients valuable guidance for transforming at-home entertaining into stylish, multisensory experiences for any occasion. Her "High-Low" is all about combining high-end concepts and touches alongside comfortable, feel-good "low-end" elements, many of which might be right from your home or neighborhood thrift shop.
So, what exactly is Momsgiving? According to Orso, who coined this phrase in the context of the Mother's Day holiday tradition, Momsgiving is a day, a party or a casual gathering between close friends for celebrating motherhood in all of its variations.
Orso envisions a "village" of mothers who support one another and each other's children, their ambitions and dreams. "The 'mothers' in your life might be close friends, aunties, stepmoms, neighbors and other people who provide for your household and life in one way or another," she says.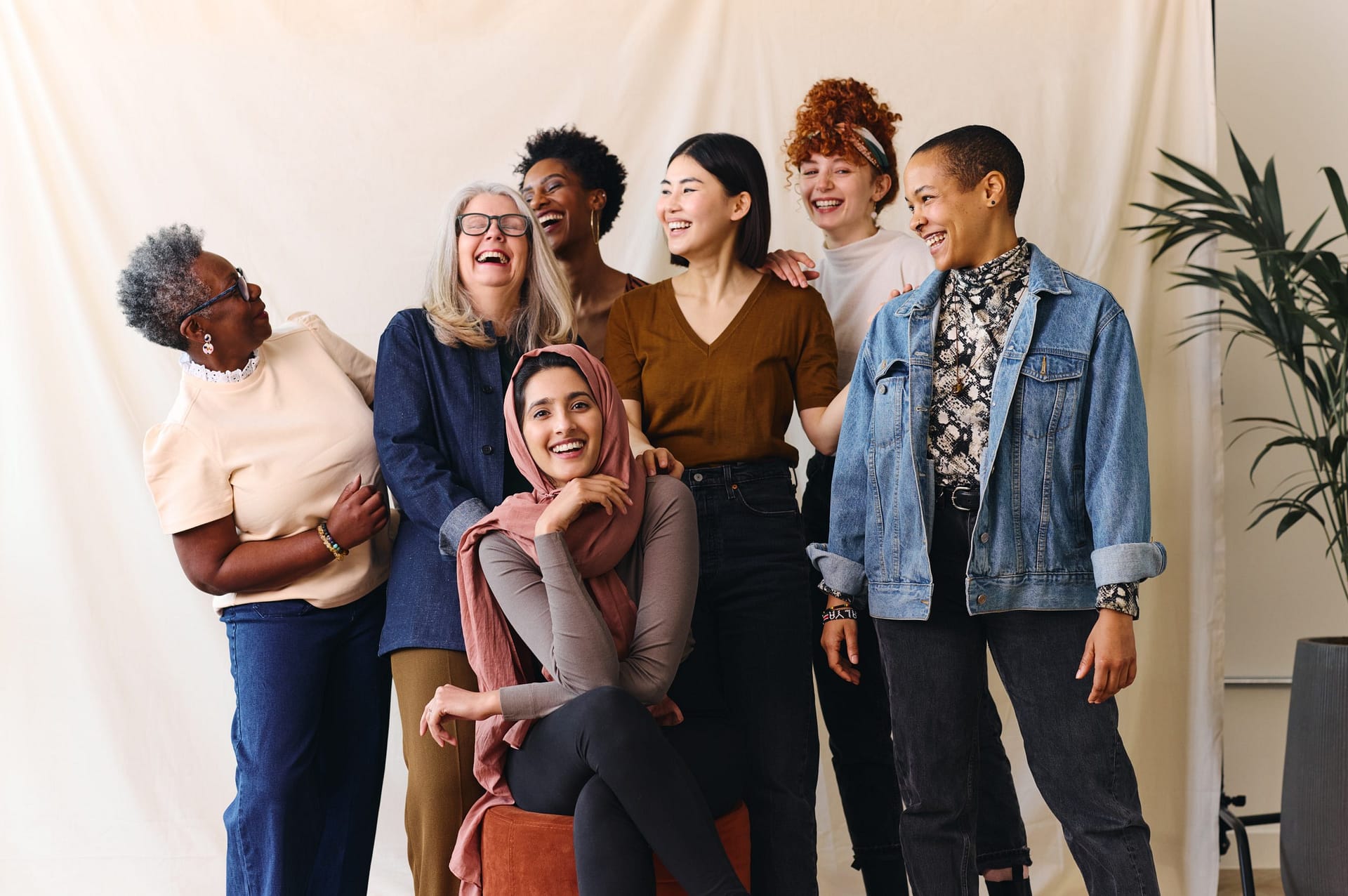 In this newly minted Momsgiving tradition, Orso also believes in embracing dog moms, women who are working to conceive, those who have longed for a child and women who care for others—be they in the medical profession or teaching—and women who are lacking motherly figures in their lives due to loss or strained family relationships. "It 'takes a village,' as they say, to raise a child," Orso notes, "and mothers of all kinds are truly needed to take care of people of all ages."
Orso describes Momsgiving as being wholly about women supporting women and revering that motherly instinct and the intrinsic female skills that make the world go round!
The question then becomes, how do we make the Mother's Day holiday more inclusive and meaningful for all the important women in our lives? In addressing this issue, Orso has no shortage of creative solutions, many of which she has tested out on her own circle of besties.
In putting together a Momsgiving party, Orso suggests starting off with a theme that can act both as the focal point for the event's visuals and edibles and also has intrinsic meaning relative to that which is being celebrated, namely "motherhood." Some themes she loves and has used at her own parties include the following.
Pearly Girls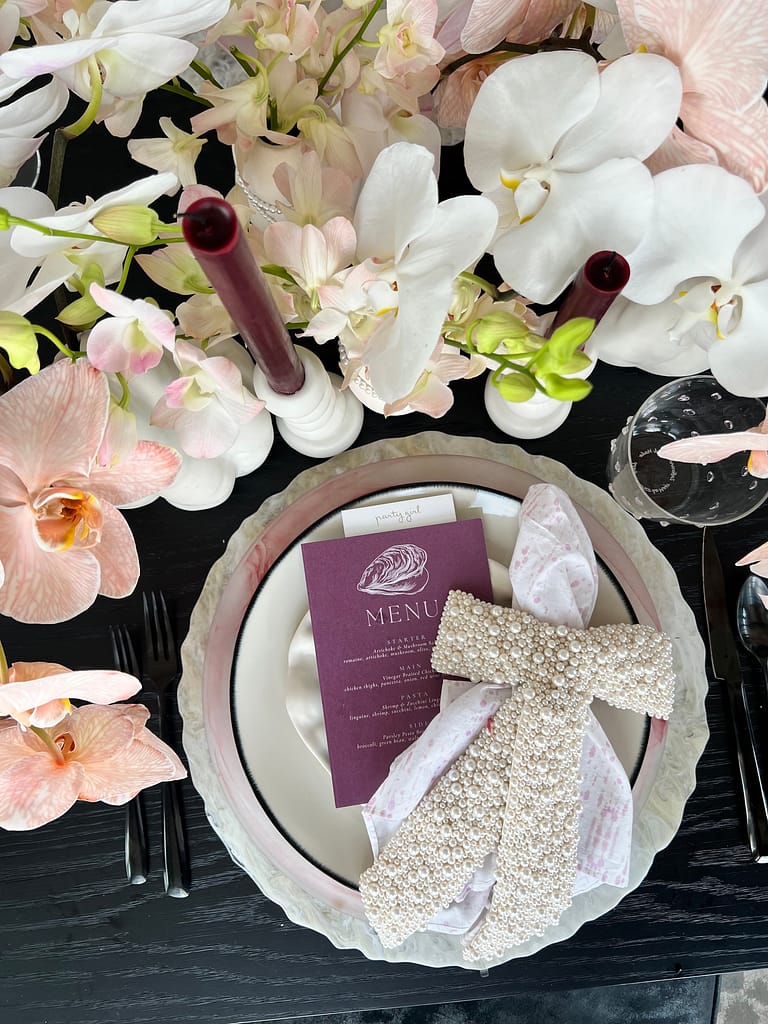 Pearls are quintessentially feminine in nature: curvaceous, radiant and soft to the touch. They are born from the process of an oyster covering small irritants that work their way into its shell with aragonite and conchiolin, which in turn create a composite material commonly (and fittingly) known as mother-of-pearl.
The symbolism of this process seems apropos to all that women do in smoothing out the conflicts and challenges in their lives and the resultant beauty they bring to the world. Also symbolized in the pearl are the notions of perseverance, rarity and value, important themes of motherhood.
In putting together the décor for the Pearly Girls gathering, Orso uses tasteful shell detailing with sophisticated pearl accents, including a pearl bow barrette that functions both as a napkin ring and a lovely keepsake favor. Also included on the table are pearl-accented vases from CompletedWorks, though a DIY version could easily be created with simple vases and strings of faux pearls sourced from a local craft store (or thrift shop). Menus at each place setting include verbiage about the symbolism of the pearl, with special deference to all the variations of mothers attending the celebration.
Holistic Girls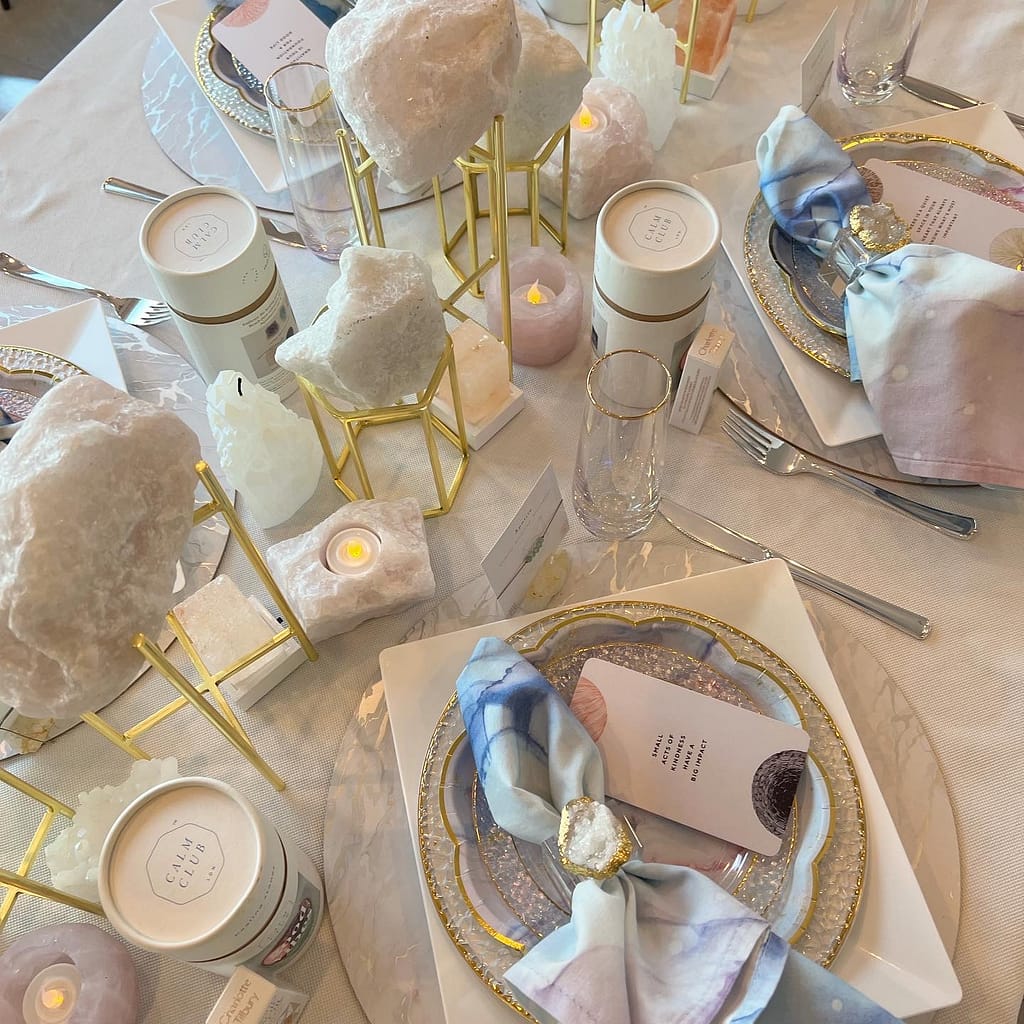 Sometimes mothers need a bit of their own medicine, namely some of that TLC they are always doling out. One of Orso's favorite parties is centered on this theme. In it, guests arrive at a space decorated in periwinkle and lilac, with soft candlelight and beautiful crystals sprinkled throughout the room and adorning the tabletop. All the "moms" are gifted soft fleece PJs to slip into from the get-go. The plush PJs elevate everyone to the same astral plane as it relates to comfort and appearance, and from there the ladies enjoy foot massages and having their auras read by Mama Medicine, all while sprawling luxuriously on the couches and floor.
Throughout these activities, everyone is enjoying mimosas, after which a colorful and nutritious brunch is laid out. Following their spa treatments, moms transition to a beautifully set table to dine and kibitz. Before them are fragrant florals and vibrant place settings, and sprinkled around the table are cards with spiritual writings designed to encourage thoughtful conversation. And as is always the case with Orso's events, there is a lovely and heartfelt takeaway intended to evoke fond memories of the gathering. In the case of this gathering, Orso gifted everyone an "intentions bracelet," each bearing a piece of rose quartz, which symbolizes unconditional love. The perfect gift for all moms.
Cheeky Girls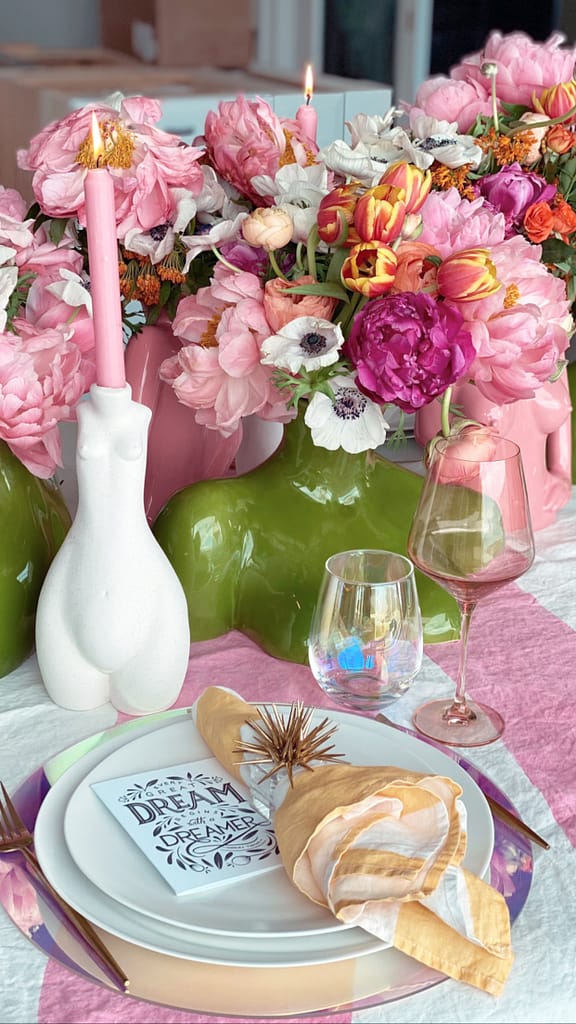 This slightly bawdy theme is perfect for a younger group of moms, though some may have just the right auntie to join this theme party, as well. The "cheeky" table setting is designed to represent moms in all their various shapes, forms, sizes and colors. Included are body part vases from Anissa Kermiche; other fun variations representing the female form can be found at Urban Outfitters, Walmart and Amazon. Continue the theme with more fun details like the Tatas Notecards from Dear Annabelle, which could be used as invites or menus. Orso's go-to on-theme party favors for this event: chocolate "boob truffles" from Dada Daily and one-size-fits-all stretch lace thongs, folded into flowers, used both as a napkin ring and favors. Yes, moms need a large dose of humor, and this party has that covered.
Whimsical Girls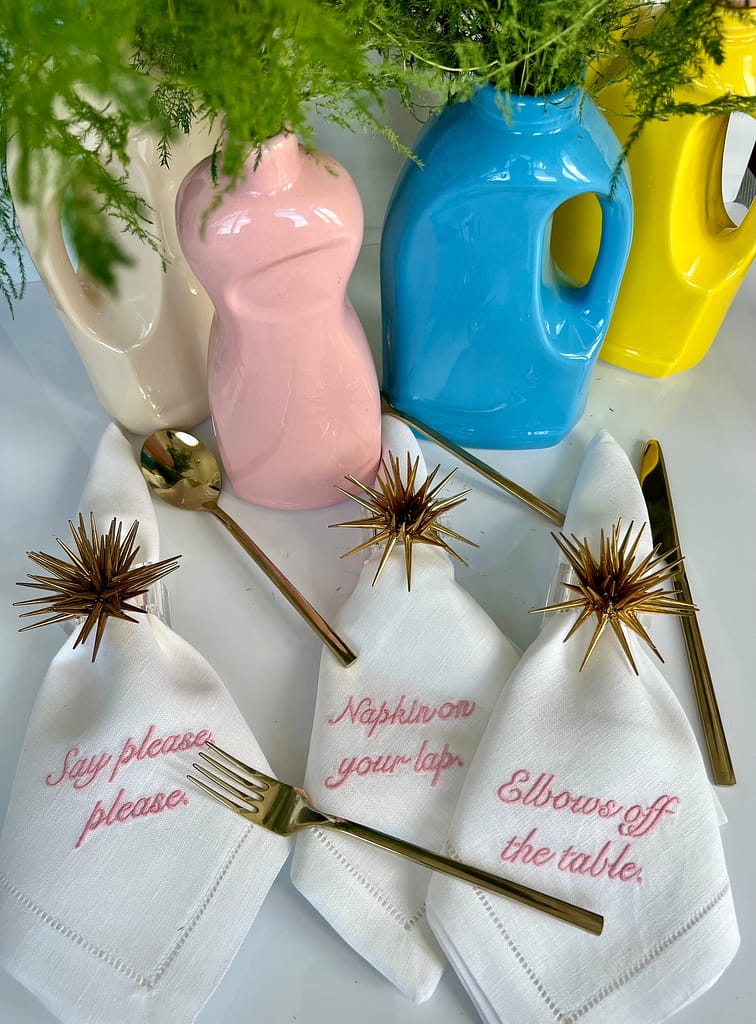 Orso's concept here: Take the mundane and make it glamorous! Some inspiration: cleaning product vases from Lola Mayeras with colorful ceramics in the shapes of laundry bottles, dish detergent bottles, plastic cleaning gloves and more. This is a whimsical way to pay homage to many of the chores of motherhood. Similar vases can be found at a lower price point through Made Trade. But to be really economical, consider saving your own used bottles and decoupaging them in colors of your choice. Fill these vases with flowers and make them a giveaway at the end of the event.
The Miss Manners Napkins from Chefanie look fantastic on the table. Each one is embroidered with words of wisdom you might expect any mom to mutter at dinner: "elbows off the table," "chew quietly," "napkin in your lap," etc. And as a party favor, send the moms home with "functional chocolate" from The Functional Chocolate Company. Note: Cacao is perfect for treating aches and pains, stress, sleep deprivation, libido and more.
More Momsgiving Party Hacks
• Decorate with framed photos of all your "mom" friends and have these double as end-of-evening gifts.
• Organize a potluck dinner or have everyone chip in for a private chef!
• Plan an outing or activity that will precede your party. For example, flower arranging, a painting class, foot massages, a guided meditation, etc.
The great thing about Momsgiving is that you can celebrate it whenever you like and however you like! Maybe it needs to coincide with Mother's Day to ease the sadness of some or to celebrate the awesomeness of everyone. Maybe you do it in the summer or between holidays in the late fall. The need for female bonding is ever present, so all of these options are perfect. Choose whatever is right for the many "moms" in your life!