Ready, set, daydream about… a European honeymoon. A wine country honeymoon. A warm-weather honeymoon. And ideally, a honeymoon that doesn't entirely break whatever of the bank is left after the wedding. It seems impossible that you could have all four, but in Porto, the picturesque wine capital of Portugal, you can. A coastal city in northwest Portugal known for its stately bridges and Port wine production, Porto offers couples a historic culture, river views and endless photo ops.
The second-largest city in Portugal, Porto is an ancient and colorful city, imperfect and crumbling in places, yet full of character. The city center is a UNESCO World Heritage site, with centuries-old houses nestled into the hills overlooking the Douro River. The river walk, starting at one base of the landmark Dom Luís I Bridge, is busy with outdoor restaurants and street performers, wine bars and street vendors. The city center is a fascinating jumble of restaurants, townhouses, shops and hotels. Here you will find winding cobblestone streets and steep step-streets that zig-zag dramatically into the hills. The Western metropolitan area extends all the way to the Atlantic.
Situated in the extreme southwest of Europe, Portugal's mild climate, sunshine and 850 kilometers of beaches bathed by the Atlantic Ocean make it the perfect honeymoon destination.
This is a country that has the oldest borders in Europe, with and exceptional range of different landscapes, lots of leisure activities and a unique cultural heritage where tradition and modernity blend together in perfect harmony.
Porto's charm is that it's not strictly separated into social or economic classes. You can step out of a luxury boutique hotel, go into a humble greengrocer for plump summer cherries and snack on them with a bottle of Vinho Verde (effervescent green wine) at a chic plaza café. Take a photo next to a fountain, pause at a beautiful Baroque church, sneak around a corner to avoid wandering Gypsy musicians, and you may find yourself at a surreal glowing summer street fair. Google Maps can be a gamble here, since some of the most direct pedestrian routes in the city lead you up endless flights of steps rough-hewn into the hillsides. The lesson to be learned: Don't hurry. The days are long here, the nights equally so, and nobody's on a strict timeline. (With one exception: People really make a point of getting to the best sunset-viewing spots on time because the sunsets here are spectacular.)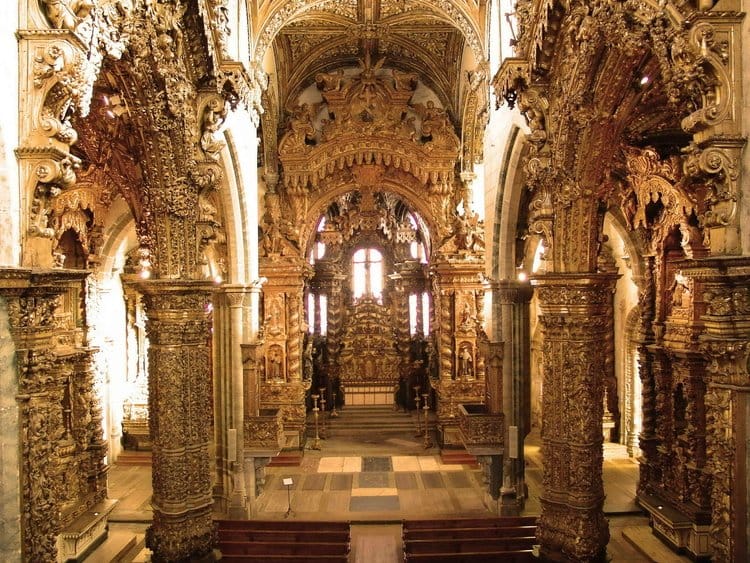 What to See
Rua de Santa Catarina: This pedestrian street is in the heart of old Porto, stretching to the foot of the main bridge crossing the Douro River. Accommodations tend to be guesthouses, small pousadas and AirBnBs. If you stay here, you'll have the best of shopping, dining and people-watching. Don't miss the landmark Majestic Café, stunningly decorated in Belle Époque style.
Zona Ribeirinha: This is the epicenter of UNESCO-anointed history — starting at the Douro riverbank and graduating in a disorderly manner up the hillside. Outdoor cafés line the river walk — yes, they are touristy, but they're also overflowing with ambience and many have perfect views of the double-decked metal arched Dom Luís I Bridge. Near the foot of the bridge, there's an auto-tunnel with a rather intimidating pedestrian path that pops you out in the residential part of Rebeira. From here, it's all tumble-down old townhouses and step-streets, and intriguing, yet seedy, cobblestone alleys.
Vila Nova de Gaia: You would assume this to be the other side of Porto's Douro river walk, connected by the iconic Dom Luís I Bridge — but no! It's an entirely different city, which looks so like Porto that you can only tell the two apart by looking for river cruise ships. They all dock on the Gaia side. Set back from the river walk, with signs advertising their presence, are Gaia's true claim to fame: the major tasting rooms and winemaking facilities of Portugal's great port houses (locally known as "caves"), from Croft to Taylor to Sandeman. Many dependable European hotel chains, including Ibis and Mercure, have properties in Gaia. However, the standout property is the Yeatman.
Foz do Douro: If you want sea breezes and beach sophistication, bypass historic Porto in favor of this outlying district. Here, the bars and cafés front the Atlantic Ocean, not the river. There's a beachfront garden, Jardim do Passeio Alegre, and an outdoor concert shell. The hotels here are small, comfortable and unassuming.
Leixoes/Matosinhos: Porto's new ocean cruise port is Leixoes, in the town of Matosinhos. If you're doing an Atlantic cruise stopping in Porto, this is where you'll disembark. It's a laid-back beach city with surf schools galore and a sun-loving culture. Be advised if you're looking at overnighting, though — this isn't a village. There are skyscrapers across the street from the beach, not thatched huts.
Language: Portuguese is the main language. However, many natives speak English, French and Spanish.
Getting There: The Francisco Sá Carneiro Airport is located outside the city centre. Portugália and TAP have daily flights to/from Lisbon. There are also low-cost carriers, such as EasyJet and Ryanair, with non-stop service to London, Madrid, Paris, Frankfurt, Amsterdam and Brussels. Note that there is a left-luggage facility on the third floor (€2 per day for a 10kg bag).
Getting Around: Despite narrow alleyways, steep hills and cobbled streets, cyclists are ubiquitous in Porto, and there are some particularly great rides along the Douro on dedicated bike paths from the Ribeira to Foz or from Vila Nova de Gaia to Afurada and beyond. Porto's fairly new metro system provides speedy service around town. The central hub is Trindade station, a few blocks north of the Aliados corridor. Three lines — Linha A (blue, to Matosinhos), Linha B (red, to Vila do Conde and Póvoa de Varzim) and Linha C (green, to Maia) — run from Estádio do Dragão via Campanhã train station through the city centre, and then on to far-flung northern and western suburbs. Linha D (yellow) runs north–south from Hospital São João to João de Deus in Vila Nova de Gaia, crossing the upper deck of Ponte de Dom Luís I. Key stops include Aliados and São Bento station. Linha E (violet) connects Linha B with the airport. Metro trains run from approximately 6 am to 1 am daily.