While camping may have

been a honeymoon activity suitable to only a select few in the past, the recent rise of glamping has elevated nights in the outdoors to a posh pastime with a level of luxury worthy of any bride, from naturalist to princess.
"Glamorous camping" can offer accommodations ranging from safari-style tents and palatial yurts to small trailers and tiny houses, some decked with soaking tubs and chandeliers, and others outfitted with rain showers and fine linens, but one thing is consistent: Sleeping bags are nowhere to be found. Some glampers visit campgrounds with resort-like amenities and scheduled activities while others book full-service personalization of tents pitched in their own favorite corners of the world, miles from the nearest neighbor. There's truly no limit to what can be customized with a glamping getaway, and with an emphasis on the outdoors and natural social distancing built into its very design, it's an ideal honeymoon (or getaway) for a pandemic age. Check out these top honeymoon-worthy glamping destinations across the country and start vision boarding your own amazing adventure.
Wine Country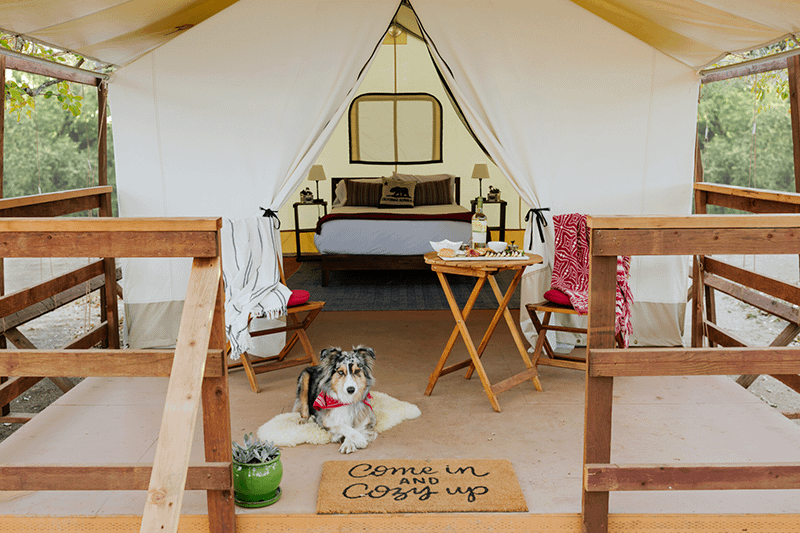 Torn between a glitzy wine-tasting week and a more outdoorsy camping escape for your honeymoon? Combine them with a visit to Wildhaven Sonoma in Healdsburg, California, where you can glamp in comfortably outfitted safari tent cabins among the countless vineyards of the region. Spend your days touring wineries and bringing back bottles of your favorite sips for evenings around the fire pit or hang around the camp and enjoy private river access when not lazing about in hammocks. (Pro tip: You can still have a bottle by the fire even if you don't leave camp—the on-site shop sells local wines, among other snacks and beverages, adult and otherwise.) Choose the Riverside Tent Cabin for maximum privacy and honeymoon ambiance. These larger tents are removed from the main camp, come with unobstructed river views, and are adorned with charming twinkle lights for extra mood-setting. 
Ozarks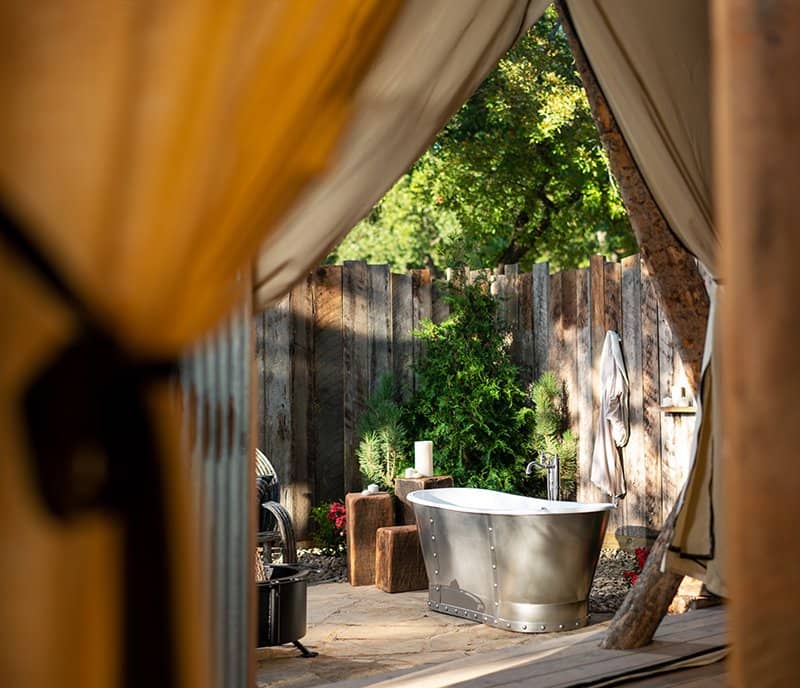 If your ideal vacation is best spent by the water, but coastal towns and party beaches aren't your cup of tea, you may already be familiar with Big Cedar Lodge in Missouri's Ozarks, where fishing, boating and other water sports take center stage at one of the top marina resorts in the country's interior. New to the property is Camp Long Creek, with an array of cabins, huts, and glamping tents along the shores of Table Rock Lake. Honeymooners will definitely want to reserve a two-person Glamping Unit, featuring an interior chandelier and a private outdoor patio space complete with a personal fire pit and an outdoor soaking tub under the stars. 
Montana
Winter brides who adore the season should consider heading to Montana for the ultimate snowy glamping experience, guaranteed to inspire plenty of snuggles and cuddles between outdoor adventures. ROAM Beyond's two Montana locations are brand new: Whitefish camp opened in December 2020, and Glacier National Park camp launched mid-January of this year. Both offer quaint camper accommodations in off-the-grid locales where snowshoeing, hiking, skiing, and fat-tire biking dominate days spent in glittery white landscapes. But don't worry, your nights will be plenty toasty with heated bedding, outdoor fire pits, and even designated areas to dry your clothes after a day in the snow. (Yes, there's plenty of hot water for showers in private bathrooms, too!)
Pacific Northwest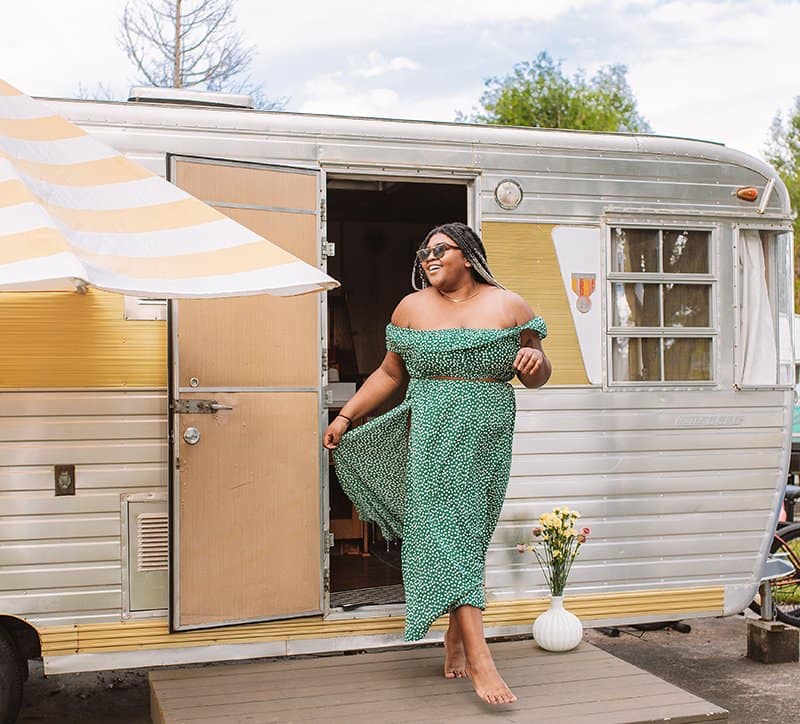 Take wine appreciation in a less typical direction with a visit to Oregon's Willamette Valley, where more than 500 wineries helped land the Wine Enthusiast 2016 award for Region of the Year. Book a romantic stay at The Vintages, where you can choose from 23 styles of nostalgic campers and trailers, from Airstreams to Shastas, some as old as your grandparents. Splurge on the camp's newest trailer, the 1956 Spartan Royal Mansion, to indulge in a king-size bed, outdoor soaking tub, and a complimentary pair of bikes for exploring the region. To seriously personalize your honeymoon stay, peruse the property's range of add-on packages, ranging from campfire kits to the Flock it to Me, a delivery of a flock of lawn flamingoes to your site along with some celebratory sparkling wine. 
Catskills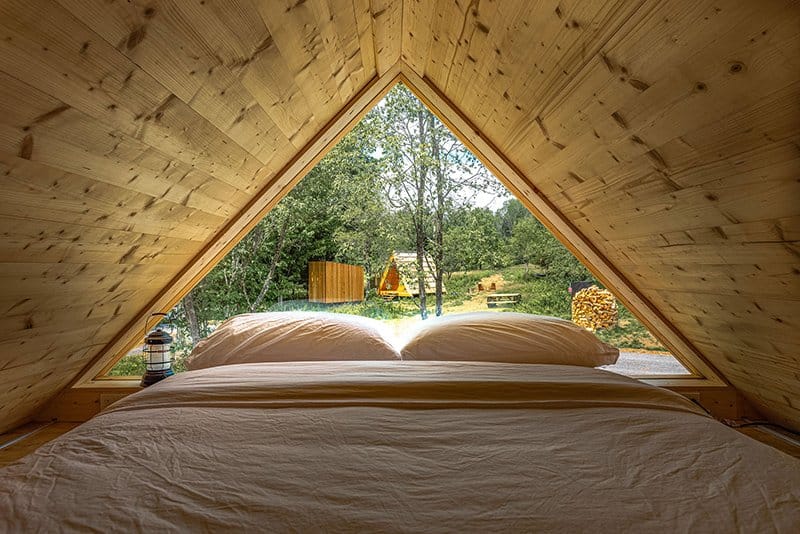 By now, you may be familiar enough with the Danish and Norwegian tradition of hygge—that most ultimate cuddly good feeling that comes with the coziest atmospheres—and now you can extend this notion to a glamping honeymoon by staying in a Lushna at Eastwind Hotel & Bar in New York's Catskills. This Scandinavian-inspired approach to glamping brings perfectly picturesque wooden A-frames with full window walls for epic views from cushy interiors. And new Lushna suites boast added upgrades to your stay with more space, including a romantic writer's nook, outdoor shower (in addition to your private bathroom with windowed shower), fire pit, and hammock. This one is especially ideal for city brides from New York or Boston, clocking in at about a three-hour drive from each by car.
Mid-Atlantic Forest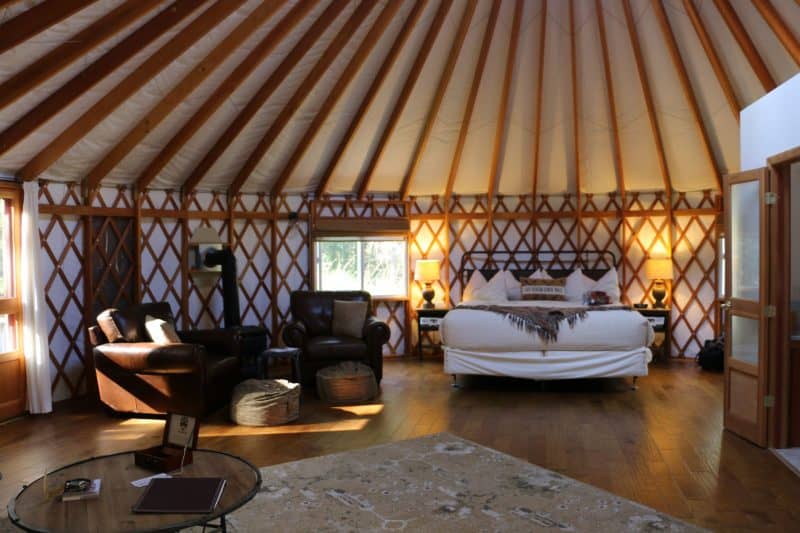 While American glamping may first have become popular in the West, Savage River Lodge brings fun to the forests of the Mid-Atlantic with its yurt village in Frostburg, Maryland. The extra-large yurts found here feature king-size beds, separate bedrooms and sitting rooms, and fully functional bathrooms inside, with private decks for taking in the towering trees outdoors. In addition to honeymoons, Savage River Lodge is no stranger to hosting weddings, too. Currently, taking COVID-19 considerations into account, the property is primarily booking only its Elopement Package, which includes ceremony, officiant, flowers, mini cake, and a complimentary night to start your honeymoon properly (champagne and chocolate-covered strawberries included, obviously!). 
National Parks and Beyond
With nine locations at national parks across the country, Under Canvas can host your honeymoon at many of the nation's most popular natural hotspots, including the Grand Canyon, but you're not limited to its permanent camps. For an ultra-exclusive honeymoon, you can arrange a glamping package just about anywhere in the United States you wish to pitch a luxurious tent (and don't worry, they'll set everything up for you—no actual pitching required). Under Canvas offers a variety of tent styles, but the Stargazer, available at eight of its nine camps, is the most romantic choice for honeymooners. This cozy tent comes with a plush bed for two below a barrel-vaulted window for night sky viewing or watching the clouds drift by before an afternoon nap. You'll also find a wood-burning stove with a supply of firewood, which is sure to get sparks flying. 

International Options
If you're enjoying a long engagement or postponing your honeymoon until travel-friendlier times, keep your eye on these fab international glamping destinations that can all be arranged with honeymoons curated by bespoke travel planner Naya Traveler.
Spain
Sleep in a bubble in the Spanish desert at Aire de Bardenas, where stargazing takes on new meaning in these wildly windowed yet fully private rounded tents. 
Morocco
There's no more quintessential tent lifestyle than that of the Berbers, and a stay at The White Camel is a seriously upscale take on this ancient tradition. 
Myanmar
Essentially full-blown cottages of windowed walls with tent-like tops, the beach villas at Wa Ale are drool-worthy. The vibe here leans more resort than traditional glamp, but glamping is all about the upgrade.
Argentina
Head to Patagonia, one of the most coveted ecotourism destinations in the world, for a verdant stay in the idyllic yurt village of Patagonia Camp. 
Antarctica
Your travel story will always take the cake if you've honeymooned in the pods of Whichaway Camp on the world's most enigmatic continent. This is glamping for champions.