Planning a wedding

has

always been challenging, but never more than it was in 2020.
For those fearless couples who managed to overcome more obstacles than ever on the road to tying the knot (and for those who soon will), a honeymoon is now as much about celebrating the success of pulling off a pandemic wedding as it is about the newly committed relationship itself. With most international destinations still off-limits to Americans and plenty of others a little too crowded for comfort, there's good news from California for newlyweds seeking pandemic-appropriate pampering without sacrificing safety.
Rush Creek Lodge, the 143-room Groveland property at the entrance to California's Yosemite National Park, was already well suited for a COVID-friendly honeymoon of epic outdoor exploration, but the recent addition of Rush Creek Spa adds an element of serious stress relief and post-wedding wellness with an oasis of indulgence that complements Yosemite's rugged appeal. The spa's thoughtful design is inspired by the raw wonders of Yosemite's gorgeous granite cliffs, giant sequoias, renowned Tunnel View landscape and stunning Bridalveil Fall, incorporating local elements like large boulders and cedar and Douglas fir accents. And there's an added incentive for honeymooners seeking complete privacy: You can have the spa to yourself.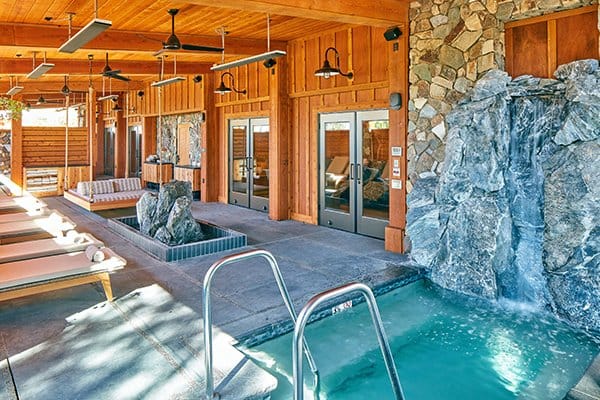 Whether you're looking for pandemic protection or just seeking the ultimate in well-deserved honeymoon exclusivity, all 5,000 square feet of Rush Creek Spa's facilities can be reserved for 2.5 hours of private use during your stay. That means you and your other half will be the only ones luxuriating in the spa's granite-walled hot tub, warm river rock immersion beds and waterfall rejuvenation coves (a magical experience that brings neck and shoulder massage from flowing water as you perch on a stone slab while an additional rain curtain adds visual and aural ambiance), all of which were custom-designed to bring Yosemite's natural splendor indoors for your totally tranquil recharge.
Inside, you'll also reap detoxifying benefits from the Himalayan salt sauna, reinvigorate your mind in the aromatherapy steam room and mindfully melt away in the heated seats of the calming sensory room's soothing light and sound chamber. If 2.5 hours isn't enough for you to maximize all that Rush Creek Spa offers, simply reserve additional hours of sheer serenity to make the spa entirely yours for as long as you need. Conversely, if 1.5 hours sounds like plenty of spa time for you, but you can't imagine it without treatment, opt instead for a couple's massage package that offers both.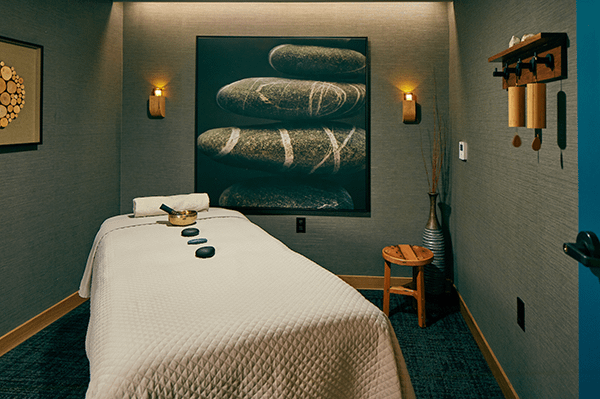 You'll certainly find classic treatments like deep tissue and Swedish massages on the menu at Rush Creek Spa, but take advantage of the innovative Rush Creek Signature treatment, which combines Swedish and hot stone massage with both sound therapy and a personalized chakra crystal treatment that promises a more balanced experience. (Bonus: The crystals are yours to take home as a souvenir of your postnuptial realignment.) Assuming you'll take part in at least some of the awe-inspiring adventure just beyond the lodge, you'll also appreciate the spa's Hiker's Delight treatment, adding hot stone therapy and muscle relief through emu oil to your gentle exfoliating massage.
If coronavirus chaos has totally upended your wedding plans and it feels like all is lost, Rush Creek Lodge may be able to help you with this, too. The Yosemite Elopement Package won't accommodate 150 guests with an extravagant banquet, but it's also not quite as private as its name implies.
Far from a "running away to Vegas" wedding, this package allows you to host up to 20 of your closest friends and family for an intimate, socially distant ceremony followed by a champagne toast and four-course dinner of sophisticated California cuisine that follows all contemporary safety guidelines.
With a little extra planning, you can even have your ceremony in Yosemite itself before returning to the lodge for your celebration. Best of all, you'll also receive two complimentary nights at the lodge to kick-start your unforgettable Yosemite honeymoon.
If you do opt for this charming solution to the otherwise monumental task of planning a wedding in the current climate, keep in mind that private spa rentals are available to more than just couples. Exclusive use of Rush Creek Spa's entire facility can include up to 15 participants, making it a spectacular option for an unbelievable bridal party retreat before or after the Big Day.