Wine and history enthusiasts

come aboard! Experience a personally guided tour of European wine villages amid historic settings via river cruising.
AmaWaterways is a pioneer in wine-themed river cruising in Europe, offering a new style of wine adventure—passengers get an introduction to the famous wineries and vineyards of Europe via winemaker-hosted river cruises. Guests also learn the story of the origins of ancient grapes in their noble settings and get insight into a wine expert's comparison of old- and new-world wine styles.
With only 150 to 200 passengers on board, a river cruise is a welcome contrast to an ocean cruise with its inherent long lines and thousands of passengers. River cruises offer a more intimate vacation for a honeymoon, anniversary celebration, girls' trip, and even a vow renewal or wedding celebration. 
River cruise lines each have their own style and focus. For instance, Viking River Cruises is known for its wide range of itineraries and prices. UniWorld touts its luxurious Hermès and L'Occitane bath amenities and its two exclusives "U by UniWorld" passenger cruise ships for the 21 to 45 age group. Crystal Cruises is a newer entry into the river cruise business but is known for its focus on all-suite, butler-serviced ships. Avalon Waterways touts its floor-to-ceiling windows and deluxe linen bedding, while Tauck offers exclusive and unique destination choices. Many lines offer all-inclusive excursion choices. Millennials with a travel bug will love avoiding the high price of hotels in some of the top European cities with these savings.
Selecting a Wine-Themed River Cruise
The best time to take a wine-themed river cruise is during the harvest season, in September and October, but summer temperatures lure the sun-seekers. The plethora of cruise lines in Europe allows travelers to make personal choices of itinerary based on the winemaker host, the wine varietals highlighted, and the excursion offerings. Wine hosts give onboard lectures, which include multiple tastings, paired wine dinners, and trivia contests.
One exceptional wine host is Fred Franks, CEO of famed Dr. Konstantin Frank Wines. Wine & Spirits Magazine recently named Konstantin Frank Wines one of the 2019 "Top 100 Wineries" in the world. The winery has hosted a wine-themed cruise three times thus far. "We make wines from some of the same varietals grown in Austria, Germany and France. Cruisers can compare and contrast the old- and new-world wines," says Franks. 
Viking River Cruises offers Bordeaux sailings that include sips of the famous "first growth" Premier cru wines, like Château Lafite Rothschild and Château Latour. Uniworld's Connoisseur Collection sailings cover Paris, Burgundy, Provence, and Bordeaux—a great way to get close to the vineyards and wines of the Old World. 
Wine Enthusiast chose AmaWaterways one of "The Best Cruises for Wine Lovers."  AmaWaterways offers wine-themed cruises, including "Enticing Douro" on the Douro River of Portugal; "The Colors of Provence" on the Rhine River starting in Provence, France; "Melodies of the Danube," visiting historic Vienna, Austria; and a "Taste of Bordeaux," cruising the La Gironde, Garonne, and Dordogne Rivers.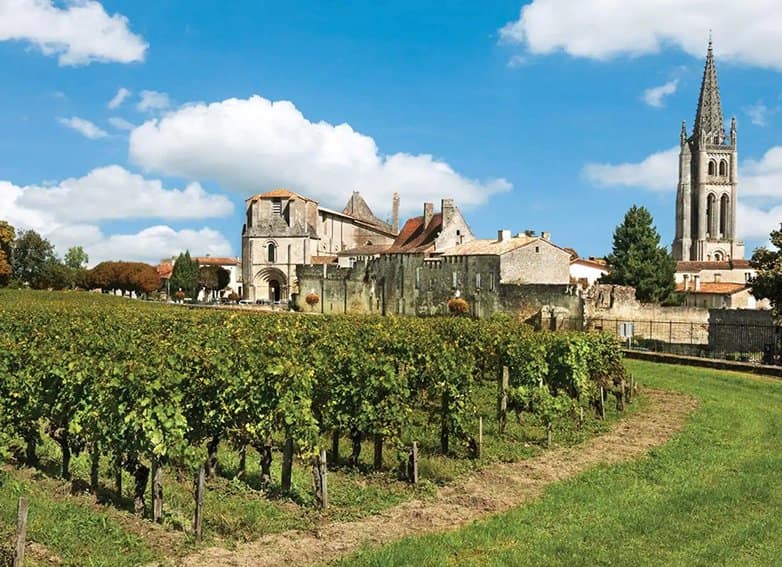 When selecting a wine-themed river cruise, the variety of port excursions is key. Most Rhine River cruises offer itineraries that border famous grape-growing regions, allowing guests to disembark to visit world-famous breweries, award-winning wineries, and local pubs all while experiencing world-class culinary delights amid some of Europe's most scenic regions.
For those who want to maintain a fitness routine while away, consider the wellness programs offered on board and offshore. Programs may include private and group fitness classes; spa treatments; guided fast-paced walking, hiking, cycling tours, and kayaking; golfing; as well as a choice of vegan and vegetarian dining options.
River cruises conveniently dock right in the heart of a town or city. Amateur photographers will love the castles, Black Forest landscapes and the ability to visit four or more countries in a week and may want to consider Scenic, which partners with National Geographic to offer sailings aimed at helping guests hone their photography skills.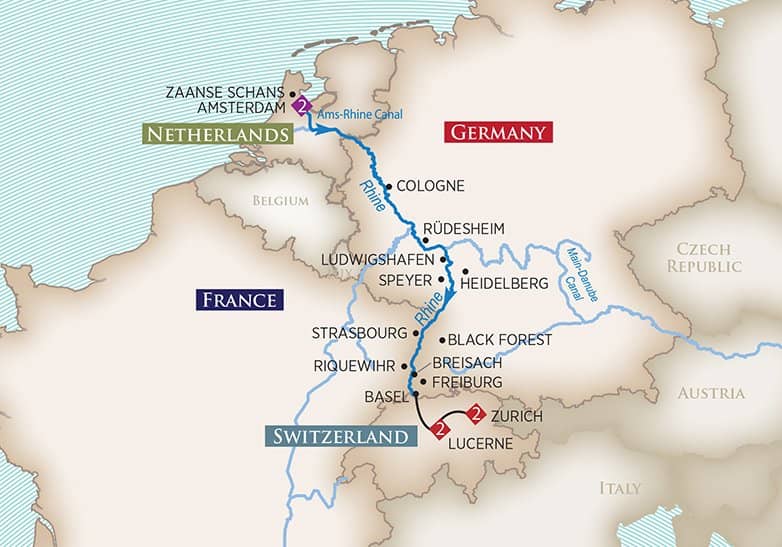 Where

 to Cruise
Let's look at some of the highlights of any Rhine River cruise: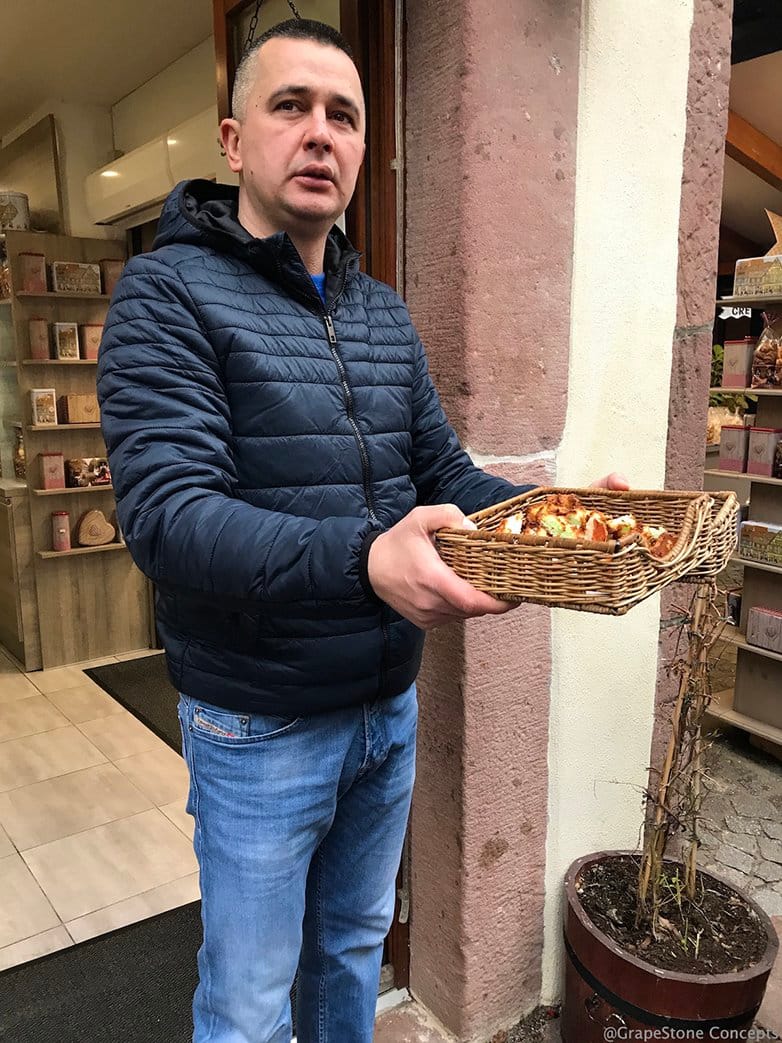 Riquewihr, the Alsace, France. This Alsatian village, officially recognized as one of the most beautiful villages in France, was the model for Disney's Beauty and the Beast. Group wine tastings are available in the village, but many private tastings can also be arranged, including at Hugel & Fils Wines, legendary seventh-generation winemakers located here.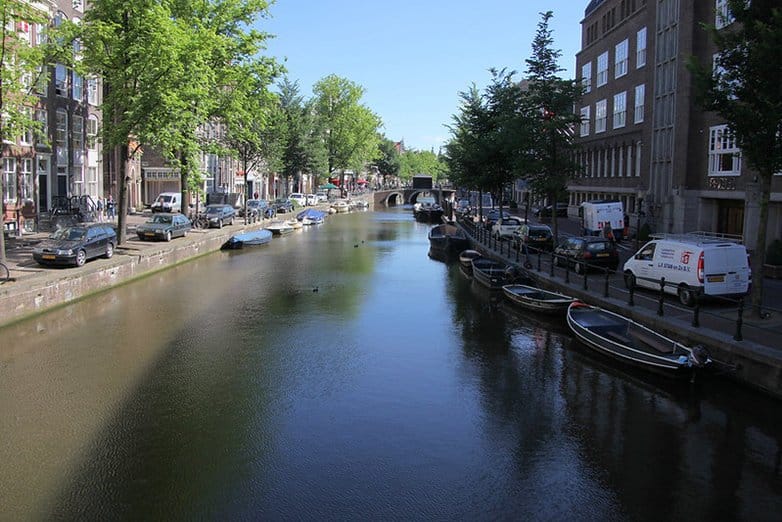 Amsterdam canals and the Anne Frank House. Amsterdam boasts 165 canals. A two-hour tour highlights the challenges and beauty of living on them. A visit to the Anne Frank house recalls the courage and the strength of the people of Amsterdam, as this house was the hiding place for Frank and her family for two years during the Nazi regime.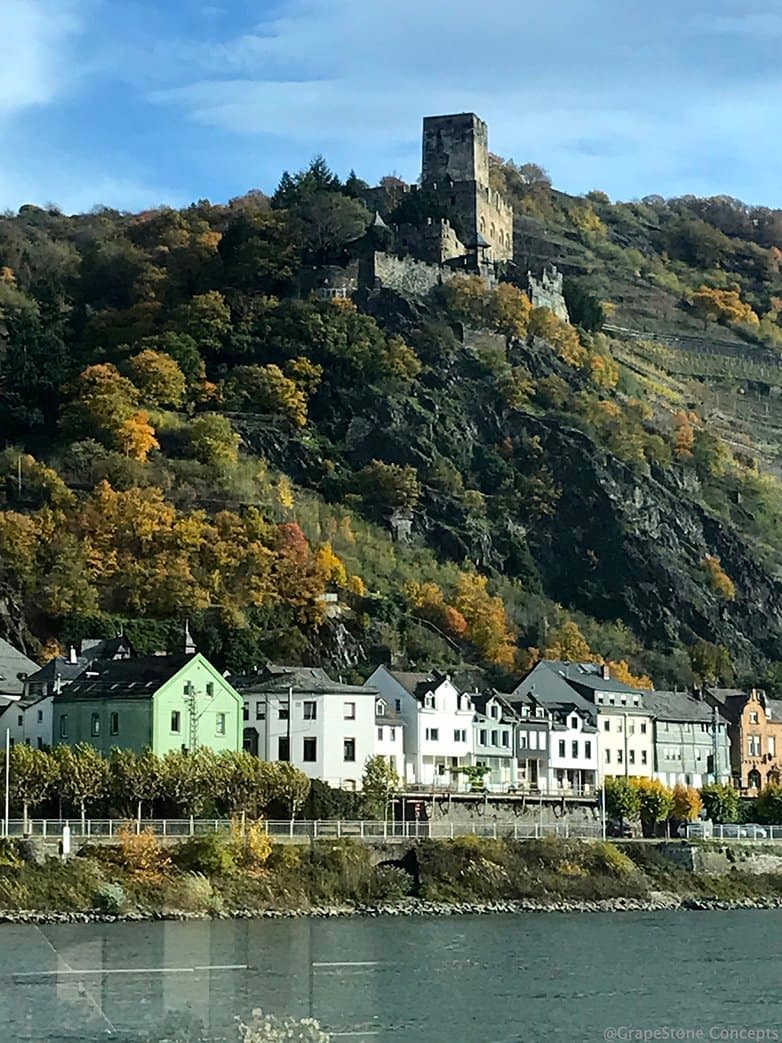 The Castles on the Middle Rhine. Sailing the Middle Rhine Valley on a river cruise is a comfortable way to view the historic castles. Sip a cocktail in the ship's lounge and let the cruise director tell the tales of the castles. Cruisers are given a map to plot the course. One famous castle is the Burg Katz near the Loreley Rock on the Middle Rhine.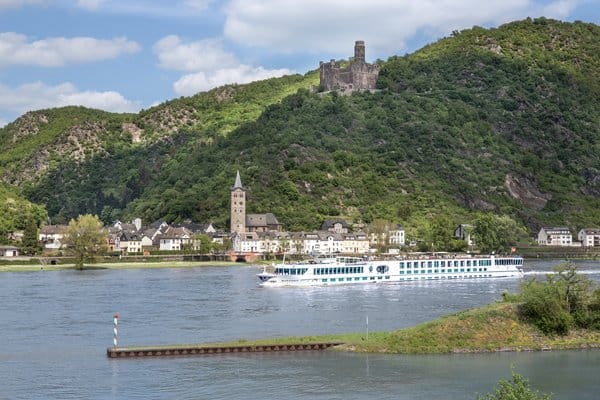 Historic Heidelberg. Heidelberg is a city dominated by the ruins of its historic castle and known for its university—the oldest in Germany. The castle was built by Frederick V, Count Palatine of the Rhine, for his English bride, Elizabeth Stuart, the charismatic daughter of King James VI and I, thus linking the German-English royals.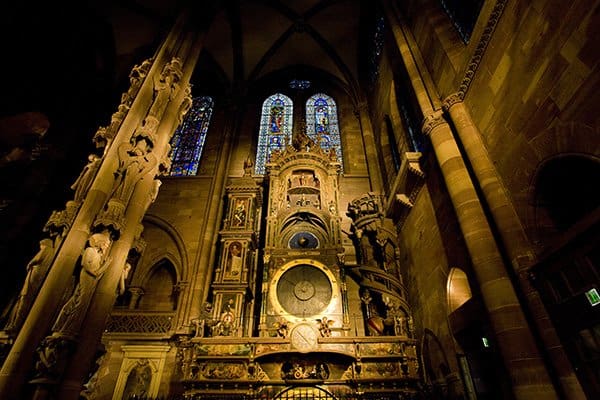 Strasbourg, France and its Cathedral and Observing the Astronomical Clock. Strasbourg, the center of the Alsace region of France, has had a fractured past buffeted between German and French domination. The city now possesses the cultures and languages of both countries. The Strasbourg astronomical clock—rich with decoration, musical entertainment and moving statues—is in the Strasbourg Cathedral. The third clock to stand on the site, the current 19th-century clock's creators did not have help from modern computers to calculate Earth's elliptical orbit, but used mathematics, physics and mechanics to make it amazingly accurate.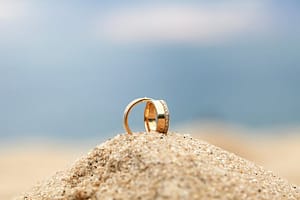 Romance Packages
Romance abounds in river cruising, but due to the legalities of the countries visited, most river cruise lines suggest that a U.S. legal ceremony be followed by a ceremonial wedding on board. As river cruising expands, it is inevitable that this legal issue will be overcome.
In the meantime, here are a few romance-themed packages to consider:
U by Uniworld's U Get the Rose romance package was inspired by ABC's The Bachelor. The package includes a bottle of rosé wine in your room at check-in, rose petal turndown service on one night, breakfast in bed, a nighttime experience for two at the Eiffel Tower, a romantic movie on the top deck and one night camping on the top deck in a tent for two (weather permitting). 
AmaWaterways' AmaMagna ship has a Renewal of Vows package that includes a symbolic renewal of vows ceremony, champagne, mani-pedi salon services, rose petal turndown service, and chef-designed desserts for the entire party.