Newly married couples are

at their happiest when they've said their "I dos" and jet off to an incredibly romantic honeymoon.
Months later, with jobs and responsibilities taking precedence, those sensual moments could seem like a beautiful memory.
But even with a busy schedule, why not keep that magic going in the bedroom? If you still want to keep your relationship spicy, consider buying sex toys from leading manufacturer Tracy's Dog for some sexy nights!
"The honeymoon is one of the most blissful, exciting parts of a marriage. But the butterflies will always disappear at some point," acknowledges Tracy's Dog CEO Fish Zhang. The company makes impressive sex toys for men and women that are oh-so-fun to check out!
"As time goes by, couples become more comfortable, and stability plays the primary role in relationships," Zhang says. "Life can get in the way and put a damper on romance, like with chores, kids, finances and other issues. That's why it's challenging to keep the passion and fire going!"
Zhang recommends that couples head to the company's website—where all Tracy's Dog products can be bought—and buy a selection of sex toys, because exploring with your partner can add variety to any romantic relationship. "By generating that kind of excitement, you both will experience a boost of energy, reigniting your intimacy and sex life," Zhang says. 
If you are looking for creative ideas, Zhang offers SIGNATURE BRIDE readers advice on how to set the night up for a fun Tracy's Dog sex toy evening: "When it comes to partner play, it's time to be bold and romantic at the same time! As for the setup, you can clean up the bedroom first and light some perfumed candles to create a relaxing and romantic atmosphere. The vibe is essential because it helps you and your partner physically and mentally—you both realize it's the time and space for the two of you to deepen the bond."
Zhang suggests cuddling and having some intimate time. "It's not a bad idea to cuddle and talk about what's going on with your lives while having a glass of wine. Just go with the flow and enjoy the night full of adventures with your partner!"
For couples who are sexually adventurous, sex toys are fantastic to take along on the honeymoon, too!
"Sex toys can add more fun to your sex life. Not that regular sex is boring, but it's just more exciting and sensual to use a toy. Taking Tracy's Dog sex toys along on the honeymoon is like adding even more passion to your already wonderful evening. Not only will they help you and your partner have more thrilling sex, but they will also help you understand each other's sensual preferences," says Zhang.
Playful sex toy interaction greatly increases the romance, excitement and intimacy between couples.
"When couples use sex toys, they are confident about their sexual needs and what they want from their partners. They talk to their partners about what they like and need, which helps them be on the same page. As we know, dopamine is associated with feelings of pleasure and satisfaction. It's released when we experience something new, exciting or challenging," adds Zhang.
Two of the company's top sellers are the OG Pro 2 and Turboo.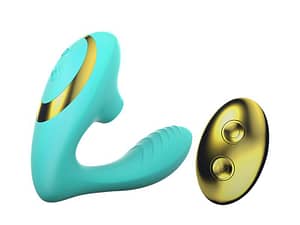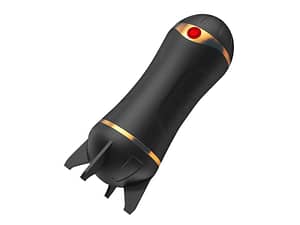 The OG Pro2 is a waterproof remote control 2-in-1 clitoral sucking vibrator, an upgrade from the company's famous OG. It's perfect for couple's play because it's remote-controlled and super versatile. "You can use the vibrator to stimulate the clitoris, or you can solely use the suction function to suck your clit during foreplay. You can also use it as a butt plug if you are into anal play," says Zhang. "There are 10 powerful suction and vibration modes for you to choose from, so you can explore more fun with your partner!"
The Turboo features Tracy's Dog's proprietary CFEET (centrifugal forced ejaculation enhancement technology). Turboo outputs ultra-high rotation speed and centrifugal force, ensuring it can well simulate the male genitalia and deliver some unprecedented, mind-blowing pleasure to your man with three dynamic vibration modes (up to 13,000 rounds/minute).
Other popular Tracy's Dog sex toys to consider are the OG and the Nina Vibe Couple Vibrator. With a unique U-shape design, the Nina Vibe Couple Vibrator is remote-controlled for double pleasure. That means you and your partner both enjoy it at the same time! One half of the vibrator is designed for penetration while the other half rests on the clitoris. With a bendable design, the vibrator features seven pulsating and vibration patterns, seven vibration speeds, and up to 49 combinations and variations for total fun! 
The original OG is one not to miss. This sucking vibrator features 10 suction modes for clitoral orgasms and 10 vibration modes for G-spot pleasure. Imagine the fun you and your partner can have!
All Tracy's Dog sex toys are made with superior-quality silicone that is body safe, silky smooth, waterproof and odorless. All products are easy to clean.