SIGNATURE BRIDE sits

down

 with top chefs and caterers to get into the creative mindset.
This month we spoke with New York-based Nadege Fleurimond, chef, event curator, community activist, author and entrepreneur.
With her love for cooking, Fleurimond uses her Haitian culinary background as a guide, melding flavors from Caribbean, Asian, Latin American and African cuisines to create dishes that excite not only the palate but the mind. She has catered for the White House, Anheuser-Busch, Columbia University, New York City Hall, BET News and The Colbert Report, as well as notable individuals such as Vivica A. Fox, Al Jarreau and Dr. Mehmet Oz's organization, HealthCorps. Fleurimond has also authored two cookbooks. Her latest cookbook, Taste of Solitude, was released in July 2020, and was inspired by COVID-19 and New York's state-imposed quarantine.   
When you were a child, what did you want to be when you grew up?
Initially, I wanted to be a doctor, because as a Haitian child that's what we are reared to be. But as I entered high school and college, I thought I would be a great lawyer because I am very analytical and love to drive a point home. 
What drew you to become a chef/caterer?
It was in the stars. I never saw food as a career. As mentioned, in a Haitian home, you are brought up to be a doctor, lawyer or engineer. Anything else is a failure. I grew up in a single-dad household. And my dad is a phenomenal cook. After teaching me how to cook at the early age of 8, I became the house chef, cooking for him and his friends. I loved the praise I received on my cooking. So, I kept perfecting it. Never did I imagine it as a career.
My third year at Columbia University, I started experiencing the same praise from friends whenever I would cook, and they wanted to pay me. And one thing led to the other. I continued cooking for friends and various campus events, and the rest is history. I just loved the community that developed around food and how food allowed people to engage and connect. 
Where do you get your cooking inspiration from?
Haiti is the foundation of how I cook. Even when I'm catering corporate functions, whether it's for BET, Zocdoc or weddings, I draw from those tropical flavors and ingredients to create unique culinary experiences.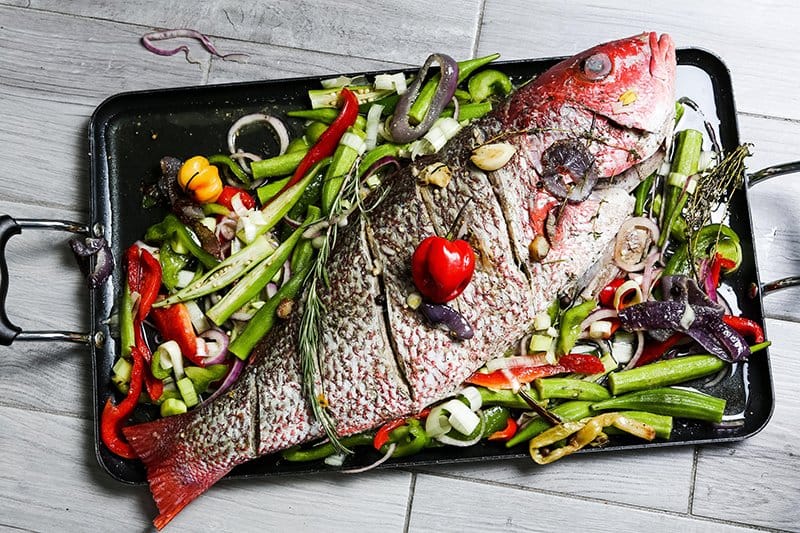 It's been written that you create recipes that "tell the story of Haiti's rich culinary history with a modern twist." How do you create a menu that tells the love story of a couple?
I cater a lot of weddings, and luckily for me, most of my couples are individuals from various parts of the world who are looking to bring a taste of their heritage to their special day with the elegance and flair of the things they see in magazines. 
Thus, my menus are customized to highlight those childhood dishes or special occasion dishes of celebrations. Whether it's fried cornmeal with grilled scallops or mini chicken and waffles with sriracha syrup, I create wedding dishes that connect to our clients. 
You say your career has been "about using food to connect." How can brides/grooms shape their wedding menu to connect with their guests and the day?
Your wedding menu is an opportunity to highlight everything from your favorite foods to your culture, thus I encourage clients to step out of the box of the salmon and chicken. Tell me your favorite foods and we will make it magical, either with a new take or a new way of presenting. 
I once had a beautiful pink wheelbarrow full of fried street foods to highlight one of our Haitian client's love of fried food. Another time we served Guyanese-style lo mein in a mini Chinese box during cocktail hour. And for one of our Southern clients, we created a mini shrimp and grits bowl with beautiful microgreens. 
What are the most popular menu requests you get from clients?
Each menu is different but definitely anchored in my culinary perspective of bold tropical flavors and ingredients. I love creating magical dishes out of the common everyday items we eat. 
What are your personal favorite dishes?
Comfort, comfort, comfort! And that translates to carbs for me. I love a good creamy mac and cheese, a delicious seafood loaded with rice or a creamy shrimp and grits. 
Can you recommend catering suggestions for weddings?
It will vary from couple to couple. But what seem to always be hits, no matter the background of the couple, are: shrimp and avocado salad in mini martini glasses, crab cakes with wasabi mayo, mini sliders with caramelized onions and smoked Gouda, wild rice with cranberries, plantain cups stuffed with pulled pork, cognac-infused braised short ribs, teriyaki salmon, and Haiti's famous mushroom "djon djon" black rice. 
These items, whether in presentation or flavor, always get guests talking and coming back for seconds. 
What culinary trends do you think there will be, say, in 2021, once we are through the pandemic?
I think people never get tired of miniatures. Items they love presented in small containers or wares are here to stay. I see a move toward incorporating those hometown or ethnic favorites and fabulous dessert tables.
Weddings today are about the experience. How does that relate to food? How can brides/grooms bring that experience to the meal?
Interaction and creating an immersive event experience are part of the charm of weddings today. Whether it's a live pasta station, cupcake making or any other form of hands-on interaction, food stations provide a great opportunity for your guests to get involved. 
What are some of your favorite display ideas for fun, unique, interactive food stations?
Love taco stations. Who doesn't love tacos? I love also building lavish fruit tables with heights and lights. 
Do you have a preference for sit down or buffet? Why?
For couples and families that love food and eating, I always recommend a buffet. It's the best bang for the money with a lot of options. Sit-downs are amazing for presentation. It's a more formal setup. It all depends on what experience the couple is looking to create.
Any tips you can offer our readers when planning a buffet?
Buffets provide an opportunity to offer variety, but don't go overboard. There is no need to have 10 to 12 items on your buffet line. Stick to six, seven max. 
Any tips you can offer when planning a sit-down dinner?
Ensure that you speak to your caterer in terms of final guest count and any dietary restrictions. Sit-downs require extensive communication before and during the event. 
Do you have any tips from the kitchen that you've picked up that could be useful to home cooks?
My new book, Taste of Solitude, is a culinary journal and recipe book developed during the last few months. Many of the recipes were developed with the home cook in mind. It encourages experiment and the blending of flavors to create delicious everyday meals. One of the reasons I prefer cooking over baking is that cooking is more forgiving. So, I say to the home cooks, don't be afraid to try it. A dish can always be adjusted. In Taste of Solitude, the caramelized onion grilled cheese and squash bisque offers home cooks a quick, easy way to create something simple yet magical. They also provide a great foundation, allowing those who love to experiment with the ability to do so.