On Friday, April 30,

our

virtual SIGNATURE SIPS series added some self-care to the party with an evening of Bubbles & Besties, featuring cocktails and a wellness gift package for a select group of invited brides-to-be and their best friends, most of whom were their bridesmaids-to-be.
Brown-Forman sponsored the evening, providing bottles of Korbel Prosecco and Chambord, and mixologist Jessica Robinson of JusTini Cocktails guided our guests through three drinks that are perfect for a variety of wedding moments. SIGNATURE BRIDE beauty editor Liz Crawley joined to discuss the importance of self-care, demonstrating gifts from the event's beauty sponsors and offering dos and don'ts for the critical months leading up to the Big Day. Here's what we drank and what we learned throughout the night. 
Kicking off the evening, SIGNATURE BRIDE CMO Lynn Cooper quickly set the mood by introducing the event's mixologist with Robinson's motto: Make your cocktails strong and your laughs loud. And that she did.
Robinson started the party by suggesting that our brides consider serving cocktails before the ceremony to set an exciting tone for the entire event, long before the reception. Mixing a Chambord 75 (Chambord, Korbel Prosecco, lemon juice and simple syrup in a flute glass garnished with lemon peel), she explained that this pre-ceremony cocktail would prepare guests for celebration without knocking them out before they made it to the reception. If served during a cocktail hour, instead, they could also be personalized with garnish sticks that included a table number.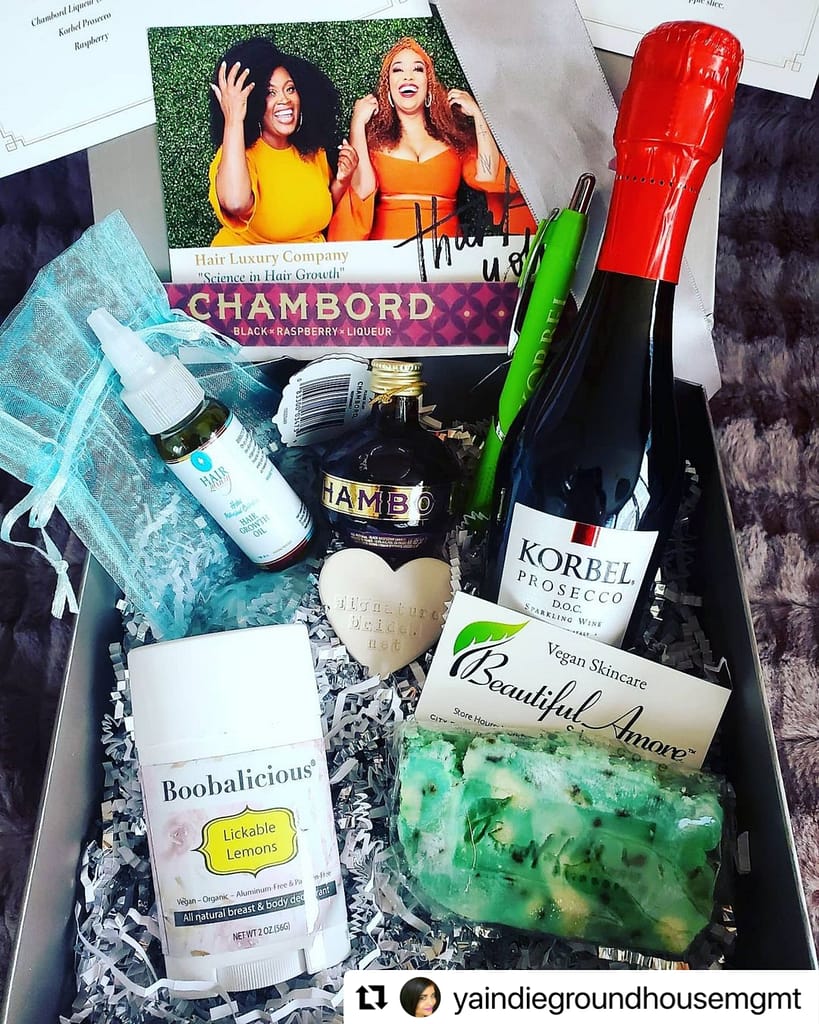 LaJuane Mack of Brown-Forman briefly joined the virtual celebration to congratulate our upcoming brides and to illustrate the company's commitment to uplifting Black voices and communities through employee-driven initiatives across its many brands. His message was strong and encouraging, leading Robinson to mix another joyful drink to keep the vibe flowing in the right direction.
For that moment when the dance floor opens, Robinson suggested the Dance Machine to loosen up guests on the spot. This shot of Chambord, lime juice and simple syrup is served in individual-size Chambord bottles with a lime garnish and can be presented on trays by servers at each corner of the floor. As our brides sampled their Dance Machines, the energy in the digital room picked up quick.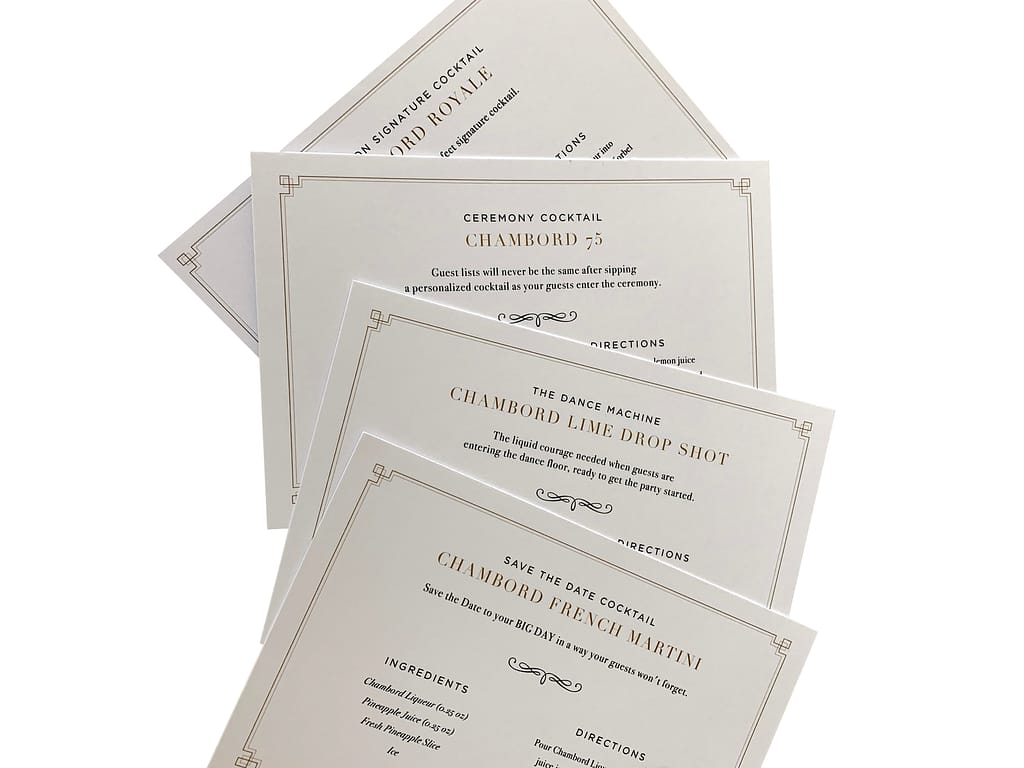 Cooper poured some extra Korbel to raise a glass to our brides with a toast to being Black and beautiful before introducing Crawley, who offered a first round of self-care advice for our special guests. 
DO: Maintain good gut health with prebiotics and probiotics. What's inside will reflect on your skin!
DON'T: Practice an extreme diet in your pre-wedding months. It's bad for your body and bad for your mind. This isn't how you want to feel on your special day. 
DO: Exfoliate weekly and consider the practice of skin mapping to see what your facial skin might be telling you about what's going on inside. 
DON'T: Exfoliate more than once per week. Too much exfoliating is a skin stressor and can have the opposite effect of your goals.
Next, Crawley demonstrated the first of the evening's beauty gifts, Hair Growth Oil from Hair Luxury. The oil contains seven essential oils infused with biotin for maximum hair growth that protects ends and stimulates roots, but Crawley warned brides not to use excessive amounts when applying. A dime or two rubbed into the ends after a trim would do the trick, and for those wearing protective styles, a small bit should be rubbed into the scalp to stimulate growth while ends are covered. 
Returning to drinks, Robinson presented the Chambord Royale (Chambord and Korbel Prosecco in a flute glass garnished with a blackberry). She suggested this simple yet beautiful cocktail as a reception drink, particularly as a signature cocktail that appeals to both masculine and feminine tastes simultaneously. If used for the reception, consider renaming the cocktail with a memorable title that suits the bride and groom or the wedding theme. With a third cocktail down, the conversation turned to identifying the party starters in each bride's group, and we're not telling who said what! 
Bringing it back to beauty, Crawley introduced the cucumber mint Vegan Body Soap from Beautiful Amore Skincare and discussed cucumber's calming effects on skin (including conditions ranging from acne to eczema and psoriasis), as well as the stimulating effects of mint for both skin and mood. She recommended the bar for hands and body and, when asked about facial use, suggested testing any new soap on the neck before introducing it to the sensitive face. 
Finally, Crawley presented Boobalicious breast deodorant, which introduced a new world of relief to many of our brides. The aluminum-free deodorant helps reduce or eliminate breast sweat and, while some brides doubted it could work, one had already tested it and confirmed it stood up to the task. Crawley suggested the unscented variety for wedding day use to avoid competition with the bride's fragrance and, when testing the product on her arm, noted its quick-dry application. Before signing off, Crawley offered another quick round of guidance for mental and physical self-care.
DO: Manage mental health with 10 minutes of silent meditation at least weekly and ideally daily. 
DON'T: Introduce any overnight changes to your diet or routines. Any adjustments should be made gradually in the months leading up to the wedding, especially when related to diet. 
As several of our guests were experts in areas like hair care and holistic wellness, our big group of besties shared a few personal pro secrets for wedding day prep with their new sisters before saying goodbye after a fabulous evening. 
If you're a bride interested in participating in a future live event or a brand interested in collaborating, email editor@signaturebride.net.