Our SIGNATURE SIPS series

continued on April 13th with an intimate afternoon of cocktails and networking for luxury wedding planners and designers.
Hosted by SIGNATURE BRIDE and emceed by celebrity event designer Slomique Hawrylo of Carpe Diem Events, the two-hour virtual meetup featured Korbel and Chambord cocktails from event sponsor Brown-Forman, crafted and explained live by award-winning mixologist Jessica Robinson of Justini Cocktails in New Orleans.
A dozen luxury event planners from South Florida joined us, and each received a complimentary gift box containing recipe cards and the spirits needed for the afternoon's cocktails, a personalized swizzle stick from Robinson, a candle from Hawrylo, a cigar and cutter box from Kammer Avenue, and additional tokens from Brown-Forman and SIGNATURE BRIDE. Here's what went down between sips, including plenty of insider tips from Hawrylo.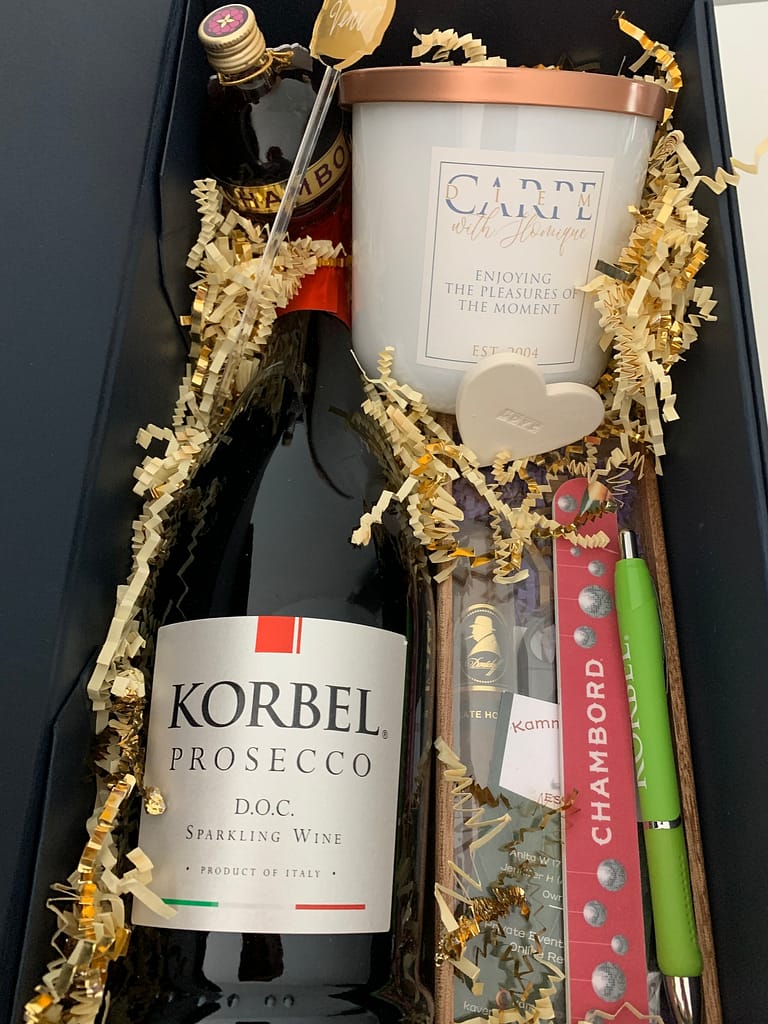 After our invited designers introduced themselves, Hawrylo set the afternoon's intention of celebrating success as Black women in business and encouraged everyone to use her as a resource for future growth and success, promising to be an open book and dish the truth throughout the day. Some of her tips we can share here, but others were for guests' ears only! (More on how to become a future guest below.)
Robinson kicked off the cocktail experience by recommending the Chambord French Martini as a save-the-date cocktail, substituting Chambord for vodka in the modern-classic pineapple drink. While participants sipped, Hawrylo explained the impact of sending cocktail ingredients to guests with a save-the-date or invitation to set the mood of the wedding as early as possible, and further advised hand delivering these packages. For clients without the budget to include hand delivery for every guest, she recommended identifying the VIP guests who would truly appreciate the special touch.
As conversation flowed toward the added pressures of running a successful business as a woman with a family, Hawrylo emphasized the importance of personal time, sharing that she spends an hour of alone time before the start of each day, when no clients or family can interrupt her meditation, walk or activity of choice during her hour. "If the world wants a piece of me, I need a piece of me first," she said, adding, "You can't be functional enough to give your clients and family your best if you're not giving yourself the time to become your best." Hawrylo and participants shared personal experiences and tips on setting boundaries and expectations with clients, including the importance of educating clients on the reality of wedding planning, as many are marrying for the first time and only understand large events through the inaccurate lenses of social media and television.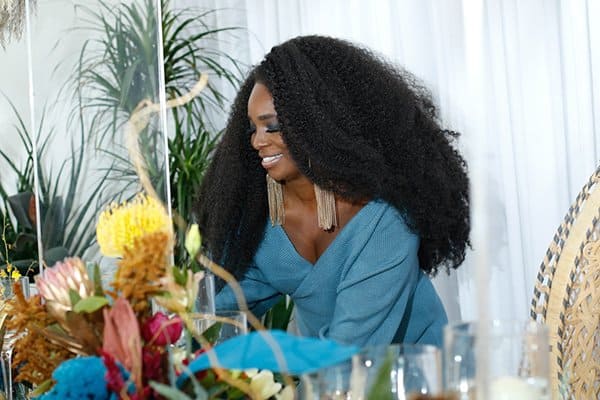 Next up from Robinson was a cocktail to be served as guests enter the ceremony, for which she suggested a Chambord 75, substituting Chambord for gin. The small touch of a celebratory sip before the ceremony adds big impact for guests and prepares everyone for the joyful moments to come.
Hawrylo explained that alcohol is the most important element of most special events, and Robinson completely agreed, noting that it's important to approach the planning of a bar program as early in the process as possible. As Hawrylo noted: "Décor is just a moment. It's a five-second 'wow' when guests enter, but then what? What is the experience after that?" She recommended incorporating spirits brands that play an active role in the Black community, and she encouraged participants not to shun the label of "Black wedding designer" but to understand that it is an asset. As in other areas of culture, she said, everyone wants the style and swagger that Black designers bring to an event.
Robinson kept the cocktails coming by moving on to the signature reception cocktail, a concept most designers, brides and guests are now familiar with, and demonstrated the Chambord Royale (Chambord, Korbel prosecco and fresh raspberries) to bring the upbeat vibe of berries and bubbles to all guests. As a mixologist, she stressed the importance of having a signature cocktail that's quick and easy to mix so bar lines stay short and the event flows seamlessly. The invited designers made a few toasts to each other, acknowledging the difficulties of the industry during a pandemic and calling out each other's successes in rebounding with spectacular recent events.
Hawrylo took the conversation a step further by discussing the importance of investing in one's own business, which sometimes takes the form of using a marketing budget to gift special moments to clients during their events. Providing this wow factor is not only great for cementing a personal connection with the clients but for making a strong impact on guests, who are likely to become future clients if impressed. She explained that "going to a wedding is like going to the same movie over and over. The plot is always the same for guests, so you need to make sure you're telling that same story in a way that it's never been told before." Having a story is what sets an event apart, she explained, emphasizing that this is a wedding designer's true job.
Rounding out the event, Robinson returned with one final cocktail recommendation. Designed to be delivered as guests approach the dance floor, the Chambord Lime Drop Shot (subbing Chambord for vodka and serving it in mini Chambord bottles) gives everyone a quick dose of liquid courage to let loose on the dance floor, kicking up the energy level of the entire event. The added touch of personal-size serving bottles also opens the opportunity for a take-home memento and leaves a lasting impression.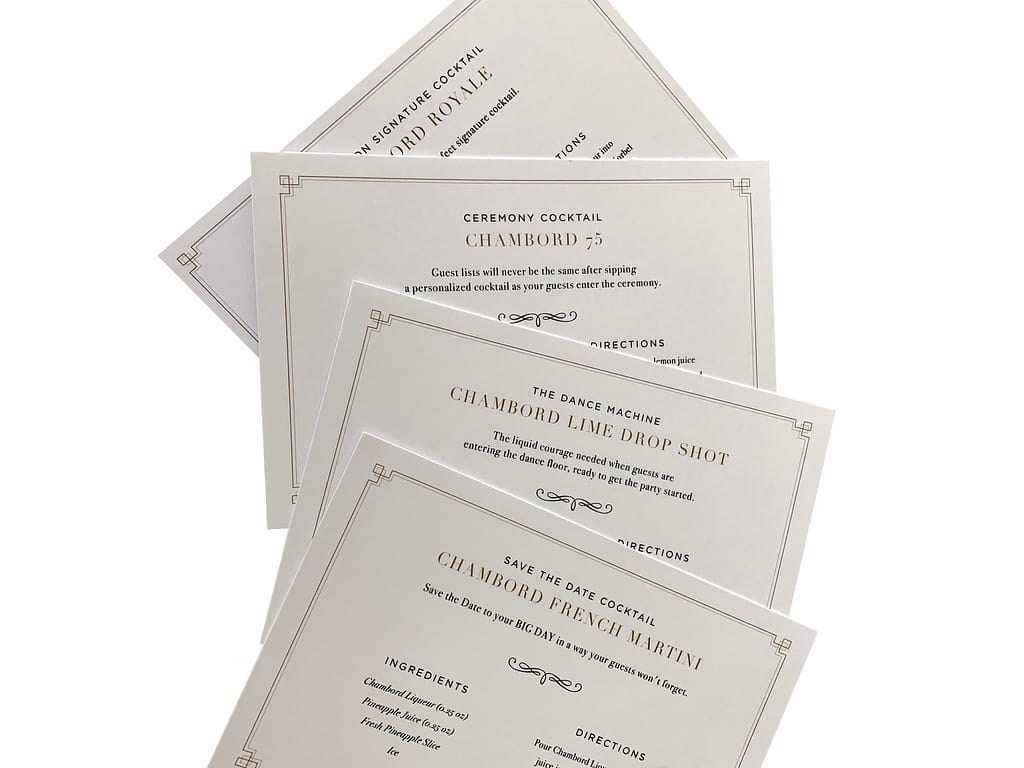 Before closing the virtual event, Hawrylo took the time to remind participants that event planning shouldn't be anyone's only long-term strategy. It's a tough business that involves late nights and around-the-clock attention. As she put it, "You don't want to be coming home at 3 a.m. when you have grandbabies to see!" Financially, professionally and personally, Hawrylo encouraged everyone to think about their next steps before it becomes necessary to take those steps and move into them over time while they're still options, not obligations.
If you're a bride or event planner interested in participating in a future live event or a brand interested in collaborating, email editor@signaturebride.net.