On Friday, May 7,

our virtual SIGNATURE SIPS series continued with Weed Toast to That, an evening of wine sponsored by Weed Cellars.
SIGNATURE BRIDE invited brides from around the country, including Florida, New York, Georgia, California and Nevada, to taste four bottles from the producer's current lineup of six still wines and two sparkling wines. Brides were gifted bottles of Sauvignon Blanc, Prosecco, sparkling Rosé and Cabernet Sauvignon, and were guided through each by Murphy Perng, wine experience manager of Weed Cellars, who offered plenty of tips for boosting wine vocabulary and identifying tasting notes.
To complement the wines, the brides also received gift packages of must-have treats and accompaniments for an evening of top-notch tasting. Lumineux Chocolate provided boxes of small-batch, bean-to-bar chocolates, featuring confections made from African beans not often found in American chocolates, while Côtier Brand supplied festive Convokins. For more than just dabbing drops of wine and chocolate from lips and fingertips, these elegant party napkins come with intriguing conversation starters to break the ice. It's always important to keep snacking while drinking, so family-run ATLpopcorn sent along bags of its gourmet popcorn focused on simple flavors done exceptionally well, and female-founded Steep't Cocktail Co. rounded out the party with innovative cocktail "tea bags" that make anyone seem like a master mixologist in 2 minutes by simply steeping a cocktail bag in water and adding the necessary spirit for the recipe.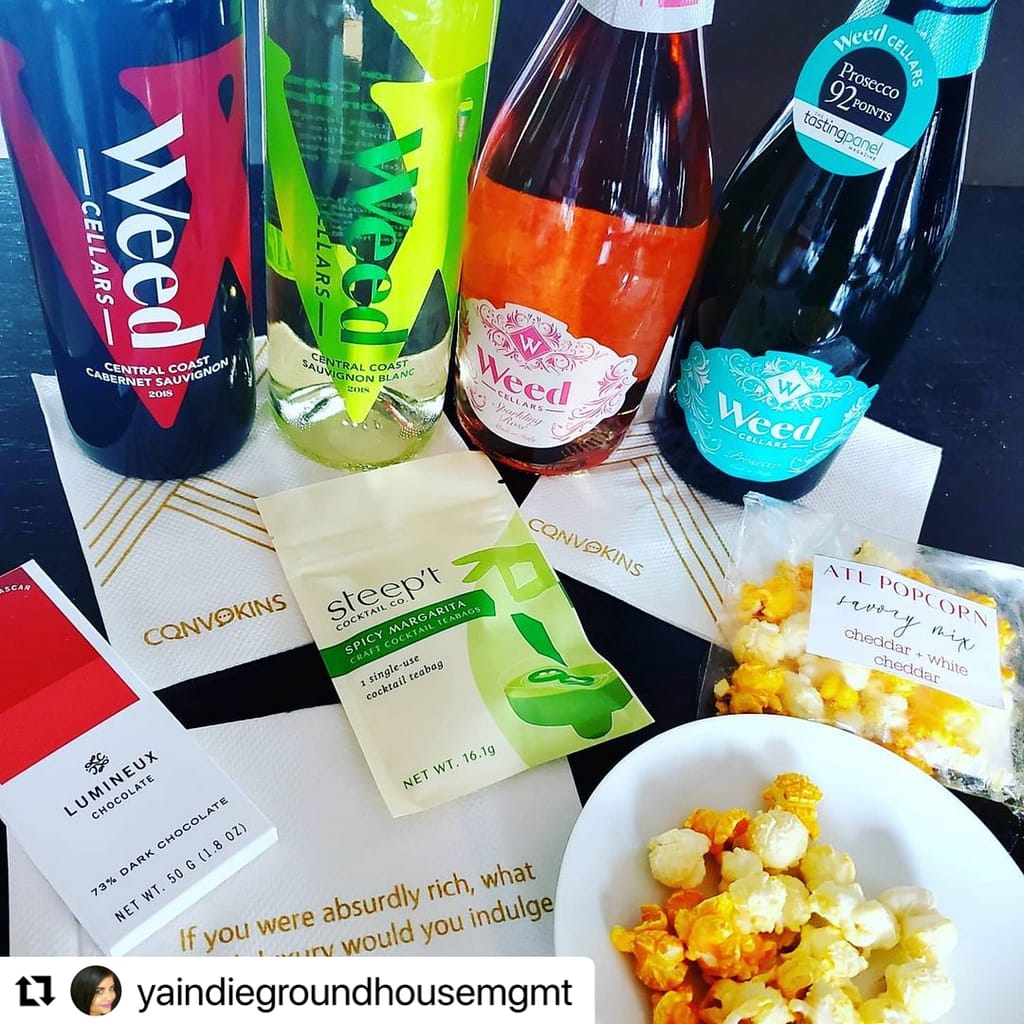 Our guests ranged from the newly wine-curious to the fully wine-devoted, including one bride with an upcoming wedding in France that will offer wine tasting excursions for her guests, and here's what they learned while sipping through the Weed Cellars lineup.
With more than an hour and a half of delicious wines and delightful laughs, the theme of the night was vocabulary, especially color, and how to use these simple observations to identify both aromas and tasting notes of various wines.
Perng's first pour was Central Coast Sauvignon Blanc, a California white that pairs well with cheese, fish and vegetable-forward plates. She armed our brides with the knowledge that white wines can often be described as lemon green, lemon yellow or gold in color with Sauvignon Blancs often falling in the lemon green range, as most of our brides quickly noticed themselves. Just from noticing the color, she said, it's often possible to narrow down the varietal without even tasting. And, while not a foolproof method, color can also be a strong indicator of what foods will pair well with a glass, and Perng encouraged pairing this bottle with an apple salad, as suggested by a bride.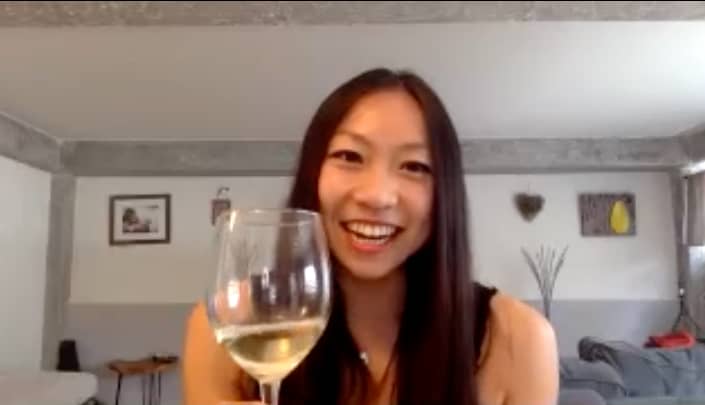 Next, Perng popped the bubbly, pouring a glass of Prosecco. Weed Cellars Prosecco comes from grapes grown in Friuli, Italy, and is available in both standard bottles and splits, perfect for gifting (hello, favors!). Even though it's tempting to dive right it when the cork is popped, Perng recommended allowing the bubbles to rise through the glass for a bit to give them the opportunity to open up the wine and bring out the full aroma as they travel through the pour. Bringing it back to color, Perng suggested keeping color observations in mind when considering what fruit notes may be in the wine during tasting: Fruits similar to the wine's color are more likely to be found in the taste, too. Our brides loved this prosecco so much they wished for magnums—something for Weed Cellars to consider!
Keeping the bubbles fresh, the next bottle to pop was Weed Cellars Italian Sparkling Rosé, also from Friuli. Perng gave our brides the insider tip that a Prosecco Rosé, an official appellation new to the wine world, is coming in the near future from Weed Cellars. In the meantime, she doled out the details of Rosé coloring, noting that many can be described on a scale of pink, salmon or orange. To improve aroma vocabulary, Perng suggested thinking about florals, herbs, spices and minerals when considering the scents found in a glass, and she offered this simple yet critical advice: Go smell things! The more individual scents you become familiar with, the easier it becomes to detect them in wines and elsewhere, so take trips to markets even if just to sniff fruits, herbs and anything else you find.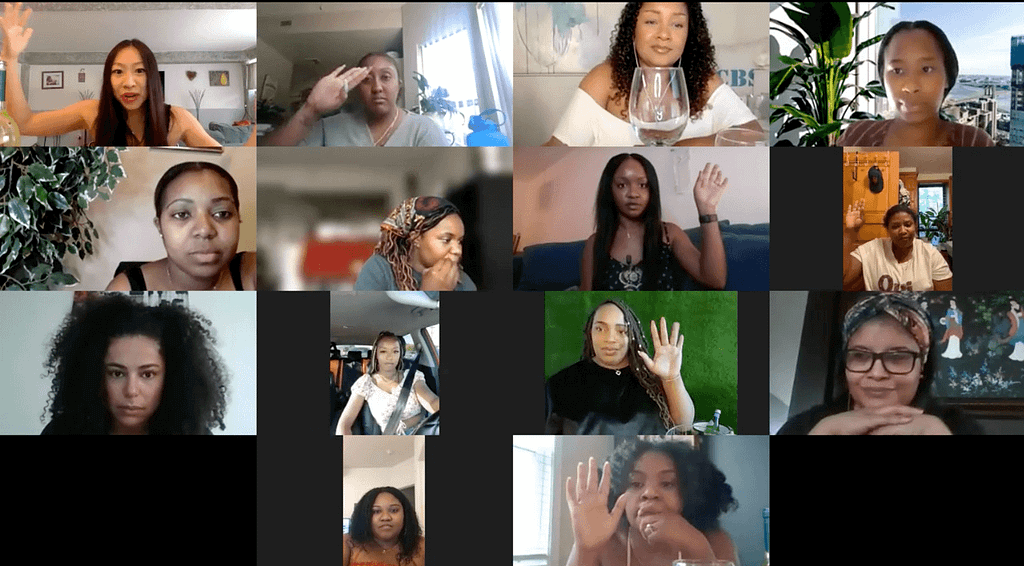 Rounding out the evening, Weed Cellars Central Coast Cabernet Sauvignon was the first and only red poured, introducing an entirely new color vocabulary. Shifting away from the delicate colors of white wine, Perng advised our brides to choose between purple, ruby and brown when considering where a wine falls on the color scale. And for those still having any difficulty detecting aroma notes, she suggested determining which nostril is dominant by testing each individually and using just the dominant one to take in wine bouquets moving forward.
With bottles quickly emptying all around and laughs increasing by the minute, the evening came to a close with a special sentiment from SIGNATURE BRIDE CMO Lynn Cooper, who toasted our brides-to-be, and their grooms, with a wish worthy of any great sparkling wine: May all your troubles be light as bubbles!
If you're a bride interested in participating in a future live event or a brand interested in collaborating, email editor@signaturebride.net.