SIGNATURE BRIDE sits down

with top sommeliers, winemakers, and spirit brands to get a glimpse into the creative mindset. This month we spoke with Tahiirah Habibi, sommelier and founder of Hue Society, an organization committed to the inclusion and education of women and people of color in the wine industry.
A pioneer in breaking cultural boundaries and stigmas in the wine industry in hopes of creating space for wine lovers in the Black community, Habibi's experiences and love for culture have led her to create events and tastings focused on bridging the intersection of wine and culture. Her work is rooted in enhancing and empowering the community for both consumers and business owners. Habibi has a dream to make an indelible impact in the wine industry with no assimilation required.  
Q: What inspired you to become a sommelier?

 
A: I started drinking wine in college due to being in a lot of leadership positions at Penn State. Once I became homecoming queen (which had some hysterical context to it), I had to attend lots of receptions with university leadership and of course, wine was served. I figured out quickly how to conduct myself with wine because I knew it was a skill I had to learn to navigate since a lot of times, I was the only Black person in the room. More importantly, I noticed how people respected the whole wine thing. It was different 15 years ago when wine was still bougie. I became a somm because not only was I fascinated with wine, I was fascinated with doing something I didn't see anyone else like me do and inspiring others to do the same. 
Q: How did you get started in the industry?

 
A: After college, while working in a restaurant in Philly, I took note that the wine director was a woman. I thought it was so cool and it encouraged me to start taking classes at the Wine School of Philadelphia. I worked during the day and took classes at night for about two years, then I moved to Miami after I finished my last course. I didn't even have an apartment when I arrived in Miami and I had to take a job as a cocktail server while I pursued becoming a somm. It was good money, but I knew I didn't want that life. I studied and I made it known that I wanted to be a sommelier and nothing else.
One day, after about six months and another certification, I got a call that the St. Regis was opening, and they were looking for a somm. I went and interviewed with the beverage director, who had a very thick French accent that made me so nervous. I botched the first half of the interview. Once I calmed down, we really vibed. He could tell I knew that I knew my sh#t! The next day HR called and offered me another cocktail server position, which I turned down. I was done settling. They called me back the same day and offered me the job as the sommelier. I later found out someone thought the "pretty girl" was better suited to serve the cocktails not the wine (ha!). To be fair, this was new territory for everyone.  
So, boom! There I was, in my first somm job working at one the most prestigious hotels in the world. The Frenchman became my mentor and taught me more in that first year than many of the books I read. Wine is about experiences and I was serving the elite and toasting to some of the most expensive wines made. It was amazing!  

Q: As a Black woman in a white male-dominated industry, have you had any challenges? If so, how have you overcome them?

 
A: Yes, all the time! People were not (and still are not) used to seeing a Black woman that knows about wine, especially not in a leadership role. I've been sent away from tables. I was questioned and quizzed all the time. My hair has been an issue, my tattoos, my race, my gender, the whole spectrum. When you work with people who have money a lot of times microaggressions are overlooked and you are expected to just suck them up. It's tough. I had my moments of breakdowns, but I knew I had something to prove and so I continued to rise and get better all around. I realized that while I felt like I had the culture on my back, I didn't have anything to prove to anyone but myself and that keeps me going. 
Q: What wine and spirits trends do you see for 2020?

 
A: People are less intimidated, and they are paying attention to wine and what they purchase. I've seen a boom in wine interest in the last few years from people who would have probably never considered it before, and it's so great! Lots of newcomers, lots of bloggers, lots of emerging brands. We are shaping our own wine cultures. Also, consumers are interested in what they are drinking and where it comes from. Organic and vegan wines are on the rise. You can't just make anything anymore and sell it. You must keep up with where society is going, and with this age of information, there's no hiding anything. I think of myself as a gatekeeper to ensure the interest is real and not a marketing ploy. 
Q: You launched your own brand, the Hue Society. Could you tell us more about it and what you have in store for 2020?

 
A: I had the idea for HUE Society for a long time. I knew I wanted to do something that would help push Black wine culture forward and add necessary value. While in Miami I had already started a smaller company called Sipping Socials, where I started doing events. I always knew that was a way to reach people and teach them about wine without being snobby. One day I was walking with my daughter and listening to Jay-Z's 4:44 and I just felt so inspired. The name HUE came from his lyric
"What's better than one billionaire; two, especially if they're from the same Hue as you." – JAY-Z
I thought to myself, 'Yes! What's better than being empowered than empowering others as a community?" Hue is about creating access and economic inclusion for both consumers and brands—a hub where anyone can come and find information on Black wine culture. I'm creating an umbrella that we can all get under to share everything from events to mentorship. I knew we needed a common place where people who look like me know where to go if they are looking for anything involving wine and feel safe.   
I knew that in order to make this work, I would need to collaborate from all aspects of the industry, so The Black Wine Experience was born. We are going into our third year of celebrating and recognizing Black wine culture at the Essence Festival. This year we also launched another initiative, BLK Fluence, which is a series of fireside chats focused on discussions around economics and influence. We are bringing the Wine & Reggae Festival to Atlanta this fall. We will also be launching our Power Sipping Series, which are wine education seminars geared toward professionals. Lots of exciting stuff happening. 
Q: What is your favorite wine region and why?

 
A: Burgundy is my favorite region. It's such a beautiful place and the wines have so much depth. Pinot Noir is my favorite grape and you'd be hard-pressed to find a better style outside of Burgundy.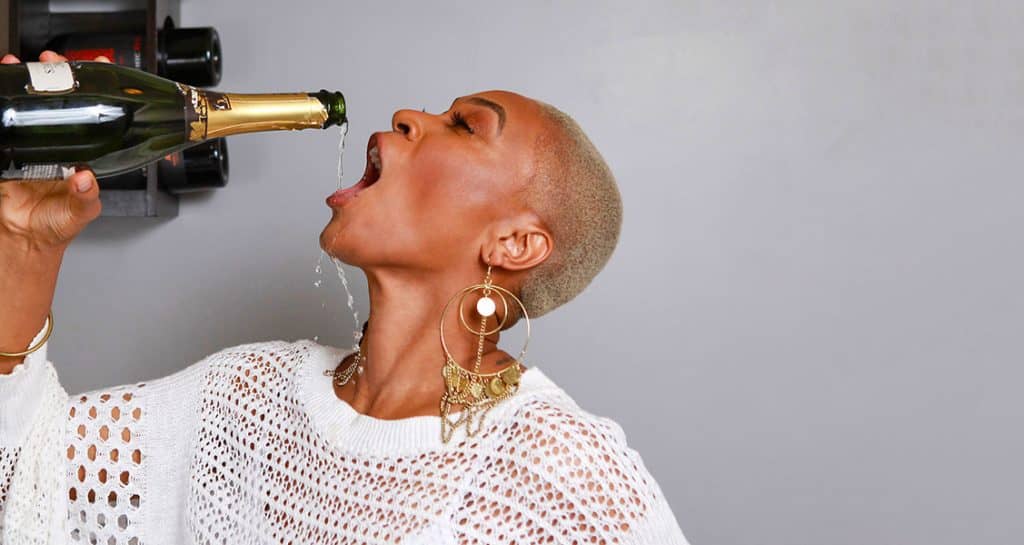 Q: If you could drink only three wines for the rest of your life, what would they be?

 
A: Pinot Noir, Champagne and Italian wine (almost any).
Q: What Black-owned brands are a must-try?

 
A: La Fete du Rose, Cheurlin Champagne and Esrever Wines. 
Q: As couples plan their wedding, what recommendations do you have for choosing the right wines to pair?

 
A: I'd say to pick wines that have meaning to them. Wine is about memories and this will top the list. As far as menu planning, choosing a wine that can stand up to the food is key. Pair the sauces instead of protein. If your sauce is acidic, say like tomato base, then you will want an acidic wine to go with it like a pinot noir or a unoaked chardonnay. If the sauce is creamier, then try an oaked chardonnay.  
Q: Are there any resources you would recommend for our readers to learn more about wine?

 
A: Hue Society is a great resource. There's also a great list of wine educators on Instagram like Regine Rousseau of Shall We Wine. Going into your local wine shops and introducing yourself is also very helpful. As for books, I've personally read the Wine Bible from cover to cover. However, Wine Folly is a great start for beginners.