It's easier than

ever

to ensure your wedding is eco-conscious.
It's possible to make certain every aspect of your nuptials is green—even your wedding send-off can be all-natural. As all brides know, one of the most memorable aspects of your wedding day, besides marrying the love of your life, is selecting the wedding gown of your dreams.
Even your wedding dress can be sustainable thanks to these designers who are prioritizing the planet while creating lust-worthy dresses for your special day. Before we jump into the wedding gown brands that are doing sustainability right, be mindful that any single-use product isn't inherently eco-friendly. 
"Customers should beware of the claims brands make about the materials used for their dresses," says Los Angeles-based wedding planner Jumi Aluko. "They should ask the right questions and do research into a company to learn how their clothes are made. Ask how often they're putting out new styles, are things done custom or is there a warehouse where hundreds of 'sustainable/eco-friendly' dresses are sitting?" 
Consider renting a gown or purchasing a pre-loved wedding gown from Rebridal. If you do buy a new dress, find one that you'll reuse. "What makes a wedding gown sustainable is the ability for the bride to use it again for a future occasion," Aluko says. "You can wear it on your Big Day and then wear it for another special event. Wedding dresses are simple yet elegant and can be styled for various occasions. So, a bride who wants to have an eco-friendly wedding should consider a timeless dress that she can wear time and time again."
After your wedding day, your gown can be altered or dyed and become an eveningwear staple in your closet. Also, consider donating your wedding dress to a bride in need and pass along a bit of the magic from your memorable wedding to someone else's special day. Of course, there's also the option to sell your wedding dress so it can be reused on bridal marketplaces such as Still White.
Aluko loves the wedding dresses from Silviyana, which works with Filipino artisans to create dresses from biodegradable materials such as organic cotton and pineapple fibers. The bulk of greenhouse emissions are emitted from factories, so consider the manufacturing processes in addition to the materials used to create your gown.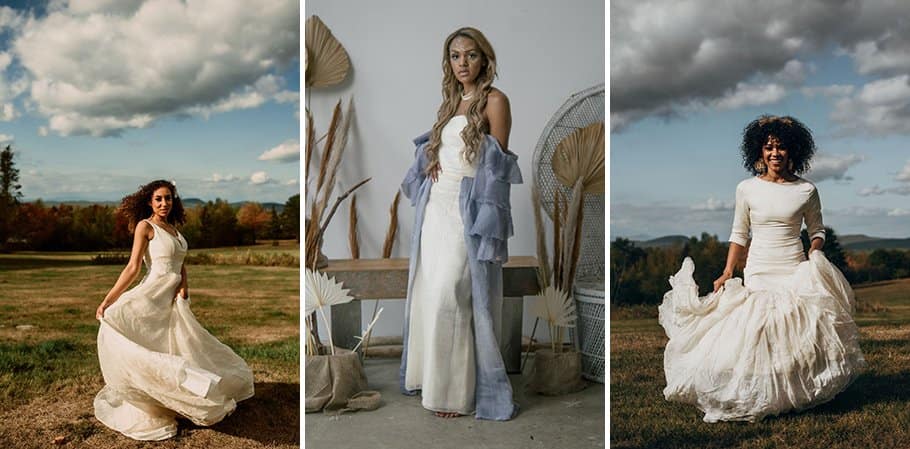 Cynthia Grafton-Holt Couture custom bridal gowns are handcrafted one at a time, reviving heritage and reducing waste that ends up in landfills from overproduction. The gowns are cut utilizing low-waste techniques, with the waste materials upcycled for trims or donated to artists and students. The created-to-order gowns can be sent to the States. 
Cynthia Grafton-Holt is dedicated to creating eco-friendly wedding gowns. "Practicing sustainability has been at the very heart of everything that we do as artisan dressmakers in the field of bespoke couture," the Black wedding gown designer says. "Sustainability isn't just a conversation but a lifestyle, which we eagerly evoke, encourage and practice at every opportunity."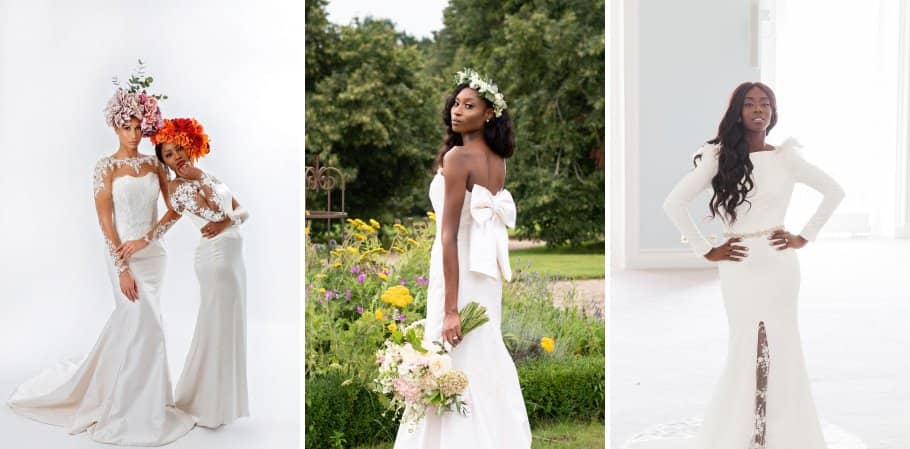 Sabina Motasem is a Black award-winning bridalwear designer who created a ready-to-wear range, The Green Collection, of sustainable and luxurious dresses in her signature style that is available to be shipped to the United States. The Green Collection is made of eco-friendly vegan fabric that has been certified by the Global Recycle Standard. The RTW gowns are made in the same ateliers that make her namesake couture dresses, and the quality isn't compromised.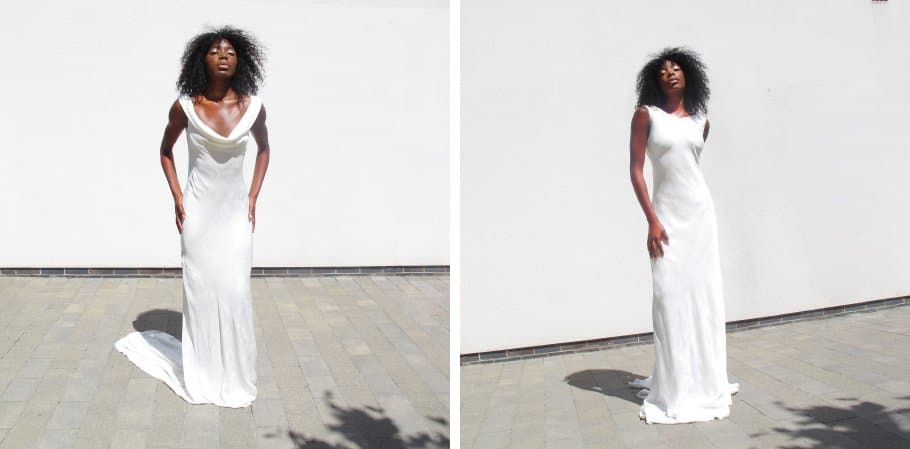 Leanne Marshall gowns are created one at a time to avoid overproduction and waste. The company carefully sources its materials and uses sustainable textiles and natural fibers that meet several certification criteria. The designer minimizes the use of polyester in favor of natural, biodegradable materials—the gowns are typically composed of about 90% silk and natural sustainable textiles. If a gown contains lace, the lace is usually a blend of rayon, nylon, cotton or synthetics, depending on the particular lace. All scraps, trimmings and textile waste are responsibly recycled by an organization called FABSCRAP.